FRINGE SHORTS: "Two Dead Boys" by the Newton Theatre
phillip andrew bennett low was thrilled by this under-the-radar show, calling it "Hans Christian Andersen meets Itchy and Scratchy, by way of Eugene Ionesco."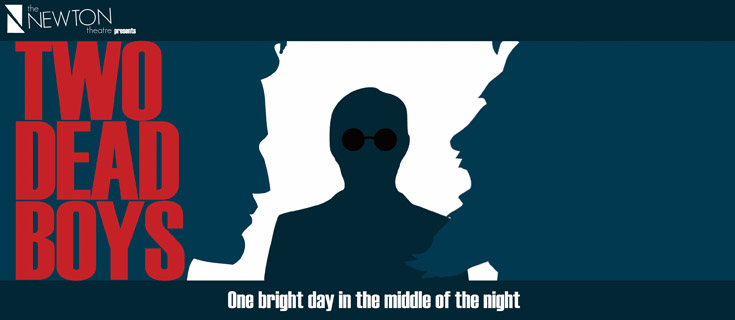 One fine day in the middle of the night
two dead boys got up to fight
back to back they faced each other
drew their swords and shot each other
I COULDN'T RESIST LOOKING UP the nonsense poem that inspired the Newton Theatre's production, Two Dead Boys, which says something right there.
I usually try to put some time between my viewing of a show and organizing my thoughts on it, but we're already in the second half of the Festival here. So, hey, I'm still sort of bathing in the afterglow of this one. Reviewing it is difficult, not least because I realized about ten minutes into the show that I'd almost completely shut down my critical faculty and had surrendered myself to the world of the play.
I understand the appeal of seeking out the festival's best-sellers, really I do: It's about more than simply the guarantee of being entertained, it's about belonging to a community. If everyone sees the same work, then everyone has the same context for discussion and reflection. It's the freaking definition of popular culture.
Feh! I say. I'd rather take my chances with something I haven't heard about, because nothing, in my view, compares with seeing a show with no preconceptions, only to have the unexpected and thrilling realization that you're in the hands of some very skilled craftsmen.
Which happened very quickly for me with Two Dead Boys. The show begins with the titular boys lying on the stage. They suddenly gasp, rise, and begin killing each other. Over and over again. As you watch, you're not sure what to make of it at first, because the boys go about their work with a remarkable level of grimness and intensity. But the violence goes on so long and is so brutal, and so senseless, that suddenly I found myself laughing – hysterically.
And that's the thing: This is a very funny show, and a very gloomy one, too – both, I would say, in equal measure. And it is an exciting show as well: there are fights and jokes and poetic monologues and chases — all seamlessly executed. And Tyler Mills's script is never, for even one moment, dull. I don't know if it's deliberate, but when I try to classify what I've seen, "absurdist comedy" springs to mind. Two Dead Boys is Hans Christian Andersen meets Itchy and Scratchy, by way of Eugene Ionesco.
Man, I think I just came, writing that.
It would be very difficult for me to describe the story or the world that it takes place in. I want to emphasize: This is not because either is clumsily or falsely portrayed. The boys' setting is difficult for me to get my head around because their world is strange – strange, and wonderful, and different. This is why I love fantasy. And, yeah, if their dramatic denouement seems to echo the climax of The Empire Strikes Back, well, it's echoing about a thousand stories much older than that, too.
This is the sixteenth show I've reviewed for this Festival all told, and it is, hands-down, my favorite. Even so, I'm not sure exactly how to recommend it to someone else, because Two Dead Boys hits so damn many of my own buttons that it seems, in so many respects, to be uniquely tailored to my tastes. (One audience review dismissively characterizes it as an "awkward self-reflexive medieval soap opera." I say: What part of that does not sound totally awesome?) And here's this: I'm seriously considering giving up another precious Fringe slot to go see it again. That's love.
______________________________________________________
Related links and performance details:
Two Dead Boys has three performances remaining at the Brave New Workshop Student Union in Minneapolis: Thursday, 8/9 at 8:30 pm; Friday, 8/10 at 5:30 pm; and Saturday, 8/11 at 10 pm. Find more information on the show's Fringe web page: http://www.fringefestival.org/2012/show/?id=2272
Find reviews, ticket info and more on the Fringe Festival website: www.fringefestival.org/
Check back on the homepage regularly throughout the Fringe Festival, August 2 – 12, for more short reviews on mnartists.org, sent in from our intrepid performance critics on the scene.
______________________________________________________
About the author: phillip andrew bennett low is a Chinese-American playwright and poet, storyteller and mime, theatre critic, and libertarian activist. His performances have won acclaim at such varied venues as the Minnesota Renaissance Festival, Spirit in the House, FoolFest, and the Chicago, DC, Indianapolis, Iowa, and Kansas City Fringe Festivals — even as far as Melbourne, Australia. At the 2007 Minnesota Fringe, his hit one-man show Descendant of Dragons was the bestselling show in its venue and awarded a coveted Fringe Encore slot, while his storytelling performances have been nominated for awards by local website FringeFamous for three years running. He is the co-founder of the Rockstar Storytellers (for which he served as Chair for the two years that position existed) and was founder and producer of the touring theatre troupe Maximum Verbosity.
He can be seen at this year's Minnesota Fringe Festival in his own solo show Fear and Trembling.