FRINGE SHORTS: "Tough Love" by Cathy Wright
Our reviewers are on the scene at the 2014 Fringe Festival, covering a sampling of the shows on offer this year. First up: a Hawaiian-inflected movement and music performance by Cathy Wright.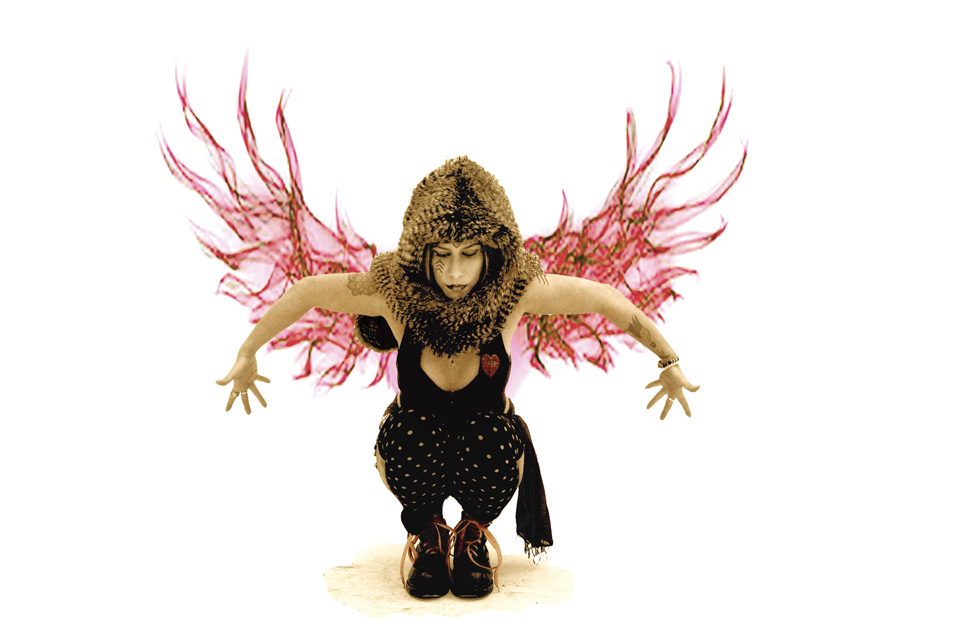 The Fringe Festival is all about experimentation, as Cathy Wright reminds her audience at the conclusion of her multi-disciplinary work, Tough Love. Rightly so. The former Minnesota-based dancer/choreographer has stunned and awed us in prior performances (Fringe and otherwise) with dark, fierce, deeply resonant and transportive work essentially exploring women, power and movement.
That's all present in Tough Love. Wright appears in black and boots, festooned with tattoos and piercings, her face painted and her attitude tough. She's a gorgeous vision of womanhood on her own terms. But she's been spending time in Hawaii, searching for a guru (the "tough love" of which she speaks, but doesn't explain), practicing yoga and recovering from heartbreak. Her piece begins as if she's opening a yoga session and then becomes a "selfie" of sorts, a self-portrait of her experiences and memories from the island delivered via seven scenes.
While there, she serendipitously discovered the ukulele, which she uses to accompany her throaty, compelling voice singing songs of her own composition — three of them about being okay/alright. She moves with full-bodied intention, often donning feathery cloaks (costumes are by Meghan Milligan) that give her wings. Against visual projections of steaming flowing exploding lava (which she filmed), Wright beats her wings of "flame" (a red-tipped cloak) in a sensual embodiment of Pele's (Hawaii's volcano goddess) archetypal spirit.
Wright also rolls inside a large piece of fabric against a visual background that transitions from purple to sickly yellow, like a fading bruise. There's also footage of shadow dancers whose arms combine into a Shiva-like image, and of traditional Hawaiian dancers performing on the island. The overall effect is anachronistic, impressionistic and at times opaque, but infused with deeply held emotion.
In other words, this Fringe performance offered Wright, now based in Westmoreland, NY, the perfect opportunity to spread her creative wings and venture into the realms of music performance and film creation. She is, no doubt, a singular talent and performer.
______________________________________________________
Related performance information:
Tough Love by Cathy Wright will be on stage Thursday, 7/31 (8:30 pm), Friday 8/1 (10 pm), Monday 8/4 (7 pm), Thursday 8/7 (7 pm), and Sunday 8/10 (1 pm) at Intermedia Arts in Minneapolis. The 2014 Minnesota Fringe Festival runs from July 31 to August 10.
Camille LeFevre is a long-time dance writer in the Twin Cities and the editor of The Line, an online publication about the creative economy of the Twin Cities.