FRINGE SHORTS: "Thingkingaview" & "CorresponDance" by Jeffrey Peterson Dance
Camille LeFevre responds to the split bill, "Thinkingaview" (a reprise of Jeffrey Peterson's 2006 dance work at the BLB) and RKH Moves' "CorresponDance."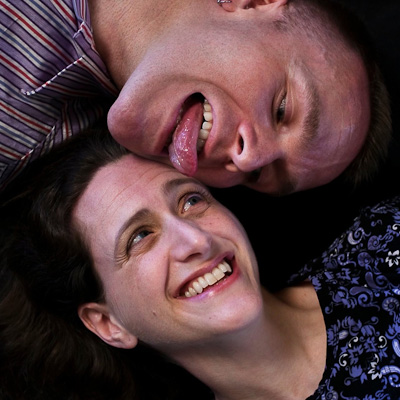 THINKINGAVIEW IS A SHOW THAT PLAYFULLY WEARS ITS GAY HEART, and politics, on its voluminous sleeve. Choreographer Jeffrey Peterson has some serious chops: he's performed Mathew Janczewski's rigorously abstract choreography as a member of ARENA Dances, and displayed his tremendous facility for jazz as a performer with JAZZDANCE by Danny Buraczeski and the Eclectic Edge Ensemble. For Thinkingaview, created in 2006, he blends these movement vocabularies into an easy, gestural choreography underpinning a mischievous romp celebrating same-sex coupling.
Butt slapping and smiles, preening and pining, sexual innuendo and sensual poignancy overlay the fast and fluid choreography, which is performed by a coltish group of young dancers, most of them from Gustavus Adolphus College where Peterson teaches. Music by Etta James — performed live by singers Marty Winkler and Kate Bordeaux, accompanied on electric guitar by Tate Ferguson — infuse the show with a spirited soulfulness.
Taking a cue from Merce Cunningham's chance methodology, Peterson rolls the dice before each show to determine the order of three duets danced to "At Last." During Friday's show, a rugged men's duet was first, followed by a lyrical performance by a young man and women (he is, after all, inclusive). The piece concluded with mesmerizing variation performed by two women.
Other sections of this 10-part work are devoted to an antic kissing orgy that seeps into the audience, a flirtatious escapade performed in billowy white shirts and cute undies, and a standoff in sparkly white gowns. Prior to the performance, Peterson encouraged cat-calls, hollers and whistles, and the audience enthusiastically complied.
By the start of Thinkingaview, however, the jaded in the audience might already feel their teeth hurting. Peterson's folly, suffused with sweetness and joy, follows Rebecca Katz Harwood's CorresponDance, a more serious six-part work about love and relationships. Harwood's choreography is all long limbs and swingy moves, and the dancers perform it with a loose languor. The strength, spirit, and passion in this work comes from the musicians, specifically Winkler (who wrote the music with husband Noel Holston, the former newspaper TV critic, and Amy Hamm), who animate their singing with hip sways and arm sweeps that reveal the depth of feeling they've plumbed fromm the music itself.
______________________________________________________
Related performance details:
Thinkingaview by Jeffrey Peterson Dance and CorresponDance by Rebecca Katz Harwood are on stage at the Southern Theater in Minneapolis. Remaining shows: August 9 (5:30 pm), 13 (10 pm), 14 (8:30 pm).
Check back regularly throughout the Fringe Festival for more short reviews on mnartists.org, sent in from our intrepid performance critics
______________________________________________________
About the author: Camille LeFevre is a Twin Cities-based arts journalist and college professor.