FRINGE SHORTS: "The First Five Minutes Are Slow" by Tamara Ober/Present State Movement
Lightsey Darst kicks off our 2010 Fringe Festival coverage with the madcap, "unsummarizable" entertainment of the new show by Kathryn Jorgenson, Brant Miller and Mark Rehani. Keep your eyes out for more short Fringe reviews every day this week.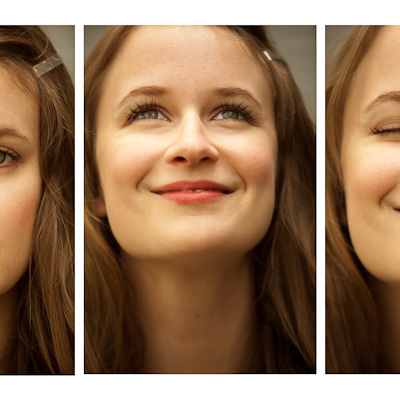 THE CHIEF THING THAT KEEPS ME from being super-thrilled when Fringe time rolls around again is the Fringe's much-vaunted wackiness. It's the "You won't see this in Peoria!" attitude which simultaneously reveals the freshly Peorian roots of the artists and delights the weekenders up from Peoria, hoping to see something truly weird. Everything's up to date here in Kansas City, the Fringe screams, we've gone about as far as we can go! The Fringe's signature wackiness is, in a word, provincial.
And yet the show I enjoyed on opening night of the 2011 Fringe, The First Five Minutes Are Slow, is certifiably wacky. Let's see: an office scene, the last five minutes before freedom, our heroine blowing raspberries to keep herself and us amused, explodes into a fairytale forest encounter, our heroine trying to teach two men to sing, two men who turn out to be a man and a woman, the latter of whom our heroine has to assuage upon discovery of her mistake — "You're beautiful!" "What else?" "And — supple!" "What else?" "Supple!" "You said that before!" "Very supple!" "You want to take a break?" someone asks, and suddenly the three performers are "out of character," chatting about what movies they've seen. One pleads with the others not to tell him even whether they enjoyed Toy Story 3, whereupon another gives the entire plot, causing the first to angrily dash his cup into the wall, only it's Styrofoam and floats off gently. Later there's an ocean recreated on an overhead projector, a three-minute version of Speed, and buckets more of similar unsummarizable inanity.
What is this if not wacky? And yet it's wildly funny — by which I mean that you will actually be laughing on your own, not forcing yourself to make laugh noises out of fellow feeling for the poor performers (a not uncommon Fringe experience). The First Five Minutes gallops along with the logic of Family Guy (i.e., no logic at all), sometimes behaving like a child's story, sometimes like a postmodern riff on storytelling. The three smart and charismatic performer — creators, Kathryn Jorgenson, Brant Miller, and Mark Rehani — are brimful of bright ideas plucked from here (Hotel Modern's The Great War?), there (Saburo Teshigawara's Miroku?), and thin air.
What can this mean? Is the Fringe getting more cosmopolitan, or am I getting more provincial? It's at once alarming and entertaining — or more simply, alarmingly entertaining. The First Five Minutes isn't always running at top speed — and let's face it, the show doesn't make much sense as a whole — but who cares? Jorgenson, Miller, and Rehani are some real wacky madcap livewires, and you could do much worse than to spend an hour in their company.
______________________________________________________
Related performance details:
Tamara Ober/Present State of Movement presents The First Five Minutes Are Slow, at the Southern Theater in Minneapolis. Remaining shows: August 10 (10 pm), 13 (8:30 pm), and 14 (5:30 pm).
Check back regularly throughout the Fringe Festival for more short reviews on mnartists.org, sent in from our intrepid performance critics
______________________________________________________
About the author: Originally from Tallahassee, Lightsey Darst is a poet, dance writer, and adjunct instructor at various Twin Cities colleges. Her manuscript Find the Girl has just been published by Coffee House; she has also been awarded a 2007 NEA Fellowship. She hosts the writing salon, "The Works."