FRINGE SHORTS: "Ivory Tower Burning" by Jay Gabler
Before serving as arts editor at the Twin Cities Daily Planet, Jay Gabler received a doctorate in sociology from Harvard, an education he puts to fine use in his thought-provoking Fringe Festival debut, "Ivory Tower Burning," says Camille LeFevre.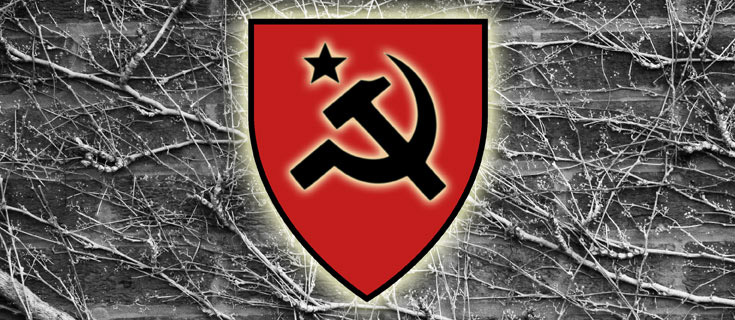 THE PLACE IS HARVARD UNIVERSITY, 1960. The setting is the university office of the highly influential academic and creator of a new AGIL framework of sociological theory Talcott Parsons. Into Parsons's lofty Ivory Tower, from which he reigns over his new Department of Social Relations, bursts the much younger sociologist C. Wright Mills. And boy, does Mills have something to say.
Such is the premise of Jay Gabler's engaging two-man show, Ivory Tower Burning, which imagines an encounter between the two academics. Gabler bravely plays Parsons with stuffy bravado; Joe Gabler (Jay's younger brother) gamely portrays Mills, whose energy, passion, and conviction threaten the certainty of Parsons's seemingly rock-solid analytical framework.
Neither Gabler is an actor, but no matter. They do well enough. And the script from which they're working, written by Jay Gabler (who received his doctoral degree in sociology from Harvard before serving as the arts editor of Twin Cities Daily Planet), is extremely well-written — deft, fast-paced, articulate and powerful. It also resoundingly resonates with some of the primary and ongoing issues of our time, including race relations, equality between women and men, and the inequities dividing the 1 from the 99 percent.
The play begins as a rapier-swift crossing of verbal swords, with barbs barely—yet eloquently—wrapped in the conventions of polite conversation. Then, each sociologist explicates the other's theory in order to debunk it: Mills cleverly rattling the boundaries of Parsons's complex, Russian-nesting-doll boxes; Parsons quickly deflating Mills's concept of the sociological imagination as well as the younger academic's now all-too-familiar concept of the "Power Elite."
If that sounds too much like Sociology 101 (Gabler, in fact, is the author of Sociology for Dummies), take heart. What's really at stake in this debate, as these academics argue over who is right and who is wrong, is nothing short of the fate of human society. It's capitalism versus communism; complexity versus simplicity; knowledge versus platitudes; intellect versus compassion, and the ways in which actual human beings are often forgotten. Lines between the two academics blur and emotions rise. Parsons declares he's God, calling Mills a "radical propagandist." Mills leaves on an incendiary note, predicting Parsons's Ivory Tower will, most certainly, burn.
We already know, all too well, how it all turns out. Gabler's play shows us, in part, how we got here.
______________________________________________________
Related links and information:
Ivory Tower Burning, by Jay Gabler, is at Bryant Lake Bowl in Minneapolis for three remaining shows: Tuesday, 8/7 at 7 pm; Wednesday, 8/8 at 8:30 pm; and Saturday, 8/11 at 7 pm. Find reviews, ticket info and more on the Fringe Festival website: www.fringefestival.org/
Check back on the homepage regularly throughout the Fringe Festival, August 2 – 12, for more short reviews on mnartists.org, sent in from our intrepid performance critics on the scene.
______________________________________________________
About the author: Camille LeFevre is a Twin Cities' arts journalist and college professor.