FRINGE SHORTS: Buckets and Tap Shows (excerpts from "DREAMS")
Buckets and Tap Shoes is a Fringe favorite for good reason. The shows are jam-packed with lots of clapping, body slapping and tapping - and a real kid-pleaser to boot.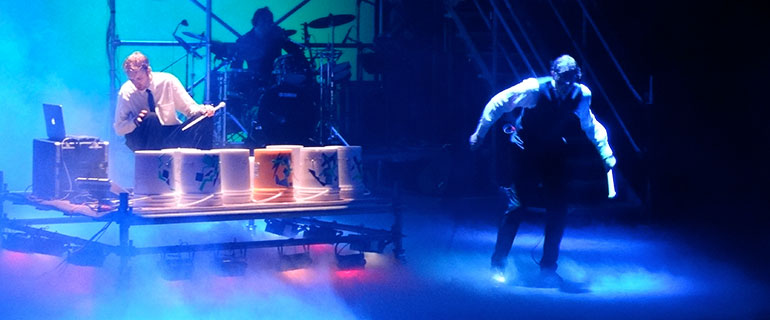 THERE'S NO STOPPING RICK AND ANDY AUSLAND. They're been rockin' and groovin' with Fringe audiences for years and show no signs of slowing down. The brothers' current Fringe offering—a rollicking hour of lightning-quick footwork, rapid-fire bucket drumming, and good-natured goofing—includes excerpts from the evening-length DREAMS they premiered at the Cowles Center last February. If you've seen Buckets and Tap Shoes before, you know what to expect. If you haven't, go—and bring the kids.
It's just the two of them, plus Willie Moore, who occasionally steps into the spotlight to add soulful saxophone to the numbers. Despite an occasional voiceover—portentous in a silly, New Age-y kind of way, intoning about following your dreams—the vignettes are showstoppers: jam-packed with lots of clapping, body slapping and tapping.
Andy is the flashier technician of the two: wiry, with razor-sharp tap work. How he manages to tangle and untangle those skinny legs so quickly—without missing a beat—is pure magic. And when he rocks back on his heels or up on his toes, the crowed invariably cheers. Rick is the ballast to Andy's hummingbird-like glimmer. Infusing his brilliant tap work with a goofball sensibility, Rick's the more animated of the brothers—as well as a furiously happy bucket drummer.
Not content with patrolling the stage during this rhythmic fest, the brothers drum their way into the audience and up the aisles, tapping chair arms, railings and steps. The audience needs little encouragement to clap along, especially after Rick offers a few increasingly complex lessons. The blow-out finale includes hula-hoops on stage for the kids, beach balls for tossing, and cowbells and sticks for the adults—topping off a tap blizzard that left many enthusing, "That was so cool."
__________________________________________________
Event links and information:
Buckets and Tap Shoes is performing at the Music Box Theatre on Friday (8/2), Saturday (8/3), Monday (8/5), Thursday (8/8), Saturday (8/10) of the Fringe Festival. For details and specific showtimes: http://www.fringefestival.org/2013/show/?id=2414
Check back on the homepage regularly throughout the Fringe Festival, August 1 – 11, for more short reviews on mnartists.org, sent in from our intrepid performance critics on the scene.
__________________________________________________
About the author: Camille LeFevre is a Twin Cities arts journalist and dance critic.