FRINGE SHORTS: "Captain Do-Good Saves the Future from Wal-mart"
Our reviewer says, despite the title, this isn't really hard-hitting satire. Rather, it is trying to be a romp, a farce, something more playful -- whimsical, not cutting. So, how does it work on that level?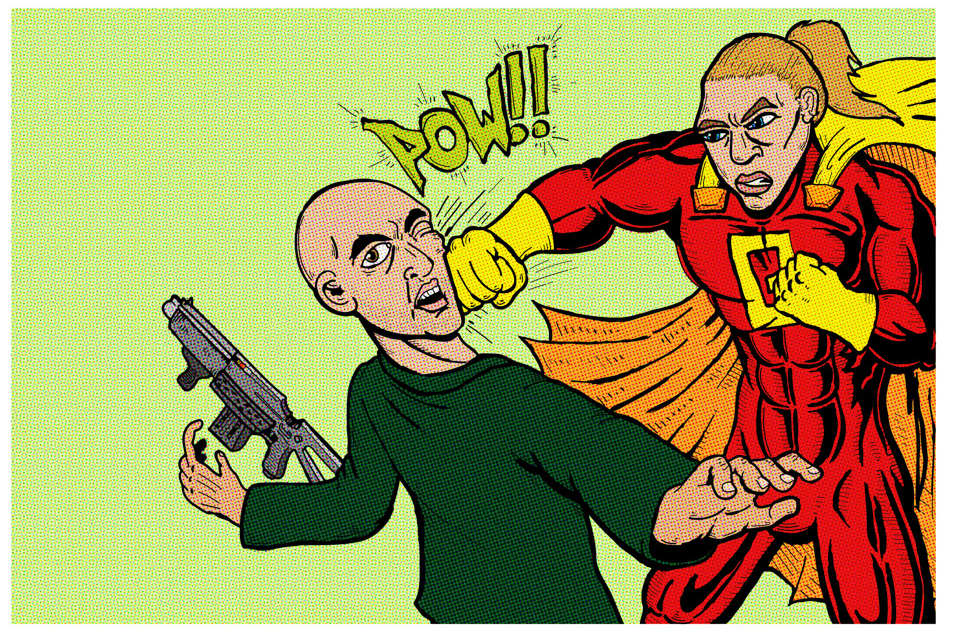 One of the reasons I singled out Captain Do-Good Saves the Future from Wal-Mart is because it's a political comedy whose politics are in total opposition to my own — I am very much team Wal-Mart, and looked forward to a tussle. That didn't turn out to be an issue, however, since this isn't really hard-hitting satire. It's not trying to be. It is trying to be a romp, a farce, something more playful — whimsical, not cutting. So, how does it work on that level?
Not so well as I'd hope, I'm afraid. The pacing of the show is more lethargic than it can afford to be: action stops for characters to enter and exit, the actors politely wait for each other to finish their lines. This thing was 40 minutes, and I'm confident it could have been under 30 with some more rapid-fire pacing. And it needs it. The script is a lot of things, but subtle ain't one of them. Here, giving us time to think about the punchlines hurts our ability to respond to them.
I did an interview with the writer a few weeks back, in which he expressed his love for the sixties Batman television series. The assertion was unnecessary, because that love is all over every page of this script. The villain is clearly written to be in full-on Frank Gorshin mode, cracking hack jokes at inappropriate moments, swinging abruptly between cackling and wild-eyed menace.
Likewise, Captain Do-Good himself is a clear Adam West analogue — not a brooding vigilante, but a thoroughly deputized servant of justice. Not just that, but a law and order rock star, with groupies fawning over him for his autograph and whatnot.
I hate to single out criticism for any individual actor's performance, but Dan Laird carries so much of the action and dialogue that, for this show, it's impossible not to. He may be an excellent actor, but he seems miscast here. The biggest issue is that Laird seems aloof from his character: to be mocking him, rather than embracing his absurd egoism with intensity and integrity. And here's the thing: I don't think Captain Do-Good can mock Captain Do-Good. Everyone else can (and should), but if he does, the play is over, because Captain Do-Good's defining characteristic is his agonizing sincerity.
The comedy could be strengthened, but I think the core issue is the lightness of the script. I've mentioned that tighter pacing and more deeply committed performances could bring this down from forty minutes would help, but I'm not convinced that there's more than 10 good minutes in this premise. It's a fun joke, but it's one joke, and it wears out its welcome.
[CAVEAT: the director of this show (Rachel Palashewski) was the assistant director on a production of one of my one-act scripts last spring.]
______________________________________________________
Related performance information:
Captain Do-Good Saves the Future from Wal-Mart by Comedy Comics, directed by Rachel Palashewski, has two remaining shows at Mixed Blood Theatre: Saturday, August 9 (1 pm) and Sunday, August 10 (7 pm). The 2014 Minnesota Fringe Festival runs from July 31 to August 10.
phillip andrew bennett low is a Chinese-American playwright and poet, storyteller and mime, theatre critic and libertarian activist. His performances have won acclaim at such varied venues as the Minnesota Renaissance Festival, Spirit in the House, FoolFest, CONvergence, and the Chicago, DC, Indianapolis, Iowa, and Kansas City Fringe Festivals — even as far as Melbourne, Australia. He is the co-founder of the Rockstar Storytellers (for which he served as Chair for the two years that position existed) and was founder and producer of the touring theatre troupe Maximum Verbosity.