Disturbed Dreams
Sheila Regan profiles Minneapolis artist Caitlin Karolczak, whose impeccably rendererd, "exquisite yet grotesque" paintings are on view in Rogue Buddha's "Science and Wonder" exhibition through June 12.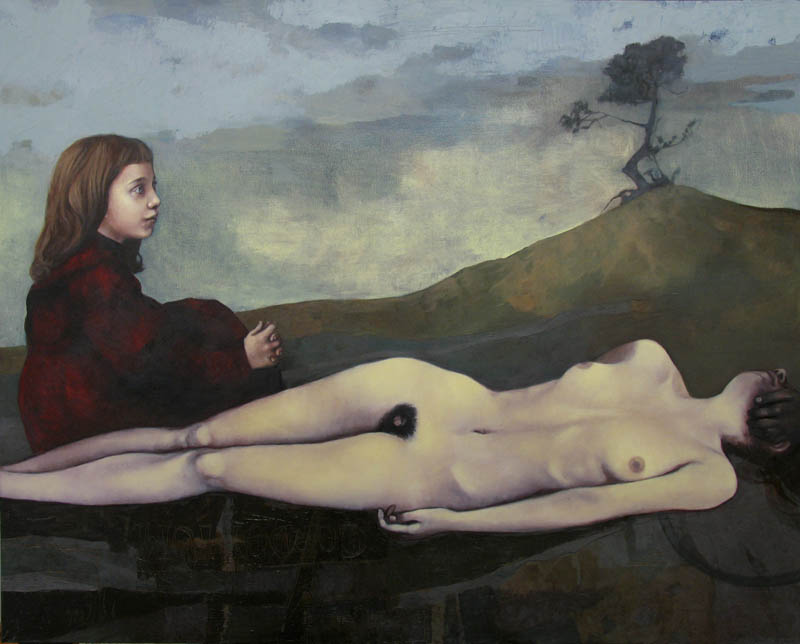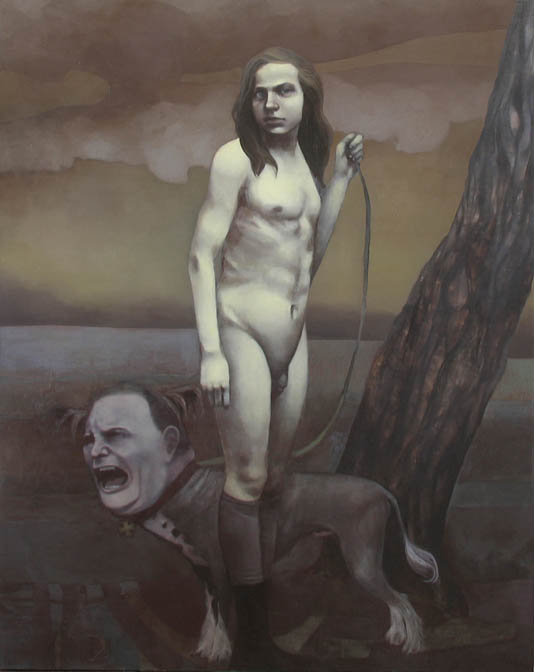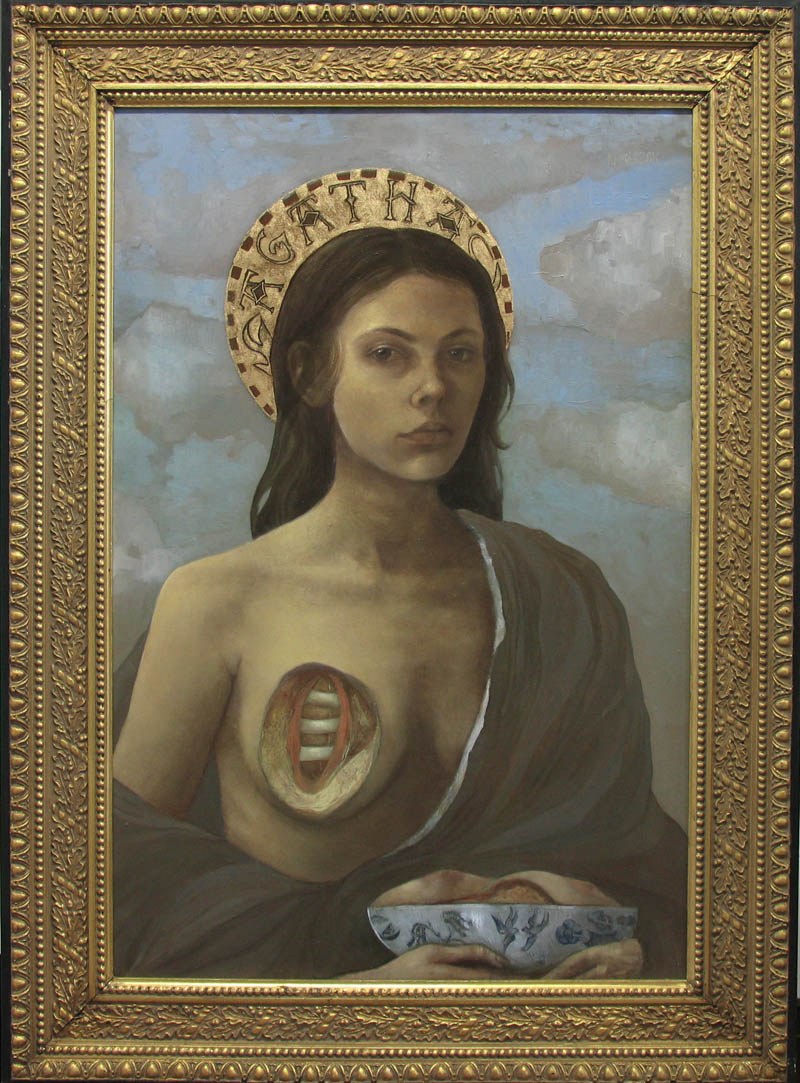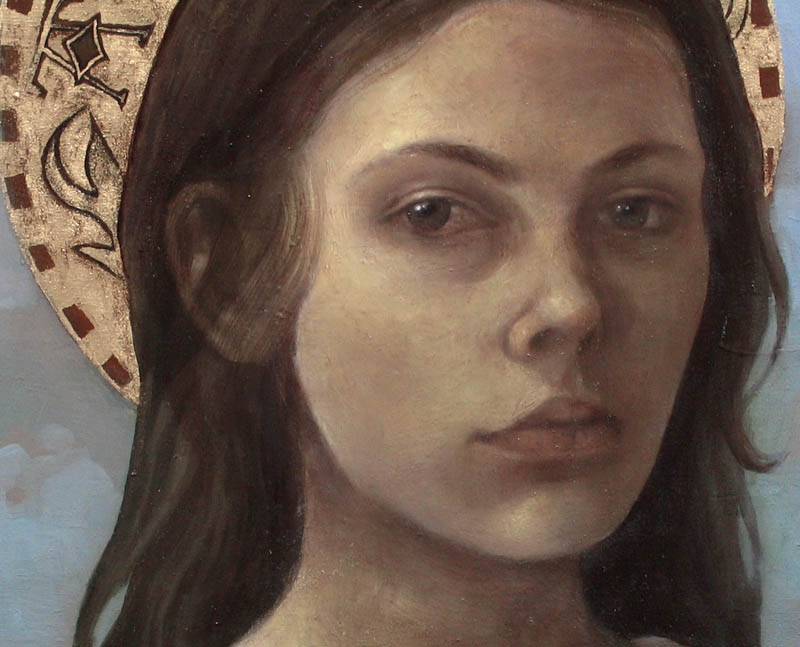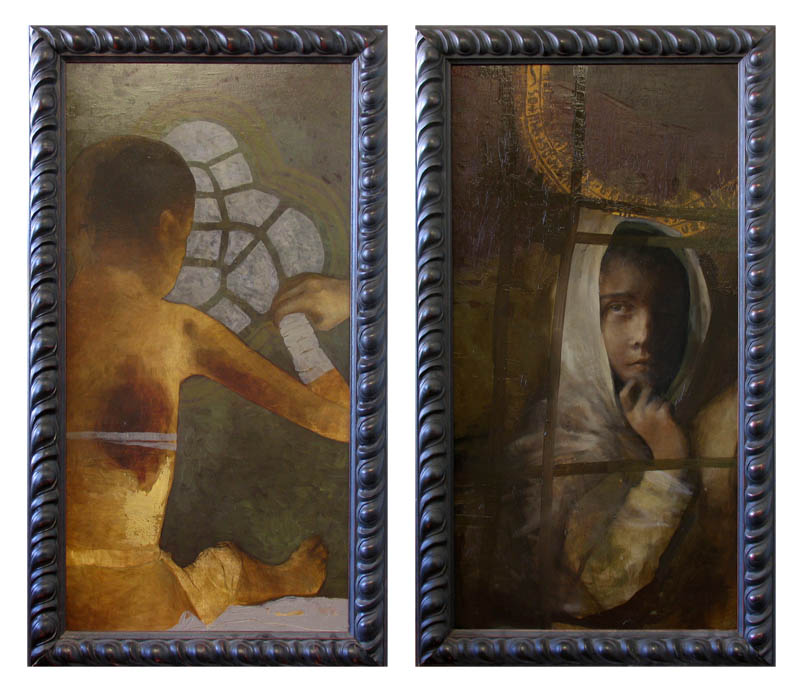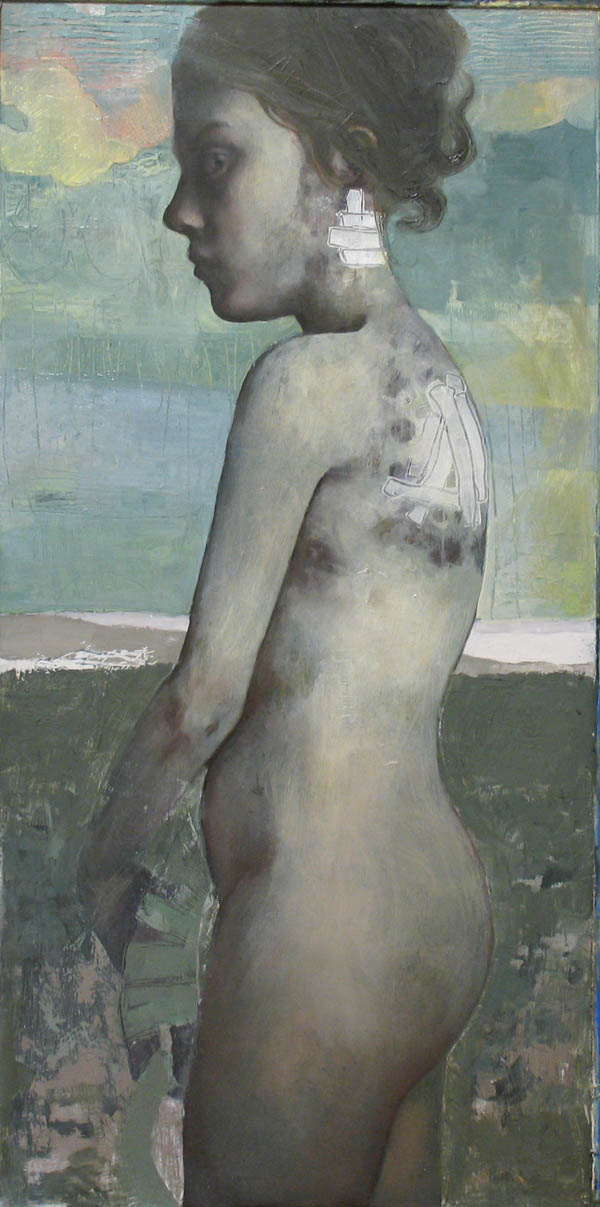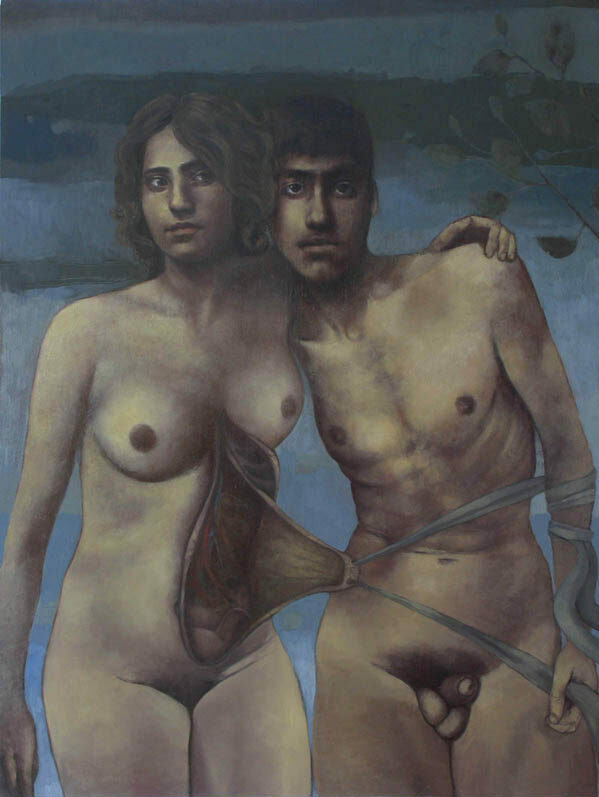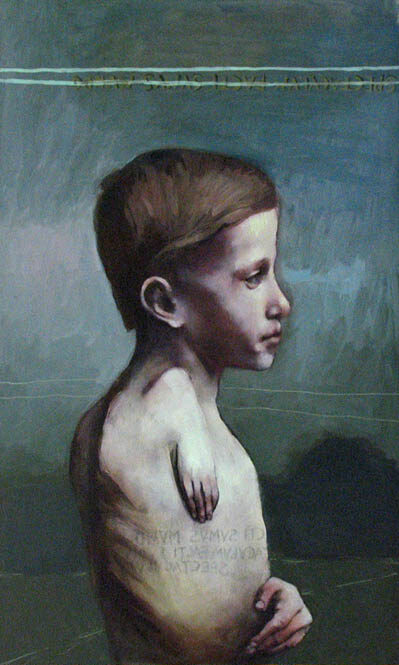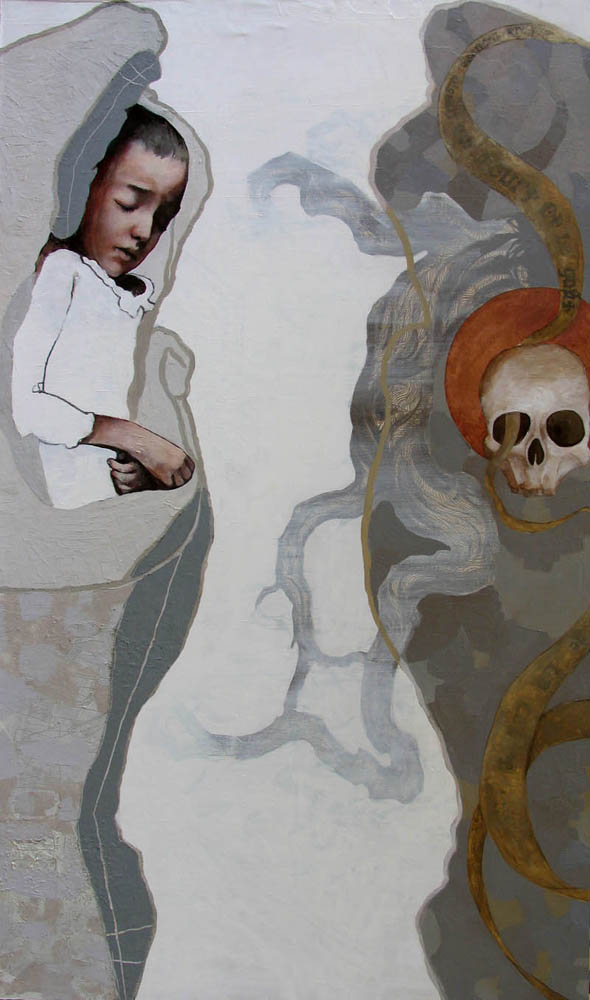 Caitlin Karolczak is not afraid of controversial subject matter. Taking on taboo subjects such as physical deformity, violence, and death, Karolczak's work provokes a visceral reaction in viewers that has led to both praise and hate mail. Her exquisite yet grotesque paintings (and one sculpture) are currently on view, along with Michael Thomsen's sculptures in Science & Wonder at Rogue Buddha Gallery through June 12.
Karolczak says that she is "strangely compelled" by her material: she feels a connection with the people represented in her work. Thanks to this affinity, and the fact that Karolczak permits her own dark memories subconsciously to inform her work, she skillfully evokes pathos for her cast of misfit characters. She doesn't always start out with a concrete plan; rather, she is guided by her intuition as she creates each piece. Juxtaposing Flemish underpainting techniques with contemporary abstraction and texture, Karolczak draws from such source material as antique medical drawings and obscure classical paintings of saints and mythological figures performing violent and sexual acts. Layering these provocative re-examinations of historical images with a daring portrayal of her own psyche, Karolczak's work is disarming in its frankness, demanding of reflection.
Karolczak grew up in a Catholic family on the Iron Range in Northern Minnesota; she says she only had a couple of friends and was teased for not being like everyone else. Her early experiences of feeling like an outsider continue to inspire much of Karolczak's work; those influences are particularly evident in her paintings based on historical images of people living with deformities and disease. The poignancy of these portraits demonstrates an intimate understanding of isolation, an awareness of the vulnerability inherent in living outside of cultural norms.

This examination of 'difference' is especially apparent in her new series on hermaphrodites (she intentionally uses the passé term, out of deference to the terms used in the historical drawings on which she bases her work). One of these paintings, Hedone (hermaphrodite portrait #1) shows a reclining figure that appears, in most respects, to be a slender, pale woman, with the exception of very small male genitalia which emerges from a bed of deep black pubic hair. The image of the hermaphrodite is based on a photo from a German medical book dating to the late 19th century, which Karolczak, an avid antique collector, bought at an auction. Her painting deconstructs the image, showing how the subject is objectified in a way that both titillates and horrifies the viewer. The hermaphrodite looks disquieted, with her arms tightly clung to her sides and her head tilted back; though we can't see her facial expression, the evident tension in her body reveals the strain of being scrutinized.
At the hermaphrodite's feet is a contemplative young girl, looking not at the painting's subject, but off in the distance. Karolczak says she included the child because, for her, the scene evoked the Greek mythological figures Eros and Psyche. According to the myth, the beautiful human woman Psyche, who loved the god Eros, was ordered by Eros never to look at him — much, Karolczak says, as the act of gazing at the hermaphrodite seems to be forbidden. The child represents Hedone (also called Voluptas), the lovechild of Eros and Psyche, who, in Karolczak's piece, acts as both subject and observer; her presence makes the viewer of the painting aware of his or her own part in this byplay, and of the voyeurism involved in simply looking at the pair.
Where the painting Hedone deconstructs a historical medical photograph using Greek mythology, another of Karolczak's paintings, The Martyrdom of St. Agatha, reworks a once common portrayal of Saint Agatha. The artist reconfigures the familiar devotional image as a self portrait, with details mined from her own personal experience mixed with those of the historical figure. According to the Christian legend, Agatha was the object of lust for Quintian, a Roman who eventually tortured the saint for her refusal to submit to him. He forced Agatha to stay at a brothel; eventually, he cut off her breasts.
It's this episode, in particular, which is reflected in the saint's iconography. In the place where Agatha's breast has been severed, Karolczak paints three floating ribs surrounded by a circular ligament. Since the rest of the portrait is painted realistically, the abstract interpretation of the wound forces the viewer to pause and reflect on the physical body — bones, ligaments, and all. Agatha is, in Karolczak's interpretation, more than a devotional symbol for perseverance in the face of adversity — she's vividly depicted as a victim of abuse. Historically, Saint Agatha was regarded highly for her chastity, but throughout medieval and renaissance paintings, she became the main character of paintings that objectified her sexually. "A lot of Catholics don't know about these images," Karolczak says. "But this is historically accurate. If you are going to practice the religion, you need to understand the culture."
Karolczak said she hopes to go in a more political direction for future pieces. The beginnings of this evolution in her work can be seen in the single sculpture she's showing at Rogue Buddha, called simply "untitled" and made out of an antique dress form. Through slits in the form, the viewer can peer through magnifying glasses at photographs of fetuses, or at the scientific process of using the skin from aborted fetuses on burn victims. This piece is the closest Karolczak comes in the show to making an outright political statement, but even so, as with all her work, she does so in a way that stirs the emotion. The move toward more overtly political investigations seems a natural step for the artist, whose work has always been about provoking thought through disturbing subject matter.
---
Related exhibition: Caitlin Karolczak's new work is on view, alongside that of Michael Thomsen, in Science and Wonder at Rogue Buddha Gallery in Minneapolis through June 12.