Bluebeard Meets Ibsen in a Gilded Age Mansion
Camille LeFevre reviews Combustible Company's campy, absorbing production, "Bluebeard's Dollhouse," staged on-site at the historic James J Hill House in St. Paul.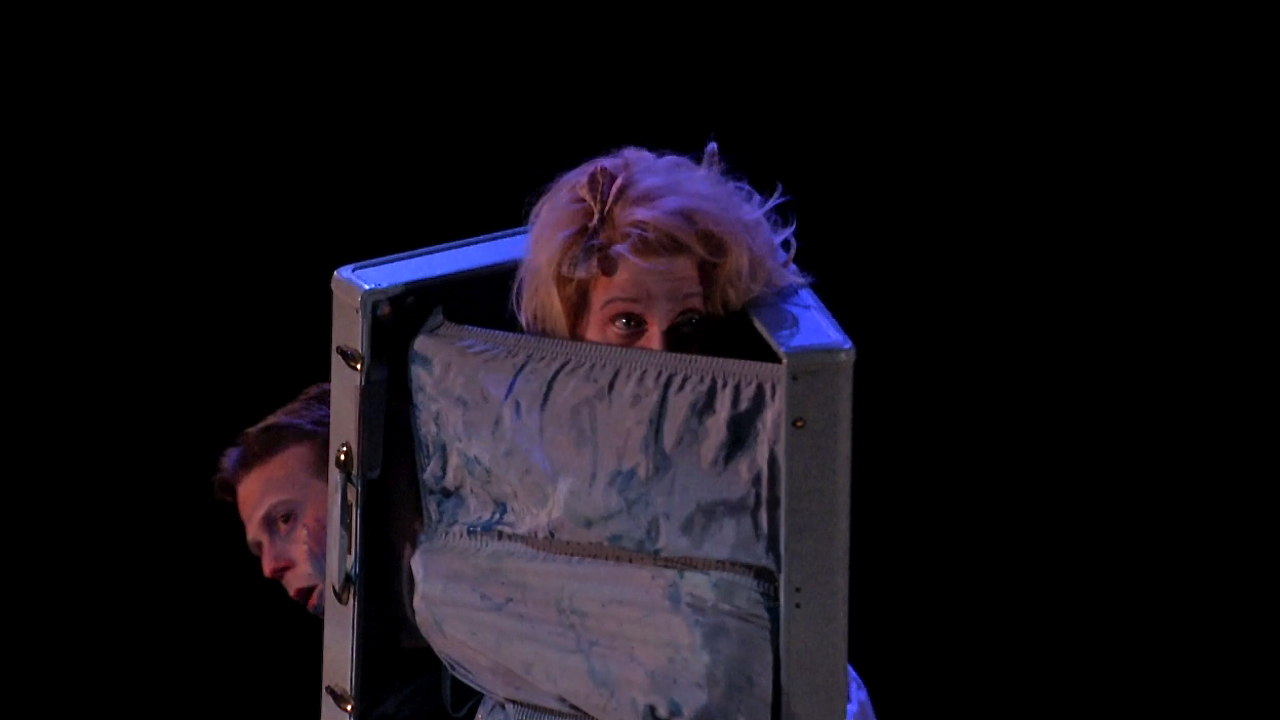 As someone who has written reams (much of it never published) on site-specific performance (dance, in particular); who has witnessed and participated in and analyzed site-specific dances performed in a spectrum of locations from the woods at Jacob's Pillow in Massachusetts to grain silos in Minneapolis to drainage ditches and historic hotels in Los Angeles; and who ached to see Punchdrunk's Sleep No More during its New York engagement last year (but didn't), Combustible Company's Bluebeard's Dollhouse at the James J. Hill House in St. Paul sounded intriguing.
It wasn't the novelty of seeing roving live theater in a historic mansion. Rather, the wide-ranging possibilities inherent in the production got my attention. At the risk of appearing to establish or even over-emphasize my street cred with this type of work, the point is this: I take multidisciplinary performance in settings other than on a concert stage quite seriously, in part because I've investigated just how physically and aesthetically risky, logistically difficult, and red-tape intertwined such productions can be.
I also understand that site-based work is created on a continuum of site-specificity, meaning that the extent to which the content of the performance is based on the site itself varies. I've come to expect, or rather desire, a level of audience participation—and a level of individual agency—that many audience members might find undesirable or discomforting. And I want to exit the performance a changed person, having experienced the site, the performance, and my participatory reactions to both at a empirical level that engaged my kinetic and sensory sensibilities, as well as my intellect and emotions.
So, as viewed through this particular (or peculiar) lens, how did Bluebeard's Dollhouse stack up? Overall, the production is fun and ingenious. At moments it's campy and melodramatic; at other times absorbing. It's a rapid-pace (at times frenetic) excursion through portions of the railroad baron's Gilded Age mansion, within the context of an absorbing (if, at times, perhaps rather dated) meditation on wives as the captive property of clueless, narcissistic, bombastic, accusatory (okay, maybe not so dated) husbands.
The narrative, by Combustible's co-director Kim Longhi, is an abstracted mash-up of Henrik Ibsen's A Doll's House and Charles Perrault's fairytale, Bluebeard's Castle, where sections of dialogue, shards of meaning, and intersections of storytelling all hinge on the wives: Nora (from Ibsen) is indispensible, as she saves Thorvald's life, but is infantilized and treated like a empty-headed doll, while Bluebeard's wife is as nameless and as disposable as her predecessors.
Moreover, Longhi fractures the wives' identities into many personalities and stages of life. There are two Nora Crones, one Nora Mother, one Nora Child and three Nora Lovers. There are also almost as many Bluebeards and Thorvalds, played by several actors (sometimes seemingly at the same time). All of the performers move—rapidly—in and out of vignettes throughout the mansion, guiding participants along the way. We are ushered into an art gallery with pipe organ (!), up and down the grand staircase, back and forth between bedrooms, down hallways, flattened against the walls, led up and down the servants' stairwell.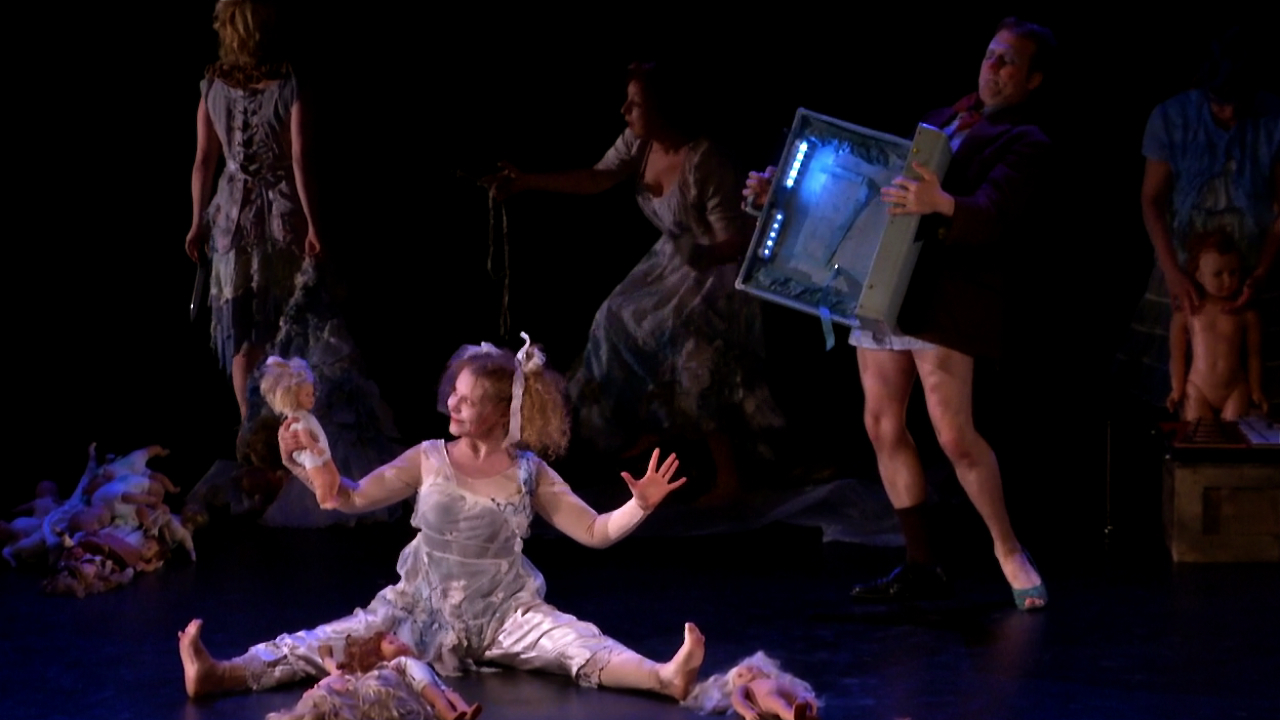 Here and there, Pearl Noonan (a Nora Lover), with her resonant voice and reed-like limbs, toppling between one bare and one boot-shod foot, slices through the atmospherics (hushed voices, cackling laughs, the tinkling of music boxes, the rush of audience members, the rustle of skirts, a Nora Crone singing or playing the violin, booming notes from that pipe organ) with talk of how Bluebeard's eyes are as a blue as a doll's and—more chillingly—carve her up inside.
In another room, she verbally wrestles (demurely, of course) with a Thorvald (Erik Hoover, Combustible's co-director) who can't see the steely resolution she carries within herself. Elsewhere, Karla Grotting (the Nora Mother) and Paul Herwig (Thorvald, in this vignette) are in an abstracted dance of emotional interaction that escalates into violence, revealing through movement the turbulence beneath the careful, measured words of Ibsen's characters.
In a small space beneath the roof, Renee Howard (the Nora Child), giggling in the demonic, pitch-perfect glee of a horror-film doll (she is truly astonishing and frightening), conducts a tea party, during which she animates her Mini-Me (a doll with hair and expression matching her own) with an alchemical alacrity at once captivating and horrific. Meanwhile, another Nora Lover lies drowning on her bed beneath a video of herself plunging into a lake.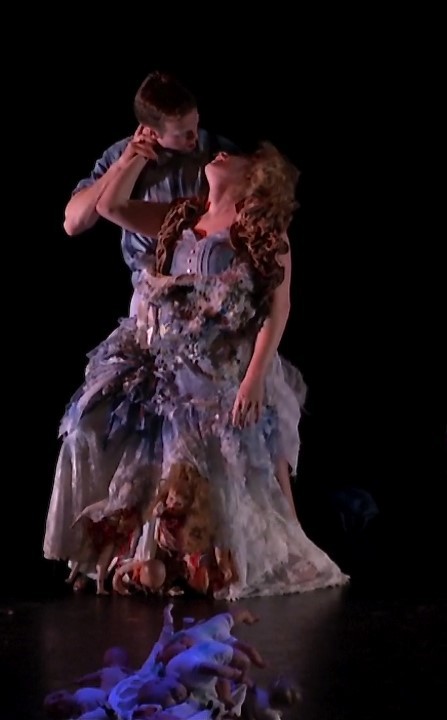 Three Nora Lovers twirl beneath a veil (held aloft with manikin limbs) in front of a video of them moving through a birch forest: Imagine a Klimt painting. A Thorvald/Bluebeard watches letters tumble from a suitcase. The Nora Crones sing, cajole, beckon, and emerge from a cocoon of yellow caution tape. The Hill House is quite the location for such performances—a castle-like structure, to be sure, that, if viewed in cross-section and shrunk, would surely serve as a luxurious dollhouse. The connections are clear.
The performers are all coated in blue: sumptuous blue rags for clothing, with blue on their faces and in their hair. There are dolls (some with red threads bulging like viscera out of their bellies), knives, keys, and letters galore. Keys with tags are handed out to the audience, small groups are created and pass each other in the halls. While initially encouraged to stop, look, and listen, the hustle from room to room doesn't stop until we're gathered together, one last time, at the bottom of the staircase. Here Noonan's Nora Lover exits with a slam of the Hill House's massive front door.
Site-specific? No. Site-based, yes, and imaginative, with a mind-boggling choreography of performer-guided vignettes continually shifting audience members through time and space, between characters and narratives, as if we are the pieces on a grand chessboard of an invisible creator's making. Participatory? No, other than the shuttling from room to room, or being handed or handing over a key, or taking an envelope in which there's a poem but that hasn't any participatory value. Discomforting? Well, there are a lot of dolls.
Transformative? No, but entertaining, haunting, and a fitting antidote to the pumpkin spice mania that's overtaken one of the most venerable of pagan holidays. And if the symbolism of the keys, letters, and dolls escapes you, or the Thorvald and Nora altercations are vague compared to the demise of Bluebeard's wives (laid out plainly in footage from a silent black-and-white film), then it's back to Ibsen and Perrault for another read. Which, in this year of politically fractious and mind-boggling absurdity, hinging in so many ways on women's minds and bodies and history and hard-won expertise, isn't a bad result at all.
---
Related performance information: Combustible Company's Bluebeard's Dollhouse takes place at the James J. Hill House in St. Paul in two shows each on Friday and Saturday nights September 30 through October 15, 2016. Visit the MNHS calendar for all showtimes and ticket details: http://www.mnhs.org/calendar.