Playing in Public
Linda Shapiro looks into "Radical Recess," the new dance component of Hennepin Theatre Trust's ambitious Made Here public art project. Curated by Laurie Van Wieren and April Sellers, the lunchtime performance series brings a bevy of local choreographers to downtown Minneapolis spaces from January through March 2016.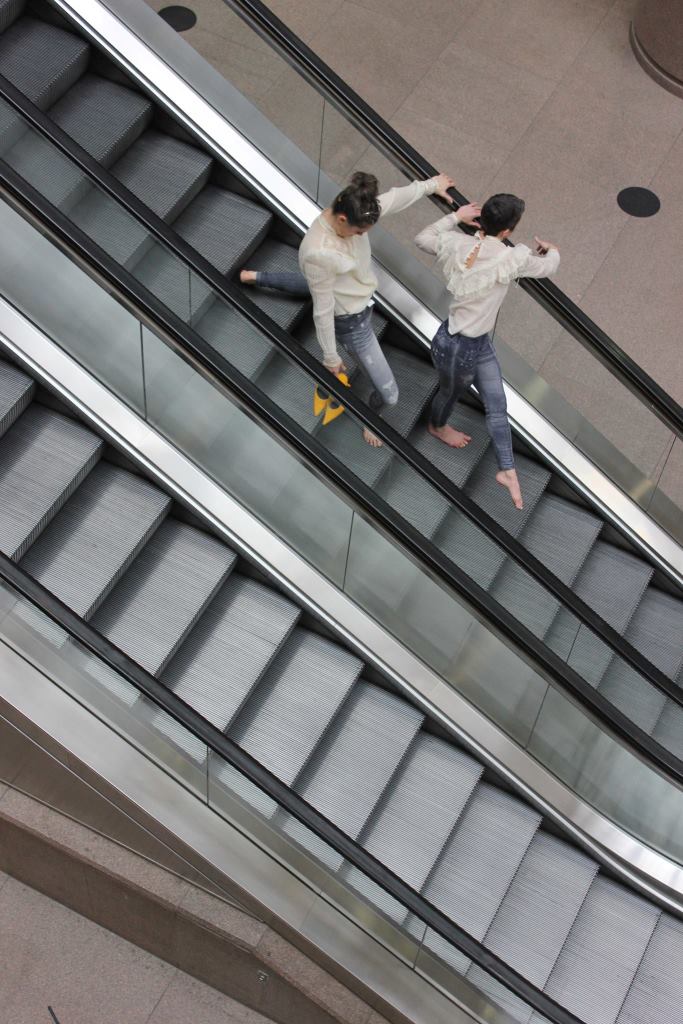 What makes a recess radical? Judging by the helicopter adults who zealously direct so many children's experiences today, the kind of playground I scraped my knees on in the 1940s might be considered "radical" now. At the 39th Street Elementary in Milwaukee, we had separate areas for boys and girls, enclosed by chain-link fences. The blacktop was cracked and stained. We girls had one teeter-totter with splinters and a couple of swings with rusty chains. The alpha females got those early on, so the rest of us had to use our….IMAGINATIONS!
We second-graders evolved highly physical narratives — of Wild West cowgirl adventures, princesses in distress, or Wonder Woman catching curs with her magic lasso — that could go on for weeks. I was reminded of my freewheeling childhood one evening in early December while watching dancers perform in the high tech Mayo Clinic Square. They were kicking off a series called Radical Recess, part of a public arts project entitled Made Here and sponsored by the Hennepin Theater Trust. As a small crowd snacked on nachos and imbibed wine, Arwen Wilder and Kristin Van Loon of the duo HIJACK made free with the escalators, following a complicated improvisational score:
We travel up the up escalator; we travel down the down escalator. We each tote our own music machines, measuring the distance called 'earshot'. One is analog one is digital. The quirks of the machines instigate a phasing. This phasing should bring us together. Big ferns provide a corporate-lobby-chic frame. Our shirts are cheap, crisp, hip hop, huge, unethical, NEW.
Meanwhile, groups of people riding those same escalators viewed HIJACK'S hijinks with surprisingly knowing sangfroid. Perhaps that's because this was a mostly arty crowd here for an opening, ready for anything.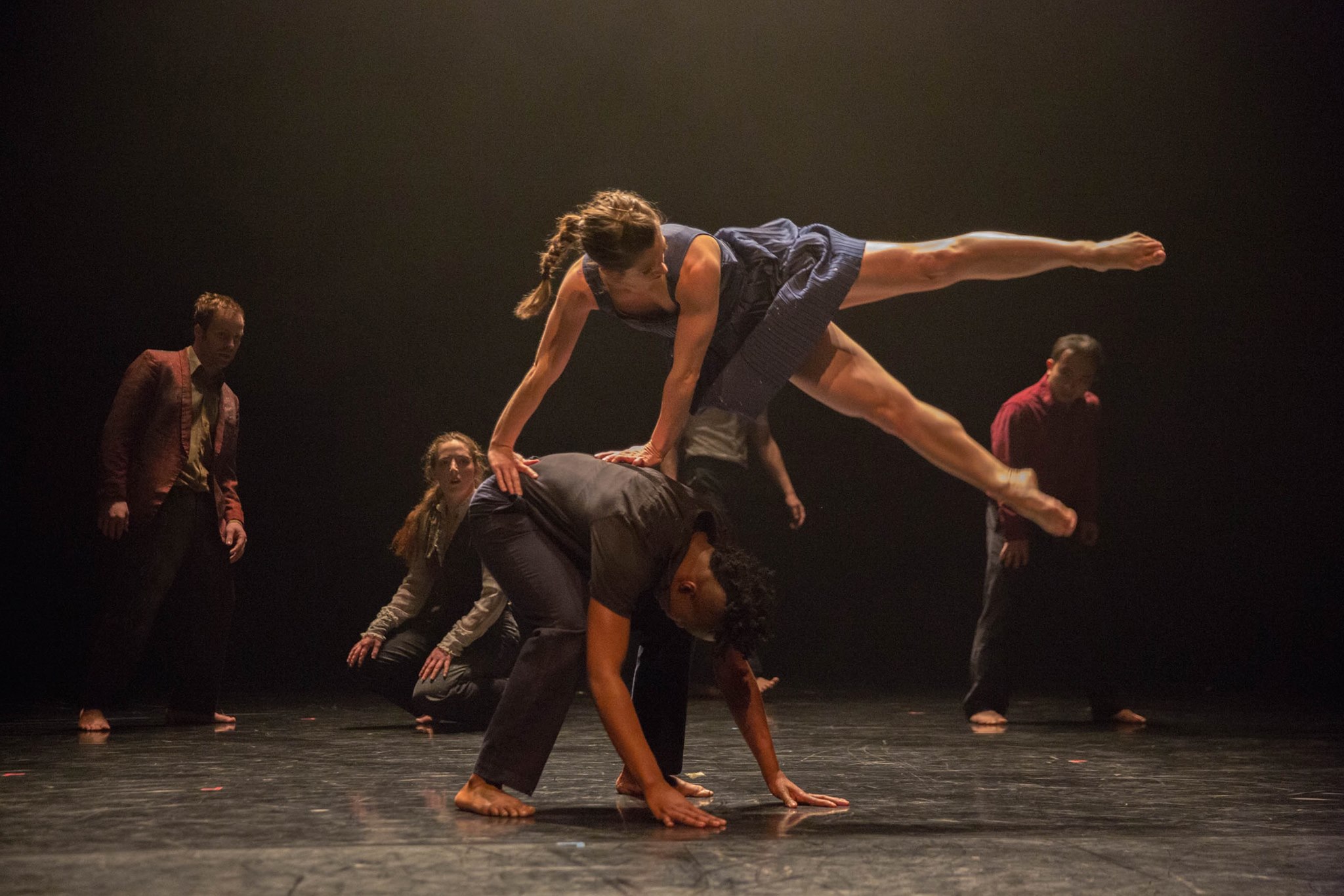 Later that evening, two dancers from Carl Flink's Black Label Movement company performed lyrical and gymnastic moves on and around a couple of benches. The intimacy of getting close up and personal with dancers engaged in the physically and emotionally charged duet certainly hooked this audience. On an upper level, a father and his two young daughters watched intently, one of the girls trying out a few moves partnered by a railing.
"Performing movement in public spaces is a different mode of engagement with observers and the environment," says Flink. "They can choose to watch or walk by. The performance becomes more about embedding in an environment without the expectation of being observed. In some ways it is a 'pure' form of performance because the artist needs to be willing to move through the piece without the likely payoff of applause from an audience, but stay completely invested in the work in order to serve its intention."
After the grand opening, Radical Recess will go on several lunch breaks. Over the next three months, 10 choreographers will get to go out and play in various downtown Minneapolis public spaces, mounting site-specific works for passersby. These noontime performances will take place on Fridays at 12:30 in City Center (Jan. 8); the IDS Center (Feb. 5); and Loring Park (March 4).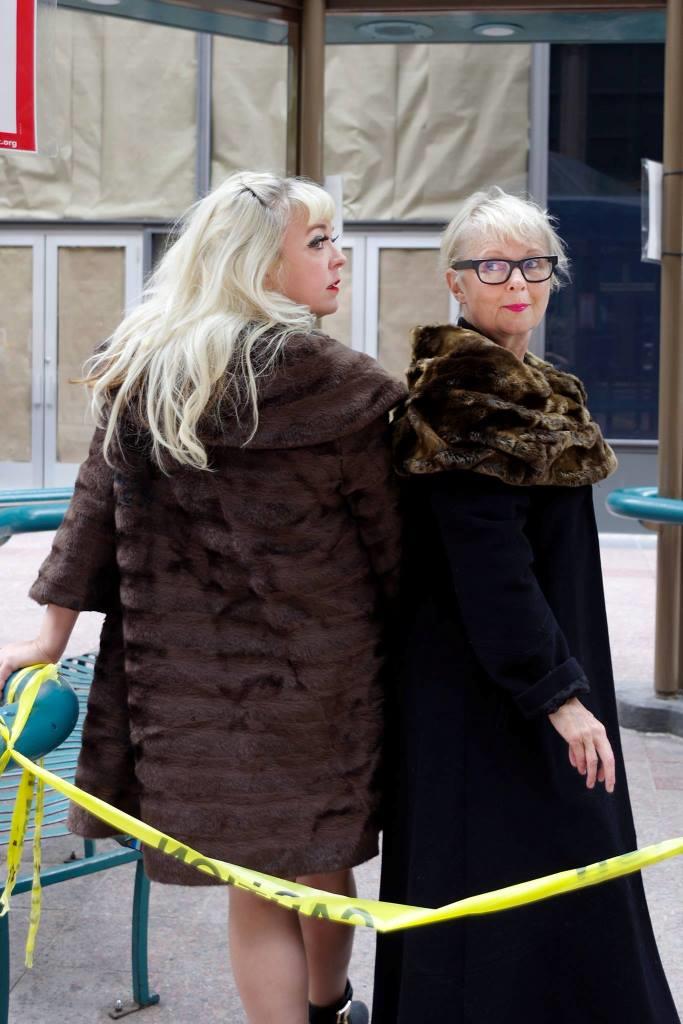 Choreographers open to the challenge of pop-up performances were exactly what Joan Vorderbruggen, Cultural Arts Coordinator of the Hennepin Theatre Trust, had in mind when she asked April Sellers and Laurie Van Wieren to curate Radical Recess. Both women have had experience in creating work outside of conventional theater spaces. Van Wieren produced a work on Lake of the Isles in 1995 that included fireworks, gold medal skaters, and a hockey team. Sellers has taken part in a number of performance events in and around houses. Both have created pieces for local galleries.
Why has the Hennepin Theatre Trust gotten into the business of livening up downtown with art? Over a lively lunch at Murray's in the heart of downtown, Vorderbruggen explains that the Trust manages three historic theaters along Hennepin Avenue, and so West Hennepin is, in a sense, their lobby. And they knew they needed artists to inhabit it. In 2011, the Trust received a National Endowment for the Arts grant to draw up a plan for a cultural district initiative on Hennepin Avenue to help smooth out what Vorderbruggen refers to as "an uneven urban experience. Tom Hoch, president of the Trust, led the charge. A real visionary dude," she adds.
They started with Made Here, inviting artists to create art installations in vacant commercial storefronts for buildings like City Center. The Trust has been building on Made Here's success by adding programming to activate underutilized space in 2014, such as artist markets, film screenings, artist talks, and now the Radical Recess component of dance. This year's theme of "Reflections" includes window showcases that interpret the world and, of course, dance, which interprets the world as an embodied experience.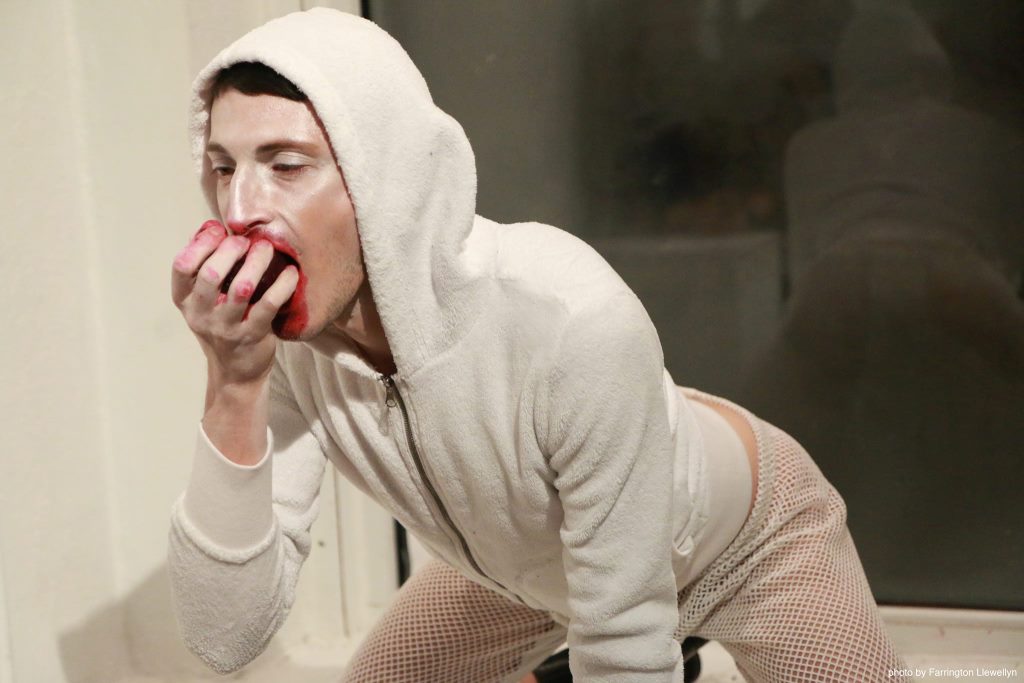 Sellers sees Radical Recess as an opportunity for artists to attract audiences who normally wouldn't set foot inside a theater to see dance. It also gives the artists a chance to play around with ideas that couldn't possibly be accomplished in a theater. Take her work "ATM Advanced Transfer of Movement," on the January 8 program in City Center, which will take place around an ATM machine. "My dancers and I spent several days of rehearsal downtown watching the flows of traffic, listening to conversations of people passing, and imagining the ideas in the heads of the people at the ATM," says Sellers. "Were they thinking ahead excited about their plans for the evening? Were they impatient in the moment, wanting to hurry up? I imagined a sense of greed and competitiveness, a corporate lust for money."
Van Wieren talks about the range of dance she and Sellers sought for these performances, inclusive of the variety that currently informs the Twin Cities dance scene. So while Sellers' dancers interrogate the ATM machine, Taja Will's ensemble will perform "Gospels of Oblivion," set in a time immediately before humans become extinct. "For me, this series feels like part invitation, part sneak attack," says Will. "We are dropping the performing arts into populated spaces that have their own subculture and rhythm. We are creating an interruption to the lunch hour traffic patterns."
The City Center performance also includes a butoh-based solo in which Dustin Maxwell slips in and out of different states of consciousness. "I'm most excited about placing the dancing body into intimate spaces without the boundaries that the theater can create and especially into spaces where the dancing body may be in stark contrast to the corporate and commercial atmosphere," he says.
Sellers and Van Wieren are especially interested in the radically different ways the artists will use the spaces to which they are assigned. The February 5th program in the IDS Center features choreographers Ananya Chatterjea, Anna Marie Shogren, and Robert Keo. While Ananya Dance will cover the entire space with powerful percussive dancing based on the Indian form of Odissi, Shogren will create a trio called "Sun Downing" inspired by the community of seniors with Alzheimer's and dementia with whom she currently works. Keo, who began his dance career busking in Penn Station in New York and now has a corporate job, will be popping and locking while dressed in a suit.
Shogren has performed in a variety of public spaces here and in New York. "In the places that performance has been offered to those not knowing in advance what they would be encountering, the thing that surprises me still and most is the many people who won't agree to look, or even glance," she says. "The world is mighty stimulating these days, and personal choice is important; but as a believer in the value of a dance as a healthy and conventionally harmless corporeal exchange, this reaction continues to surprise me."
Perhaps the most unpredictable event of the series will take place in Loring Park on March 4th. Weather is always a factor here in outdoor performances, so the possibility of March coming in like a lion will certainly affect how Rosy Simas and Pramila Vasudevan, strong choreographic voices with plenty to say, choose to structure their pieces.
Getting dance out there into the real world under the aegis of commercial theater is a giant step, Van Wieren believes, in making site-specific dance part of the fabric of the city. "Made Here is now an official platform that makes dance as important a public cultural phenomenon as visual art," she says. "April and I believe these dances will bring a new improvisational energy to the spaces with the power to make people view them with fresh eyes."
Related links and information:
Find more details on each of the upcoming public performances in Radical Recess, and keep track of all the happenings associated with Hennepin Theatre Trust's Made Here project online: http://madeheremn.org/.
Linda Shapiro works as a freelance writer and has published articles, reviews and essays on dance and other subjects in The Twin Cities Reader, Minnesota Monthly, Midwest Home & Design, Minneapolis St. Paul Magazine, Architecture Minnesota, Mn Artists, Music Live, Minneapolis Star-Tribune, St. Paul Pioneer Press, CLA Today, City Pages, Twin Cities Metro, The Rake, Dance Magazine and The Gay City News in New York.