FRINGE SHORTS: RAW Dance Collective's "Re: Trace"
Lightsey Darst loved "Re: Trace," a clever bit of site-specific improv movement theater, and says the audience with her did, too--read on to find out why.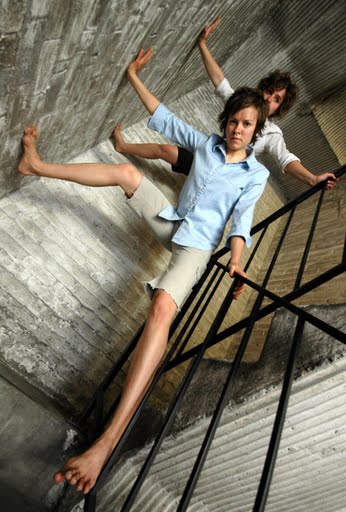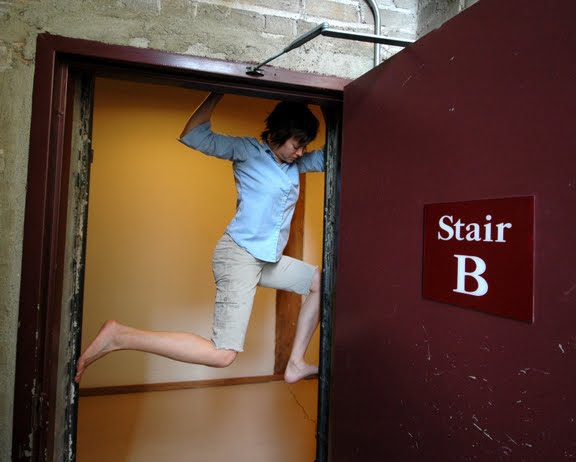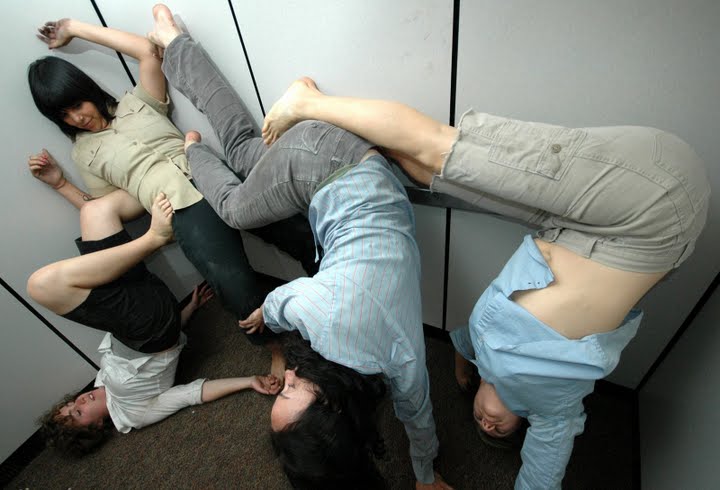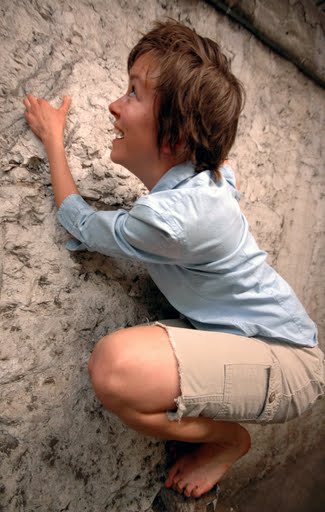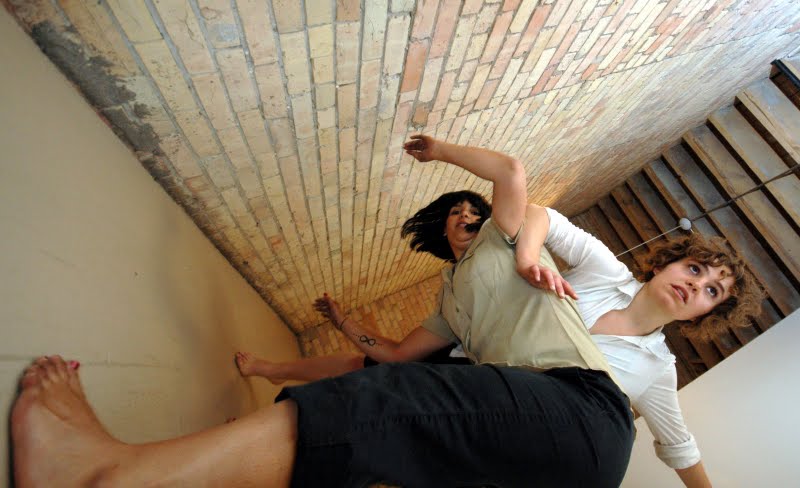 THE ENTIRELY TOO CLEVERLY NAMED RE: TRACE, from the entirely too cleverly named Ready At Will Dance Collective (you know, RAW Dance), turns out to be pretty darn clever. First, the set-up: Re: Trace is a site-specific improvisation. What that means is RAW reads the Colonial Warehouse as a text for movement, infesting this fairly ordinary downtown office building with crawling, climbing, sliding, running, etc — enlivening its spaces, while the audience tags along, feeling their way through a little improv of their own.
This choose-your-own adventure stuff violates the usual audience contract (i.e., the protocol under which audiences just sit there, reduced for the moment to a pair of eyes), and that may give you the heebie-jeebies; but if you can get past that, Re: Trace's explorations are delicious fun. A peephole in the floor shows more dance below, but the dance you may remember best is your own movement as you lever yourself down to look. When you choose your perspective, right next to one action or another, or far enough away to get the overall view, you realize the variety of perspectives in the room, and your fellow audience members come alive to you. Run with the improvisers, if you like, when they take off down the halls, and feel some of the excitement of running with the bulls, but none of the danger! The world of improv, with its creative rereading of objects and people (doorways are for climbing, shoulders for leaning), its impartial tenderness and dispassionate opposition, offers escape — and the thrill's not lessened by the knowledge that we're escaping to a more fundamental level of our experience as sensual beings in a sensual world.
But I don't mean to say that all site-specific improv offers this. Re: Trace is special because RAW keeps the common pitfalls of improv (tedium, self-indulgence, triviality) at bay. Inviting yet flexible images arise through movement scores both specific and open, as when dancers with headlamps illuminate each other in cooperative shadowplay. RAW's dancers all show a convincing animal sense: when they're crawling over each other or across a wall, you believe they're actually feeling their way along, alive in that moment. Finally, a sense of humor keeps Re: Trace playful.
Re: Trace is so much fun, in fact, that the audience I was with didn't want to let the performers go, following them like children after the Pied Piper as they rolled up a steep embankment. That's right, rolled up. Why not? That's the gift of good improv: you leave asking that barrier-breaking question.
*****
Fringe performance details for this show:
Re: Trace by Ready at Will (RAW) Dance Collective is at the Colonial Warehouse for two remaining shows: August 7 @ 7 pm, and August 8 @ 8:30 pm.
Check back regularly throughout the Fringe Festival for more short reviews on mnartists.org, sent in from our intrepid performance critics.
About the writer: Lightsey Darst writes on dance for Mpls/St Paul magazine. She is also a poet who served as the founding coordinator of mnartists.org's What Light: This Week's Poem publication project, and the founder and host of a monthly writers' salon, The Works, at the Bryant Lake Bowl.