Being In Place: Selma Fernandez Richter's "The Ache for Home"
Regan Golden responds to Selma Fernandez Richter's recent exhibition portraying the complex process of immigration, replete with joy and relief, sadness and anxiety.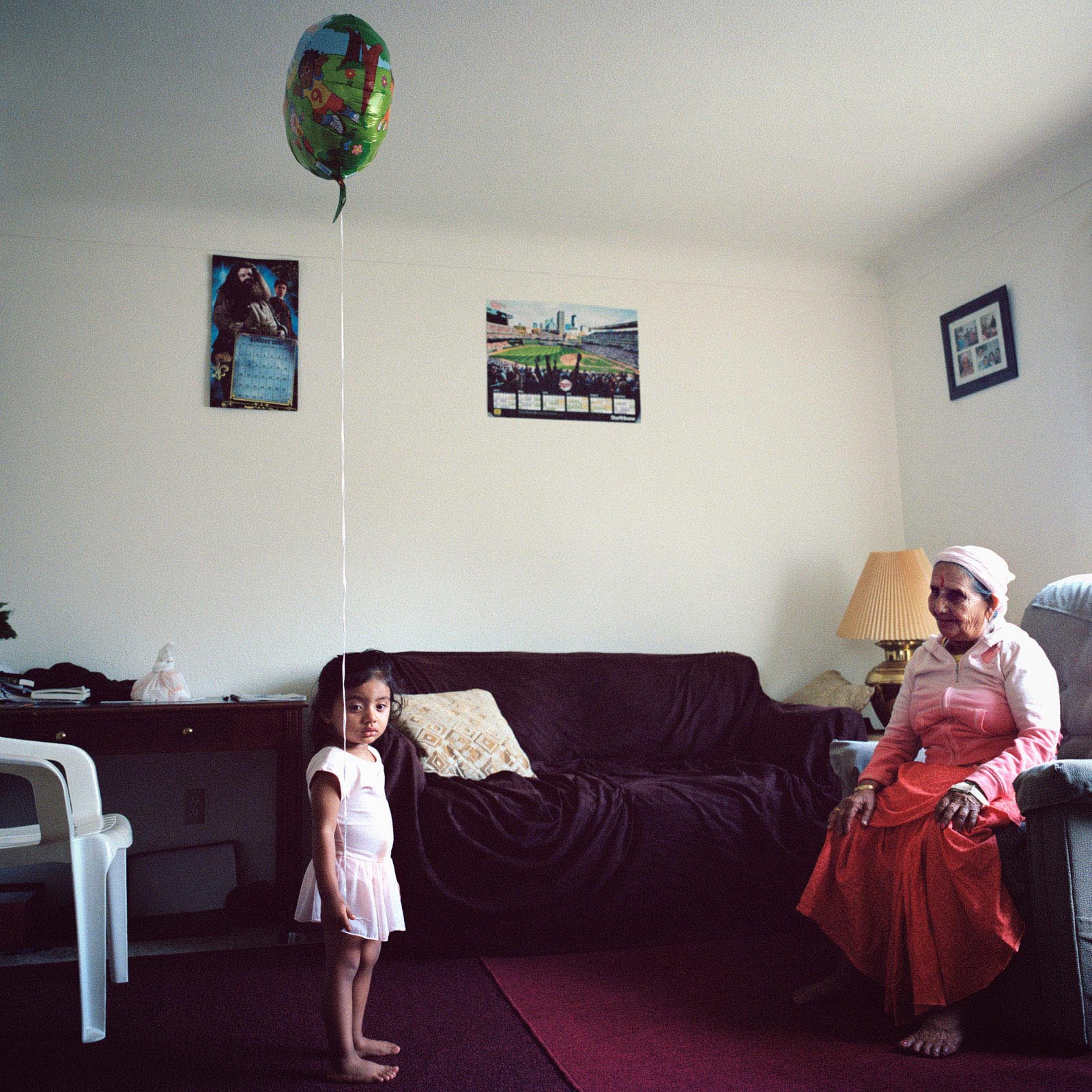 "Place is latitudinal and longitudinal within the map of a person's life. It is temporal and spatial, personal and political. A layered location replete with human histories and memories, place has width as well as depth."

Lucy R. Lippard, The Lure of the Local: Senses of Place in a Multicentered Society
"Our grandmother, Baba, made this house living space. She was certain that the way we lived was shaped by objects, the way we looked at them, the way they were placed around us. She was certain that we were shaped by space."

bell hooks, Belonging: A Culture of Place
In 2010, after years of working as a commercial and editorial photographer, then training with the well-known documentary photographer Mary Ellen Mark in Oaxaca, Mexico, Selma Fernandez Richter made a swift decision not to return to her increasingly violent home state of Monterrey, Mexico. Instead, she would move with her partner to Minnesota. Many years have passed since Fernandez Richter made this pivotal choice. She has received a prestigious McKnight Fellowship and made a home for herself in Minnesota, but she still longs for her family home in Mexico.
This sense of longing gives Fernandez Richter a unique insight into the lives of the people she photographs: immigrants newly arrived in Minnesota, many refugees from war-torn Burma (now also known as Myanmar). In the series The Ache for Home, Fernandez Richter documents their experience in Minnesota over time, from arrival at the airport to settling into new homes. She developed this series over the course of six years, and through this long-term engagement she is able to convey the complex process of immigration, replete with joy and relief, sadness and anxiety. Fernandez Richter captures these conflicting emotions in the faces of her subjects in the eleven photographs that comprise The Ache for Home at Augsburg College's Christensen Center Gallery.
In the exhibition, each of Fernandez Richter's medium-sized photographs, shot on film, provide a window into the lives of the individuals pictured. Cleanly presented all in one row, the emphasis is on the multilayered stories told by each image.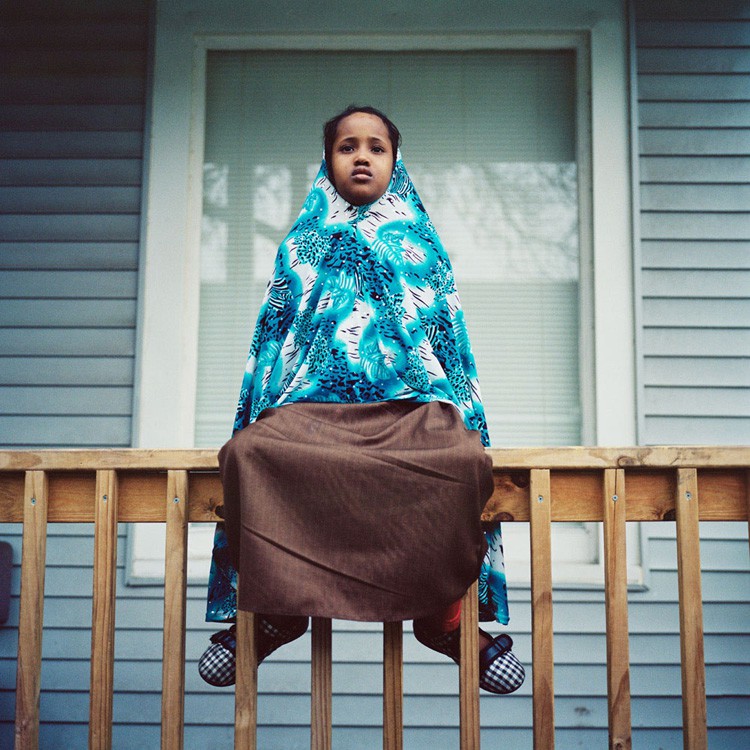 In many of Fernandez Richter's photographs, the individual's expression and gesture carry much of the narrative. In the portrait Kamilo Mohamud Noor (2011), a young girl whose family immigrated to Minnesota from Somalia, Kamilo is perched atop the wooden railing on the porch outside her home, gazing into the distance but with both feet wrapped snugly around the spindles; she appears to be both looking to the future and firmly rooted in the moment. Her expression lies somewhere between aspiration, persistence, and uncertainty.
Like all of Fernandez Richter's photographs, the images can be read in many ways, because these are portraits that address the longitudinal and latitudinal way that places can cut across, tie down, and uproot individual lives.1
Fernandez Richter captures her subjects in places that have "width, as well as depth", as art historian and cultural critic Lucy Lippard writes in The Lure of the Local.2 The depth of the immigration narratives that Fernandez Richter documents is furthered by the objects that surround the individuals in their homes. It is through these objects that the complexity of making one's home in a new place is subtly revealed.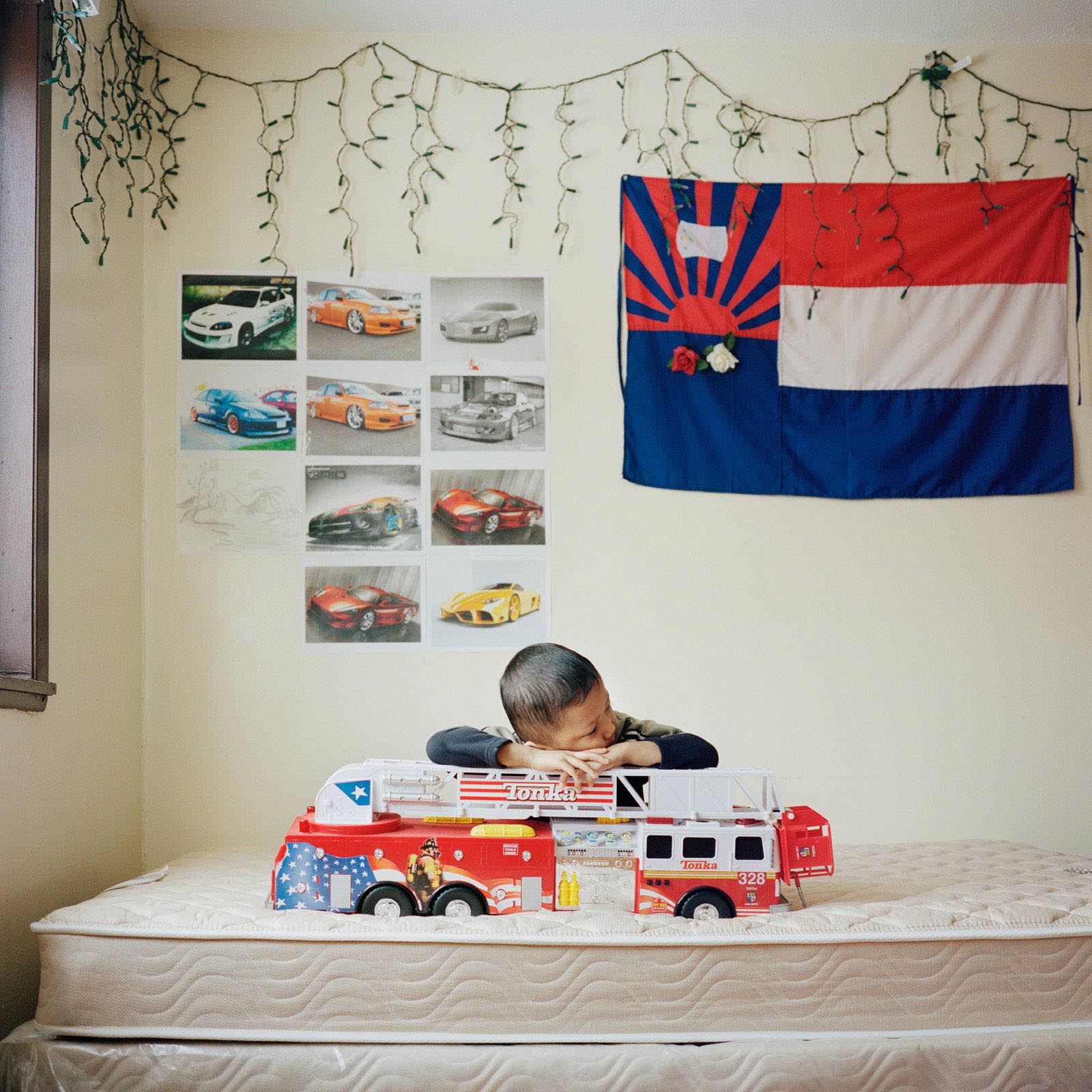 In Planet beneath the flag of the Karen State (2012), the young boy Planet, whose family immigrated to Minnesota from Burma, sits on a bed, lovingly resting his head on a large plastic toy firetruck with the American flag painted on it. On the wall behind him, a poster of flashy race cars is hung beside a flag of the Karen State, located in southern tip of Burma. A quick read of these symbols might be "a child caught between two worlds", but when as part of a series, it is clear this is a story about the development of a multifaceted sense of self and the establishment of a sense of place that has both breadth and depth.
Interspersed between these poignant portraits are Fernandez Richter's still life photographs of objects within the families' homes. These still life images expose the tension between a sense of upheaval and a sense of rootedness that run throughout the series. In Karen Altar (2013), a vase of pale pink plastic tulips adorns a paper statue of Christ, and beaded rosaries hang over a black TV remote. Sunlight filters through a slightly wrinkled white fabric curtain, imbuing the whole scene with a quiet serenity.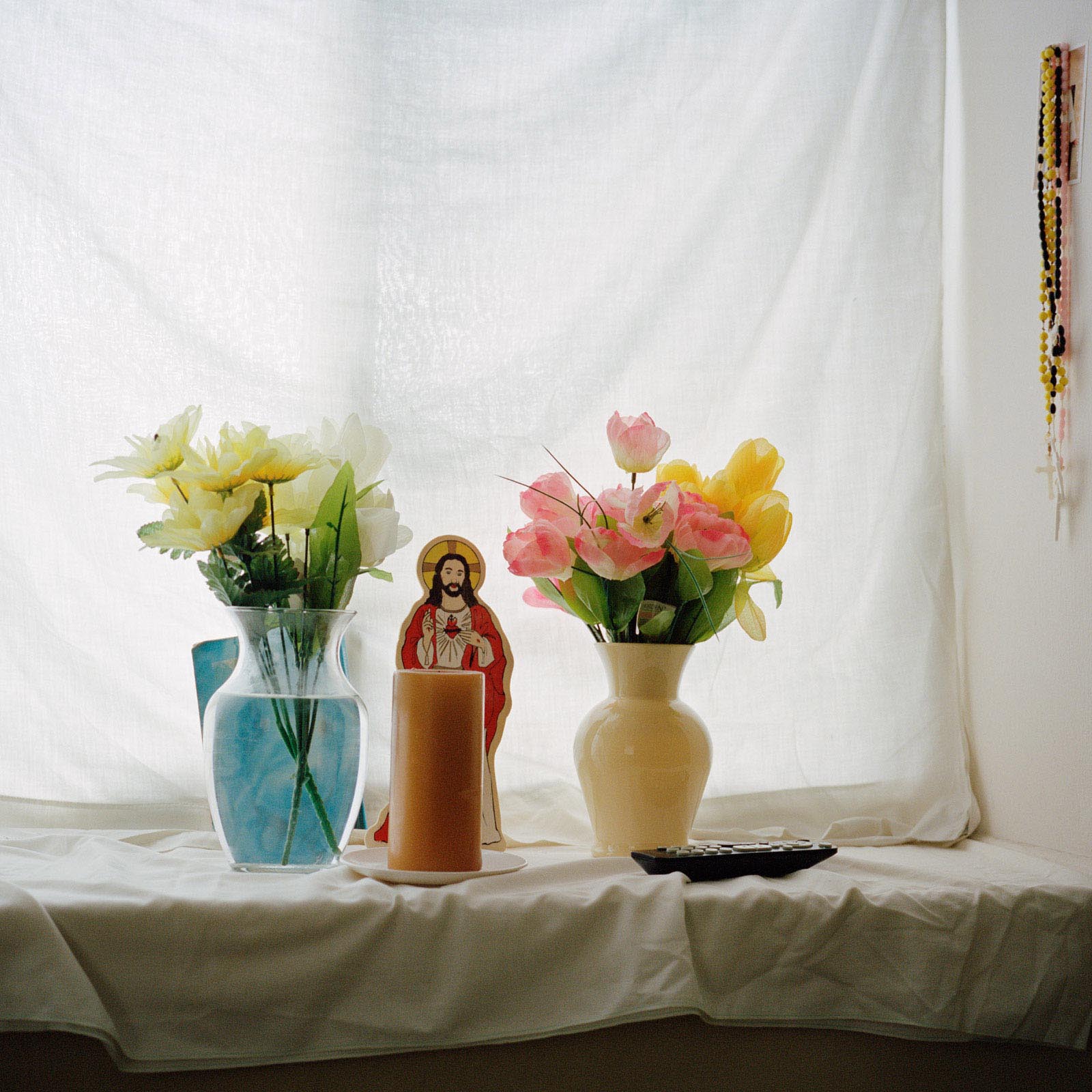 As bell hooks beautifully describes in Belonging, the placement of objects within a home reveals much about the values of the inhabitants. In hooks' grandmother's house, every object was carefully selected and strategically placed to convey both the family history and her grandmother's hopes and aspirations for future generations. As hooks recalls, she learned at her grandmother's house how to see beauty in ordinary objects: "No degree of material lack could keep one from learning how to look at the world with a critical eye, how to recognize beauty, how to use it as a force to enhance inner well-being." 3 As in hooks' description, Fernandez Richter's still life photographs reveal the power of objects carefully placed within a home.
Because of the current administration, the personal moments that Fernandez Richter captures are undoubtedly part of a broader political debate about immigration in the United States. While the Trump administration's political rhetoric around immigration is entrenched in the duality of "us vs. them", Fernandez Richter counters that perspective by presenting a nuanced, complex view of recent immigrants transitioning to new homes in Minnesota. As Fernandez Richter said in a discussion with curator Cesar Garcia, "the series of photographs became a meditation on my own adaption to a new home." 4 Her own personal connection to this experience results in a series of images where empathy, instead of fear, prevails.
---
This article was commissioned and developed as part of a series by guest editor Jordan Rosenow.