Basel 2010: Mission Meta-Impossible – Art, Pray, F**K
Sean Smuda returns to Art Basel Miami for a third year - read on for an extensive photo essay and his dispatch for mnartists.org on the aesthetics, theory and commercial circus that dominated this year's fairs.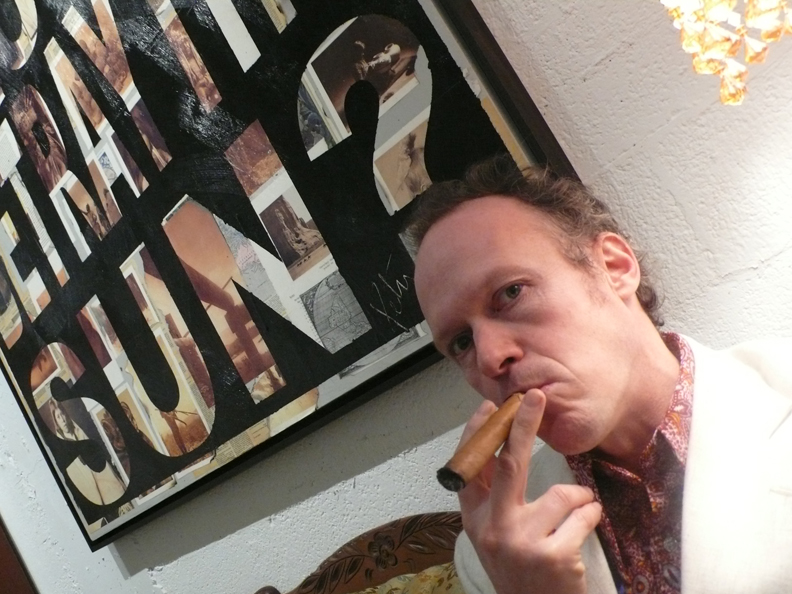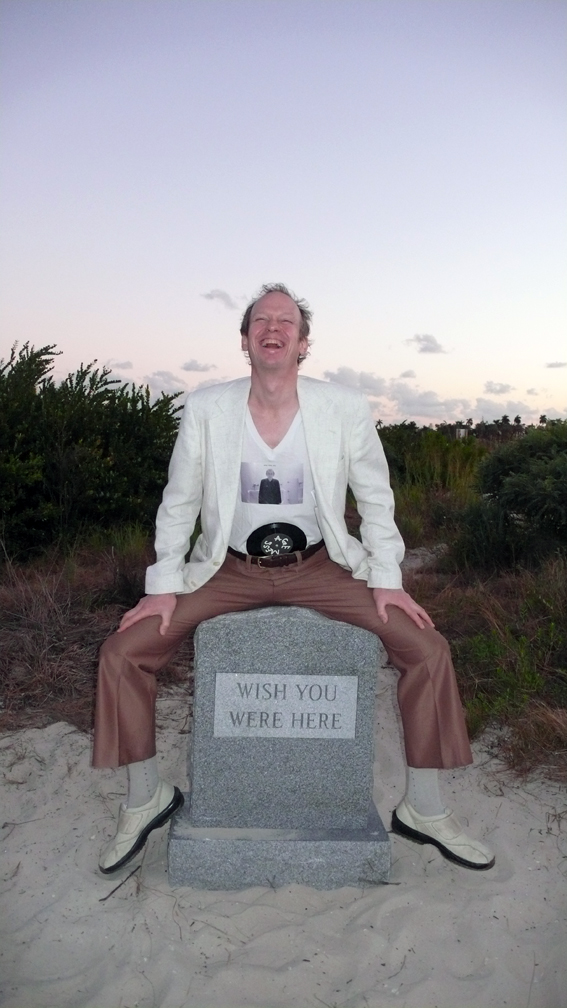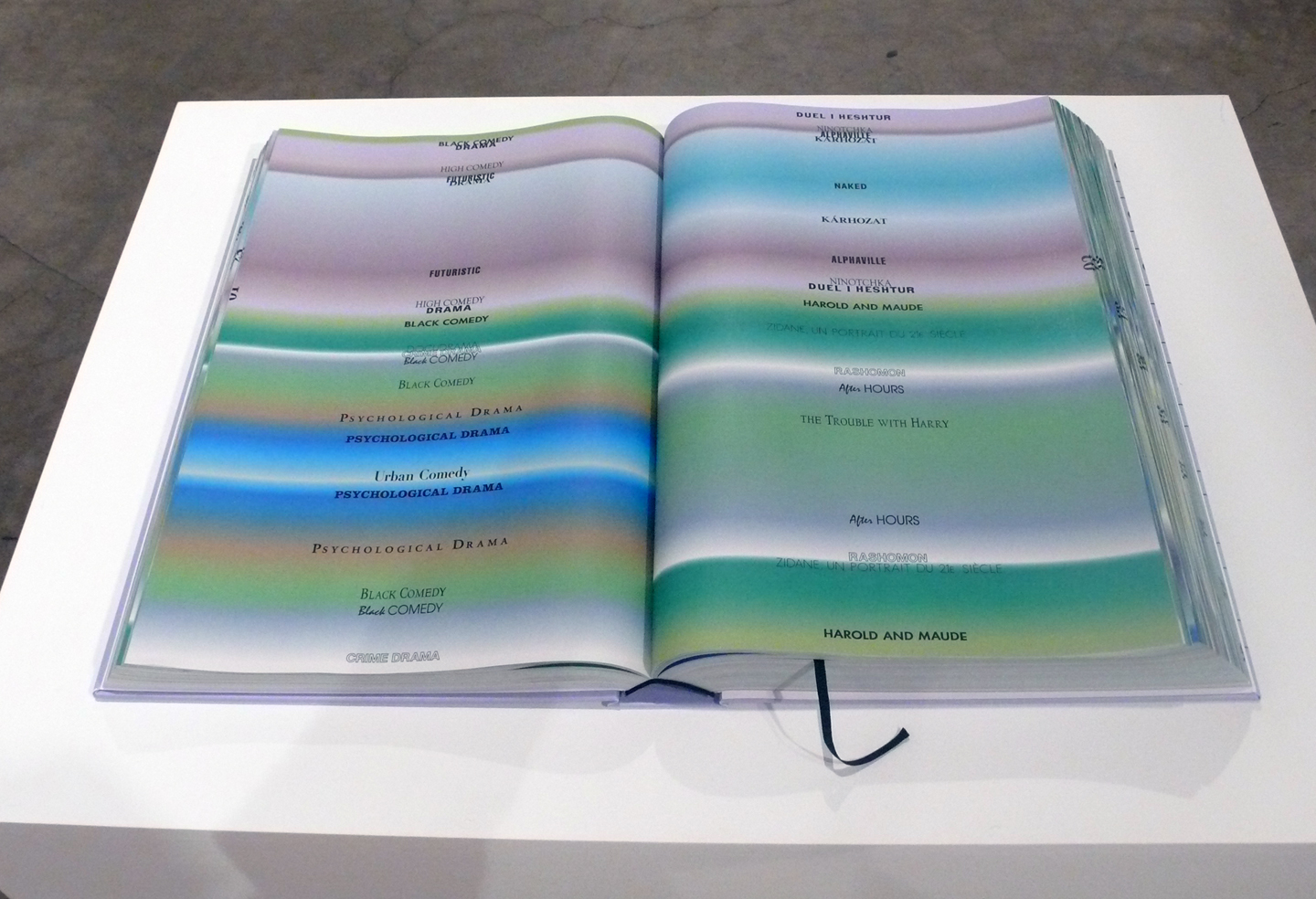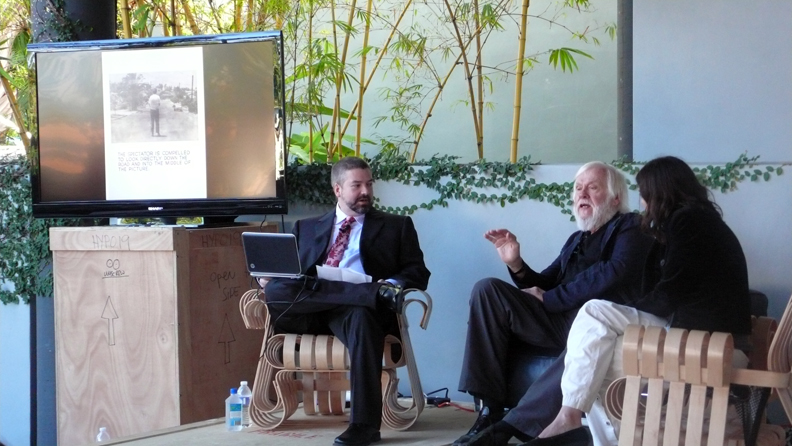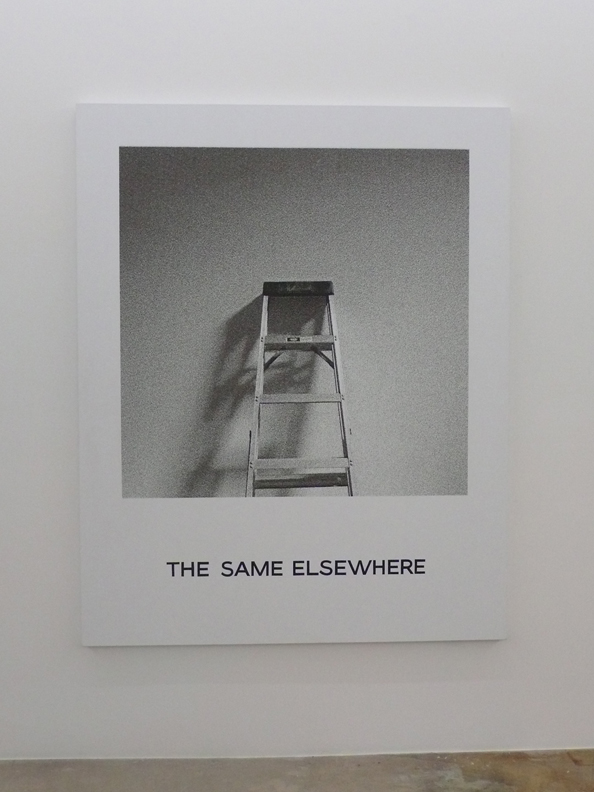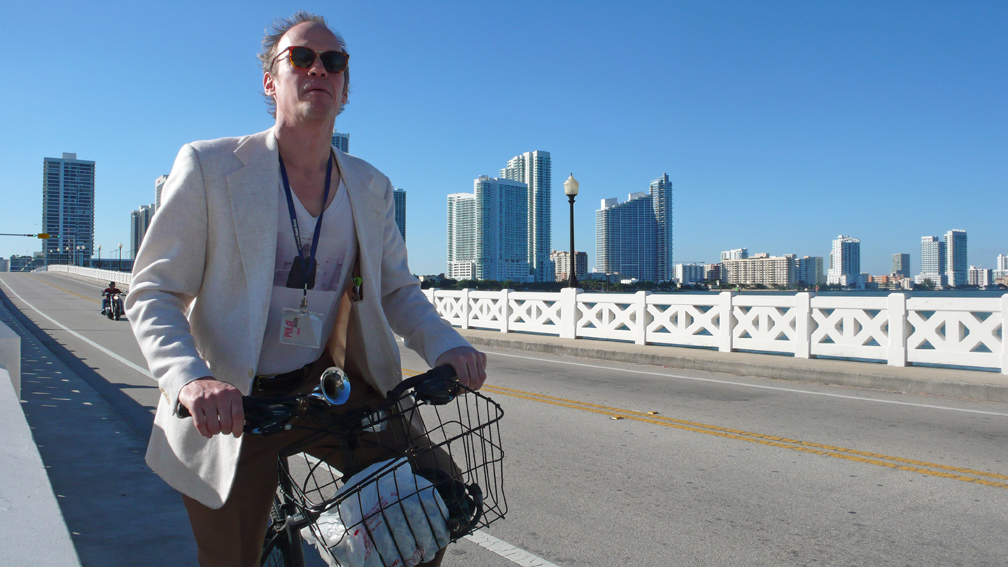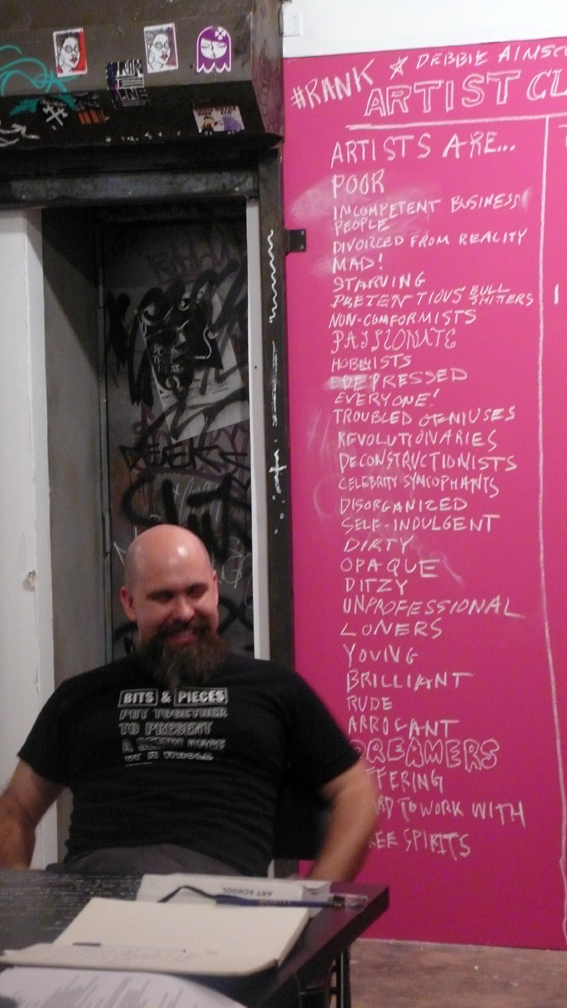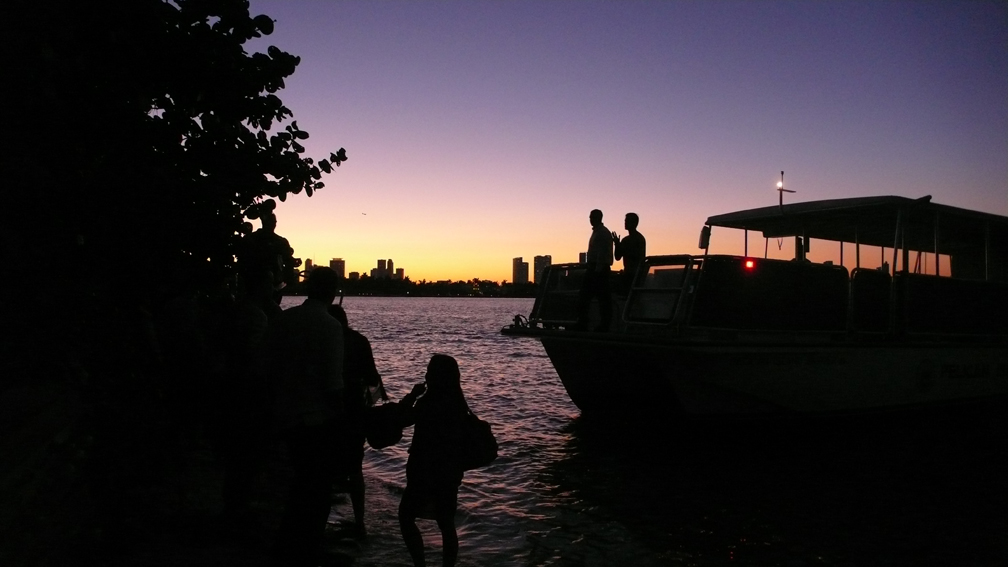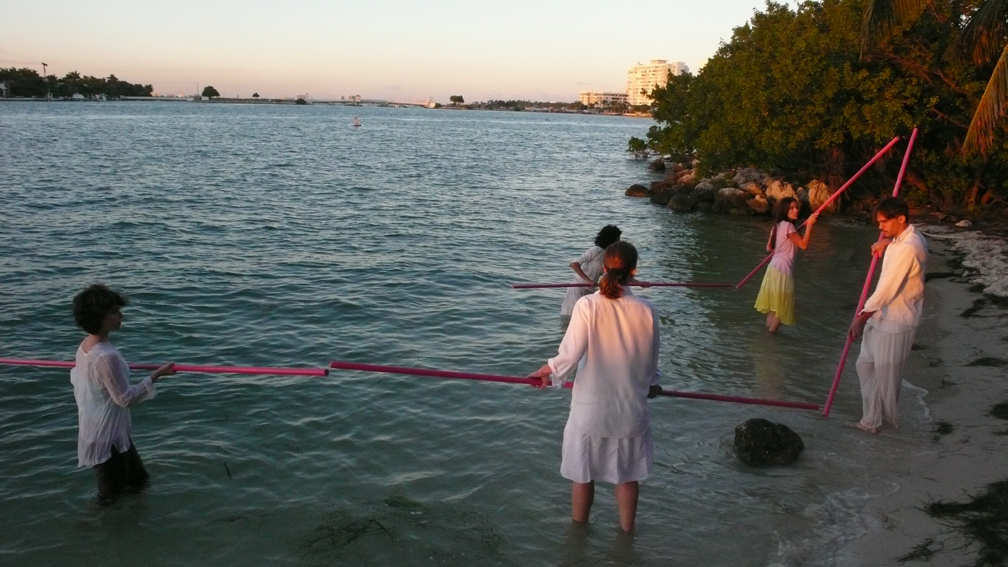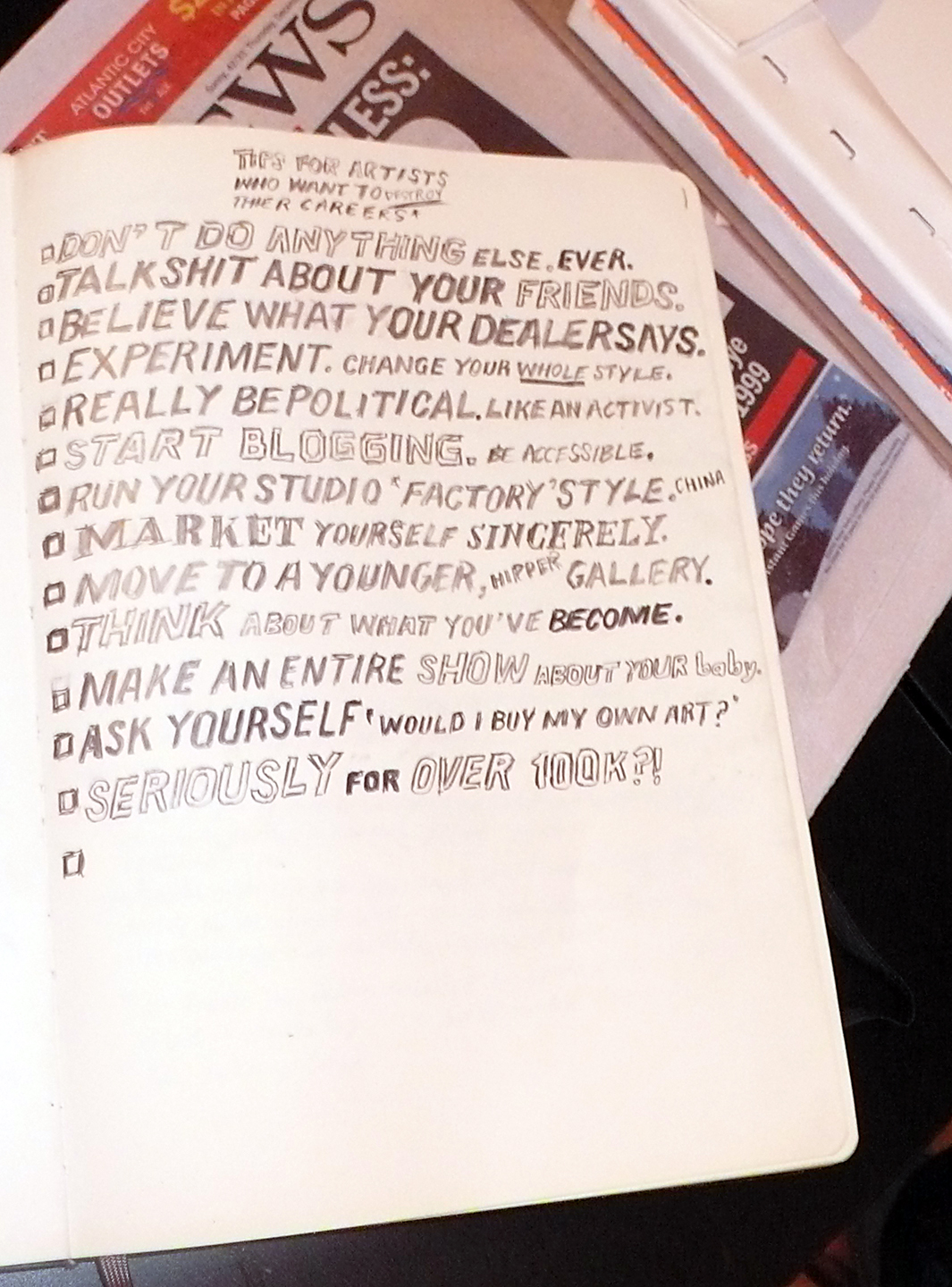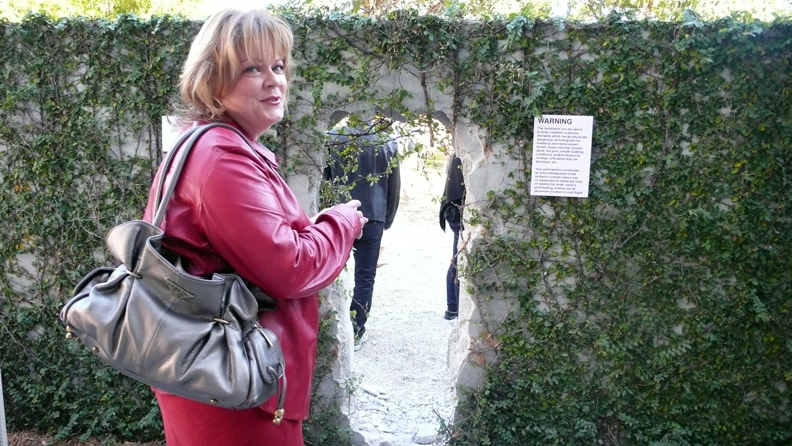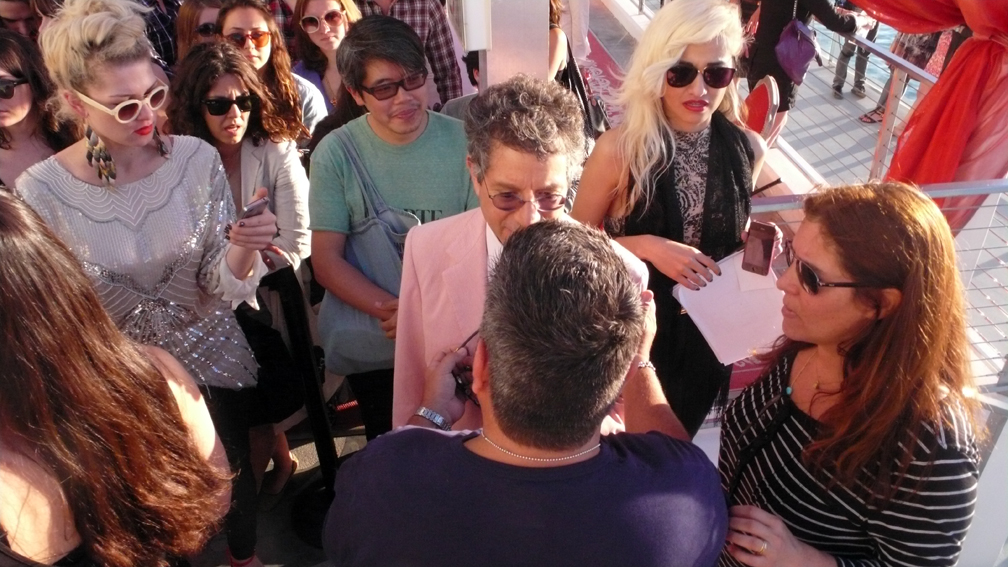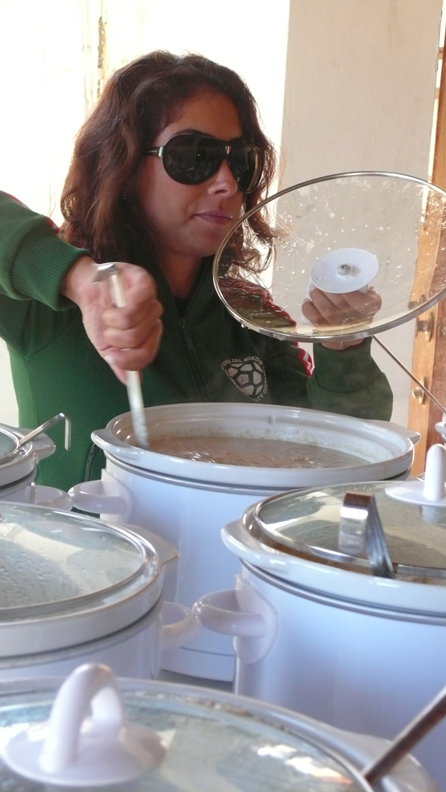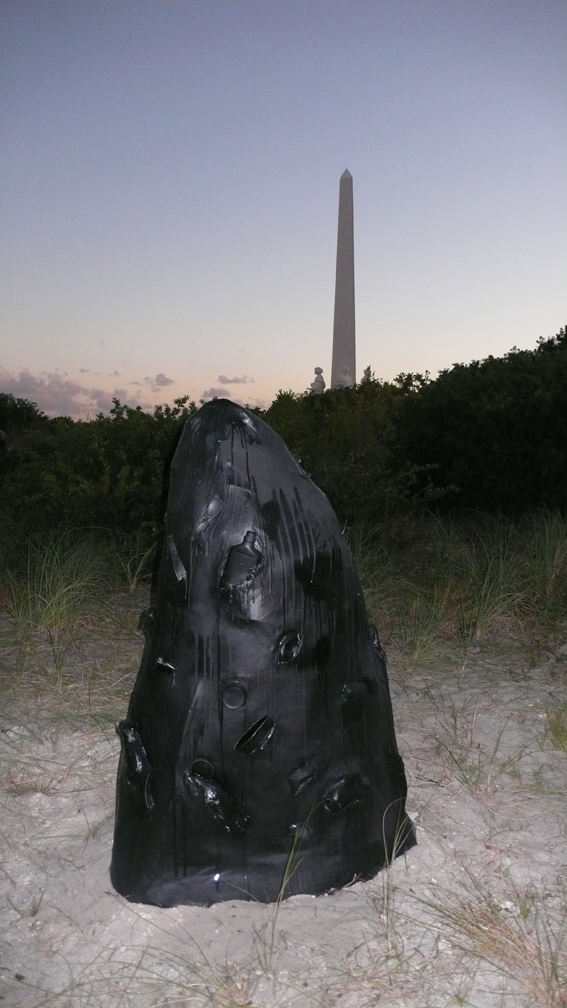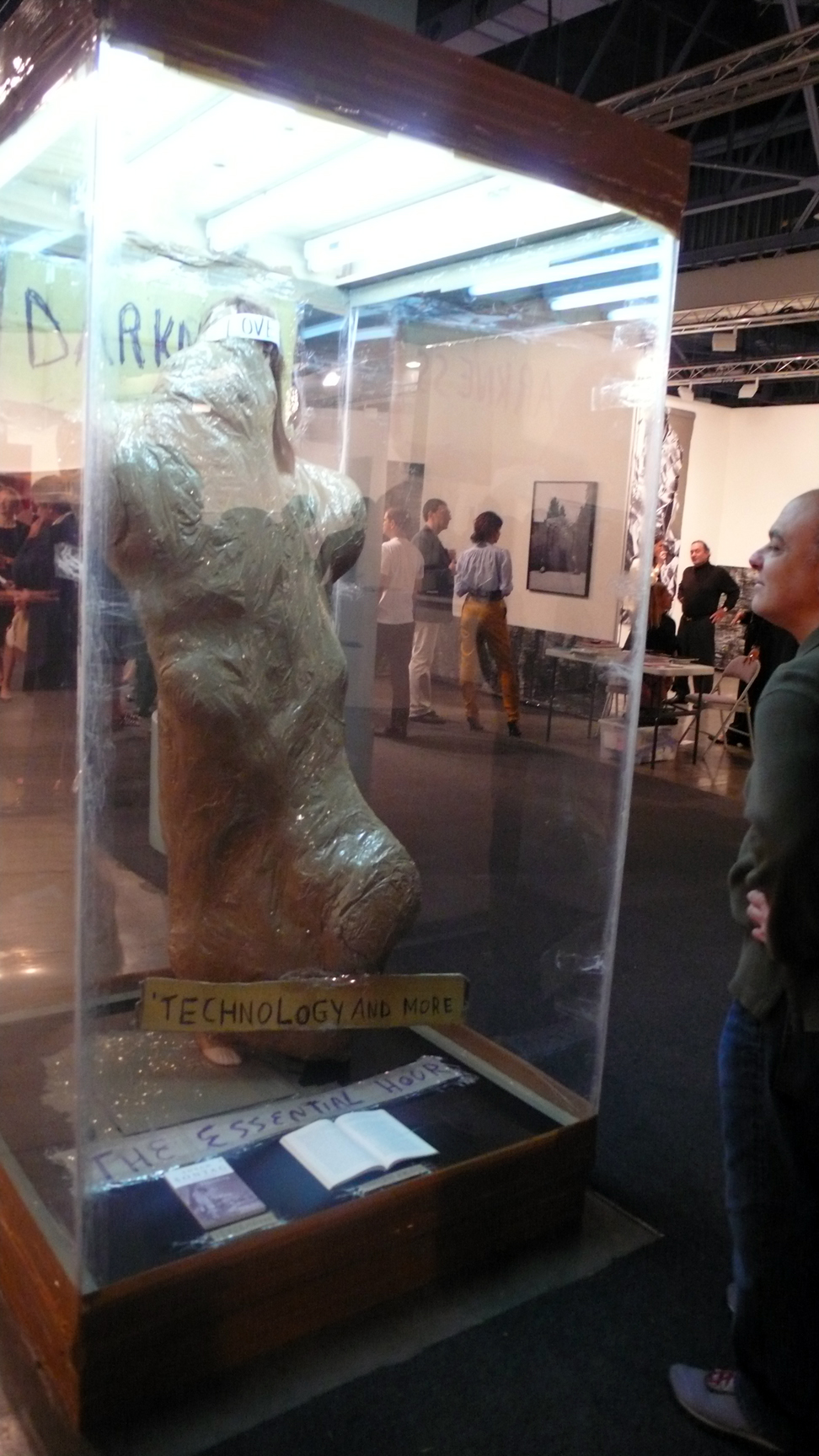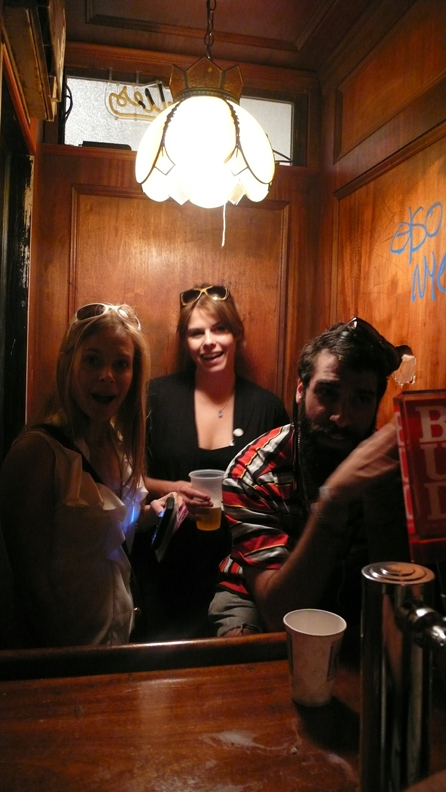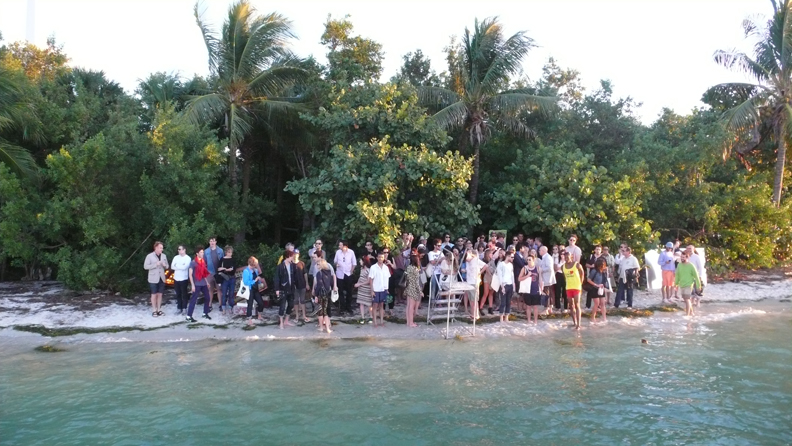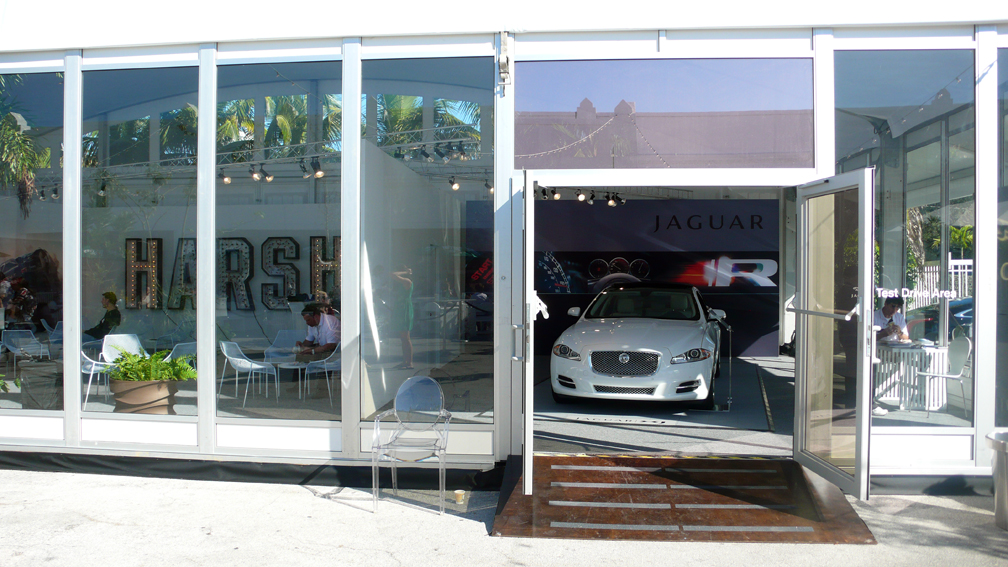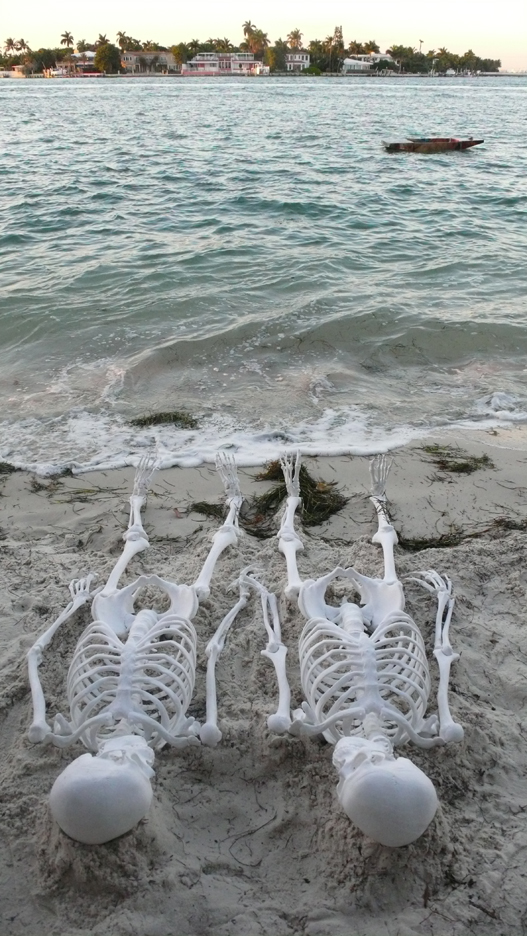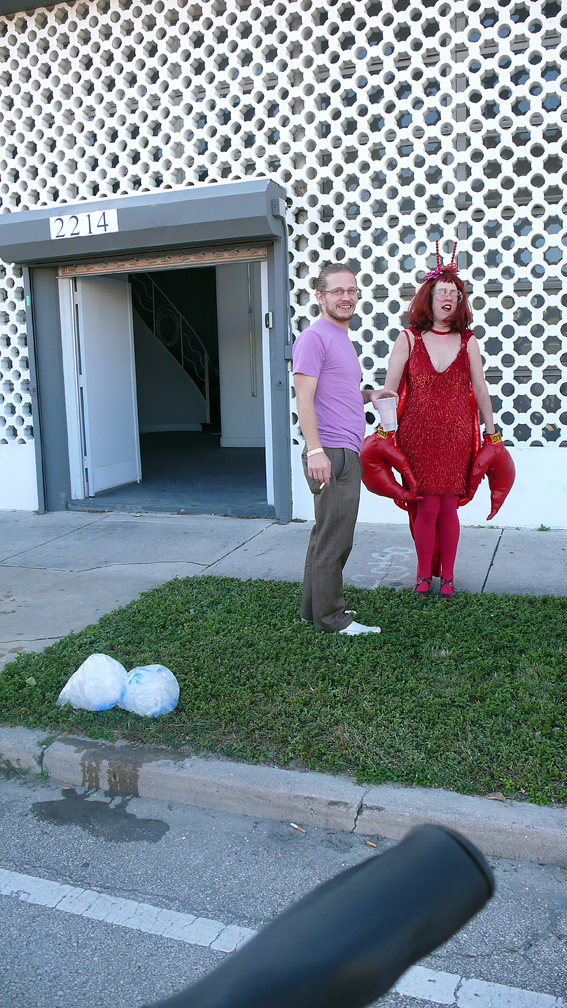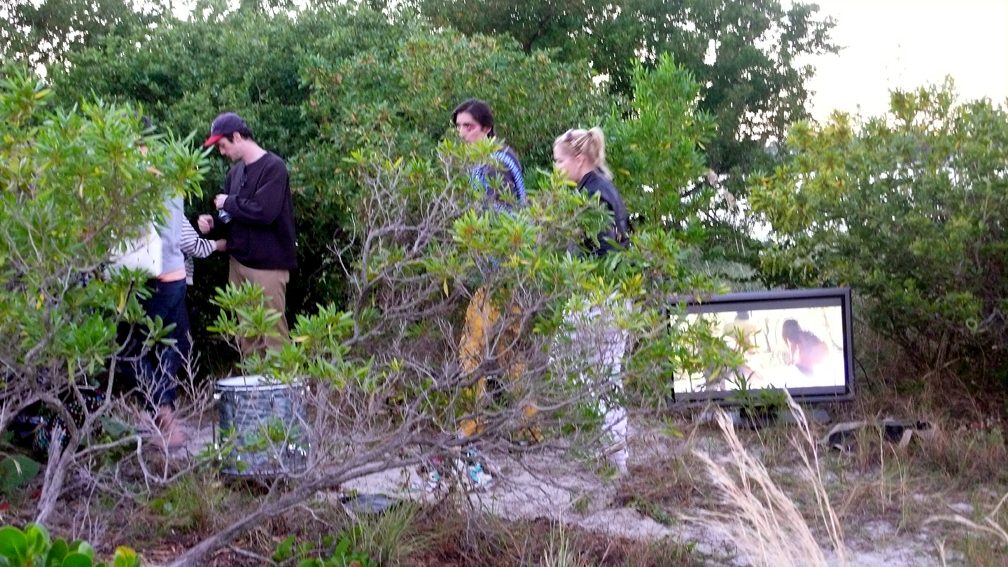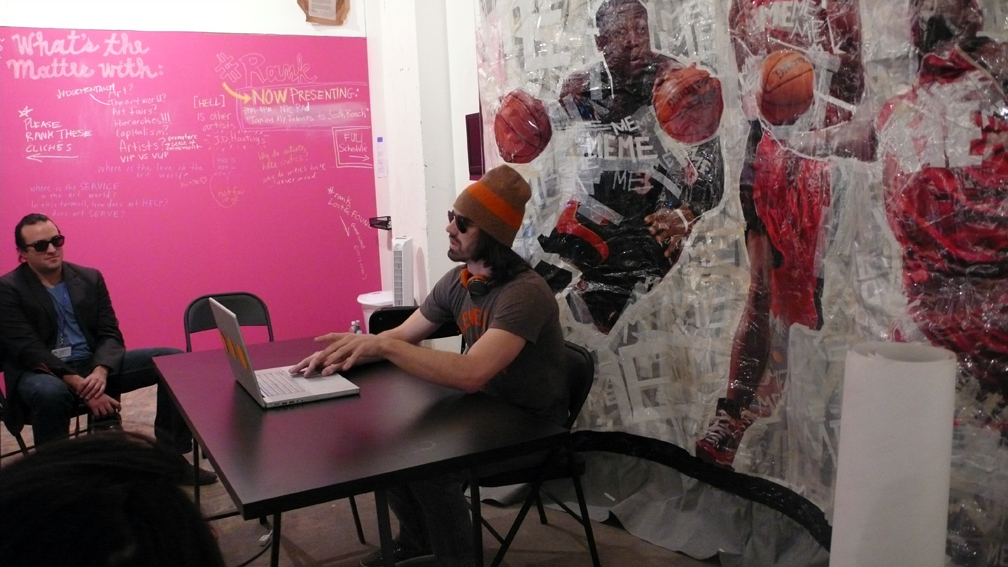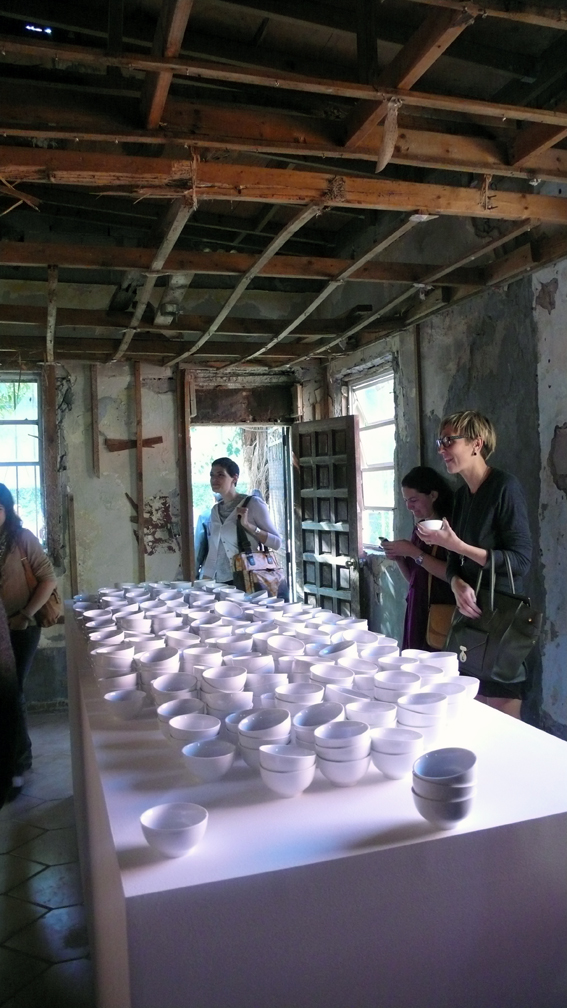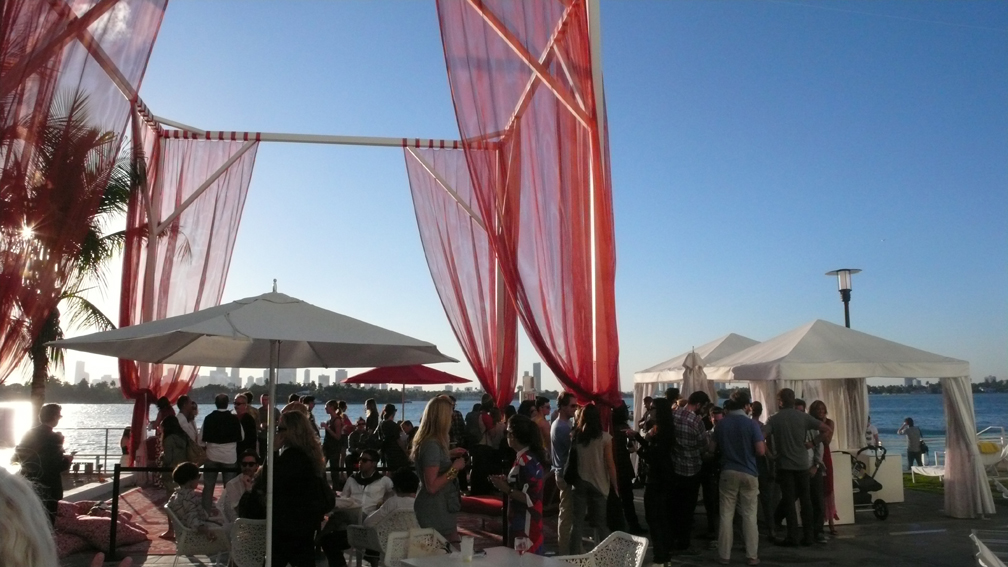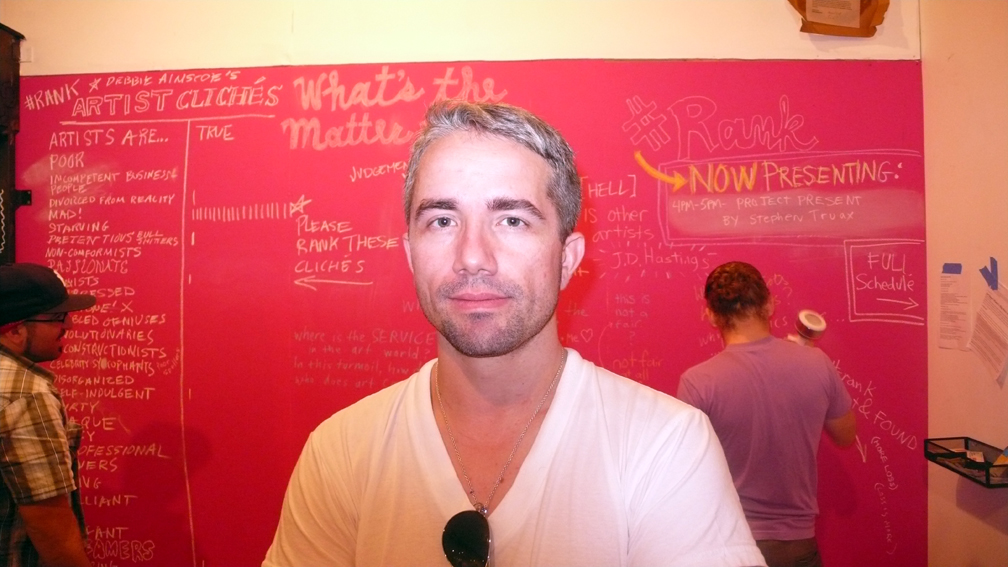 WHY AM I GOING TO ART BASEL AGAIN, FOR THE THIRD TIME? I'm not showing anywhere, the rich don't care about me, the art world outside my hometown barely knows I exist, and I refuse sponsorship for this annual trip (but thanks again mnartists.org for helping me almost break even). However, with my two shows up in Minneapolis garnering a few sales, and thanks to lodging, courtesy of my friend Cindy, how could I not reinvest in the market? Like a cattle farmer who both makes the spiritual journey to India and fires catapults against GMOs and McDonald's, I seek a nurturing balance between peace and war, interrupted only by transcendence, love, or a halfway decent in-flight movie. Two out of three ain't bad.
Ultimately, I go again simply because Basel is there: the riddle of the Sphinx, the three blind men's elephant, Geistbusters starring Jeffery Deitch, Hans Ulrich Obrist, and "Featured Artist." And I go because the fair contains the Rorschach skid marks that auger the Future which lies at the intersection of commerce, aesthetics, and theory.
Third time is the charm. Accordingly, I proceed as though charmed, as though never leaving MPLS — i.e. I promise to make two-way unflattering comparisons and telluric Wiki links between MPLS and MIA connecting said future of art and commerce.
______________________________________________________
Miami, Day One, Wednesday: press preview of the main fair
Aesthetics:
Zonked from the early morning flight, a bike ride to the fair revives me enough to engage a bit with Crousel, a Parisian gallery with state-of-the-art names and practices. Hirschhorn's Mono vitrine (Sontag) is there — a UPS brown paper-and-tape torso with crude signs reading "Darkness, Technology and More, the Essential Hour." In front of it is Sontag's book: Regarding the Pain of Others. This sad, lumpy figuration by T.H. is perhaps a Cavewomanwoman precursor to his Walker show that was up the other year. There is also Ruscha-esque sunset-striped book by Anri Sala, covering every film shown in France during a certain year, and used as an emotional/cultural thermometer — the temperature of which turns out to be 50 degrees Fahrenheit. And Mexican artist Abraham Cruzvillegas has cobbled together a self-portrait of found objects that looks a lot like a Francis Alys (if he made such a thing).
Is this a problem, that the current pantheon is so recognizable that it interchangeably manifests work-as-ideas-as-name-brands in this huge art depot (250+ galleries) flea market? I think of this situation's quasi-opposite: the death or disappearance of the artist, (skewing towards Barthes here) allowing the viewer's valuation of art to be independent of outside forces. Po-mo work is both a presence and a marker in a field of information which has been organized by the artist.
With Hirschhorn's tactic — making it look like anyone could have done the work — the subtext is that viewers should at least imagine doing so. If his Mono vitrine (Sontag) is about the pain of others, then thinking about how to reconstruct it engages the viewer's muscle-memory to recreate the ailing torso — an act of supreme empathy, even if one doesn't know of Sontag's work or death from breast cancer. Does the absence of a work's creator force unwanted responsibility on the viewer to read the didactic or ask the gallerist?
If you answer "no," enjoy your elemental relation to the arts and keep collecting. If "yes," how much does the artist's intentionality and track record/cachet comment on the work and dictate your interpretation and evaluation of the price? Hirschhorn's practice establishes him as both engaged with and transcendent of the art star-machine: a presence, not a dictator. How would and should the artist return from the "dead" to dictate interpretation of the artwork? Or, is it better for the maker to disappear like a virus into the system?
This questioning about the state of Art is well served by the Minneapolis gallery, Midway Contemporary Art's excellent castillo/corrales show (another Parisian gallery/arts institution). In it are endless ruses and send-ups, perpetrated by curators and artists alike, jamming, copying, and deconstructing the art/economic/star-machine complex. The works at MCA raise the question and point of authorship as something which dissolves under self-mocking humor and intelligence. From artists' names as Birdcalls (Louise Lawler) to The Last Emperor of the Wall Street Journal (Willem Oorbeek) — I will not see the likes of MCA's uniquely rich grouping here in Miami all week.
Commerce:
Most attendees stay in hotels on South Beach, some arrive by private jet. I stay with my friend, 7.5 miles away and, based on what I see through the week, I am one of only 40 bicyclists out of the 46,000 visitors to the fair(s). Having taken this vow of poverty allows less luxuriating while oxygenating the senses. What follows are rants and lists regarding capital and art.
Rant: the crappy, pumped-up techno music, cheap hotel breakfast-fueled engine block that is South Beach. Its numbing music takes over the somatic nervous system to produce synthetic coked-up behavior and demands the purchase of overpriced drinks to counter its influence. The atmosphere is as unforgiving and banal as a spin class. And while I am on the subject of bicycles — in a tourist economy this rich, one would think extended bus service, safer biking paths, or perhaps a monorail would link the mainland to the Beach, at least to save the bikers' asses from weird lane ends, curb jumps, and signs in the middle of the sidewalk. This division between the mainland and South Beach, however, helps insure its Caribbean nation tourist economy (and class structure). Mayor Alvarez pays some firefighters a $100,000 a year salary to insure the city's stasis.
Relatively speaking, that's just enough to buy the Hirschhorn, which is going for $75K; or, you could make it yourself with the Art Home Depot kit for less than a grand.
O Miami, where is thy Greenway?
Theory:
This year's theme is the writing on the Facebook wall (Art Basel's), straight infrastructure public programming, and a return to the Real. Detroit and other cities are the focus of Basel's "Oceanfront" presentations every night; the kick-off speech at "Art Conversations" is by Arte Povera marksman Michelangelo Pistoletto. In his talk, he refutes the notion that Arte Povera was something strictly grown out of Grotowski's "theater of poverty", saying instead that the movement was always, like Italy, half capitalist and half communist. Pistoletto's recent work at the Tate involves large newspaper balls that must be rolled by groups — a metaphor for society moving forward by collective effort. I imagine one of his all-consuming ball rolls getting larger and taking up all the detritus of Detroit (after the mayor of that city gets his wish to demolish most of Detroit in order to create more cohesive neighborhoods).
These early morning conversations and early evening programs are great if all you are attending is the main fair; however, they both hit too early if you are grabbing breakfast or dinner on your way to the other fairs. I will enjoy streaming them, though.
The Future:
Sell more work, pick up packing tape, build a monorail, destroy Detroit to save it.
______________________________________________________
Cynical, humanizing, and disconcerting, Baldessari's poetic transpositions are cracks in this breakfast nook of the Real. He seems to be saying "the war is everywhere: the ladder leads to Afghanistan as well as the top shelf at Art Depot."
______________________________________________________
Miami, Day Two, morning
Gots to have the freaky breaky at the Rubell's HOW SOON NOW kickoff: Jennifer Rubell always kills the most essential meal of the day! At 9 am, Cindy and I are offered a Matrix-like choice of the green espresso pill or the red espresso pill from Ferrari-red machines. Then, we stroll through a broken hole in the wall to a half-wrecked house, just behind the Rubell compound, where instead of the usual kaleidoscope of children's cereals, we are greeted with crocks of gruel, raisins, and milk. Unfinished and stripped to the studs, the space resembles Minneapolis's imperiled (please donate!) 1419 gallery in there.
Clearly, we have chosen the red espresso.
Aesthetics:
"Morpheus" in the shape of John Baldessari is there, and he begins to speak about his work. In the past, he's taken phrases out of how-to-paint manuals; now, he is taking Goya's scathingly resigned warfare titles, then transposing them with banal photographs of everyday objects, such as a ladder with the phrase "THE SAME ELSEWHERE" printed below it. Cynical, humanizing, and disconcerting, Baldessari's poetic transpositions are cracks in this breakfast nook of the Real. He seems to be saying "the war is everywhere: the ladder leads to Afghanistan as well as the top shelf at Art Depot."
He is joined in dialogue by a curatorially chosen "Neo," artist Analia Saban, whose approach to materials — brush strokes copied onto thrift store paintings, canvases stuffed to bursting with oil — echoes his, though without quite the social drift.
Soon, Baldessari will be absorbed into Pacific Standard Time, a massive 50-institution retrospective of the birth of West Coast art, 1945-1980, which will begin this coming October. His aspiration to transcend the Matrix endures.
Commerce:
The gruel was free, and one of Baldessari's Goya series paintings will run you about $50K. But you can take it out of your taxes in protest of Operation Infinite Infidel, or whatever they call that thing in Afghanistan.
Theory: See Aesthetics.
Future:
A ha. Uh oh. Uh huh. Art, pray, F**K indeed.
*****
"OK, Susannah, that's a thousand words, I get more paid if you want the rest…."

Oops, bonus round: Rapture without gritching, as demanded by the editor. I guess 1,500+ words was our deal.

"OK, but only if I get comps to all of the Out Theres"

"I'll see what I can do, Sean, sheesh…."
*****
Everybody at the fair always asks, "Did you see anything good?" And I always answer, "I'll have to look through my memory card". So, having done, here are some near out-of-body experiences from this year.
______________________________________________________
Undaunted, I walk straight up and stand beside LA MOCA director Jeffrey Deitch, who is in the middle of a TV interview; I assert my presence as a person of import, an aesthetic object, and anything else I can project. One pushy hopeful who is not so patient is either expelled or — What is that splash?
______________________________________________________
Seven:
I am lured to the portal of an anonymous yet familiar building in Wynwood by a giant lobster and a pear: performance artist Rebecca Goyette and her cohort Man Bartlett. She has been inside giving hugs until some patrons and curators begin to express discomfort — very Minnesotan of them, but I think this is the point. The compound holds a collaboration by my two favorite galleries of last year, Pierogi and Hales, plus five more. Artists are presented both individually and together, in a smart leveling move, on one massively salon-style wall. At the Winkleman gallery, William Powhida and Jennifer Dalton (using the name #Rank) arrange presentations, critiques, and deconstructions of the Art Fair and world (extending Powhida's drawing of Basel-as-Hooverville from last year).
Here, I attend Nic Rad's every-which-way-but-loose monologue, which animates Jeff Koon's signature basketballs-in-an-aquarium piece (Three Ball Equilibrium) to excoriate privilege, disparity, and ambition in art (and class). Using sports as dominant metaphor and quoting star b-ball player Le Bron James, the talk is titled "Taking my Talents to South Beach". Its ultimate peak (among many) is a crushingly funny inevitability: one of Rad's balls name-checks Damien Hirst's shark in a formaldehyde fish tank: The Physical Impossibility of Death in the Mind of Someone Living. In rendering the appreciation of the work preposterous, Rad emphasizes the cachet of art as commodity over (intellectual, moral, spiritual…) value, and also discusses what is truly collectible — "the set of interactions it takes to make a thing." (i.e. Saatchi funding Hirst to make something to "fry the mind", hiring a shark hunter, etc.)
Rad's comments lead me again to ponder the art star-machine complex and its legacy. What happens to once-radical artists who have been assimilated into the mainstream? Ad nauseum variations? In Hirst's case, it's all become self-marketing, to the point of overinflating his diamond skull and calling into question his career (for better or worse). In Koons' case, the pumped air filling his basketballs has turned into the divine air inflating his new lobster sculpture. Where an artist like Hirschhorn signifies social engagement and philosophy, Hirst has become synonymous with ruthless, druggy, market practices and Koons with a faux-naive investment in craftsmanship and Pop.
There is still value there, but the presence of these auteurs is overwhelming it. Is the audience with them? Does K. have another Three Ball Equilibrium jump shot in him (over H's Shark); would H. hop up on steroids for it, and if they fell into a fish tank would anyone hear? The headline would read: "Artists Die in Shark Jump Attempt, but Are Preserved Forever."
At any rate, Rad's constant invention, multiple voices, and wry humor kept me hanging out for more — as did a visit behind closed doors to another dimension, known (only by word of mouth) as Mandie's. In Mandie's room, you are either patron or server, the perfect place for role reversal and well lubricated attempts at understanding the relationship of privilege/disparity, ambition/drunkenness, self/other… Ms. Goyette and I had, in fact, anonymously met when she was part of the Missile Dick Chicks tour which stopped at (where else?) the House of Balls a few years ago.
Her humor and joie de vivre are infectious, as she graciously introduces me to Mr. Powhida, to whom I confide "I have your art (Post-Boom Odds) hanging above my toilet!" Mr. Powhida takes my so-wrong-it's-right installation choice as intended, and I am pleasantly charmed by his Wayne Coyne-like demeanor as contrasted with his Charlton Heston-esque pronouncements. With Powhida, one tablet among the ten commandments is always reserved for audience participation. So, I openly sneak a shot of his in-progress piece, entitled Tips for Artists Who Want to Destroy Their Careers.
"How can artists' (or anyone's) careers create real value to change aesthetics and society?" — that is the question. Lists and community meetings like #Rank are tactical and ongoing, and serve to balance some of the ruthless actions of Basel's main sponsor, UBS. Mapping them directly are Brendan Carney, Liam Davis, and Liz Haberkorn in their presentation the following day. Critical awareness informs life, hence aesthetics. I think of Powhida's classmate, David Petersen of the sadly disembodied Art of This. He and Crystal Quinn have a new space, the Dressing Room, which continues a parallax direction.
They also have a print of Post-Boom Odds, hanging in a slightly different place. Maybe one day I'll be privileged enough to get on their mailing list.
The Island:
A very exclusive (speaking of privilege), much-hyped (NY Times, etc), and slightly mismanaged show of 17 artists on Flagler Memorial Monument Island, put on by Los Angeles Nomadic Division's Shamim Momin. To cut a path through its guest list-only hordes to board a booty-bound ship is a dare of Pirates of the Caribbean meets Miami Vice proportions. And I am up to the challenge. Dock-side at the ersatz Mondrian Hotel comprises a scene of so many "Art Refugees," that I first think this may be its point. Hello, Cuba! Undaunted, I walk straight up and stand beside LA MOCA director Jeffrey Deitch, who is in the middle of a TV interview; I assert my presence as a person of import, an aesthetic object, and anything else I can project. I've never felt so objectified. Of course, the press pass also helps my steel. One pushy hopeful who is not so patient is either expelled or — What is that splash? This gap of guest-list and mere VIP clearance was well illustrated at the Raleigh hotel on day-one when a mob of outsiders ripped down the fence to see LCD Sound System. If the natives are so restless, will the Island's promised aesthetics satiate? On the boat, yet another Art Fair sponsor passes around some quasi-festive product and (I think) snaps our pix with it to bolster the economy.
Music is gone from the satellite fairs, and Jag dealers are in instead, with pop-up show rooms and, here, inappropriately, at 4 pm they give us coffee? Where is the Campari of '09! I'm all for making a group effort to save a sinking late capitalist practice, but let's get it right people!
Full disclosure: I am still waiting for some sweet GMO kick-back from performance artist/architect Vito Acconci, whose image in front of the urinals at the Walker I made into a T-shirt with the words, "Vito, Vini, Vici" over it. Vito — have your bank talk to mine!
To quote Shamim from the Times: "We wanted to create this feeling of being stranded on a deserted island that's in unique contrast to the fanciness and luxuriousness of the fair." This double negative elitism actually works; tired of the acres of art cubicles in the main fair, being at sea level is gravitationally reorienting. Surviving the hoards instills a sense of gratitude and vespers-like humility. The coffee probably makes sure some of us don't fall down the gang plank.
However, as they have run out of info packets by the time I arrive, only later do I learn that a themed text unifies the entire network of chosen artists in this endeavor. Said text is a cross between Mary Shelley, Aldous Huxley, and a Lost script: "Nobody needs to go anywhere else. We are all, if we only knew it, already there" — except, of course, for those of us back at the dock.
Nevertheless, the concept plays on many levels, from the sited and performative (Terrence Koh's skeletons, Brody Condon's poles) to relational sculpture (Luis Gispert's gilded rotating Palm frond, Scott Campbell's headstone, Hannah Liden's garbage monolith, vis a vis the pint-sized Flagler/Washington Monument), to performance/video (Naomi Fisher's Myakka, with its orgasmic "Don't park here!" yelps and Rona Yefman's mysterious war between black flags and white stripes), to name a few.
Arriving on board near dusk allows scant time for immersion. However, it does provide for some magical castaway digressions with artists Julie Weitz (kudos for socio-geo-political clarifications) and Diana Al-Hadid (for distortive mirror re-workings of Babylon). Apparently, we are sitting next to Adrien Brody, but celebrity is strangely invisible to me. I like his mom's photography, though. (Insert air-headed character references from TV show castaways here, if that's your thing.) The Minneapolis corollary to this experience would be the frozen islands of the Art Shanties (sans celebs of course), which, being in cryo this year, will make for a much longer winter!
The Marguiles Collection:
It's Already the End of the World by Brian Alfred is a construction paper-like Flash animation of Orange Alert and protest climates. Familiar images of protests, airport security, etc. become re-signified depending on which of the seven soundtracks accompany this six-minute film during its screening.
Perhaps the fact that I admire Alfred's piece for its capability for overview and deft use of the bait-and-switch (reminiscent of The Road to Mount Weather from two years ago) means that I am simply of my era's addiction for the medium. But, I found it to be a meditative biopsy to see work that so addressed the ambiguity of American security issues, seamlessly blending their menace and benevolence.
The entire Marguiles collection has a breadth and depth which offer an antidote to the scattered concerns, formal and otherwise, of Art Fairing. From Michael Heizer's 40-ton boulders in corrugated troughs, to Luc Delahaye's G-8 protest photos, to George Segal's Breadline, to Gilles Barbier's retirement home for Superheroes (L'Hospice) — the Marguiles brings it. Extra human bonus points goes to them for giving all proceeds to the Lotus Women's shelter and employing its clients as gallery monitors. As per the last season of The Wire: the collection is "Dickensian," but in a good way.
There is no Minneapolis corollary for the Marguiles unless you take Chambers, Franklin, Weinstein, Museum Louvre It or Leave It plus Franconia and have them merge with PPL.
*****
At any rate, all of the above socially-engaged, living-edge institutions and pop-ups make the Walker Art Center seem like an oxymoronic Fortress of Solitude Community Center by comparison. Perhaps it is time to plunge an ice auger through the WAC lobby, then snowmobile through the halls in protest of the center's lack of support for the Shanties. Or, maybe it's time to get a sled dog grant from Metropolitan Regional Arts Council.
Aesthetics + Commerce + Theory + Jail Time x Backlash = Future/Career!
— Smuda out
P.S. Incidentally, sightings of Minnesotan artists (current and former) and curators in Miami were way up this year: perhaps a sign the Recession is waning, perhaps a sign of the Apocalypse. At any rate, a shout out to all those seen if not heard: Caitlin Karolczak, Peter Dyste, Greg Euclide, Mickey Smith, Darsie Alexander (WAC), David Little (MIA), Cole Rogers (Highpoint), Carla Mc Grath (Highpoint), David Rathman (whose book was locally produced by Location books), Herman Milligan, Samuel Bjorgum, Ping Wang (whose poem both named and guided Issac Julian's 10,00 Waves at the Bass museum) , James Gladman, Lisa Nankivil…and everyone else I missed.
______________________________________________________
About the author: Sean Smuda still has a show up featuring his digital collage work (not unlike this article) at 801 Lofts until February 11, 2011; is still running the Shoebox Gallery; is happy to do freelance work for you, photographing your art, portrait, event, etc.; received the Minneapolis Arts Commission Award for Celebrating the City through Public Art in 2010; is still taking names.
______________________________________________________
Related information and links:
Read a recent profile about the author, published by City Pages. Visit Smuda's website, http://www.seansmuda.com/blueprints.html, or do your part for his bank account (send help!), see site.
______________________________________________________
A Basel 2010: MIA-POLIS, Mission Meta-Impossible: an Art, Pray, F**K production