Arriving In Between Homecomings and Liberation
Visual artist Tori Hong depicts the tension between process and profession, personal and public that weaves throughout their collection of self-portraits exploring homelands and homecomings.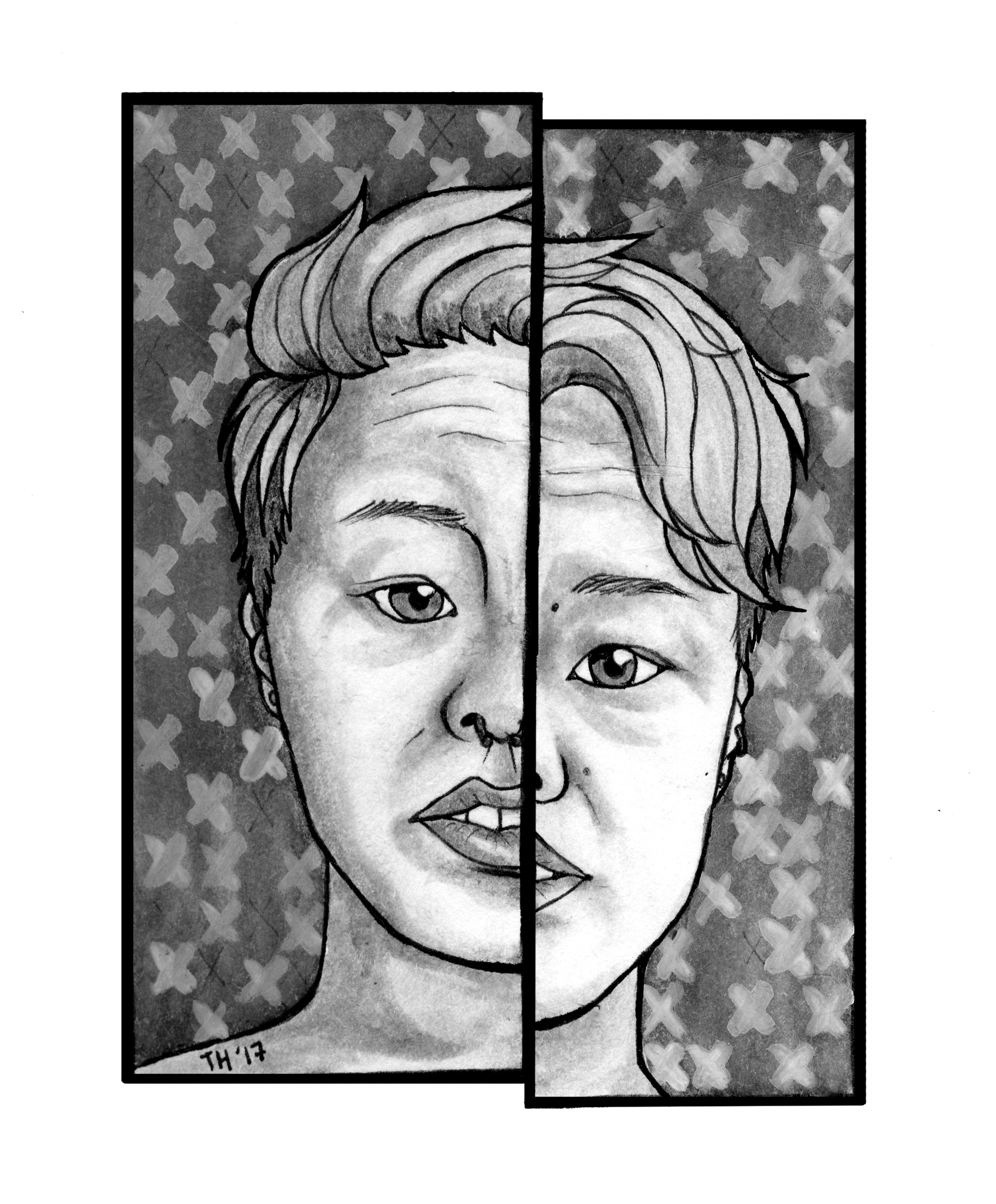 For the majority of my life, my art lived in my sketchbooks, on my bedroom walls, or online. (Does Neopets or DeviantArt ring a bell?) That's because growing up, art was a means for me to create safer spaces from the majority white/conservative/wealthy suburb that I lived in. Because of art, I was able to explore my mental health and build virtual communities. It was not, however, something I felt safe or courageous enough to share IRL. 2017 was the first year I shared my art in physical, public spaces. It was the first year I was contracted as an artist, and the first time that folks in my communities introduced me as an "artist."
To give you a little bit more context about me: I am a queer, American-born child of a Hmong refugee and a Korean immigrant. I am a self-taught visual artist drawing on my roots in community organizing and community building. I create art reflecting the intersections of homelands, homecomings, and liberation.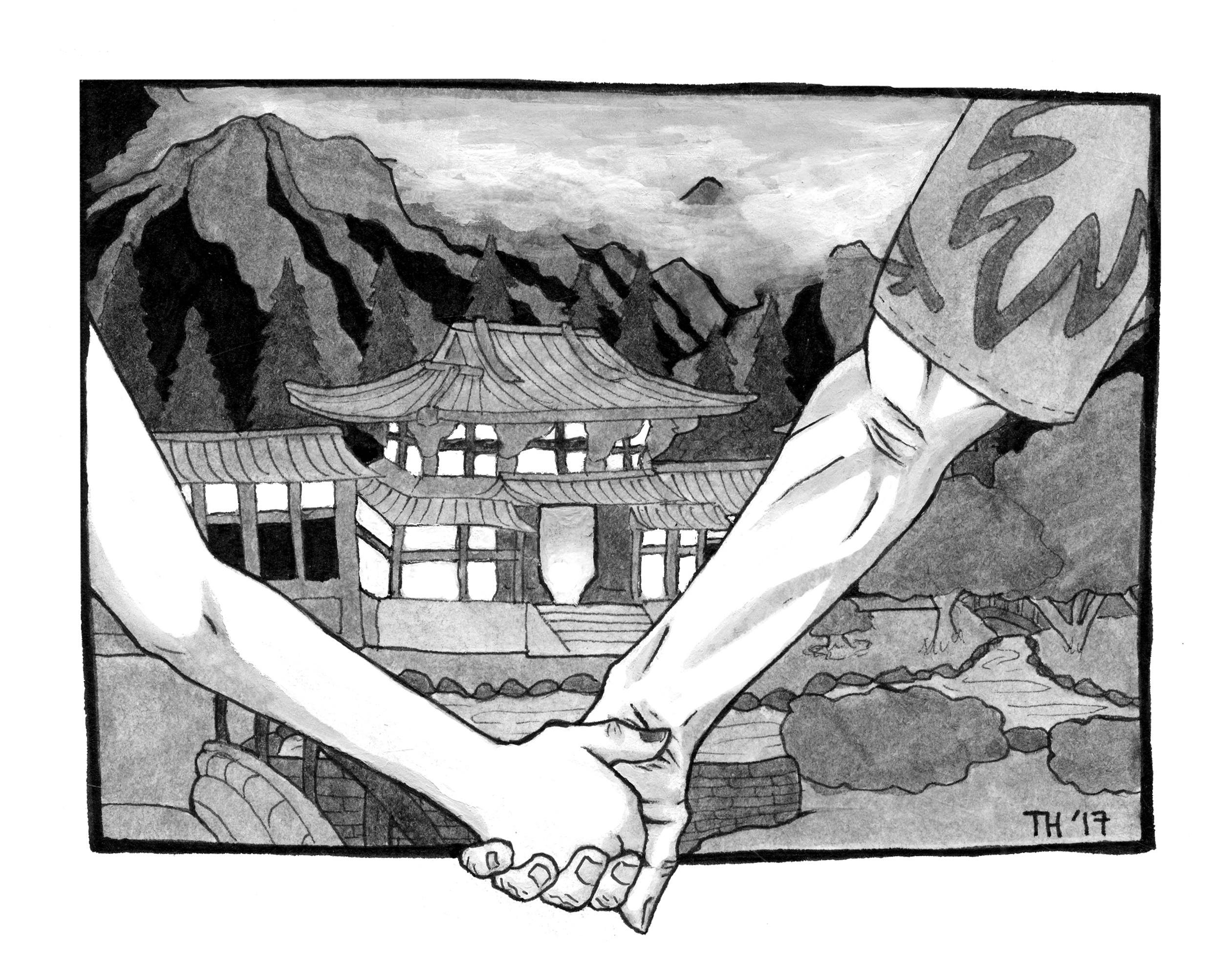 The first year I reclaimed my identity as an artist, I was inspired by the Japanese art of Kintsugi: fixing broken pottery with lacquer and gold. Kinstugi emphasizes the cracks in the pottery, embellishing the broken pieces and making it more beautiful than before. After some artistic brainstorming with friend and artist Nancy Yang, we conspired to capture fragments of our lives, bodies, and identities through drawings held in space by a comic-book frame. We wanted to create something whole out of the pieces of our lives.
Shortly after Nancy and I had that conversation, I was invited to participate in the online drawing challenge, Inktober, by another artist and friend, leyen trang. I saw Inktober as a low-pressure way for me to create art alongside Nancy, leyen, and my virtual art community. Using Inktober and my conversation with Nancy as a jumping off point, I created a series of self-portraits. They started out as tiny drawings in my sketchbook, some no bigger than 3"x4". This evolved into my collection, "Arriving In Between." In this collection, I explored ways to make meaning out of my mental illness and my fragmented identities, family stories, and memories. I was invited to showcase these drawings in the group exhibit, ALOUD, which ran from April–June 2018. I created high-resolution scans of my tiny Inktober drawings and made 11×17 inch prints out from them. I remember staying up late, rearranging the pieces into the order I planned to display them and concocting the story I wanted to tell. Memories of movement, stillness, intimacy, and disconnection all weaved into my life's narrative.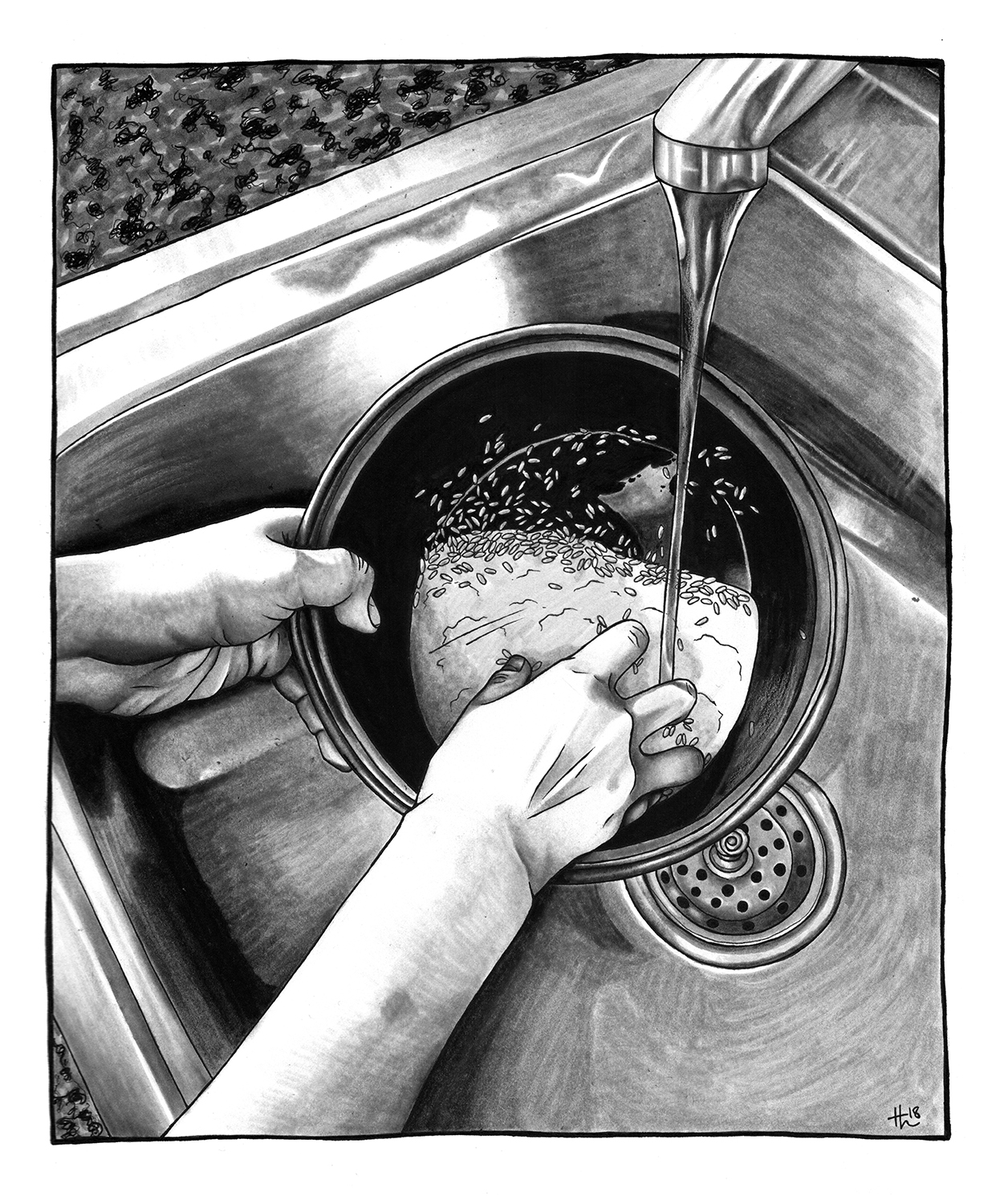 I invited my friends, my partner, and my mom to attend the exhibit opening. When that day came, it felt surreal to see a collection of my work living on a gallery wall. I felt shy and didn't socialize or network much. Instead, I wanted to be held by people who loved me. My mom's eyes lit up when she saw my work, and she told me about her own memories that came up when she saw my art. This is the same person who told me that I shouldn't become an artist when I was a kid. The same person I chose not to talk to for over two years because of damaging decisions she made when I was an adult. This person—my mom—came to my art show and told me she was proud of me.
At the end of 2018, I was invited to create and exhibit art in another group show, SIB PAUV ZOG: A Hmong Cultural Harvest. I showcased "Arriving In Between" and added two new self-portraits to the collection. After a year of freelancing as an artist, reconciling with my mom, and visiting my ancestral homeland of Korea, it was amazing to come back to my personal art and see how much I grew, both technically and conceptually. My technical skills improved after working with different media and watching art tutorials on YouTube. I also knew to work on bigger paper to make the reproductions of my work even larger. My latest self-portraits were blown up to almost 3×4 feet, and I kept my older pieces at 11×17 inches. I arranged my collection into a collage rather than a line, which made the work feel more connected and dynamic. Conceptually, the focus of "Arriving In Between" moved from how I coped with my mental illness and feelings of disconnection, transforming into an honoring of my relationships, my body, and my agency. I was softly—defiantly—coming home to myself.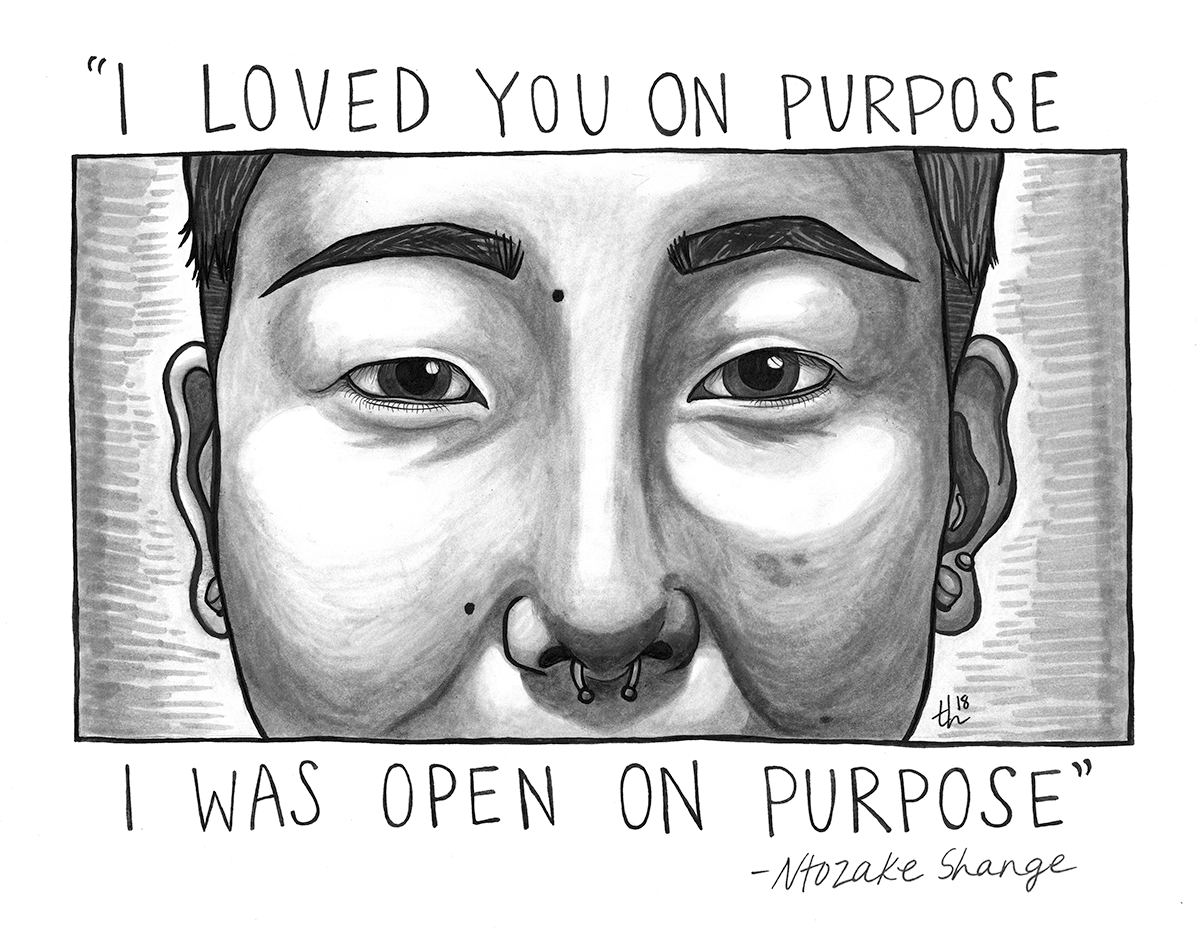 Being a freelance artist is difficult. Constantly networking, marketing, and creating exhausts me. I'm now at a point where I have to pick up another part-time job in order to alleviate the mental and monetary pressure of freelancing full-time. At first, I felt shame for making this decision. I thought to myself, why can't I continue this momentum I created for myself? Why can't I "make it" as an artist? But instead of seeing this moment as a deficit—as a failure—I am viewing it as a time to hibernate, plan, and take it easy after a tumultuous year. I am learning more about the business through podcasts, books, and continuing education classes. I am carving out time to do personal art every day. I am thinking about how I can be strategic, effective, and honest. And although art is not my full-time gig anymore, little me is finally experiencing the life that they dreamed.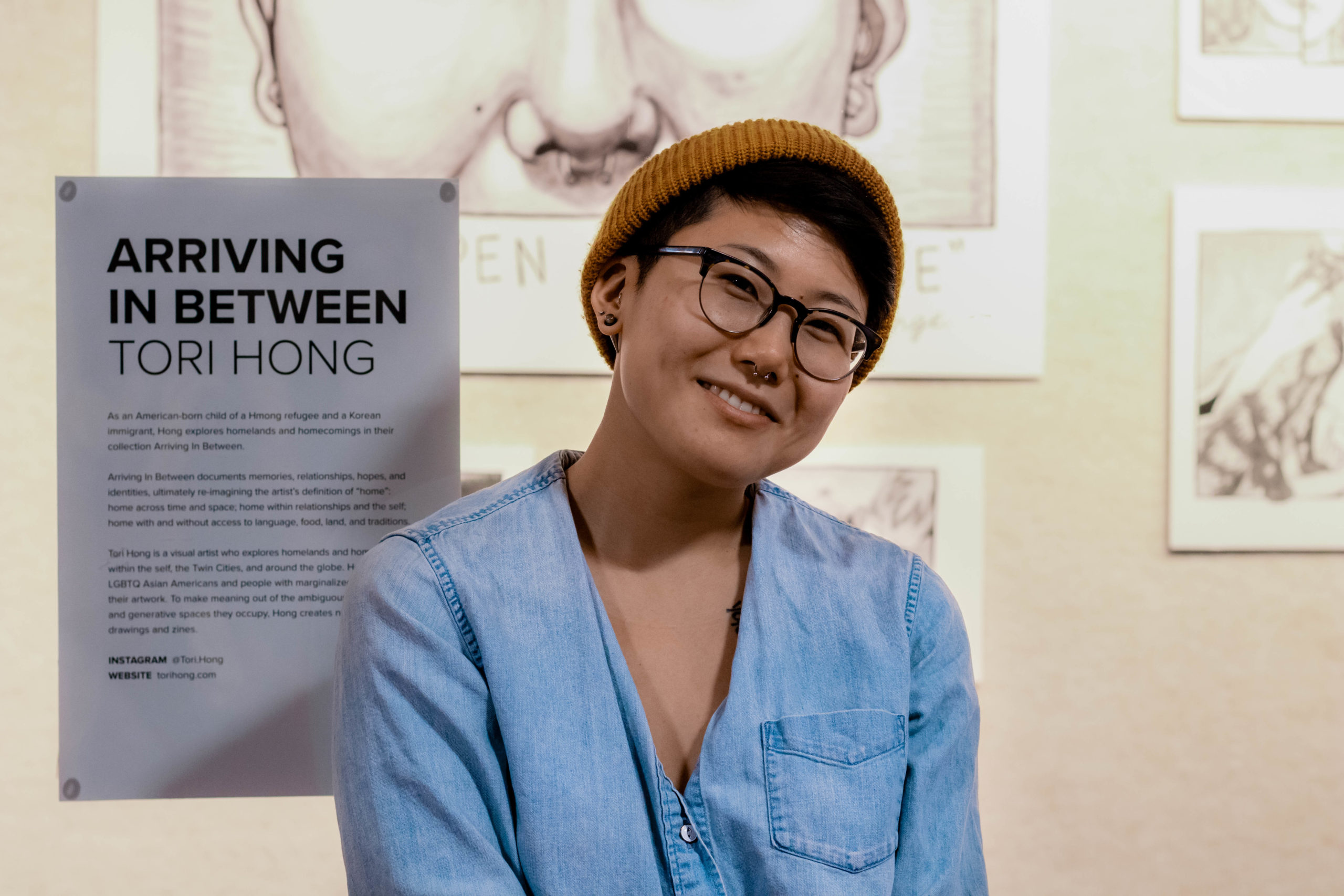 ---
This piece was commissioned and developed as part of a series by guest editor Saymoukda Duangphouxay Vongsay.