A Tree in the Forest
There's been a culinary revolution in farm-to-table, artisanal fare around here. Why not start one for homegrown live music, too?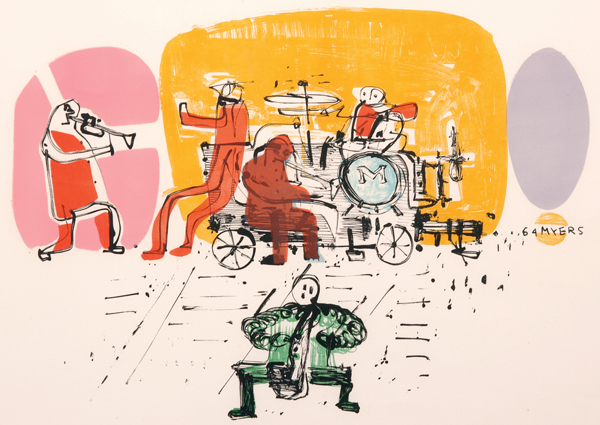 There's an old saying: Jazz musicians play the same if there are four people listening…or nine. It's a funny joke, grim for its ring of truth, but funny. But it irritates me. The gallows humor of jazz is fast becoming a running shtick that boils down to dismissive ripostes like "Oh, you're a jazz musician? What's it like to work at McDonald's?" It's tired and condescending. The jokes say more about America's increasing inability to embrace a wide range of music or even to imagine a community that values all of us, from programmers to pianists (and not just the chosen few who make it in popular music).
But the fact is we do play the same whether anyone is listening or not. This sort of unconditional passion and commitment keeps the music refreshed and vibrant. We enrich the community whether our contributions are acknowledged or not. There is a long history of under-the-radar music in every city in America. And while the more publicly visible side of making music, particularly jazz music, has suffered some deep losses in the last decade, musicians in the Twin Cities are always finding ways to play.
This month, I'm going to call some of the best of them out. What follows is a partial list.
Black Dog Coffee and Wine Bar has been hosting jazz for a long time in Lowertown, St. Paul. A lot of creative musicians got their starts gigging here and, even once established, have continued to play the small stage. The place weathered all those tough years in downtown St. Paul, and now things are starting to pick up again. Here's hoping they reap the benefits. The atmosphere at the Black Dog is comfortable, and there is no cover. Go, and you can routinely hear the Fantastic Merlins, Zacc Harris, Eric Kamau Gravatt and Dean Magraw, Steve Kenny and a lot of others.
youtube://v/Eg39tEEPw3Y
Also in Lowertown, Studio Z presents new music in all genres, including a fair number of jazz-related series: The "All Originals" Jazz Series which composer/trumpeter Steve Kenny will curate, and Jazz at Studio Z Concert Series curated by Zacc Harris. This year for the Twin Cities Jazz Festival, Zeitgeist will also premiere newly commissioned works by local jazz artists Chris Bates, Steve Kenny, Zacc Harris, and Davu Seru. (Incidentally, Harris also recently started a record label featuring recordings by some amazing musicians who just happen to be local. You can check out what he is offering here.)**
Also in St. Paul, and also often featuring Steve Kenny and his bands is Sweet 317, a performance venue/art gallery that's open the first Friday of every month for public performance. I haven't been yet, but it is on my radar. You can make it a Lowertown evening: hop between Black Dog and Studio Z. Or mix it up, hit the St. Paul Chamber Orchestra first and then catch a late set at the Black Dog before you head home.
Shifting Paradigm Records, 2014
In Minneapolis, Icehouse is presenting a lot of music, including both dinner and late night sets and jazz every Monday night. The food is great and so is the drink menu. A lot of what you used to hear on Monday nights at the Turf Club's Clown Lounge has moved to Icehouse, and its a good hang.
Although we all miss the old Dakota in Bandana Square, with its seven-nights-a-week jazz policy (I, like many others, heard so many legendary musicians there over the last 25 plus years), the Dakota still presents live music seven nights a week – some of it bands you can only hear there. Last month Joe Lovano turned up with his band, Us Five. Dave Holland plays there regularly; Ahmad Jamal does, too. The drum legend, Billy Hart will be there on June 15th with his stellar band. So, although I miss its more single-minded past, there is still a lot of impressive music to check out there.
youtube://v/yan1piIFISI
I have to make special mention of Jazz Central. This is the sort of DIY room that jazz has always both incubated in and launched from. It's in the basement of an old building on Central Ave. — there is nothing arty or pretentious about the space. But you can find music there four or more nights every week. Young musicians can play there and hang out (no liquor), and all kinds of musicians work on honing their sound there. Mac Santiago and Tanner Taylor started Jazz Central's programming a few years ago, and aside from being superb musicians they are activists, true believers in the idea that jazz should be heard without apology. You should go.
youtube://v/B7LQY1lcBC4
The bottom line is there is music every night here. My bias is for jazz, of course, and that is the focus of my writing here, but there's music for any taste. The orchestras are both playing again. Minnesota Opera just wrapped another stellar season. Mill City Opera is presenting productions (already nearly sold out) in the Mill Ruins in the summer – something just as soulful and atmospheric as it sounds. But despite how music is happening already, there should be more and in more varied settings. And yes, there should be much more jazz. I know you've heard me say this before, but it bears repeating: jazz is our music; it's part of who we are, where we come from. At its best, it is the purest expression of our struggles and hopes.
So, I want to put out a call, a simple proposal I'm going to keep submitting as long as it takes: Let's have more jazz. We need to make an effort to support a wider variety of live music of all kinds, but definitely, let's have more jazz.
This city is experiencing a renaissance — maybe it's more a revolution — in food. We went from being a culinary nowhere to home for a thriving food scene. Pioneers like the Dakota's Ken Goff, Lenny Russo at Heartland, Alexander Dixon and others put this place on the map. And the beer! The whole landscape has changed and it's wonderful.
Why can't we do the same thing with jazz music?
I propose that the restaurants in the North Loop, along Nicollet, in Lowertown, along Central Avenue and 13th in Northeast, and hot spots out in the suburbs all commit one night a week to live music, especially live jazz. Get a solo pianist in the room, a trio, something. I dream of a time where I can hear well played music at The Bachelor Farmer and walk down the block to listen to something else at the Sapporo. I fantasize about playing a dinner set of my own somewhere and then heading down the street to hear Chris Lomheim or Dave Karr.
youtube://v/hOlYLHptHjQ
I've already noted a bunch of places hosting live music this way, but there should be more. Let's have some organic, local music to go along with all this great farm-to-table food and craft beer. And let's, as a community, support the places that are already doing it well. Some of the area's brewers are featuring music in their tap rooms. Zacc Harris plays The Riverview* Wine Bar Sunday nights. And I can't forget to mention Benny Weinbeck: you can find him at Parma 8200 in Bloomington on Saturdays, continuing a gig he started a long while back at D'Amico downtown. Benny is a hard-swinging pianist, usually playing with Gordy Johnson, a truly great bass player. It's worth a trip out to the suburbs – or maybe you live down that way, and you can become a regular.
youtube://v/xM8noqsZfho
The music is out there. Find it and support it. Demand more of it. This city has so much to offer in art, theater, food, beer, parks, biking. The jazz scene here already has so many wonderful local practitioners – it belongs on that list of proud homegrown amenities.
Jeremy Walker is a composer and pianist living in Minneapolis. His latest record, 7 Psalms, is being praised by critics and peers alike. Ted Nash (Jazz at Lincoln Center Orchestra) calls it a beautiful and important recording. It's available on iTunes and CD Baby.
CORRECTIONS, 6/11/14:
*In the original text, the name was incorrectly given as Riverside, rather than Riverview Wine Bar. (Return to text)
**We've clarified all the jazz-related offerings by Studio Z, thanks to Steve Kenny for alerting us to the correction. (Return to text)