A Storm of Beats: Zorongo Flamenco Dance
Lightsey Darst visits a rehearsal for Zorongo's upcoming show, March 8 - 10, new dance works by Susana di Palma inspired by the "mad woman" verses by Nobel-winning Chilean poet, Gabriela Mistral.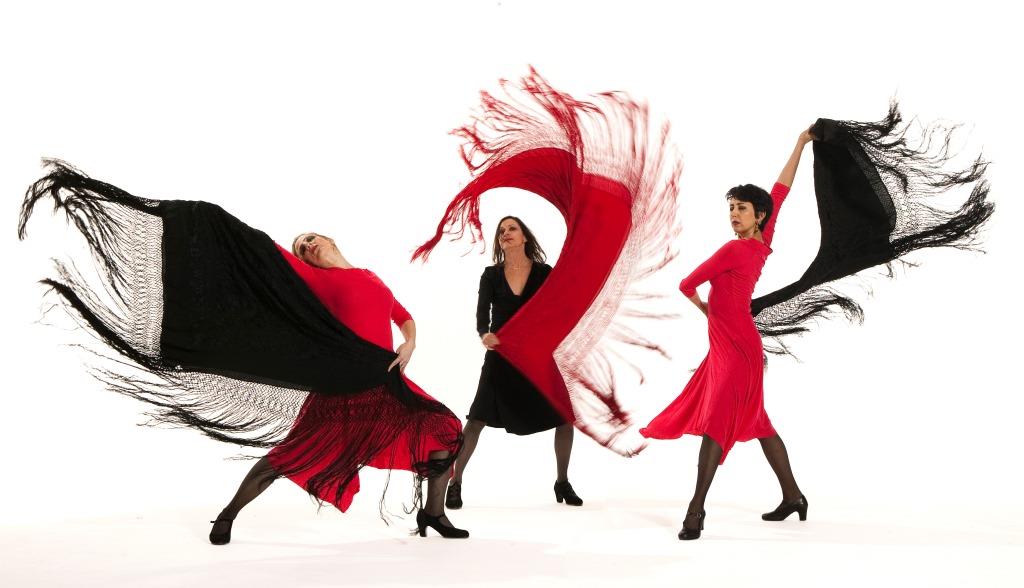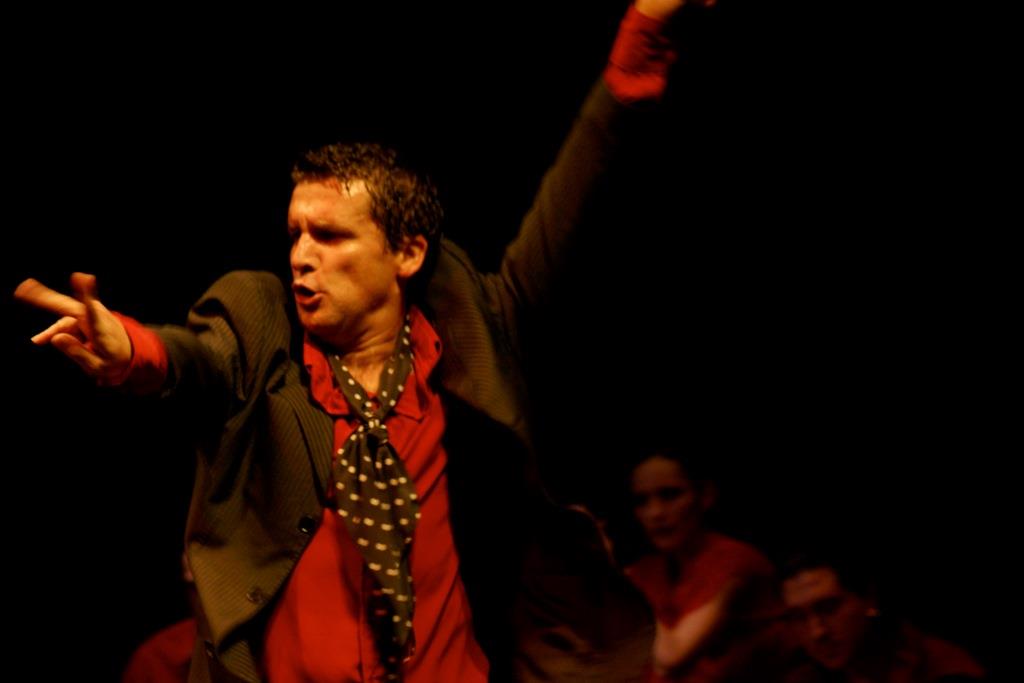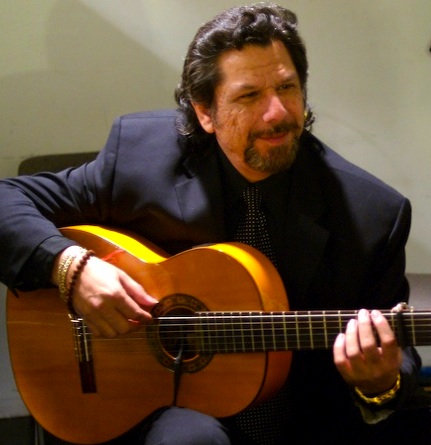 ZORONGO FLAMENCO DANCE REHEARSAL, 4 pm Sunday, March 3. The show, Locas Mujeres y Mas/Mad Women and More, opens the weekend of March 8. Susana di Palma has six dancers, five musicians, a lighting designer, her crew, and a little dog named Mojo packed into the narrow Zorongo studio at Patrick's Cabaret, pounding out the tricky timing of a new piece. Everyone's speaking in sound syllables, scatting rhythm to work out the syncopation of a tight passage.
"Bah bah bah! Nothing else. Lightbulbs!"
"It ends on four-and. That makes sense."
You've got to be on this foot, then that foot, and if you wrong-foot, you can't hide it because you're making noise with each step. "It's a back-heel," di Palma says. When the dancers stand steady and pulse their hips, their silence threatens or promises, then breaks, and a tattoo echoes on the floor, intricately phrased as passionate speech. Even a slender figure like Colette Illarde's vibrates to the footwork; the women look like they're riding horses as they hold their own in a storm of beats, their skirts shaking down like lightning. They're only practice skirts (I see cardinal-red dresses hanging in a corner), but in deep sapphire, raspberry, and sable, tight-seamed over hips and thighs and then gored or flaring down to the instep, they're the skin of the dance.
"Hold please!" Every time di Palma wants to stop the action she has to wave her arms and call, like she's interrupting lovers or a fight, and even then everything doesn't stop at once. The dancers and musicians are possessed, like people speaking another language; their drive can't be shut off like a bedside lamp. Right now, they're making a mess: with one musician down and multiple moving pieces, everything falls apart every few bars. But di Palma seems fired up instead of worried. Bending over a chair, she beats out a rhythm of her own. Like many dancers who've gone on dancing near or past their half-century, she looks made by her form, with hands like birds and a proud hip-slung stance.
Someone tries to explain the music to me—twelve beats, but for some reason the counting doesn't start at one. I don't follow. I get that signals are vital: the way lovers have to turn their heads to kiss, flamenco musicians and dancers have to look and listen to catch each other's cues. And I get that the mess comes from the materials—performers whose individuality must be respected, acoustic sound, a manmade beat fat in the middle and fraying like a mantilla at the edges. That it's alive is what makes flamenco hard to manage, and the trick is to keep the animal of it tame and feral at the same time.
"Remind me to kill myself later," composer and guitarist Pedro Cortés says. Music and dance scatter and realign. Eerie singing, that unmistakable flamenco voice—aspirated, projected from the back of the throat as if meant to pierce a distance—barely starts before it's cut off. Deborah Elias half-marks a solo, but it's hard to mark flamenco: she keeps breaking into full-bodied dance. Stamping, she sounds like a team of horses by herself, but a matched team; if a lot of beats rain heavy as slaps on the wood floor, still fine points matter. Feathering clears the air for another onslaught. She turns back on herself, almost falling in a spiral. Off the dance floor, Illarde tries on a skirt with a frilled red train as long again as the fall of the skirt, and then the group work begins again, all the dancers together.
"You must seduce each other," di Palma murmurs, and the dancers' sidewinder figures bend around each other, then break loose but stay curved to show where the pressure fell. Flamenco makes much of the emptied-out places of an adult female body: hollows around flaring neck-tendons, the spanning bridge between a spread thumb and index, the dark shadow that falls between the legs, the sucked-out space between spiral-cocked shoulders and hips. The ideal isn't willowy grace but jagged, witchy energy breaking into tantrums and off-balance pivots. I fall in love with a move like a sailor's swagger, which requires the dancer to throw and catch herself, to risk it all on each step and then do it again the next. You can't be precious about yourself and do flamenco; this isn't a young woman's dance—particularly not when the drive comes from Chilean poet Gabriela Mistral's late "madwoman" verses, which run through this dance's turns from desperation to dark wit, irreparable loss to triumph. The form celebrates a mature woman's authority, an authority that derives from pure passion. Flamenco celebrates the passage dangerous emotion wears in the body—that's the line from hand to stamping foot, flashing eye to audience. Shoulders back, the dancers lead everything from the hip and vulva, swaying low.
______________________________________________________
Flamenco celebrates the passage dangerous emotion wears in the body—that's the line from hand to stamping foot, flashing eye to audience. Shoulders back, the dancers lead everything from the hip and vulva, swaying low.
______________________________________________________
"Ole ole ole! He's alive, he's alive!" di Palma welcomes in the missing musician, a violinist. He's carrying a cardboard sheet covered with music, most of which promptly cascades to the floor. Now that he's here, a few more bits of timing have to be worked out—a repeat, a beat added in. "I think that should give you enough time to tighten your ass and pray to God," Cortés says.
"Who's he talking to?" someone asks.
"This is pure creativity," someone else mutters.
Flamenco is a folk form, but that doesn't mean these musicians and performers have just hiked down from the hills of Andalusia. They're sophisticated and educated. I hear one musician refer to a "folkloric melody"; the percussionist may sound Old World, but he's a young man dressed in hipster style, Converse shoes and well-cut jeans. Spanish and English zip back and forth. "One more time, now I know what you're doing."
"Donde, donde?"
"From the top." They've been through this passage more times than I can remember, but they start over. A line of sweat gleams down one dancer's chest like a silver lariat. Arms and torsos wreathe in gestures of emptying and longing. In the fierce exchange between musicians and dancers, something's always about to come loose, but they ride that line, rallying to each other's signals. Everyone on the sidelines leans in, catching wind from the flying skirts. To feel that storm turn together—the electricity is as unmistakable as a spark of desire.
______________________________________________________
Noted performance details:
Zorongo Flamenco Dance Theatre will perform the world premieres of Locas Mujeres y Mas/Mad Women and More and Ida y Vuelta/Depature and Return, both created by Zorongo Artistic Director Susana di Palma, along with the new group and solo choreography of Pure Flamenco at Cowles Center for Performing Arts in Minneapolis, March 8, 9 and 10. Ticket information here.
______________________________________________________
About the author: Originally from Tallahassee, Lightsey Darst is a poet, dance writer, and adjunct instructor at various Twin Cities colleges. Her manuscript Find the Girl was recently published by Coffee House; she has also been awarded a 2007 NEA Fellowship. She writes a weekly column on dance for mnartists.org.