Where Will You Dance?
From traditional theaters to non-traditional venues to electronic spaces, Ellie Lynch considers the liminality and the life span of performance spaces, physical and digital.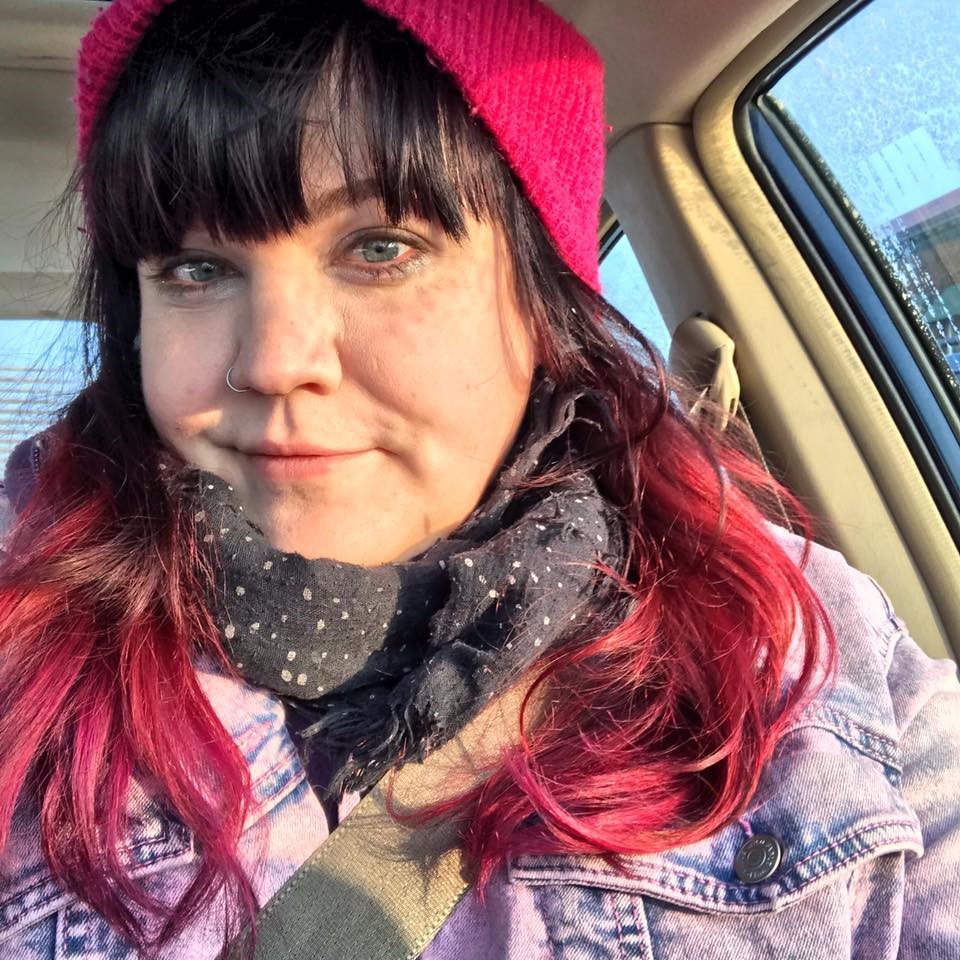 Content warning one: nostalgia and unfamiliarity. My analog life as a live performing artist is in my past, and I don't currently frequent venues for dance in the local Twin Cities scene. This consideration of dance places and spaces is going to be unapologetically local and out of date—and, like most social media, very personal.
Content warning two: white, queer, Xennial, non-binary femme transgender adult with digital devices. My digital life as a dancer occurs in posts and stories on a non-public Instagram, recorded in my living room. I watch other people dance in their living rooms on social media or YouTube streamed to my television. I also sing in my car on my way to work.
Content warning three: reverence for art made without commercial motivation. I developed a propensity for the archive and the ephemeral remnants of the undocumentable arts ever since I learned about performance studies in the early 2000s. Even more than contemporary art, the spaces that hold performance and dance are notoriously undocumented and uneconomical. There is often no record of the objects and people inside the work, and even less so the bare boards, lighting racks, and extension cords that populate these spaces.

I consider myself to have been, and to be, an unlikely dancing body. As an adult, my feet are marred by injury, most sustained while dancing onstage since age 22. My body was never hardened by years of dance classes, nor was I encouraged to perform as a kid. In my youth, I biked, drew, studied piano, and generally was not athletic. I single-mindedly walked myself into a high school singing audition because I wanted to fit in with my friends. No one had trained me or groomed me for live performing before that; I surely didn't know I was signing myself up to dance too.
As a young performer designer in the live dance community, I persisted through years of challenges as to whether my body would be accepted in dance as a discipline, both by myself and others. I didn't see myself as a dancing body. Some people liked my ability to improvise. Some rejected my body because it wasn't quick to pick up and repeat lyrical dance. Some said, "Please be in this touring show!" All the while, I was in a struggle to be me, my transgender and queer identities obscured by a shell and known only to me. Today, my memories of this time feel like I am watching myself across the street through a window in a building. And at the time, looking out through my eyes felt like looking into someone else's life. I respect her/their/my choices for life inside that shell. There are many reasons why people don't come out, even when they know exactly who they really are.
I am grateful, as a former part of the Twin Cities performance community, to have performed in work from local (yet national-dance-scene-famous) choreographers. They provided opportunities to travel to festivals and work on research-based projects. Some worked against the exclusionary standards of who and which bodies can dance, even the body I had at the time. In the 2000s it always seemed like there were more folks of older generations and younger generations involved than other Xennials around my age. It was apparent that my age group was exploring representational art in other mediums, many of them digital. Digital cameras at a consumer price were new. The broadband internet was new. I think everyone I knew considered themselves a digital photographer, was learning how to edit video, make Flash animations, or at least had a Myspace page. I also had a Myspace page and I took my digital camera everywhere.

While I was studying at the University of Minnesota Theatre Arts Department, there were many mid-sized, full-production theaters in Minneapolis—for a student of live art, the future looked rosy. As a technician who worked on theater lighting calls and other production-related contracts, I got to know many Minneapolis spaces intimately: Theatre de la Jeune Lune, the Southern Theater, Intermedia Arts, the Red Eye. Many of those have gone, and the balance has shifted to smaller, black box theater spaces, galleries, or DIY spaces. Nook-and-cranny DIY or public spaces were my favorite places to work or watch. Consider the organizational effort of so many people to open these spaces, move them, run them, and finally to close them.
Consider the relative ease of turning on Netflix or uploading content to Youtube, versus the organization required to travel to, attend, and create in actual physical spaces. My most beloved experiences as a viewer or audience member were in theaters, cabarets, galleries, and private residences, where fewer than 50 people saw what happened. While now events taking place anywhere can live on through video stories and tweets, or ephemera in Facebook events, location-based tags, and evites, consider the decades of live events that never had the chance to leave those digital artifacts behind. They were temporary, over without a trace: countless music, theater, and dance experiences set only in human memory, without hashtags.
Once I danced a duet in a one-bedroom apartment for too many people. Once I live-instructed 10 other people how to move, while filming them half on and half off the 9' by 22' cabaret stage at the Bryant Lake Bowl, and Laurie Van Wieren rolled dice for chance operations. DYFIT (Don't You Feel It Too?) started and I danced across downtown Minneapolis, in coordination with 20 others, for unsuspecting audiences of Macy's employees and lunch break professionals. Once I danced with 30 other people across the Stone Arch Bridge. Once I was a part of a group of four that made a guerrilla quartet in the audience during a live band's concert at the 400 Bar on Cedar & Riverside. I left this community behind.

The Minneapolis Uptown VFW now has a social dance-able room. It exists across a hallway from the rest of the VFW, inside the same commercial bar. I heard about the new VFW from a queer friend who said they had lived some queer experience there. I was pretty surprised at first—at the VFW? So I went. I found that the event was steeped in consent culture, and the performers and folks attending were diverse across races and genders. Though the stage was small, the room was big. I could imagine this room as the venue for a non-traditional, i.e. contemporary, dance concert if a producer with enough prowess approached the VFW to put one on. It felt like many disappeared queer spaces for social dancing.
Spaces come and go. Queer community spaces for social dance events also come and go, grow and get erased. Some remain coded as such or not, but either way, they're not the same.
Long live Madame 1, Madame 2, Madame 3.
Long live Pegasus.
Long live Pi Bar!
Long live Club Metro.
Long live Twilight!
And long live an incomplete list of erased Twin Cities performance and dance spaces that live in memory, compiled by your essay curator KVL and me.
Long live Red Eye Theater on 14th St.
Long live Island School and Museum.
Long live Smuda Studio and the Shoebox Gallery in Roberts Shoes Building.
Long live Patrick's Cabaret on 24th St. (now home to Open Eye Figure Theatre).
Long live Patrick's Cabaret at 3010 Minnehaha Ave. (now home to The Hook & Ladder Theater & Lounge).
Long live Intermedia Arts. Long live Intermedia Arts. Long live Intermedia Arts.
Long live Theatre de la Jeune Lune.
Long live Gus Lucky's Gallery.
Long live Old Arizona.
Long live SpaceSpace, created by Georgia Stephens, Shawn McConneloug, and Paula Mann. Another decade of dance was squeezed out of the room that HIJACK and others shared with Millikan Studio.
Long live Theater Garage.
Long live SooVAC on Lyndale.
Long live Suburban World Theater (in its less commercial early existence).
Long live Studio 6A, tended by the Minnesota Dance Alliance.
Long live Public Functionary (now operating Studio 400).
Long live Christopher Watson Dance Studio.
Long live Los Amigos convenience grocery, Blaisdell & 28th St. (now home to Los Campeones Gym), where Jaime Carrera hosted the OUTLET series in the basement.
Long live No Name Exhibitions at Skunk House in the Warehouse District.
Long live No Name Exhibitions at the Grain Belt Brewery.
Long live No Name Exhibitions at the Soap Factory.
Long live 1419 Washington Ave.
Long live Myndwyrm's Halloween Store (farther down Washington Ave.)
Long live Grumpy's on Washington Ave.
Long live Tyler Street Projects off Central Ave. NE & Broadway.
Long live Tool Shed Gallery in Northeast.
Long live Art of This Gallery on Nicollet Ave.
Long live Art of This Gallery on Bloomington Ave.
Long live Bedlam Theatre 1, behind Palmers Bar on Cedar Ave.
Long live Bedlam Theatre 2, across the light rail tracks in Cedar-Riverside.
Long live Bedlam Theatre 3, in the Ivy Building.
Long live Bedlam Theatre 4, in Lowertown St. Paul.
To condense my incondensable recent years—in which I have found stability outside the arts community in local food co-ops with good health insurance—the long story short is that lately I have become more embodied in this body. I am a proud, gender non-conforming, non-binary femme transgender person. And with that newfound authentic living, I found dance again, unapologetically. I dance on social media in stories and posts on a non-public Instagram. I watch other people's living room dance through the hashtag #personalpractice, because it's really authentic movement. I play Wii dancing games. Today I create social media content with hashtags and location tags and enjoy participating in the back and forth dialogue on queer culture, fashion, and music with others, from wherever they are in the world. I take selfies for social media because reclaiming a marginalized identity via social media is powerful.
Finally, dear reader, in no less than one paragraph, here is something you could do in real time—right now, or maybe later, or tomorrow. Be the change you want to see in the world. You learn to swim in the water, not in a library. It's never the wrong time to choose to do the right thing.
If you're able to find some time and space, the challenge is to accumulate some positive experiences: for you to do some dance practice somewhere. Not competing with others, not competing with yourself, but dancing in accompaniment with sound, beats, or silence. Sitting in a chair, lying in bed, leaning in a hallway, or standing in a room cleared of obstacles: connect your brain to your back, listen to what it says, and invite acceptance of what happens next. You can do this at any time, and you're dancing. No matter what happens next, how little or much you move, the moment for you to choose is right now. And then it will end.
You can choose to document it and post it on the internet. Be here in that moment of choosing. Dance spaces are temporary, like everything else.
---
This article is part of the series by guest editor Kristin Van Loon.