The Living End
Writer Sheila Regan profiles two visual artists, Sean Connaughty and Kate Casanova, who use living material as their medium and embrace the natural life cycle of their organic artworks as an integral part of their creative process.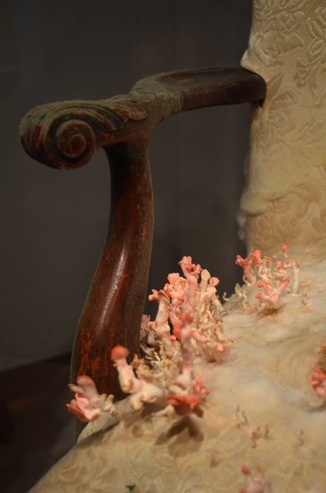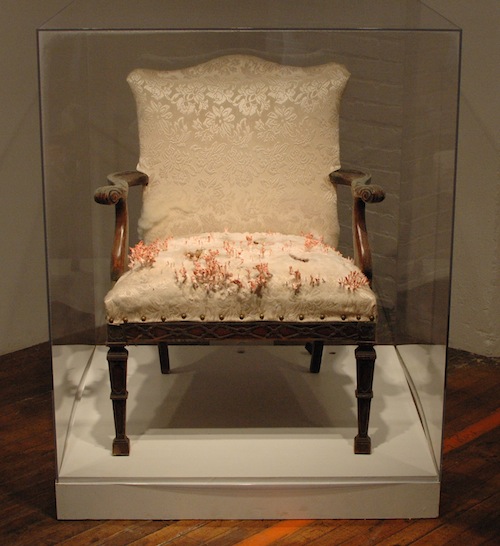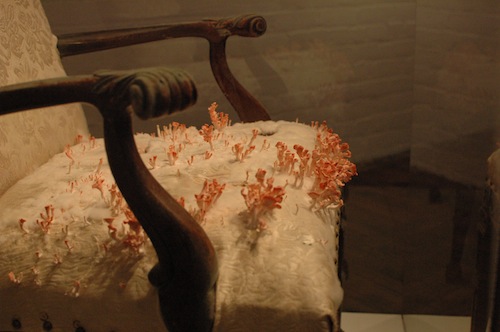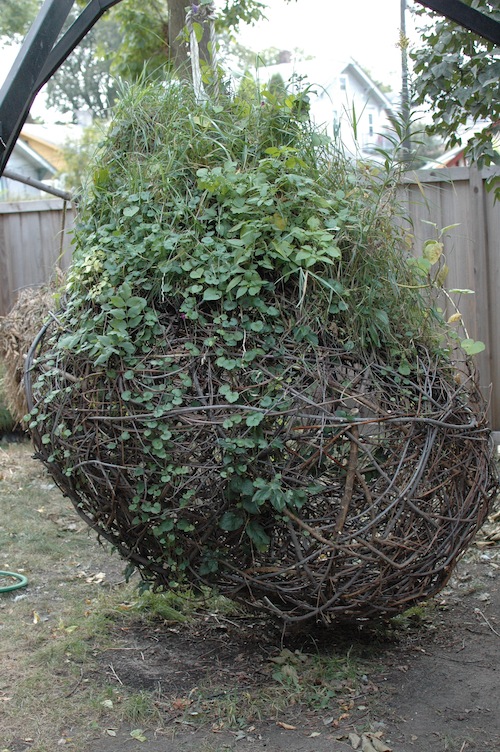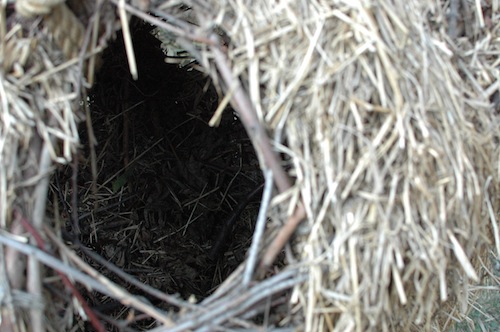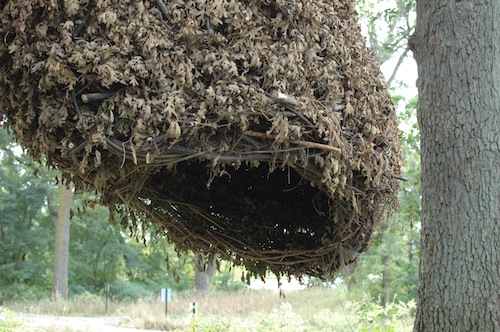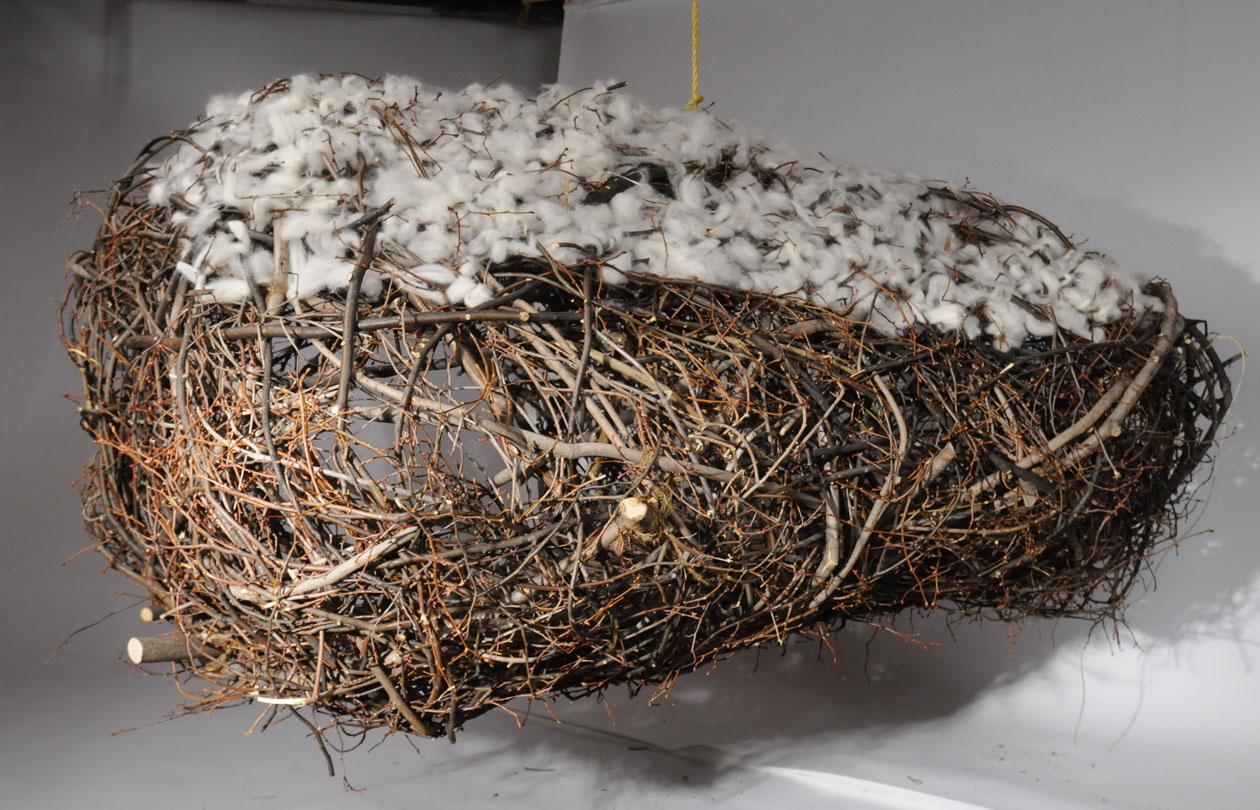 Since human beings began to make art before they even called it "art", they've been using earth as material. As "civilization" has progressed, though, creative use of such elemental materials has transitioned to more man-made stuff, to the point where today an artist can easily construct an entire work of art on a computer. However, even as hide skins have been replaced by canvas and natural pigments by synthetic paints, the attraction for some to create beautiful things from nature endures still. Gardening and the art of floral arranging are among the most obvious examples, but that's just the beginning — you could also include forms that work upon the human body – tattoo art, for example. There's also the Japanese creative tradition of bonsai cutting and cultivation, or, in more recent years, the phenomenon of crop art. All are illustrative of the breadth of possibilities for using living things to create art works.
In the Twin Cities, two artists stand out as exemplary of work in the form. Sean Connaughty has a painting background, but it's his pod structures and bigloos made out of snow which have gained him notoriety in recent years. But first, let's talk about Kate Casanova (once Connaughty's student), who is doing interesting things too, not only with plants but with fungus, and even insects.
The grotesque
Kate Casanova describes herself as an "amateur naturalist." She grew up in northern Minnesota, where her family owned sled dogs instead of a television. "My visual vocabulary assembled itself from snake nests, rabbit's fur, and icicles," she says in her artist statement. That fascination with the natural world has led her to create work not only inspired by living things but which also, more recently, actually incorporates them into the form of her pieces.
A stunning example is a time lapse video she created, called Ornament, which shows the back of Casanova's head, inhabited by three crabs milling about in her French braided hair, gradually picking apart her pristine hairstyle. It's a scene at once grotesque and beautiful; Casanova's stillness throughout the process offers the busy creatures a welcome that, while disconcerting, seems quite natural.
In September, Casanova showed another "living" piece, Mushroom Chair, as part of an exhibition at Anita Sue Kolman Gallery. The work began with a chair Casanova bought at a thrift store, which she had re-upholstered with pristine white fabric. Then, from the substance of the chair Casanova grew pink oyster mushrooms, which she purchased from a company in Washington State that sells spores. As the mushrooms grew through the fabric, a green mold grew as well.
"Very often my inspirations start as something that doesn't relate to art," she says. "From there they percolate in my head." In the case of the mushroom chair – the work was sparked by her conception of a striking image: a snowy white chair overtaken by pink mushrooms. In order for Casanova to realize her vision, though, she had to deploy a bit of science, researching and experimenting to find just the right environment for such mushrooms to grow the way she wanted them. She has to figure it out as she goes, because, as she says, "[this kind of work is] uncharted territory."
The scientific particulars are interesting in themselves: Casanova uses a humidifier and temperature controls to keep the chair at precisely 80 degrees Fahrenheit and 80 percent humidity; the chair is encased in glass to keep its environment stable. Eventually, she says she hopes to grow mushrooms out of the seats of a car, so that the car itself might become the encasement. That way, there "isn't anything between me and the mushrooms that wouldn't already exist," she says.
There's an undeniable grotesqueness in Casanova's use of live materials: whether it's crabs crawling through her hair, or growing fungi and mold in furniture, or planning an evening of eating live insects, as she will do this spring, Casanova doesn't shy away from ugliness. Indeed, she embraces it, exploring all aspects of the life cycle — even its decay — and shaping it into something aesthetically satisfying, if not pretty. "We have tendency to romanticize nature," she says. "We pick and choose what we like. I'm playing on that natural tendency, that uneasy boundary where the reality of nature comes through underneath."
Cycles of life and death
Like Casanova, Sean Connaughty uses living things to create his pods, which are nest-like structures made out of natural materials, often living, which are suspended in the air. A typical pod, he says, starts with a loop, to which he then adds various materials: buckthorn trees he acquires from city abatement, leaf debris, weeds from the garden, stuff from the cracks in the sidewalk, etcetera.
Connaughty says that he's intrigued by the potential of the living material, and the connection between animals and humans. The pods are, after all, a kind of shelter: you can go inside them, no different from an animal protecting itself against harsh weather. The living pods, when first constructed, are still alive; you have to water them every day to keep them that way. Connaughty mentions that some of the pods have had problems, especially with bugs infesting them. He says the pods do eventually die, but that he's been experimenting with keeping them alive for longer periods of time, even indoors through the use of a misting system. "I want to stretch [that life cycle] out for as long as I can," he says.
But even as Casanova and Connaughty seek ways to stave off the inevitable, they both artists embrace that eventual end as a part of the artwork itself. Indeed, Casanova's selection of mushrooms as a material is significant in that regard, symbolic of that duality and tension in the natural life cycle. "Mushrooms seemed like the perfect organism," she says. "They aid in decay but also aid other organisms… they embody life."
Her mushroom chair is an apt proxy for the human body: it, too, flourishes in resplendent decay before being utterly, inescapably destroyed.
Embracing the ephemeral
Part of what drew Connaughty to working with natural materials, he says, stems from an experience soon after he finished graduate school. He came back to the Twin Cities only to find that the artwork he had entrusted to a friend for storage had been taken to the dump. After that, Connaughty began to think about his work in a different way — he began to document everything, first of all, and also started working with more intrinsically temporary materials. For example, for his snow bigloos (he credits the late Matt Zaun as a collaborator), he creates igloo-like structures that will inevitably melt. So, too, his pods are, by nature, transitory, never intended to remain unchanged. "I guess there was some coming to terms with that nature," he says of his more ephemeral pieces.
For her part, Casanova explains, "We're always searching for immortality. There's something freeing in accepting that everything is eventually going to die and be forgotten."
There's humility in both of the artists' work, a kind of courageous equanimity in the face of intractable natural forces. Though both Casanova and Connaughty manipulate living materials in various ways to achieve their ends, their work belies a respect for that material, and acquiescence to its nature that suggests a larger acceptance of the futility of attempts at control, and a willingness to discover the possibilities inherent in that fact.