Taking "Beautiful Stories" from Page to Stage
Playwright Matthew Everett goes behind the scenes of a new co-production by Hardcover Theater and Workhouse Theatre--a stage adaptation of the cult hit illustrated series of books by Dave Louapre and Dan Sweetman, "Beautiful Stories for Ugly Children."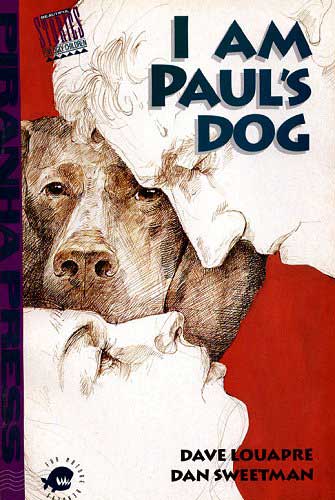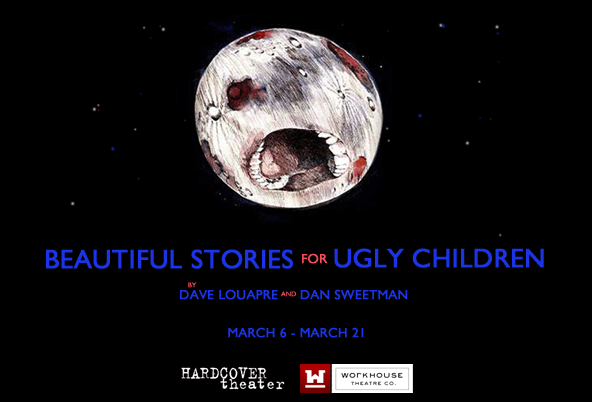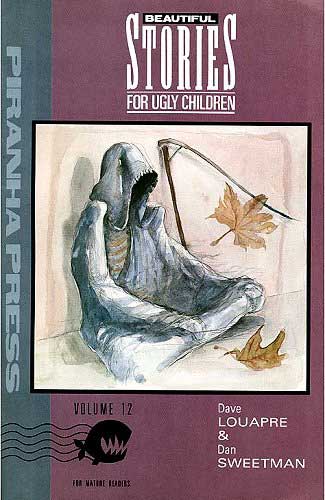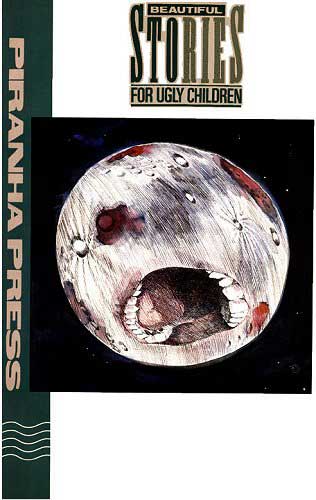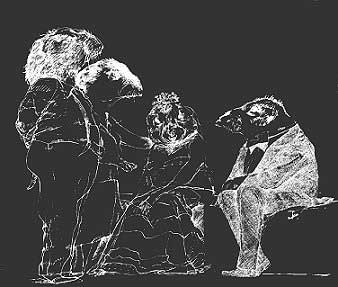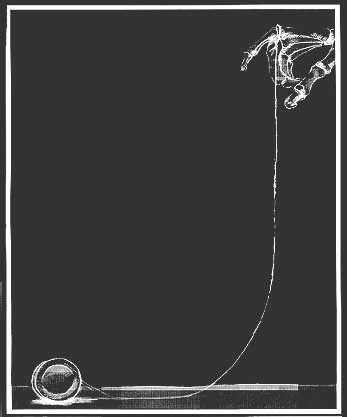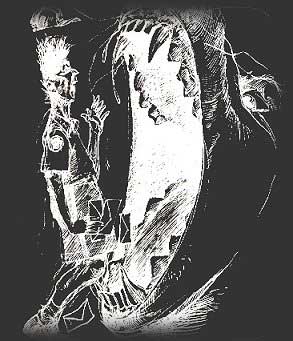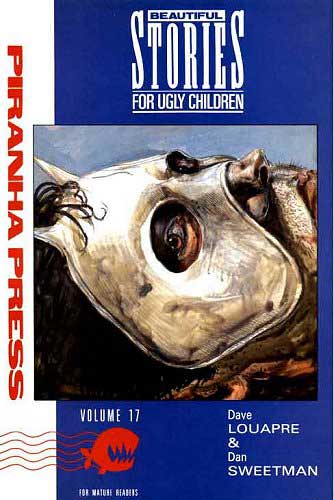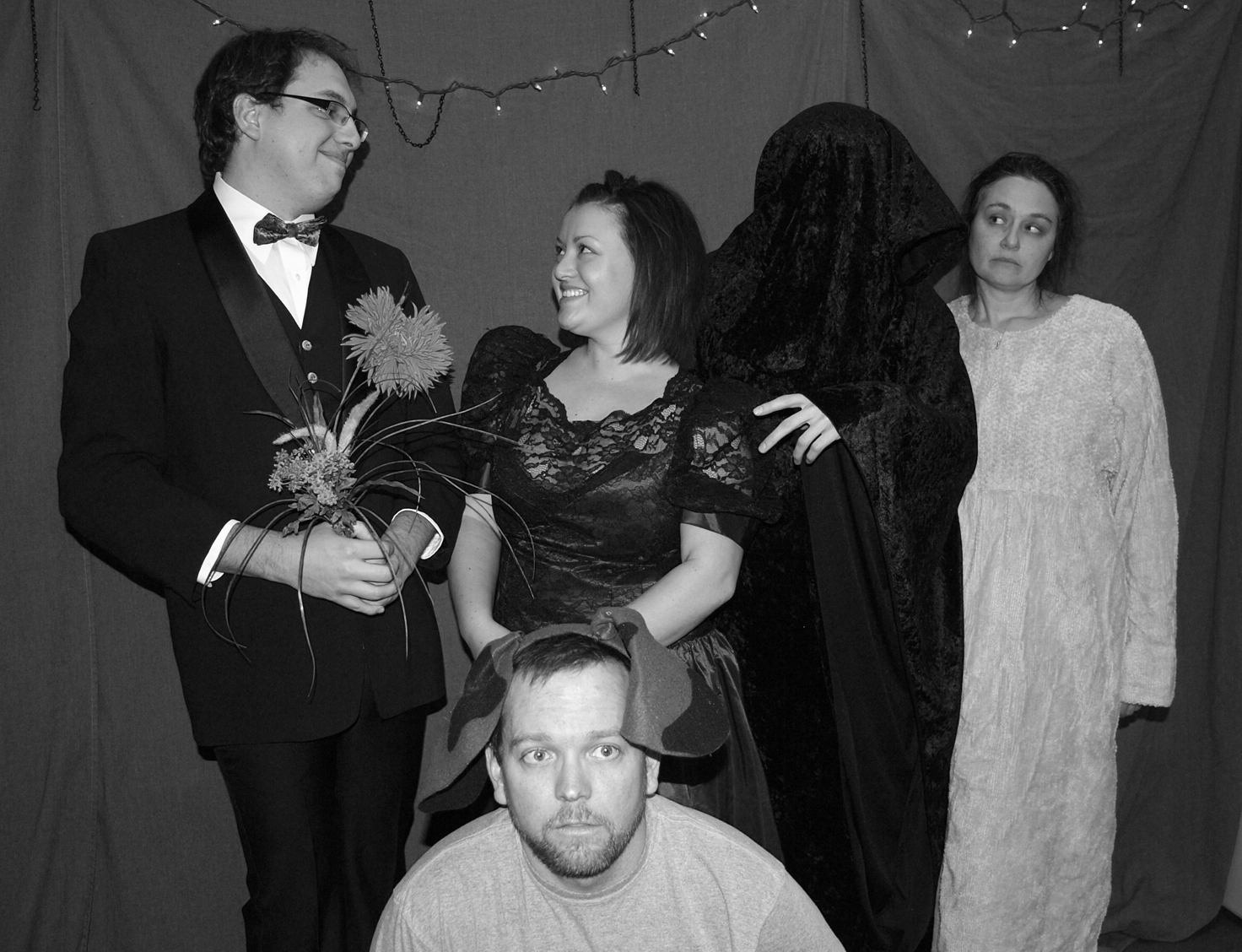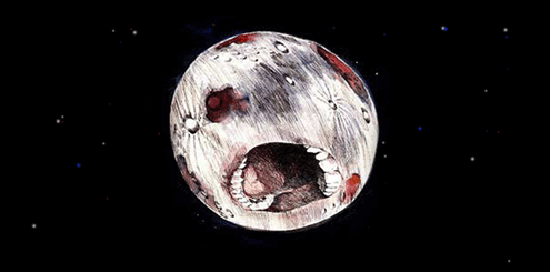 "The mailman has never harmed me or teased me or done anything to give me a reason to hurt him… Still, when I see him I want to rip out his throat. It's the darndest thing." – I Am Paul's Dog
SOME STORIES TAKE ON A LIFE OF THEIR OWN. Beautiful Stories for Ugly Children falls into this category. In fact, the current co-production by Workhouse Theatre and Hardcover Theater, which adapts three tales from the illustrated series Beautiful Stories for Ugly Children for the stage, is only the latest step in a long journey for these tales.
The stories in the original series, written by Dave Louapre and Dan Sweetman, have been described as picture books for adults. In a way, they are a return to an older style of publication, where stories of all kinds were illustrated with black-and-white line drawings every few pages. At any rate, Beautiful Stories for Ugly Children definitely aren't children's books. A look at the titles alone clues you in to that fact:
◊◊◊◊◊

A Cotton Candy Autopsy
Lester, the Lonely Druid
Die Rainbow Die: A Story of Hope
Diary of a Depressed Tap Dancer
Dances With Cows
Tiny, Slimy, Writhing Thing–the Christmas issue, in which a love worm invades the home of a dysfunctional family

◊◊◊◊◊
High school friends Dave Louapre and Dan Sweetman teamed up creatively after college on several projects, the most notable of which are the 30 issues and 2 anthologies comprising Beautiful Stories for Ugly Children (BSFUC), which were created between 1989 and 1992. Dave wrote the words, Dan provided the pictures. The stories developed a cult following in the comic book/graphic novel community, even though BSFUC were neither really comic books nor graphic novels. The series as a whole is not even one, continuous, serialized story.
Even if they didn't know quite what to call it, the distinctive style of the illustrations and the off-kilter whimsy of the storytelling has cross-genre appeal; the tales stick with people who discover them. And the same narrative hook that spurred readers to seek out missing issues to complete their collections, long after the series was out of print, is a quest that persists for many even now, seventeen years later.
◊◊◊◊◊

Ricky, the Doughnut Boy
The Daffodils of Plague Town
Even Bluebirds Go To Hell
The Santas of Demotion Street
Legion of Ogs
The Dead Johnsons' Big Incredible Day – a black comedy about suburbanites who are really zombies

◊◊◊◊◊
Jeff Redman, Artistic Director of Workhouse Theatre, was handed his first issue of Beautiful Stories for Ugly Children–A Conspiracy of Sweaters—while still in college. Around the same time, he also saw a fellow student do an unauthorized stage adaptation of another of the stories as a directing project. A number of years after college, Jeff ran across a copy of I Am Paul's Dog and knew instinctively it would make, in his words, "a great performance piece."
Redman got permission from the authors to adapt the story for the stage and produced it in his pre-Workhouse days, 11 years ago, for a performance in the Minnesota Fringe Festival. I Am Paul's Dog was later remounted at the old location of the Acadia, on the corner of Franklin and Nicollet Avenues, in Minneapolis.
______________________________________________________
"I never saw this Lassie she talked about. I think she made the whole thing up. No dog would rescue a cat from the river. If this dog Lassie were for real, she'd run along the river barking her head off, telling the cat how fast the falls were coming up. She'd yell, 'Hey look! A catfish! Get it? Cat-Fish!' She'd follow the cat all the way to the falls, then run in circles and roll on the ground as it plunged to the rocks below. Or else, she'd pull the cat to safety, then eat it. One or the other. End of story." – from I Am Paul's Dog
______________________________________________________
I Am Paul's Dog offers a dog's eye view of life. The story's canine narrator describes the ups and downs of his relationship with his master Paul and in Paul's relationships with women. The mysteries of a dog's life, and a dog's heart, unfold as the narrator struggles to make sense of Paul's working life, romantic entanglements, and concepts like television, weekends, alarm clocks and beer. In the end, the one relationship the man and dog can count on is the one they have with each another.
All these years later, as he was making decisions about what to include in the third season of offerings from Workhouse, Redman felt like it was time to revisit I Am Paul's Dog. Since that play was a Fringe-appropriate length of 50 minutes or so, the company only needed to adapt a few more stories from the series to create a full evening's entertainment.
Since its inception in 2002, when Jeff Redman teamed up with a couple of other theater artists in his North Minneapolis neighborhood, Workhouse Theatre has grown slowly but steadily. Workhouse was founded, in large part, as a response to the dearth of professional theater in north Minneapolis. Despite the fact that Minneapolis and St. Paul both have very active performance communities, before Workhouse there was no theater company based in the North side's Camden neighborhood, in spite of strong evidence that residents there would welcome and support such a company.
______________________________________________________
"The television was on. I didn't remember anyone turning it on, and I was suddenly struck with the thought that Debbie could control things with her mind. Had she turned on the television just by thinking about it? Was she controlling Paul as well? She sure was making him act strangely. Did all Debbies have this power? Would Debbies one day rule the world? I was so frightened, I almost wet her lap." – from I Am Paul's Dog
______________________________________________________
The fledgling company started small, with various experiments in stage production. Workhouse's first full production occurred in the summer of 2006. Then Duane Atter offered up his gallery/studio space, The Warren, as a home base for the theater company's shows. The garage between the studio and the gallery was converted into a variable theater space–complete with stage, lighting grid, space for adjustable audience seating, and light and sound boards.
In just their second full season of offerings, Marsha Norman's powerful play 'Night Mother, a story which pits a mother's love against a daughter's wish to end her life, brought Workhouse Theatre its first Ivey Award.
◊◊◊◊◊

The Night They Missed the Donkey Show
Arnold, Confessions of a Blood Junkie
The Black Balloon
Where the Tarantulas Play
The Dream is Dead, Gone, Shot Off, All Squashed Flat
The Pagan Tourist–in which a group of people give away all their blood, in order to gain admittance into an amusement park.

◊◊◊◊◊
When looking for a partner to help with the adaptation and co-production of two more of the Beautiful Stories For Ugly Children, Hardcover Theater seemed an ideal fit. Artistic Director Steve Schroer's company caught Redman's attention with their adaptation of Giovanni Boccaccio's Decameron. Taking some of the naughtiest tales from the medieval Italian work and transplanting them 600 years into the future, in 1959 New Jersey, Hardcover created Johnny Bocca's Sex Farce for Swingin' Lovers.
"Hardcover was a natural choice for one reason: their mission," says Redman. "Sure, we could have easily contacted any number of other groups, but Hardcover was at the top of the list because adapting literature to the stage is exactly what they do. Johnny Bocca's Sex Farce cemented our decision to contact them. And they seem to get the sense of humor inherent in the Beautiful Stories."
______________________________________________________
"From behind the door came the sound of squeaking springs, and all of the sudden Debbie started praying. ('Oh God!' she yelled. 'Oh God, yes!') Paul never prayed, but some of his women did. Short loud prayers that sounded like happy pain. The prayer of the mattress beast. The Debbie prayer." – from I Am Paul's Dog
______________________________________________________
Since 2002, Hardcover has been a consistent presence in the Minnesota Fringe Festival: in addition to launching their popular serial melodrama, London After Midnight, there, they've also produced Nancy Donoval's popular Dancing Rats & Vampire Moms, and the "beat the clock" version of Around the World in 80 Days in Under 60 Minutes. Hardcover Theater has produced work regularly on the Bryant Lake Bowl and Playwrights' Center stages, and was also part of last year's Twin Cities Chekhov Festival.
After tackling obscure source material from well-known authors as varied as Jules Verne, the Brothers Grimm, and Louisa May Alcott, figuring out a way to stage a couple of the Beautiful Stories was a familiar, manageable challenge for Hardcover's company. Schroer enlisted two veteran Hardcover collaborators, Paul Von Stoetzel and Nathaniel Churchill (co-conspirators on the company's recent Absolute Pulp production of short works), to adapt and direct Hardcover's two contributions to the BSFUC evening.
◊◊◊◊◊

Gravity Sucks
The Crypt of the Magi
Dead Like Me
Nice Girls Don't Massacre Ants
Happy Birthday to Hell (featuring 'Wally' the devil)

◊◊◊◊◊
Among the pieces in the Beautiful Stories line-up, Von Stoetzel directs Beneath the Useless Universe, which cast and crew call "The Death Piece." In fact, Death is a central character. The story in a nutshell: The human woman is done with life and is all ready to go on to what comes next. But Death wants to kick back and chat for a while first, something which becomes increasingly frustrating for the old woman.
Churchill is in charge of By the Light of the Screaming Moon, or what company members have been calling "The Lemmings Piece." Here's the gist: The lemming society is getting ready for a collective cliff jump to their deaths. Meanwhile, a young female lemming is also trying to get ready for her prom night, and wonders if the tradition of plunging off a cliff into the ocean en masse is really necessary. Sex and death, as so often happens, are intertwined in the story.
As it turned out, this adaptation from page to stage goes a little further afield from the original than the other stories. "By the Light of the Screaming Moon is all narrative," Redman explains. "There is very little dialogue. So how do you summarize five pages of beautiful prose into a dialogue between two lemmings? We had to take some liberties with the character relationships and create some dramatic elements" to make the story work on stage.
______________________________________________________
"You look at the clouds and know nothing. You fall asleep in the shade and wake up in the sun, totally confused. What makes the shade move? What makes the wind blow? Where do flies come from, and why do they land on my nose?" – from I Am Paul's Dog
______________________________________________________
Hardcover's Schroer says, "One thing that's distinctive about our work is that we don't try to disguise the page-based literary origin of the works by putting everything behind the fourth wall, turning everything into scenes."
"As a general rule we try to take a theatrical approach (as opposed to a strictly realistic one) when working out an adaptation. We try to find ways to use the theater's space more ambitiously and creatively," Schroer says. For instance, in their adaptation of the Edgar Rice Burroughs' rollicking sci-fi adventure, A Princess of Mars, Hardcover included "…a load of acted out narration – the characters tell you what's happening at the same time as they act it out, in a way that suggests the action (such as spacehip dogfights, or enormous green Martians) but which doesn't do it literally."
◊◊◊◊◊

Dangerous Prayers
The Neutered Beast
Psychotronic Virgin
The Guilty Orphan

◊◊◊◊◊
As we talk, Steve Schroer volunteers, "I'm not a big fan of the idea that theater really changes the world. Theater is good at preaching to the choir. Changing things, I don't think so." But Schroer then continues with the observation that "raw storytelling, without the overlay of other agendas that you sometimes see in theater, has an affect on people's psyches. A good story without a lot of heavy-handed meaning imposed upon it can lodge in the brains of the audience and cause them to think about things in new ways. It can get people out of their heads for a while, and invite them to explore a new way, a fictional universe, an imaginary alternative to our reality."
I Am Paul's Dog, the third story in the mix, is directed by Chris McGahan. The ensemble for the three plays is Steven Bucko, Corey de Danann, Madison Olimb, and Jeff Redman, himself, who is returning to the stage as an actor for the first time in five years.
Jeff Redman tells me he is interested to see what sort of audience this production might draw. "The underground BSFUC fans in the Twin Cities have been catching wind of the production," he says. And then there's one other special audience member, in particular, who will be attending. Redman reports that "the author of the stories (Dave Louapre) is coming to the show. He will be there opening weekend." (Side note: Dan Sweetman has been spending the last several years as a storyboard artist for Hollywood films.)
Redman explains that, over the course of their 11-years-long professional relationship, he has adapted three of Louapre's stories for the stage. In the past, the author watched videotapes of the productions but did not attend in person. Since this is the first full, professional production of Beautiful Stories for Ugly Children for the stage, the author is making the trip up here, to see for himself what Workhouse and Hardcover have come up with. "This will be an interesting face-to-face meeting; we have only ever talked via email or phone." Redman enthuses, "I am as giddy as a school girl."
About the author: Matthew A. Everett's latest play in rehearsal is Medea & Jason: Rubicon Waltz down at Iowa Western Community College in Council Bluffs, performing this April. His most recent play in Minneapolis, Two Left Feet, was voted the audience favorite in Commedia Beauregard's "Master Works: The MOBA (Museum of Bad Art) Plays." His play Leave (afterdark theatre company) made Lavender Magazine's Top 10 List for Theater in 2008. Matthew is the recipient of a Drama-Logue Award for Outstanding Writing for the Theater, and he is a three-time recipient of support from the Minnesota State Arts Board. He holds a Master of Fine Arts degree from the Yale School of Drama. His blog about the Minnesota Fringe Festival (and theater in general) can be found online at Twin Cities Daily Planet. Sample scenes, monologues, and further information on Matthew and his work can be found online at www.matthewaeverett.com and, of course, at www.mnartists.org/matthew_everett.
*****
What: Beautiful Stories for Ugly Children — a co-production of Workhouse Theatre and Hardcover Theater adapting I Am Paul's Dog, Beneath The Useless Universe, and By the Light Of the Screaming Moon from the illustrated books by Dave Louapre and Dan Sweetman
Where: The Warren, 4400 Osseo Road, Minneapolis
When: Performances will run from March 6- 21 at 7:30pm
Tickets: $12 ($10 seniors & students) at the door
Call 612-386-5763 or reserve tickets online at the Workhouse Theatre website.
3-Minute Egg's Matt Peiken recently did a short video preview for Beautiful Stories for Ugly Children. Click below to watch it.