Ramble Ramble: Art Shanty Projects
Musician, biking advocate, and rambling art critic Ben Weaver winds his way through the cities' late-winter slush to the not-quite-frozen edges of White Bear Lake for a day at the Art Shanty Projects.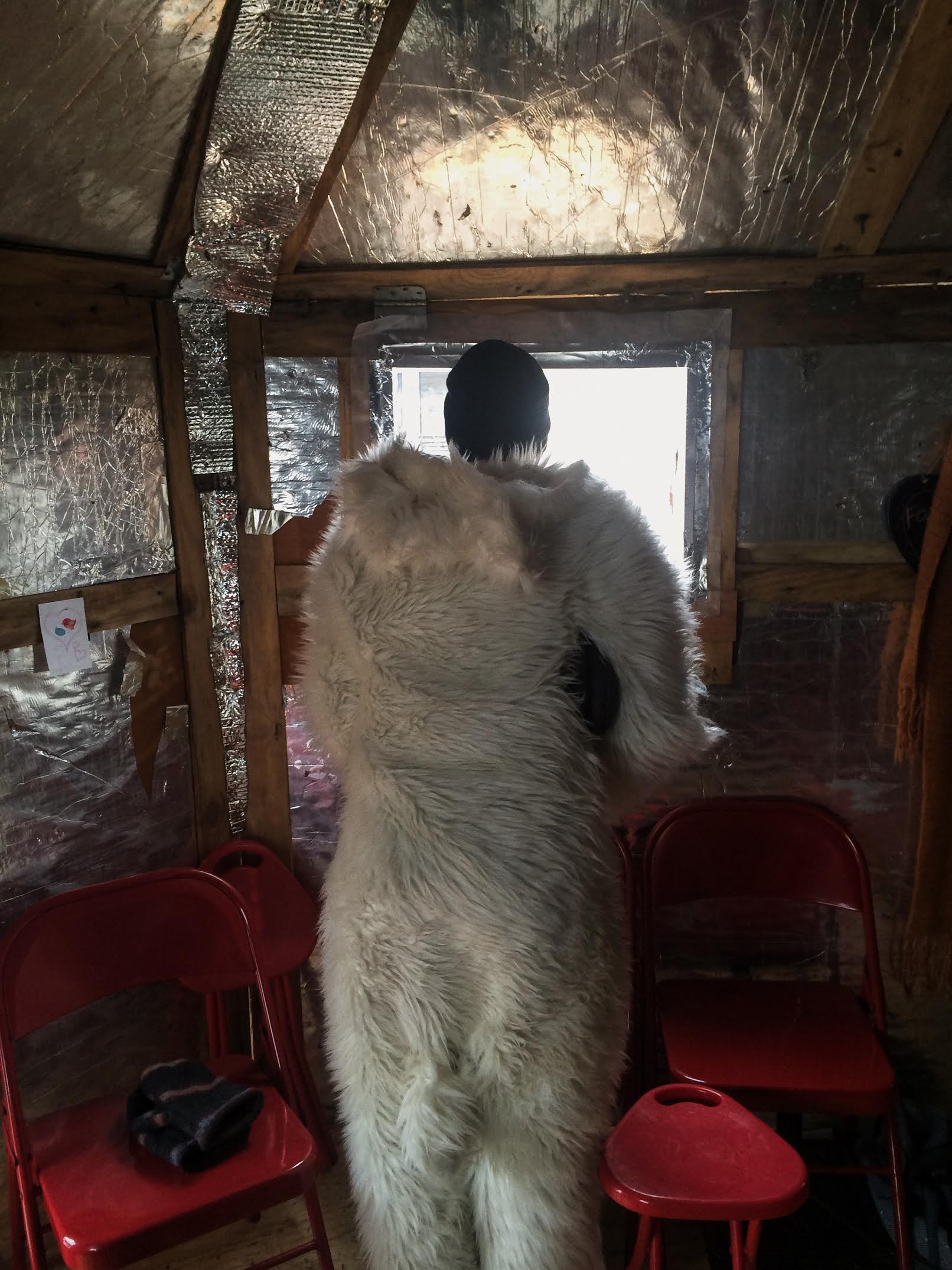 The water levels of White Bear Lake are low. There are arguments about the cause. A lawsuit has been filed against the Department of Natural Resources. There is a proposal to build a pipeline and bring water in from the Mississippi River to return lake levels to "normal."
I see crows. The only snow left is in the shade. It's 42 degrees and spit raining; yesterday, it was 60. I see trash in backyards, blown over plastic playhouses; orange, yellow, and blue toys, all strewn over brown grass. It's the last weekend in February, and I'm wandering on two wheels towards White Bear Lake to perform in collaboration with the Art Shanty Projects.
Each year the Art Shanty Projects create a temporary, artist-created village on ice, begun in 2004 by artists Peter Haakon Thompson and David Pitman. The first such shanty-town was an ad hoc affair constructed by a group of artists on Medicine Lake in Plymouth, Minn. The scale of the project has significantly grown since then, and moved to White Bear Lake.
I wind my way through Como Park: white slush around the lake, like dirty shoelaces humming a song. There's some fishing line tangled around a cottonwood branch. Riding down Maryland Avenue, I pass Trout Brook, what's left of it anyway. The brook is cut up now by asphalt and housing, stuffed underground and belonging to subterranean routes. Along with Phalen Creek, Trout Brook was one of the waterways important to the early explorers of Saint Paul.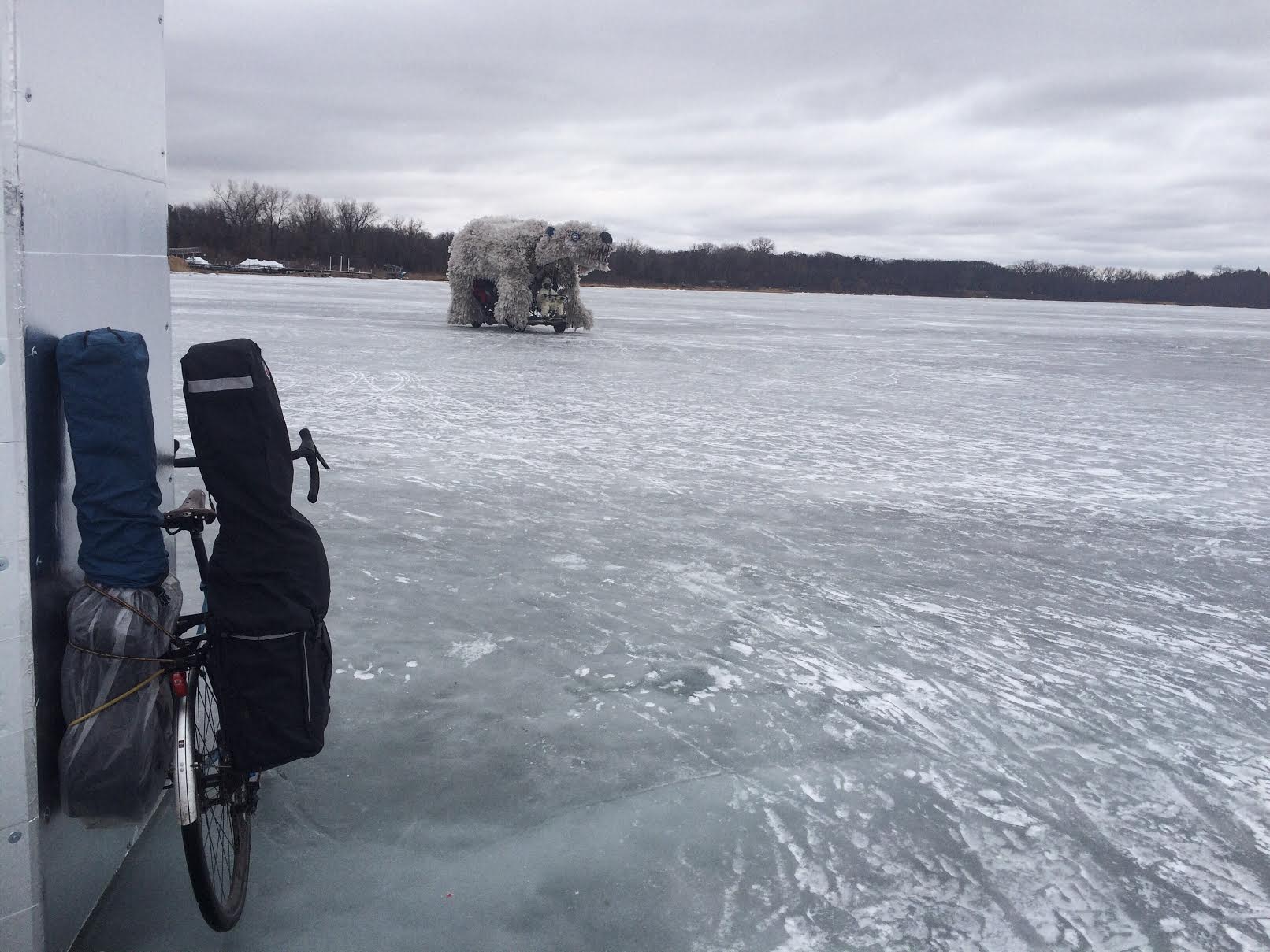 The Art Shanties provide a place for artistic retreats, interactions, and performances with no zoning or ordinance limitations. It's a meeting place. Most programming happens on weekends during the month of February. In past years, as many as 19,000 people have visited the shanties during its month-long residency on the ice.
What shapes the insides of rocks? How much water is moving through the ground beneath me? I keep pedaling through the rain, considering the reverse nature of water. Water expands when it freezes, rises when it densifies. I imagine bees moving pollen around. I'm staring into passing cars. Pinning feathers to my hat.
Maryland Avenue rises over Interstate 35E after a quick and steep hill. From there, I jump onto the Gateway Trail. The old rail bed is dug into the shoulder blade of East Saint Paul and extends towards Stillwater. Dogs are out barking.Tree roots have buckled the surface of the asphalt trail. It's a ribbon through the greenery, neither managed nor wild.
I was originally scheduled to lead bike rides and offer performances out on the lake the previous weekend, but due to unseasonably warm weather, all Art Shanty programming had been cancelled. The ice is already thinning. All shanties have been moved ashore.
White Bear Lake is considered a closed basin. It has a small watershed compared to other lakes in the area. This means it is sensitive. The water level is impacted by many factors: rainfall, air temperature, how early the ice comes in and goes off, how high or low the elevation of output is. (The latter was recently lowered by two feet because land owners were complaining of water in their backyards.)
Riding, I see new crows; more dogs, and stray teenagers smoking under bridges. All of us are watersheds, impacted by what we notice, and what we don't. What we hear, what we don't. What we carry with us, what we drop.
I follow the Gateway Trail to the Bruce Vento Trail, which was once an abandoned Burlington Northern rail bed. It dumps me out onto Buerkle Avenue in White Bear Lake near Grandma's Bakery. From there, I take an apron of gravel alongside more train tracks to avoid the shoulder-less White Bear Avenue. Riding past the stationary hopper cars, I scan their iron bellies and sides for monikers: Colossus of Roads, Solo Artist, Waterbed Lou, HBAK, Sluto, The Rambler. Something about this weather isn't right, but I continue to find temporary refuge in urban dogwood and wild art.
A group, called Friends of White Bear Lake, has proposed a pipeline that would pump water from the Mississippi River into White Bear Lake, restoring water levels to "normal." There are two proposed pipeline scenarios, both with initial costs over $55 million, plus $570,000 a year in estimated maintenance costs. I wanted to know what could be so heavily impacted by low water as to inspire such a costly proposal. By visiting the website, I got one story.
_____________________________________
Standing among the shanties, the surrounding energy soothes me. In these uncertain times, I call to art as my shield and my map, as proof we do not speak a bloodless language.
_____________________________________
I take the side of coyotes and badgers. I'm inclined to believe their howling and digging over the rhetoric of tyrants. Lake levels correspond to changes in weather pattern. This is normal. Pumping water into White Bear Lake from the Mississippi will not fix the larger problem: the aquifers have been significantly depleted. Taking water from one bucket and sucking it into another is a shortsighted approach and an artificial solution. Humans are leaving a line in the earth's crust — a line of carbon correlating to a period of mismanagement, of extraction, exploitation, and overuse. Lack of foresight is the problem, and it's that lack which has brought about the changes to which lowering lake levels correspond.
It doesn't surprise me to learn there are varying ideas for what represents "normal" when it comes to lake water levels. What I find striking, however, is that for those who wish to pump water from the Mississippi into White Bear Lake, "normal" seems to mean no fluctuation at all, or "flatline." (Such a perception seems incredibly ironic at a time when change in climate is upon us and can be directly connected to our actions.) But it isn't normal for anything to flatline unless it's dead.
We might be more comfortable in complacency, but I maintain that humans have far more capacity for creativity and resourcefulness. We need access to the alternative stories and outpourings of creative energy that nurtures imagination, instead of the fear-driven narratives cultivated among the stagnant status quo. This is why we have public art, why endeavors like the Art Shanties are important.
Everything has a heartbeat. All things rise and fall. The sign that something is living is the fluctuation of its pulse in connection to what's happening around it. What do we do when people have forgotten they are part of the land — too busy recreating and plundering to hear their own hearts in relation to their surroundings? We're chained to comforts, paralyzed by endless choice. How do you rescue those who have consumed themselves into denial?
I round a bend in the trail along the northwest side of the lake, leaving Manitou Island on my right. Finally, through the trees I see small bursts of color, a string of art shanties scattered along the shoreline ahead. Crows are walking on the ice.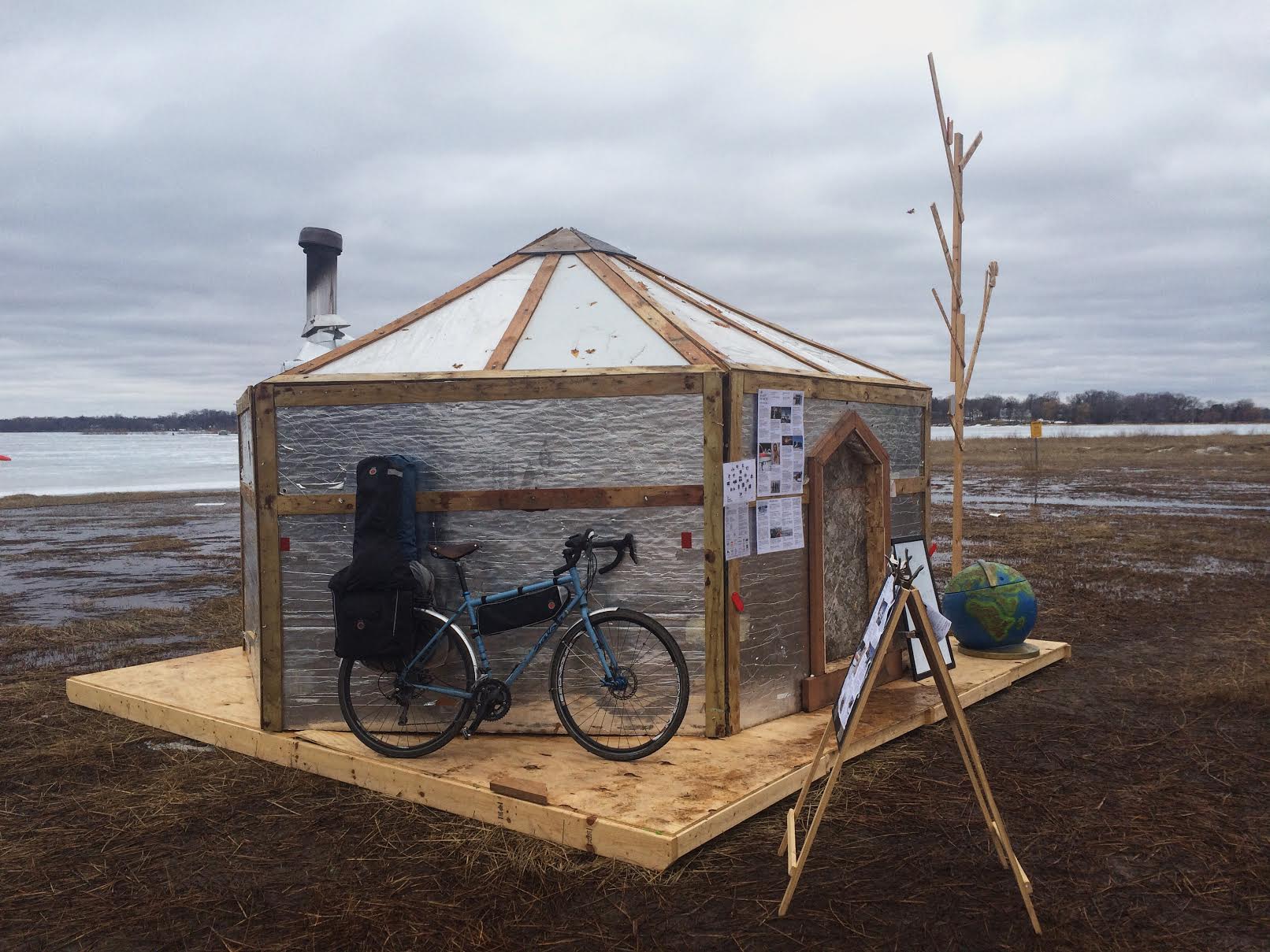 I push my bike across the soggy once-beach where the shanties are situated, leaning it up against the Hexa Yurt where I'll be performing later. Woodsmoke hangs in the air from the coughing stove inside. I hear laughter. I see people dancing. A giant polar bear quietly moves over the ice close to shore, pedaled by humans perched under its giant iron ribcage.
Standing among the shanties, the surrounding energy soothes me. In these uncertain times, I call to art as my shield and my map. Art is proof we do not speak a bloodless language. It casts its hands in through the clouds, pulling dreams and train smoke out from the underside of driftwood and turtle shells. Art can push us into action, initiating conversation, breaking down judgments and projections. Art is the antidote to despair, like the voice of water from before the last ice age, carried in a jar and filtering today's sunlight.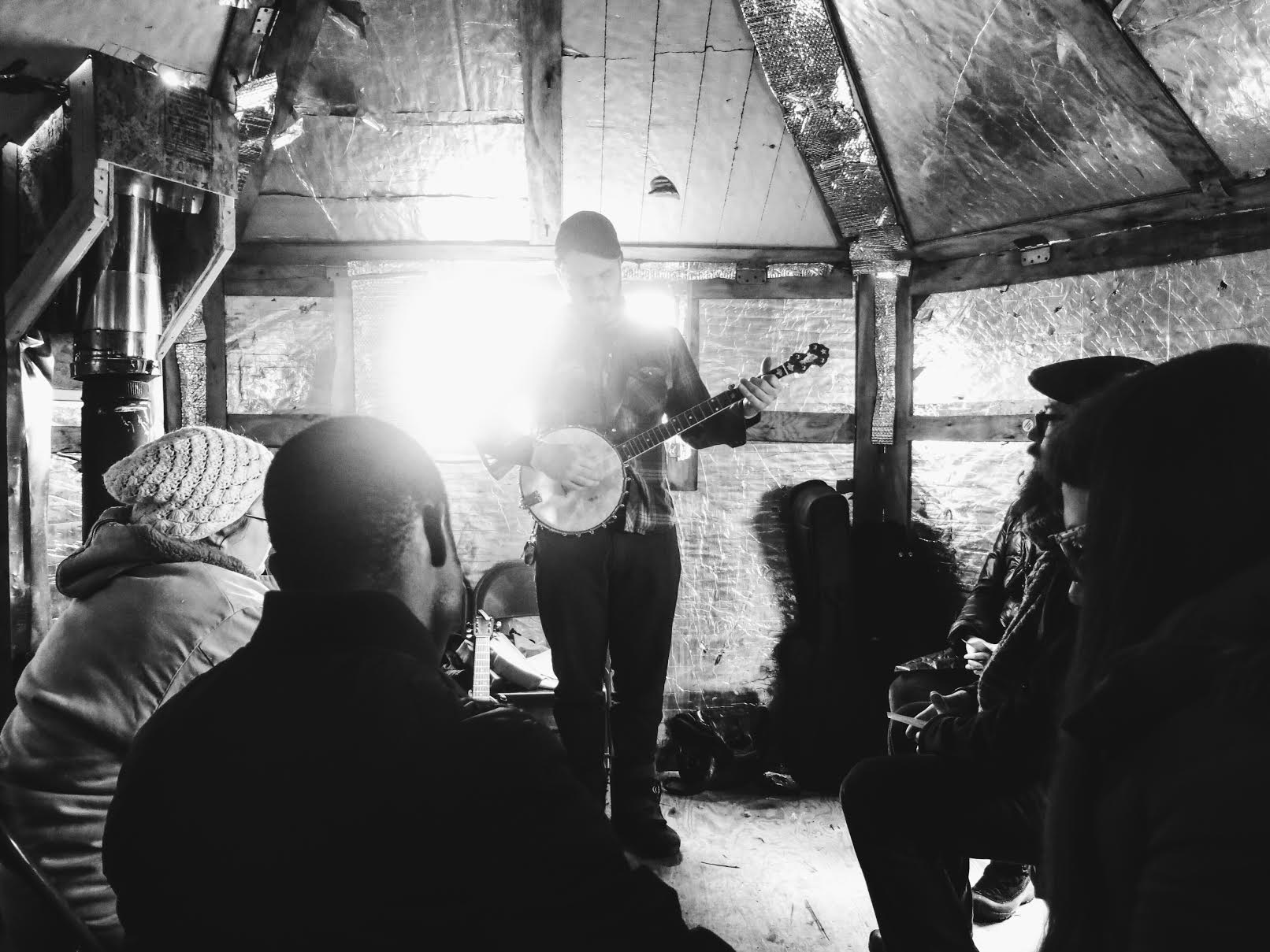 There is no doubt all our communities will face extremely challenging and complex choices surrounding water in the coming years. The situation at White Bear Lake is only the beginning. The energy spent making million-dollar demands, like pumping water from one source to another simply to restore recreation and aesthetic appeal, is itself sure to be revealed a luxury, another fruitless expenditure of resources.
I ride back home at the end of my day spent on the shores of a not-quite-frozen lake — along train tracks, over the subterranean waterways, with the crows and fading rain. As I process my interactions from the Art Shanties; I think about the people I spoke with, the stories I heard.
What do we do when people have forgotten they are part of the land? When they want to believe the cup will remain full for eternity, even while it's leaking all over their lap. What do you do? You bring people together, share stories, teach, ask questions, tell the truth, sing songs. And most importantly, you never stop making art.
Related links and information:
Catch Ben Weaver performing live: in Minneapolis April 14 at Bryant Lake Bowl, and then on April 16 at Hymie's Vintage Records for their Record Store Day celebration. Visit Ben's website: http://www.benweaver.net for more information on these and upcoming dates.
I Would Rather Be A Buffalo is Ben's most recent record, from which you can listen to a selection of songs (or buy) here: http://www.benweaver.net/listen/. Follow him on Instagram, Facebook and Twitter @benweavermusic.
Ben Weaver is a songwriter, poet, cyclist, and printer. He has released eight studio albums of music, and four books of poetry. The bicycle is Ben's vehicle of choice for touring his music. His most recent bicycle-powered tours include tracing 1500 miles of the Mississippi River from Saint Paul to New Orleans and circumnavigating Lake Superior.