On a Distant "Shore"
Emily Johnson/Catalyst wrapped up her ambitious trilogy of dance works with "Shore," premiered recently Northrop. It's less a summing up or resolution of the prior two installments than it is a cri de coeur, our reviewer says. But to what end?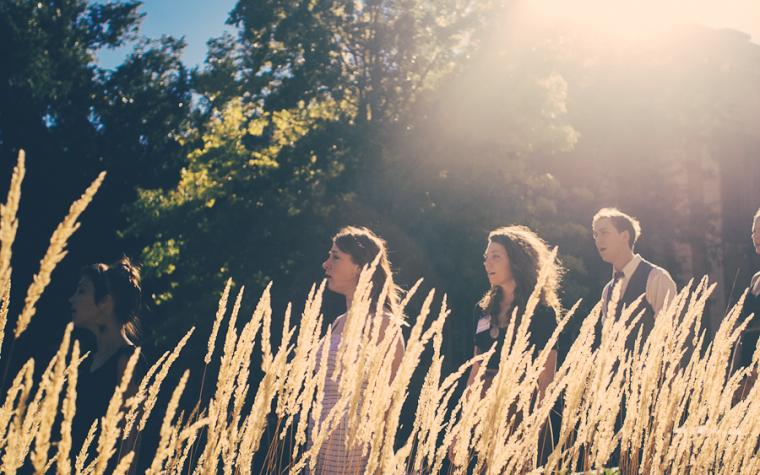 Shore is the final work in a trilogy that began with The Thank-You Bar in 2010 (which won a Bessie Award) and continued with Niicugni in 2013. Choreographer Emily Johnson received a 2014 Doris Duke Artist Award of $275,000 and support from Northrop and the University of Minnesota for the production of Shore and its ancillary interdisciplinary components. Such largesse allowed Johnson to, in part, hire Obie-winning director Ain Gordon, co-director of Pick Up Performance Co(S) in New York (and son of post-modern pioneer David Gordon), and produce the dance portion of Shore on Northrop's brand new stage.
Given the scale, the sheer amplitude of Shore, especially given the resonance conjured in Johnson's first works in the trilogy, the dance portion of the new production was diffuse – an aggregate of exhaustive, frenetic movement encased in musical and storytelling obscurity, occasionally marked by stillness or random-seeming activity.
Perhaps the story of Shore comes down to an embarrassment of riches. Or, maybe it's a story of ambition given greater calibration while still finding its tender feet, emerging fully fledged from the first two stages of meaning-making and left feeling somewhat adrift in its third. It could be that, having tired of the intimate, dreamlike, mythic storytelling of the past, the artists simply decided on different tack this time.
The Thank-You Bar was performed for a small audience which was led through cavernous backstage areas and ultimately seated on the old Northrop stage, where they were treated to Johnson's compelling storytelling and encouraged to participate. Niicugni occurred at O'Shaughnessy: the stage was hung with handcrafted fish-skin lanterns, and the work embodied a dreamtime of ancestry, ritual, movement, and story. Both performances were inspired by and infused with the history and culture of Johnson's Yup'ik heritage.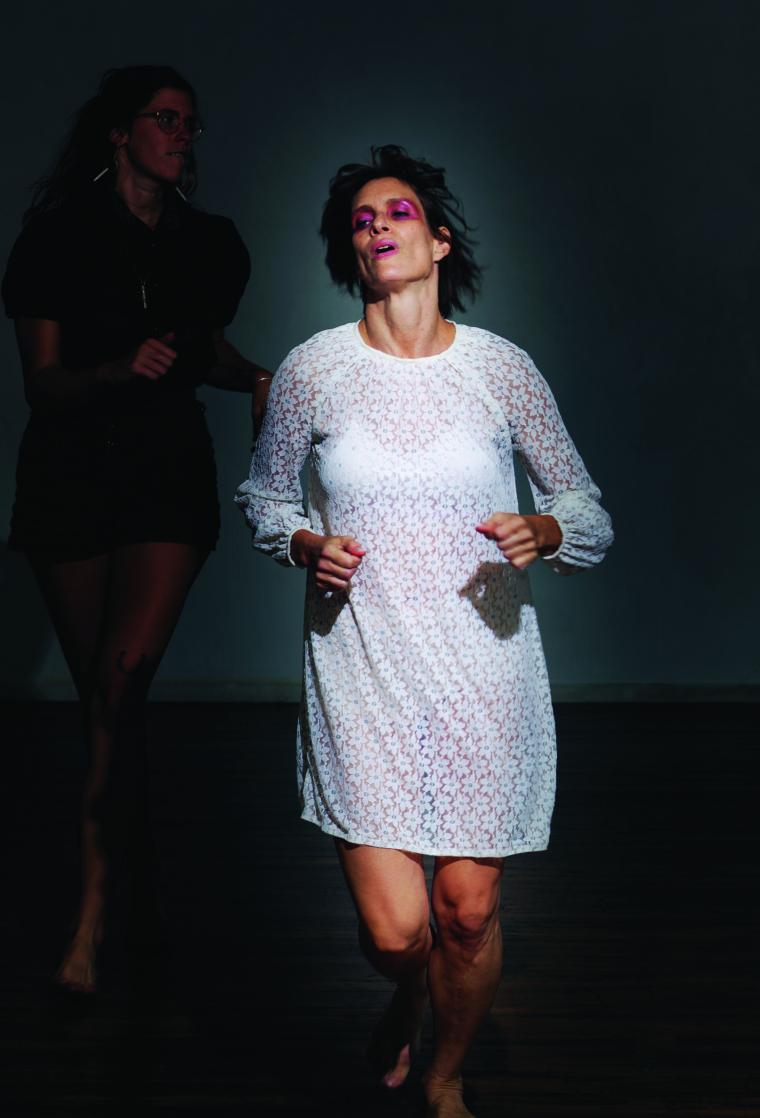 Shore opened Friday evening on the grassy mall in front of Northrop and, initially, keyed into aspects of earlier parts of the trilogy. Johnson moved through the crowd, graciously welcoming people and holding up a sign that read, "gather here." She asked for help getting up on a podium, from which she harkened back to previous stories about embodying a tree and called out the names of people in the audience. She also grounded us in the site's former history as an oak savanna. This was after dancers, in one line, slowly walked toward the audience, as still more dancers ran around the spectators, embracing us in an invisible circle, all the while humming and buzzing like mosquitos.
Of all the moments in her life, Johnson, said, "being here right now might be the most joyous." After such an introduction, we entered Northrop's auditorium with tremendous lightness of being, good will, and anticipation.
Inside, rows of performers, billed as The Anonymous Choir, moved in subtle waves from side to side, sometimes humming in a monotone. Throughout the performance, another group of performers, dubbed The Physical Choir, moved from one part of the stage to another. They all wore gold squares pinned to their shirts.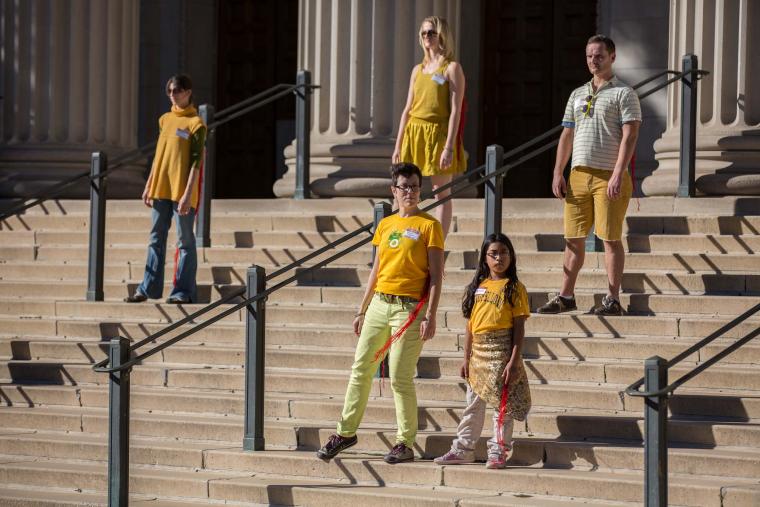 A woman sat on a stool, rising only once during the production to release silver sparkles from a green tarp hung at the back of the stage. Nona Marie Invie, of the ensemble Dark Dark Dark, walked slowly around the stage, sat down to sing in a distinctive and precious drone, and also directed the assembled choirs.
______________________________________________________
Joy, it seemed, wasn't really a part of Shore, after all. The production was a spectacle, but of unanchored content spread out across a vast stage.
______________________________________________________
At one point, amid the crash of an ear-splitting anthem, a red curtain came down; two banners with pictures of salmon-skin strips and anglers outside Johnson's grandmother's Thank-You Bar ("Que-Ana") were unfurled on either side, and then, after a period of stillness, pulled up again.
Meanwhile, Johnson and her collaborator from Niicungi, Aretha Aoki, along with Krista Langberg, danced with tremendous verve, daring, frenzy, desperation and ultimately exhaustion. They wore unitards of blood red, sun yellow, fire orange, which Johnson and Aoki exchanged at one point. Their eyes were encircled with red paint. Aoki wore a black mustache.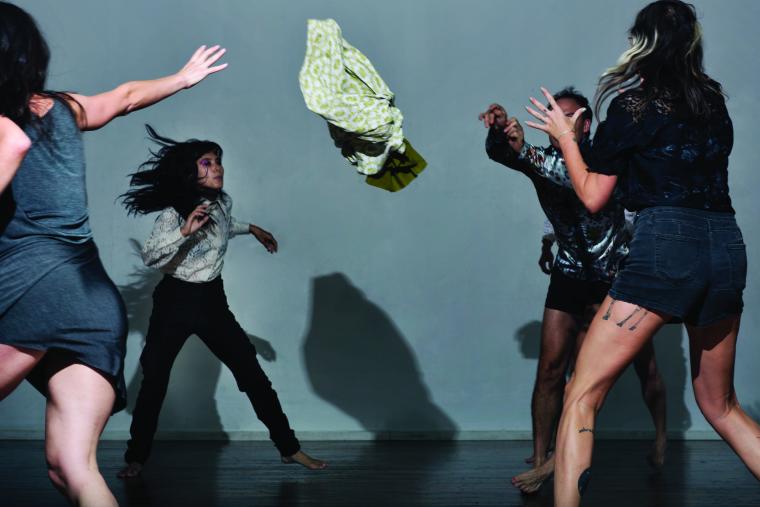 Accompanied by clopping sounds, the two dancers pranced around the stage like ponies. In their other movements were ballet, yoga, modern and Johnson's own gestural vocabulary. Familiar from the two prior works in her trilogy were bent arms held forward as if carrying a large bundle, and fast-and-loose moves with swinging arms.
At the beginning of the piece, Johnson and Langberg sat wearing parkas at the front of the stage – as if absorbed in their own memories, expressions flickering across their faces. Meanwhile, Aoki carved up the space with lean, linear movements. Toward the end of the piece, a child emerged from The Physical Choir to do a native dance across the stage while Johnson told a whale story, which was then picked up by The Anonymous Choir and sung with a curious sort of rage.
Joy, it seemed, wasn't really a part of Shore, after all. Rather, this production was a spectacle of sorts, a spreading out of unanchored content across a vast stage. It was less a summing up of what had come before than a cri de coeur – to what end, though? Rather than a dream or remembrance, Shore seemed a frantic sort of nightmare; or, a daydream in which fear and pain come crashing together, and explode again, bracketed by repetitive sonorous sounds. Others will no doubt beg to differ, perhaps vehemently, but this production seemed caught in a fever dream of expectation: groups of people watching with a palpable sense of unrequited waiting, hoping for real connection.
______________________________________________________
Related links and information:
Shore by Emily Johnson/Catalyst premiered at Northrop June 20 and 21. For more on the artists, see http://catalystdance.com/.
vimeo://v/97963017
Camille LeFevre is a long-time dance writer in the Twin Cities and the editor of The Line, an online publication about the creative economy of the Twin Cities.