mnLIT presents: John Jodzio
Read John Jodzio's 2010 miniStories finalist, "Willem and Trudy, Deuce and Me," selected by the full panel of fiction jurors: Alexander Chee, Daniel Handler, Heather McElhatton, Kevin Larimer, and Dennis Cass.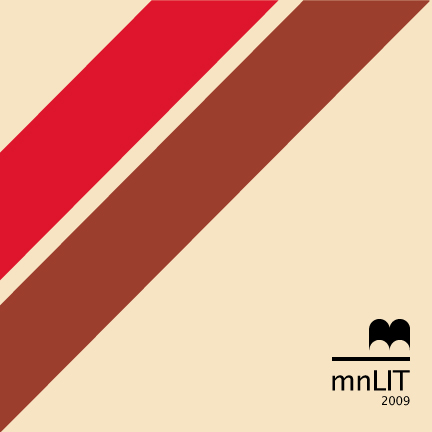 Willem and Trudy, Deuce and Me
I was hired to care for Willem Cosgrove after his first hospice nurse quit. He was dying of lung cancer, and between coughing fits he called out for someone named Doris. This was not his wife's name. His wife's name was Trudy. She was in the room next door. She was dying of bone cancer, and luckily she could not hear for shit.
Trudy had her own home health care aid, Deuce. Sometimes Deuce brought a bottle of Captain Morgan, and we sat at their kitchen table and drank. Deuce was married, but after Willem and Trudy were asleep, we'd usually make out or watch television.
"Lisa," Deuce told me once. "I'm totally falling for you."
Willem and Trudy were bedridden, but they still tried to talk to each other. Neither of them could hear, and so Deuce and I were left to translate.
"Is he saying something about my fat arms?" Trudy asked. "He's always hated my arms."
"He says he loves you," Deuce said.
"Is she telling you I slept with her cousin?" Willem asked. "That one's a lie."
"She misses your touch," I told Willem.
There was a bell by Willem's bedside that he rang when he needed me. Mostly, what he wanted was water, but also he kept begging me to tickle him.
"C'mon," he said. "Just one time?"
"Maybe Trudy would like to tickle you," I said.
"Have you looked at her hands?" he said. "They're like garden tools. And don't even get me started on those fat arms of hers."
One night, when Trudy and Willem were asleep, Deuce and I ordered pizza. Then, we got naked and rolled around their couch.
"This just feels right," Deuce said. "You know?"
I knew. I'd never looked forward to coming to work before, but now I hated to drive back to my lonely apartment with my stupid cat and my dumbass collection of state quarters that was still missing Oregon.
After a week of Willem begging me to tickle him, I gave in.
"Where?" I said.
He pointed to his armpit and I reached my hand under his nightshirt. Willem's face broke into a grin. He giggled a little, but then his face turned serious.
"Are you okay?" I asked.
"There comes a point when tickling turns into scratching," he said.
Trudy went first. It was peaceful, in her sleep. The next day, Deuce was assigned to a new job across town.
"Can we still see each other?" I asked.
There was a pause, a crackling across the phone line.
"Sometimes the loveliness of something is its utter convenience," he said.
Willem died two days after Trudy, as often happens with couples who are deeply in love. I pressed his eyelids shut and called the ambulance.
"No hurry," I told the dispatcher.
After I made the call, I sat down next to Willem's bed. I took his hand and ran his fingers up and down my forearm, gently, lightly, over and over, until the paramedics arrived.
______________________________________________________
About the author: John Jodzio is a winner of the Loft-McKnight Fellowship. His stories have appeared in One Story, Barrelhouse, Opium, The Florida Review and various other places in print and online. A collection of his short fiction, If You Lived Here, You'd Already Be Home was recently published by Replacement Press. He lives in Minneapolis. Find out more at www.johnjodzio.net.
______________________________________________________
About the jurors: Hillary Wentworth's piece was selected to receive the 2010 miniStories grand prize by an all-star panel of flash fiction judges — Alexander Chee (The Queen of the Night, Edinburgh), Daniel Handler (Lemony Snicket series, The Basic Eight, Watch Your Mouth, Adverbs), Kevin Larimer (editor of Poets & Writers), Heather McElhatton (Pretty Little Mistakes, Jennifer Johnson is Sick of Being Single), and author Dennis Cass, who served as lead juror in mnartists.org's 2010 miniStories competition.
______________________________________________________
mnartists.org is a joint project of the Walker Art Center and the McKnight Foundation
Membership on mnartists.org is FREE. Find step-by-step instructions for how to join and how to use the free resources available on the site. If you need assistance, contact Jehra Patrick at info@mnartists.org. Any Minnesota resident is eligible to participate in mnartists.org's mnLIT competitions for poetry and fiction; there are no entry fees, and writers at all levels of skill and experience are welcome to enter work for consideration by a revolving panel of established authors and publishing professionals in mnLIT's blind adjudication process.
______________________________________________________