'Just Like Everyone'–Duluth poet Ellie Schoenfeld
Poet Connie Wanek gives an eloquent analysis of Ellie Schoenfeld's new collection, 'The Dark Honey,' and a glimpse into the poet's engaging live readings. You, too, can hear Ellie perform her work at Northern Lights Books in Duluth this Thursday, June 25.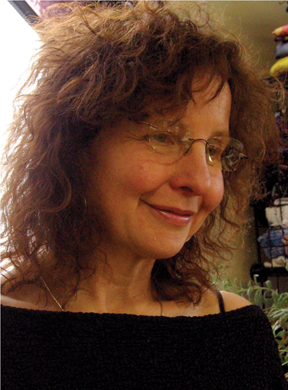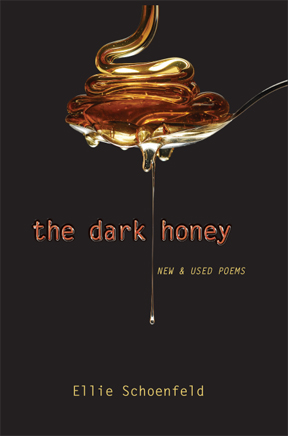 IT'S ALMOST SEVEN IN THE EVENING ON MAY 28, and people are gathering in the fourth floor rotunda of the library at the University of Minnesota Duluth for a publication event: Ellie Schoenfeld will read from her new book, The Dark Honey: New and Used Poems. Even the title tells us that the poems will feature the Schoenfeld trademark humor. What is a "used" poem? Previously published, yes…but I have no doubt these poems have in fact been employed, as poems often are, to comfort, or to amuse. They may have served, also, as flirtation devices, as some are very sensual.
Duluth has had two designated Poet Laureates, both excellent; but if there's an unofficial PL it's clearly Ellie Schoenfeld. About 60 people have given up one of the most beautiful early summer evenings ever to come and hear her. Someone brought flowers, and another person hands her a new Barbie doll (still in its box), likely in reference to Schoenfeld's saucy and subversive Feminist Barbie poems. One woman roped a fire pit to the top of her car for a post-reading bonfire; she led Schoenfeld to the window to point down into the parking lot: "There it is!" Laughter.
It's time, and all take their seats. It's a lovely room, with windows everywhere, a panorama of the hillside and lake, and above us a skylight in the lofty dome. Schoenfeld is introduced by her publisher, Charlene Brown, who founded Clover Valley Press in January of 2007. Brown works here at the UMD library. "Working full-time and having a part-time business is demanding," the publisher told me, "but it's also a luxury, in that I don't have to reap large profits or, even, any profit from my publishing in these early years."
The press is named for its location in the rural area where Brown lives, between Duluth and Two Harbors. It's also where Schoenfeld grew up. Her parents still live in Clover Valley.
At first, Brown wasn't going to publish poetry, but she changed her mind when she learned that all Schoenfeld's books were out of print. "Ellie has a unique rhythm and wit. When you read her poems on the page, you can hear her voice clearly." Behind the podium, Brown enumerates the poet's many accomplishments, finishing with, "and she's just in mid-career!" Someone in the room begins to giggle. It's Schoenfeld.
The poet is still laughing as she greets the audience and thanks Brown. "When we met to talk about the book, Charlene brought a two page list of all the unpleasant tasks associated with publication, and her name was beside every one of them! I was so relieved. All I really had to do was pick out poems to read this evening and, you know, brush my teeth."
Schoenfeld begins with a poem called Sinus Infection, which examines the malady in Biblical terms: She imagines antibiotics not so much slaughtering the "multitudes of bacteria," but "rather more like a great spiritual teacher who inspires the masses to pack up and seek a new home." Her humor here, as in many of her poems, derives from exaggeration, from absurd juxtaposition.
Few writers are more welcoming to an audience, or create a more welcoming persona, than Ellie Schoenfeld. She says she tries to keep her life and her poems in separate compartments, but there's little sense of that neat divide at this reading. Her voice is warm, alto, ironic; her diction is informal.
She reads a poem about rhubarb and says, yes, she'll be reading at the local rhubarb festival again this year. Many of her fans first heard her at the Women's Coffeehouse; others at peace and social justice events. She has participated in many collaborative projects with visual artists (such as the Venus exhibit last summer in Superior when she partnered with bead artist Jo Wood); Schoenfeld has also partnered with musicians to create three CDs — Personal Ad, Almost Through the Rinse Cycle, and Taking It Off. Her biographical note ends: "Though she has thought about it extensively, she has never actually run away with the circus."
______________________________________________________
Ellie Schoenfeld's voice feels like a cross between Amy Sedaris and John Donne — with all the wry, self-deprecating humor of the popular performer, but tempered by the poet's intimate, innate spirituality.
______________________________________________________
I'd read The Dark Honey before coming this evening, and the voice felt to me to like a cross between Amy Sedaris and John Donne. Schoenfeld has all the wry, self-deprecating, even provocative humor of the first, as in poems like Confession, which begins:
I used to feel lust
looking at pictures
of Jesus.
This is probably worse
than anything Freud
could have dreamed up.
It's not really surprising,
me focused
on some unavailable man,
someone clearly
out of my league.
And both Schoenfeld, contemporary feminist, and John Donne, 17th-century preacher and poet, conflate physical and spiritual love. Here's Donne, addressing God:
Take me to you, imprison me, for I,
Except you enthrall me, never shall be free,
Nor ever chaste, except you ravish me.
Schoenfeld's poems contain a like-minded, intimate spirituality that is undogmatic, unorganized, unheirarchical, yet fundamental and persistent and tied to human yearning. She writes, "When I touch you I touch everything/ from before the beginning to after the end."
In his most famous sermon (and how similar delivering a sermon is to giving a poetry reading!) Donne asserts that "no man is an island," that "Any man's death diminishes me, because I am involved in mankind…"
Similarly, Schoenfeld suggests again and again that we are all in this together. She writes, "The hands of the enemy/ are the same/ as the hands of a friend." At tonight's event she reads a stirring poem, Walking. It begins with the image of a Tibetan prayer wheel turning; it's a kind of chant, wherein we are all walking together, "Every step a prayer." The prayers are for the innocent and the guilty alike:
One for the woman shot down,
one for the neighbors
who heard the shots
and did not respond,
one for me and the hope
that I would not do
the same thing,
one for the husband
who pulled the trigger
over and over.
Every step a prayer.
The audience is rapt. The poem shifts focus and the prayer wheel becomes the chambers of a gun turning, "sending its message to the universe." Is it a hopeful poem, finally? If so, it's a sober, serious, and sad hope. If we are to be saved, our salvation is not individual, but collective. The audience applauds for a long time after this poem. We're signing on.
Before we are quite ready, the reading ends. Schoenfeld says she tries to stay in her allotted time-frame. She told me, "Years of open readings, listening to people go on and on, has likely scarred me somewhat." Laughter. (A conversation with Ellie Schoenfeld includes a good deal of laughter.)
Here is the last poem of the evening, and the last in The Dark Honey:
Taking It Off

Some years are just
one hair shirt layered onto another,
each one doing its best
to fuse with skin.

Now is the time
I will finally peel them off,
a slow psychological striptease.
I examine each one only briefly
then throw it
onto an enormous fire,
that original bonfire
fueled by grace and forgiveness,
by the bones
of a thousand other troubles.
Its tongues of flame
sing torch songs and the blues, praises
for every dull, flawed, and disastrous thing.
Its flames lick and illuminate wounds,
leave smoke and spark and new mirrors.

Finally the last one comes off.
I stand here
naked and perfect.
Just like you.
Just like everyone.
*****
Related events:
You can hear Ellie Schoenfeld read from her newly released collection, The Dark Honey: New and Used Poems, at a book party, sponsored by Northern Lights Books and Gifts, on Thursday, June 25, 7:30 pm at the Quaker Meeting House, 1802 East 1st Street in Duluth.
About the reviewer: Connie Wanek is the author of two books of poems, Bonfire and Hartley Field, with a third, On Speaking Terms, forthcoming early next year from Copper Canyon Press. She also co-edited To Sing Along the Way: Minnesota Women Poets from Pre-Territorial Days to the Present. She was a 2006 Witter Bynner Fellow of the Library of Congress.