'Hip Hop' Cracks Open the Cowles: the week in dance
For dance to own a place, Darst says, we have to break down its rules and go at them cockeyed. She never felt the new Cowles crack its cold facade--until J-Sun's "Hip Hop!" when the venue felt like a high school gym, in the best possible way.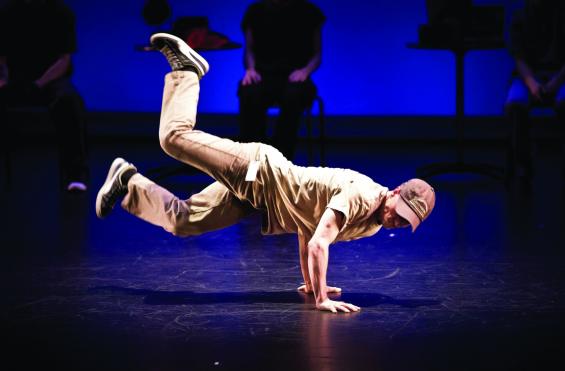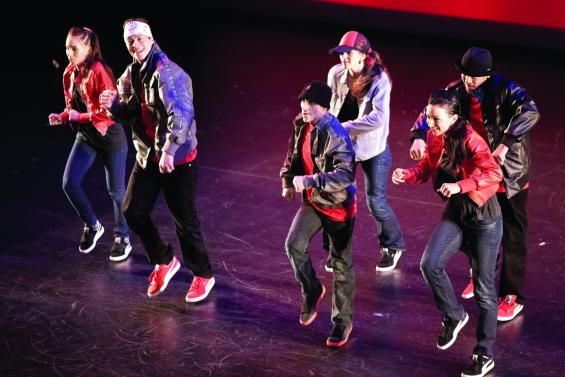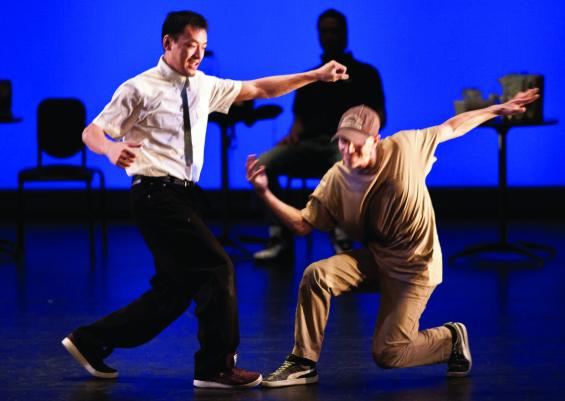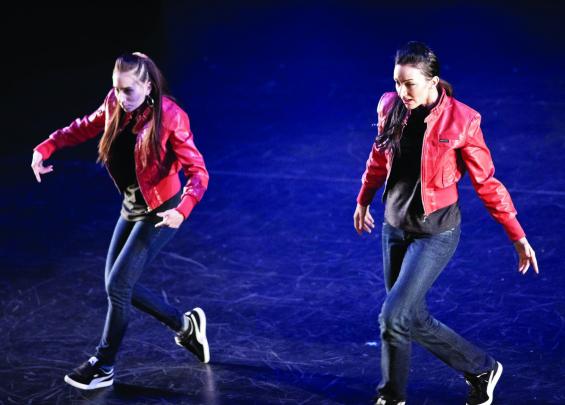 I SAW THE SHUBERT THEATER ONCE before it became the Cowles Center, after it had been moved down Hennepin from its original location. Saved from ruin, slated for revival but stalled on the way, it was a mystery, quiet and closed. I hardly believed it had an inside before then-director Kim Motes let me in through a side door.
My memory of the Shubert has mixed with an opera house in Monticello where we used to do The Nutcracker and a Candida Hofer photograph of a pink chandelier like an overblown peony; the old theater was that kind of place, dreamy, lost in time. I do remember the tiny seats, curvy-backed like ladies in corsets, triple-decked. Not a bad seat in that house, and what a strange house it was: so close to the stage that from the third balcony you seemed almost to float, pleasure-ballooning over the action. Not that there was any action by the time I looked inside—just a ballet of dust.
Or of dust and fundraising: another few years and the inside I saw was entirely gone, gutted to the brick shell. The third balcony was a technical nightmare, I was told, and it had to go, along with everything else. The columns framing the stage in the new Cowles allude to the originals, and that's about it. So, my memory of that inside has gone to some nether-category in my mind, a brief vision of a future that didn't turn out to be, like a love you didn't follow, a city where you didn't live.
The actual Cowles opened in fall 2011 with a blare of high-buck dance (Wendy Whelan, Clifton Brown) and some local stars. From then to last week I'd be hard-pressed to find much to say about the new theater. Sewell and Zenon fill it; dancers seem to like the stage; but the place itself has no aura, no mood, and seems to belong to no one more than US Bank, whose logo dominates the lobby. Maybe it's the bank logo that makes one feel the place is in danger of foreclosure. Better not get too comfortable here, that logo says.
Cut to the height of Saturday night, January 18, at J-Sun Noer's Hip Hop!: beat box/electric cello/surf guitar trio Saltee playing, the Twin Cities' best hip-hop dancers improvising, the packed audience (young, diverse, happy) rallying, the groove bouncing from the stage and through the house—forget the minus-evil wind chill outside, forget we're just dance people and we don't get to stay in a posh place like this, forget what you think you know about the future. When the set ended and an overlong technical pause followed, the audience got lightheartedly rowdy, woot-wooting back and forth, making seal sounds, and playing clappity-clap games left side-right side. Our parents would have been ashamed of us, and that was the point: for dance to own a place, we have to break down its rules and go at them cockeyed. I never thought the Cowles would feel like a high school gym, but that night it did, in the best possible way. Or no, not a high school gym, but the Fairview Middle School cafeteria, on those rare and wonderful occasions when the tables were cleared for a dance, Salt-N-Pepa playing and everyone for once in sync with each other, happy.
_____________________________________________________
Limbs become pretzels, pick up sticks, spokes of a Tilt-a-Whirl; centrifugal force becomes the new gravity, out is down, and looking at the dance is like watching a weather pattern in flesh.
_____________________________________________________
Does this mean hip-hop on stage has arrived in the Twin Cities? I've been in plenty of happy hip-hop audiences, but this was different: the house was much bigger, I recognized lots of dancers from other forms in the audience, and altogether Hip Hop! felt stronger. Noer's show wasn't a one-off, everyone spinning on their heads like Judgment Day; instead, he and his dancers had time for longer and subtler plays. Even the two crews, Looney Tunes and Optimistic, that Noer invited in for a rematch of this year's Groundbreaker Battle toned down the testosterone edge of battle and gave each other time to feel the music. Noer's choreography, particularly for himself, meditated on moves rather than FedExing them to the front of the stage. He spent one solo entirely on his back, dancing towards up sideways and upside-down; another worked a vaudevillian series of involutions with a red rubber ball. Actually, Noer reminded me more of James Sewell than anyone else: strange things happen when a virtuoso takes some time alone in a studio.
But I don't mean that hip-hop looked more like some other dance here and thus seemed more suited to the stage. Noer didn't range his crew like obedient swans — or not much, anyway — and the slippery nature of hip-hop "unison" disrupted his few Busby-Berkeley moments. No, hip-hop looked stranger than ever here, and that was the magic: to see a little further into the transformations at the heart of this dance.
Limbs become pretzels, pick up sticks, spokes of a Tilt-a-Whirl; centrifugal force becomes the new gravity, out is down, and looking at the dance is like watching a weather pattern in flesh. The best tutting (a hand-centric dance derived from Egyptian art) pushes and cuts some imaginary substance without crushing its mysterious integrity, as when Dancin' Dave makes fine origami of what I fancy is an air-Cadillac, and gives it to Noer, who unfolds it into a revving go-cart, gets in, and drives sideways down ether. Watching Arturo Miles do the Jacob's-ladder with his arm bones, you have to wonder what holds him together, and the man's so musical, you have to wonder about that too, where rhythm starts in his body, and how he manages to brush just the cream of the beat each time. AnnieUp's best move isn't her admittedly awe-inspiring spin into a hand balance, it's the cursive opening of her hip, so loose her trailing leg is like skywriting. I know Boogie B can't really jump upside down with his legs and arms folded, and yet he does, bouncing like a magic yogi yoyo. And all this bodily blur dances over an already shifting ground of race and gender. B-girl, Asian spin wizard, the stage is awash in people whose indicators (Nicki Cullinan: copper cornrows, alabaster skin, baggy jeans, pretty bling) point all over the map. Skill and style matter, but everything else is in play.
Saturday night, that play was powerful enough to set the Cowles in motion, too. For the first time, I saw a crack in that cold new façade: Can we widen it enough to make the place ours? Can we live there?
______________________________________________________
Noted performance details:
B-Boy J-Sun presented Hip Hop! at the Cowles Center in Minneapolis on Saturday, January 18.
Hip Hop? At the Cowles Center for Performing Arts & Dance from B-BOY J-SUN on Vimeo.
______________________________________________________
About the author: Originally from Tallahassee, Lightsey Darst is a poet, dance writer, and adjunct instructor at various Twin Cities colleges. Her manuscript Find the Girl was recently published by Coffee House; she has also been awarded a 2007 NEA Fellowship. She writes a weekly column on dance for mnartists.org.