Good Music for Bad Times
Music columnist Jeremy Walker offers a playlist for unsettling times: "The noise of division and cynicism, exploitation and condescension, and oligarchical finger wagging are silenced by this music's sound and beauty, at least for a moment."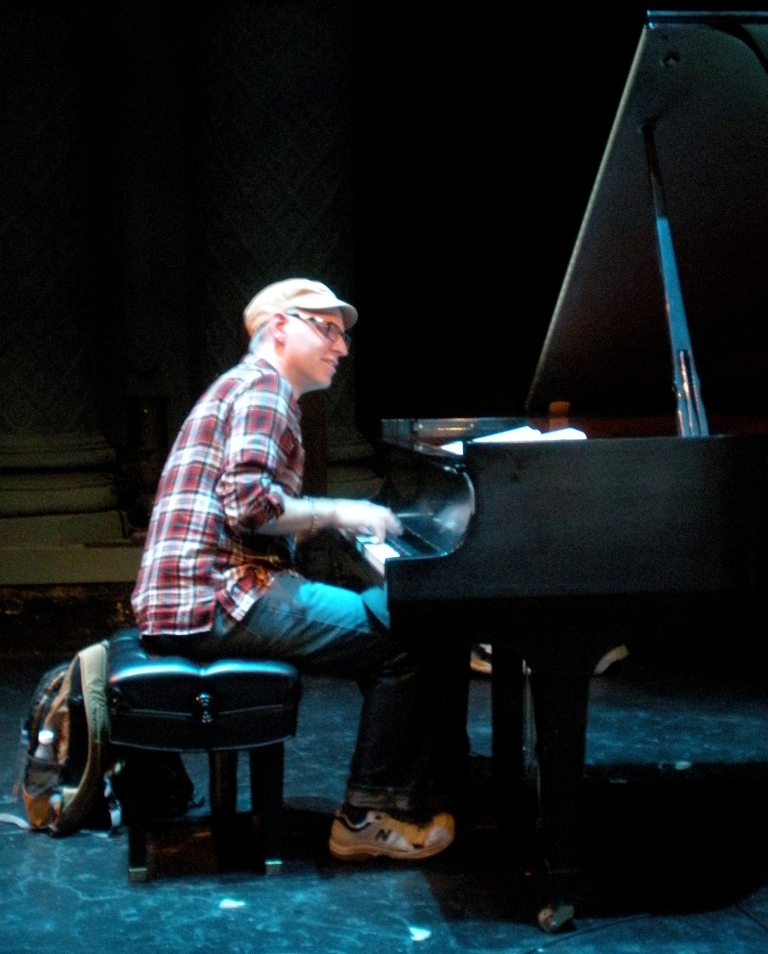 Recent events have left me — and maybe most of us — speechless. The relentless violence of contemporary American life, the stress of a changing (and for many, still faltering) economy, the increasing invasions of privacy (both government and corporate) through technology and assumption — well, all of it. And now it is 2013.
I am faced with what to write about next. Since I am at a loss about the rest of it, I am going to write about recordings and records. I am going to write about musicians doing great work in the present. I welcome your suggestions, since I am not a ravenous new-music listener. Email me at bootmusic-(at)-gmail.com. I will listen to anything you recommend, even if I can't promise I will write about everything.
So, here goes. I first heard Gregory Porter singing with the Jazz at Lincoln Center Orchestra. Even though Rose Hall at Lincoln Center is difficult on singers, the quality of his voice and the groove of his phrasing, the warmth of his voice – earthy and assured – came through clearly. He reminds me a lot of Jon Hendricks, in both in timbre and phrasing; and like Hendricks — and really, all great singers — Porter's vocal techniques never obscure the phrase or the lyric. We have all gotten used the melismatic excesses of contemporary singing (so accurately parodied a few years ago by Maya Rudolph singing the "Star Spangled Banner" on Saturday Night Live). They're the kind of amateur vocal extensions used by Nashville hopefuls and soul pretenders alike. I appreciate that Porter prefers to sing the note, to let the lyric speak, swing, and groove.
Porter's latest is called Be Good, and it is worth your time. There is something direct and lovely about the record. It's jazz, but it also reminds me of Stevie Wonder and Marvin Gaye – there this '70s quality to the sound. Remember the '70s? There was a lot of great music.
Actually, there seems to be a bit of a renaissance going on for male jazz singing lately. Porter is in the company of contemporary singers such as Kurt Elling, Jose James, and Kevin Mahogany. Of course, Kurt Elling has been doing great work for years. And Minneapolis native Jose James' latest record, No Beginning No End, is getting a lot of attention. Blue Note has picked it up; the new release blends hip hop and contemporary R&B, and it's a good record. But for me, James' recording with Jeff Neve, For All We Know, is the more striking. Accompanied by just Neve's thoughtful piano, James' rich baritone, great pitch, and advanced note selection is clearer and, for me, more engaging. But all his work is worth checking out.
While I am on the subject of male singers, I have to talk about Bruce Henry. He has been a fixture on the Minneapolis scene for many years, although he now lives in Chicago. Bruce needs more attention — a lot more. He fairly regularly plays the Dakota. He hasn't recorded in a while, but you'll find he already has a few records out. There is spiritual authority to his performances at all times, not to mention great groove, tone, and pitch. I can't write about all these singers without talking about Bruce Henry.
Jimmy Greene is a wonderful musician. I first heard him at the Dakota years ago with the great Tom Harrell. Any Tom Harrell performance is striking, but Mr. Greene made an immediate impression. His sound, the feeling of his playing — it's timeless. Part of a long tradition of hard swinging and soulful tenor players. He is a deeply spiritual player, and his faith and love come through his music. I don't know him personally, but he is a regular and close associate of one of my favorite people in the music business, David Berkman. Greene has a number of exceptional records out, all available on iTunes.
But in light of the tragedy in December, Jimmy Greene's music takes on added meaning. Maybe all music does. Jimmy and his wife, Nelba Marquez-Greene, lost their daughter, Ana Grace Marquez-Greene in the Newtown, Connecticut horror. She was six years old. Greene's record, Mission Statement, has a song named for Ana. That's as much as I can say about it directly.
These are bad times. What happened in Newtown is shocking and horrific. And it is happening every day all around the world — we ought to be shocked and horrified perpetually. Music certainly offers a balm, but it is a protest, too. Musicians like Jimmy Greene make music as an act of faith and love. When we participate in it, we affirm that act. The noise of division and cynicism, exploitation and condescension, and all the oligarchical finger wagging of contemporary life are silenced by their music's sound and beauty, at least for a moment.
That's why, in 2013, I am focusing on music being made and listened to right now. It is a question of our survival as a culture. All great music, of every genre, is essential – more now than ever. Refusing to listen isn't just lazy, but to my mind a way of giving in to the forces that would have us divided, isolated, subjugated, and exploited. That's how I feel this January.