FRINGE SHORTS: "Love Me Or Die!" by Savage Umbrella
Playwright and Fringe-devotee Matthew Everett explains why this show by Savage Umbrella is, after all he's seen, his top pick from this year's offerings.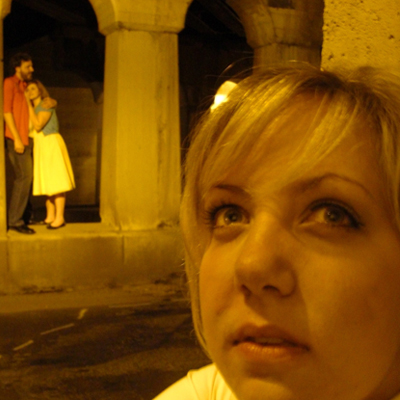 "LOOK! SOMEONE'S COMING IN THE WINDOW! AND SHE'S PURPLE!"
Boy, for a show that ends with two people getting stabbed to death, Savage Umbrella's Love Me Or Die! sure is perky! (Oh come on, that's not a spoiler, the production's based on an opera. No one there gets out alive.)
After four days and 22 shows, Mom and I agree that Love Me Or Die! is still our top show in the Fringe Festival so far. Whenever anyone asks us if we've seen anything great, it's always the first title out of our mouths. There are many reasons why.
Love Me Or Die! is a great example of ensemble acting. The cast of ten is a well-oiled machine, barreling through this hilarious, complex narrative with nary a hiccup. Their energy is boundless and their enthusiasm, infectious. Each and every one of them has a detailed character history and defined personality, with an integral role to play in the larger tapestry of the story. Each takes the spotlight in turn, then quickly glides back into a supporting status as needed. This sometimes happens in transitions between scenes, sometimes in the lightning fast transitions between lines. But every single actor is always on and ready to go; wherever you look on stage, there is life, but no one player dominates the attention needlessly. The layers of detail at work in this production are staggering. The directing by Blake E. Bolan and Laura Leffler-McCabe is just great. It's the kind of company-created work that gives company-created work a good name.
Love Me Or Die! is a fantastic script. The text, written by Bolan and Leffler-McCabe, gives that wonderful group of actors a meaty story to dig into. The narrative about the central couple, Bianca (Anna Carol) and Noah (Joe Song), quickly opens up, spreading out to encompass former lovers like Thatcher (Bryan Grosso) as well as current flames like Sylvia (Heidi Jedlicka). The audience soon knows things are going to get tricky. This is partly accomplished with the clever use of wickedly fast and funny flashbacks, which reveal the start and subsequent unraveling of everyone's relationships to one another.
What's more, the script wisely treats the townspeople as individuals, rather than a single mob of undifferentiated faces. Even though (almost) all their names begin with C, all the people of the story's locale, Inglebrok, have their own special place in the tale. Connor and Cotton (Alan Wales & Todd A. Janssen) are two music-making brothers, each dorky in their own peculiar way, each with their own personal obsessions. Cosmo (Eric Cohen) is the town's resident artist, with an encyclopedic knowledge of theater and juggling, who gets pushed aside every year due to the town's infatuation with a visiting theater troupe (of which Bianca, Noah and Thatcher are a part). Caroline (Sarah Teich) is a shameless flirt. Cork (Carl Atiya Swanson) can stop time (which comes in handy for flashbacks and exposition). The visiting theater troupe's big hit Love In The Time of Chicken, directed by Jo (Tera Kilbride), is in rehearsal mode at the top of the show, and then returns to tie things up at the end. The audience knows what to expect throughout the story — and we're aware of the moment things start going off the rails. There are a myriad of examples illustrating just how smart this dense script is. Again, in this regard, the company-created nature of the work pays off in a big way.
Love Me Or Die! is a terrific musical. The songs by Ben Mattson are alternately giddy and funny and heartbreaking. Sometimes they're all three. The music is yet another ball of energy driving the story forward, illuminating the characters for the audience in new ways.
Love Me Or Die! looks fantastic. Nancy Waldoch's simple set pieces and a slew of goofy props put all the space and levels of the U of M's Rarig Center Xperimental Theater to perfect use. The show is always bursting at the seams, but still never seems cramped. That's a damn hard thing to pull off well. The costumes, also by Leffler-McCabe, add still another level of meaning, serving as useful visual markers by which the audience can sort out all the characters. The townspeople of Inglebrok are all decked out in different bright colors — red, orange, yellow, blue, green, and purple. The visiting theater people are dressed in darker hues — shades of black, white, and gray. Even the program art is sharp as hell; there are two programs, one for the Fringe production, and a smaller insert for Love In the Time of Chicken. The Fringe program has a well-drawn illustration of all ten characters, depicted as pieces in a board game, all lined up in two rows. After seeing the show, one look at the program makes it easy to remind yourself who's who.
These folks were #1 on my Top 10 List this year for a reason: Their Fringe-For-All preview reinforced my initial hunch, and the full production didn't disappoint. In fact, the show exceeded even my optimistic expectations.
Love Me Or Die! is a perfect example of a Fringe production done right, from start to finish. It's the kind of show that offers so much, that it rewards repeat viewings. I'm already trying to figure out a way to go back and see it again before the festival comes to an end. It's great, great work – I can't recommend it highly enough.
*****
Fringe performance details for this show:
Savage Umbrella's Love Me Or Die! is on stage at the University of Minnesota Rarig Center Xperimental for two more performances: August 5 @ 5:30 pm and August 8 @ 7 pm.
Check back regularly throughout the Fringe Festival for more short reviews on mnartists.org, sent in from our intrepid performance critics
About the author: Matthew A. Everett's latest production, Medea & Jason: Rubicon Waltz, was an entry in the American College Theater Festival for Iowa Western Community College in Council Bluffs. On stage in Minneapolis, his play Two Left Feet was voted the audience favorite in Commedia Beauregard's "Master Works: The MOBA (Museum of Bad Art) Plays." His play Leave (afterdark theatre company) made Lavender Magazine's Top 10 List for Theater in 2008. Matthew is the recipient of a Drama-Logue Award for Outstanding Writing for the Theater, and is a three-time recipient of support from the Minnesota State Arts Board. He holds a Master of Fine Arts degree from the Yale School of Drama. His blog about the Minnesota Fringe Festival (and theater in general) can be found online at Twin Cities Daily Planet. Sample scenes, monologues, and further information on Matthew and his work can be found online at www.matthewaeverett.com and, of course, at www.mnartists.org/matthew_everett