FRINGE SHORTS: "Cocaine and Ethel Merman: The New Homo Guide"
L. Robert Westeen's one-man show features defiantly traditional storytelling about coming out, with a tale strong enough at its center, told so well, that it's compelling for any audience, gay or straight.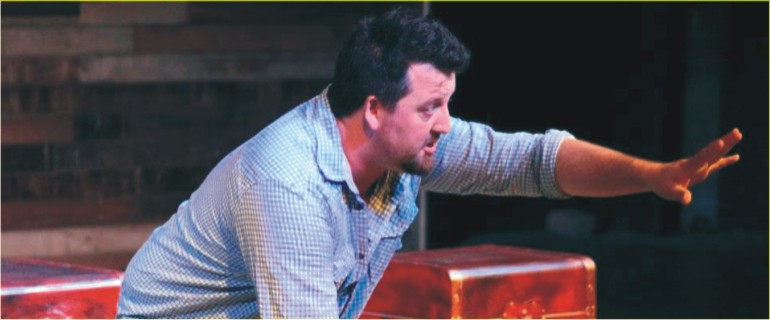 COCAINE AND ETHEL MERMAN IS ONE OF THE MOST DEFIANTLY TRADITIONAL storytelling shows I've seen in some time. Opening James Bond-style with a startling image that relates thematically but not chronologically? Check. Introducing each section with a recurring device (in this case, word definitions)? Check.
Thing is, none of this is a problem. The reason these devices have become clichés is because when they're well-executed, they work: and here, they are and they do. L. Robert Westeen isn't trying to reinvent the form because this is a content-driven show, and fortunately his content is strong enough to carry it.
This is also one of several coming-out stories I've seen over the years, and I've been reflecting on why they have so much continued resonance for straight audiences. I get that coming out is an important rite of passage for gay men and women, but it's not something I've ever experienced. I suspect the reason it's so compelling is because we've all experienced something like coming out, even if not as starkly as those who grow up in homophobic communities. We've all had to grapple with the ways we both resemble and differ from our original models, our parents. This story, and stories like it, are ultimately stories about how we forge our own identities as we stumble into adulthood. And that's relatable stuff indeed.
Most commendable is just how apolitical a storyteller Westeen is. He's not trying to tell us what to think, either about the people he encounters or the issues surrounding them: he's doing nothing more than sharing his own story and letting us find resonance where we can. Nothing more — and nothing less.
_____________________________________________________
Event links and information:
Cocaine and Ethel Merman: The New Homo Guide written and performed by L. Robert Westeen is at the Music Box Theatre Saturday (8/3), Sunday (8/4), Tuesday (8/6), Friday (8/9), Sunday (8/11) of the Fringe Festival. For details and specific showtimes: http://www.fringefestival.org/2013/show/?id=2413
Check back on the homepage regularly throughout the Fringe Festival, August 1 – 11, for more short reviews on mnartists.org, sent in from our intrepid performance critics on the scene.
_____________________________________________________
About the author: phillip andrew bennett low is a Chinese-American playwright and poet, storyteller and mime, theatre critic and libertarian activist. His performances have won acclaim at such varied venues as the Minnesota Renaissance Festival, Spirit in the House, FoolFest, CONvergence, and the Chicago, DC, Indianapolis, Iowa, and Kansas City Fringe Festivals — even as far as Melbourne, Australia. At the 2007 Minnesota Fringe, his hit one-man show Descendant of Dragons was the bestselling show in its venue and awarded a coveted Fringe Encore slot, while his storytelling performances have been nominated for awards by local website FringeFamous for three years running. He is the co-founder of the Rockstar Storytellers (for which he served as Chair for the two years that position existed) and was founder and producer of the touring theatre troupe Maximum Verbosity.
He can be seen at this year's Minnesota Fringe Festival in his own show The Concept of Anxiety. Also at the Festival, he has written Launcelot and Guenever for Six Elements Theatre, written and directed a sketch for Fringe Orphans 2: Orphan Harder by Navel Gaze Productions, and will be performing in The Diamond Lens by Hardcover Theater.