Botanical Facts and Fictions
Artists blend, twist, and re-envision elements of "nature that transfixes" in a sprawling indoor/outdoor exhibition at Banfill Locke Center for the Arts.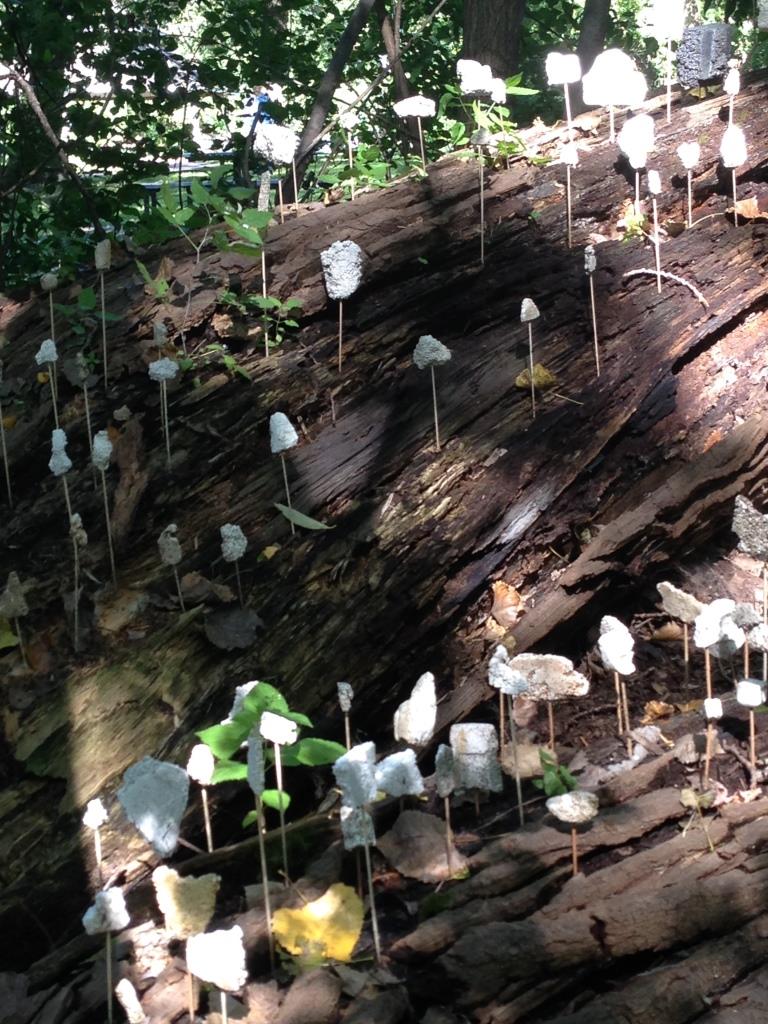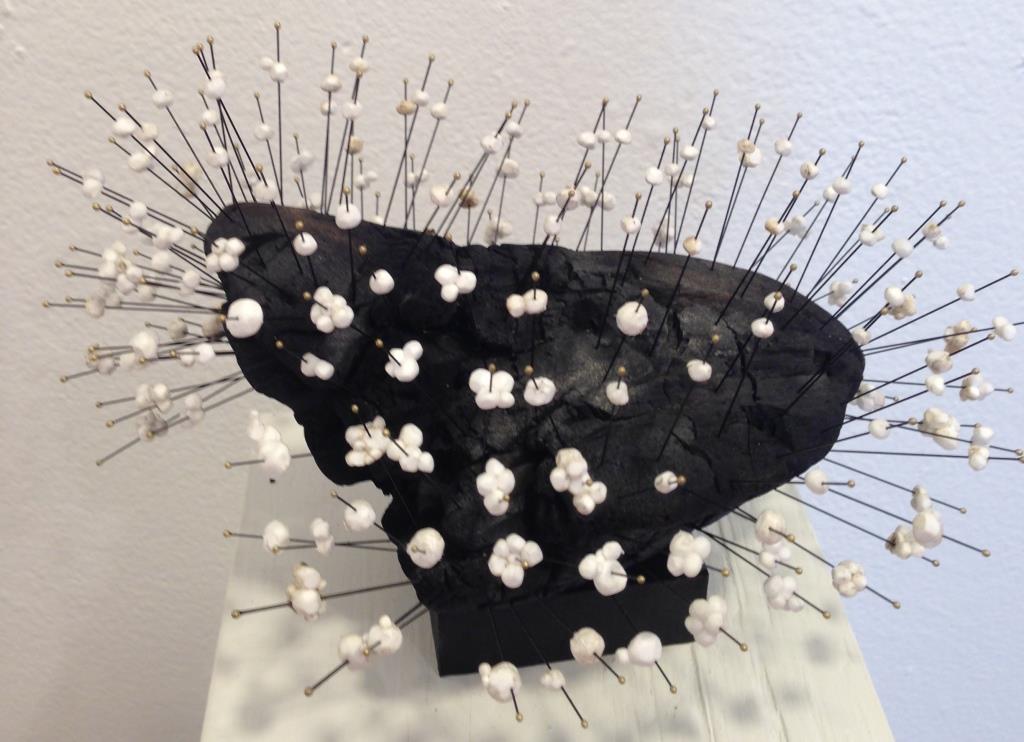 When considering art and nature, invariably the large-scale land art or earth works of American sculptors such as Robert Smithson (Spiral Jetty) and Michael Heizer (Double Negative and City) come to mind: enormous monuments requiring earth-moving equipment, years of toil, and a hubristic interventionist approach to reach completion, forever changing the landscape in the process. Or, one thinks of British sculptor Andy Goldsworthy's more ephemeral and collaborative approaches to outdoor sculpture. Using natural materials (snow, ice, leaves, bark, rock), Goldsworthy fabricates arresting works that appear immaculately heaved up from the very earth to extend—in a thrilling approach to form, intention, and materiality—what is already awe-inspiring in nature.
Our Goldsworthy, on a much smaller and yet far more transmutative if indoor scale, is Jim Proctor, who demurely refers to his sculptures as "botanical facts and fictions." His exquisitely rendered, biomorphic fabrications out of thorns, acorns, even the fine hairs of seedpods actually traverse the realms of botanical science and science fiction. Several are currently on exhibition in Materiality: Inside/Out at the Banfill-Locke Center for the Arts in Fridley, a show in which the representational and the abstract coexist around a single purpose: art of or reflecting nature that transfixes.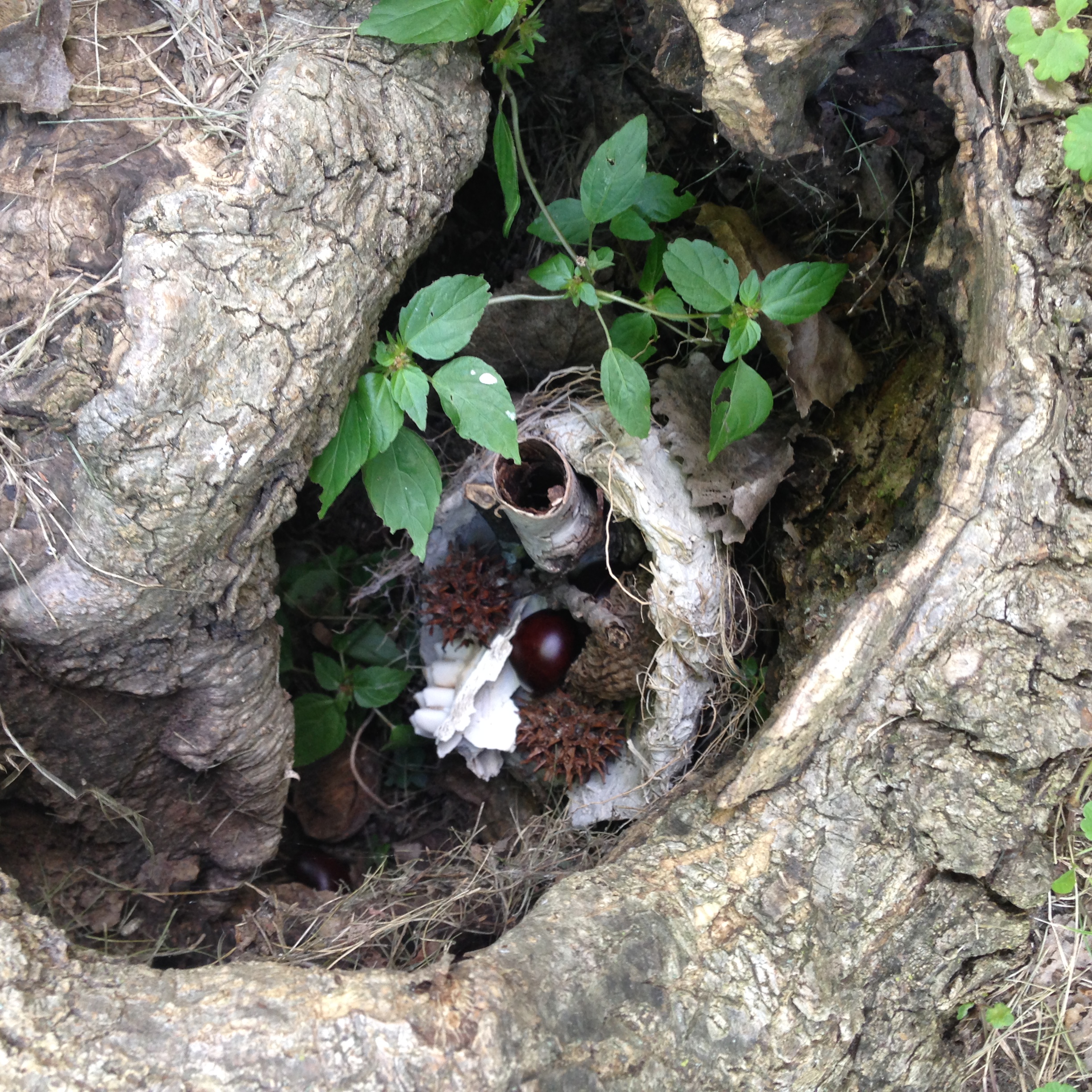 Proctor's tour de force in this show is Airborne Pod, a long, thin twig—malevolently or protectively encircled at one point with tiny prickles—that terminates in an aureole of thistle-down on ribs of pine needles (like an umbrella blown inside out), each strand of thistle-down laid with exquisite precision. It could be a hammock for a fairy. More likely, it's a weightless communication device of some kind, with which to beam or capture messages from a dimension (fourth, or perhaps fifth or sixth) that only the unseen can translate–the force, for instance, that animates the tree, in Manomin County Park next to Banfill-Locke, which Proctor has bestowed with tiny wings created from ash seeds and ash leaf stems.
Because here also is where Materiality takes place, putting exhibition visitors on a treasure hunt more frustrating than fruitful or enlightening, in part because the map Banfill-Locke provides to Materiality's outdoor works only adds to the confusion. (Few numbers correspond with places or artworks.) Still, finding Teri Power's Alms clay bowls in the hollows of trees, or discovering Alis Olsen's Grass Islands floating in Rice Creek adjacent to Fern Keniston's ladder of cottonwood sticks and hemp, Tenuous Ascension II, provides a Goldsworthy-esque moment of contemplation and wonder.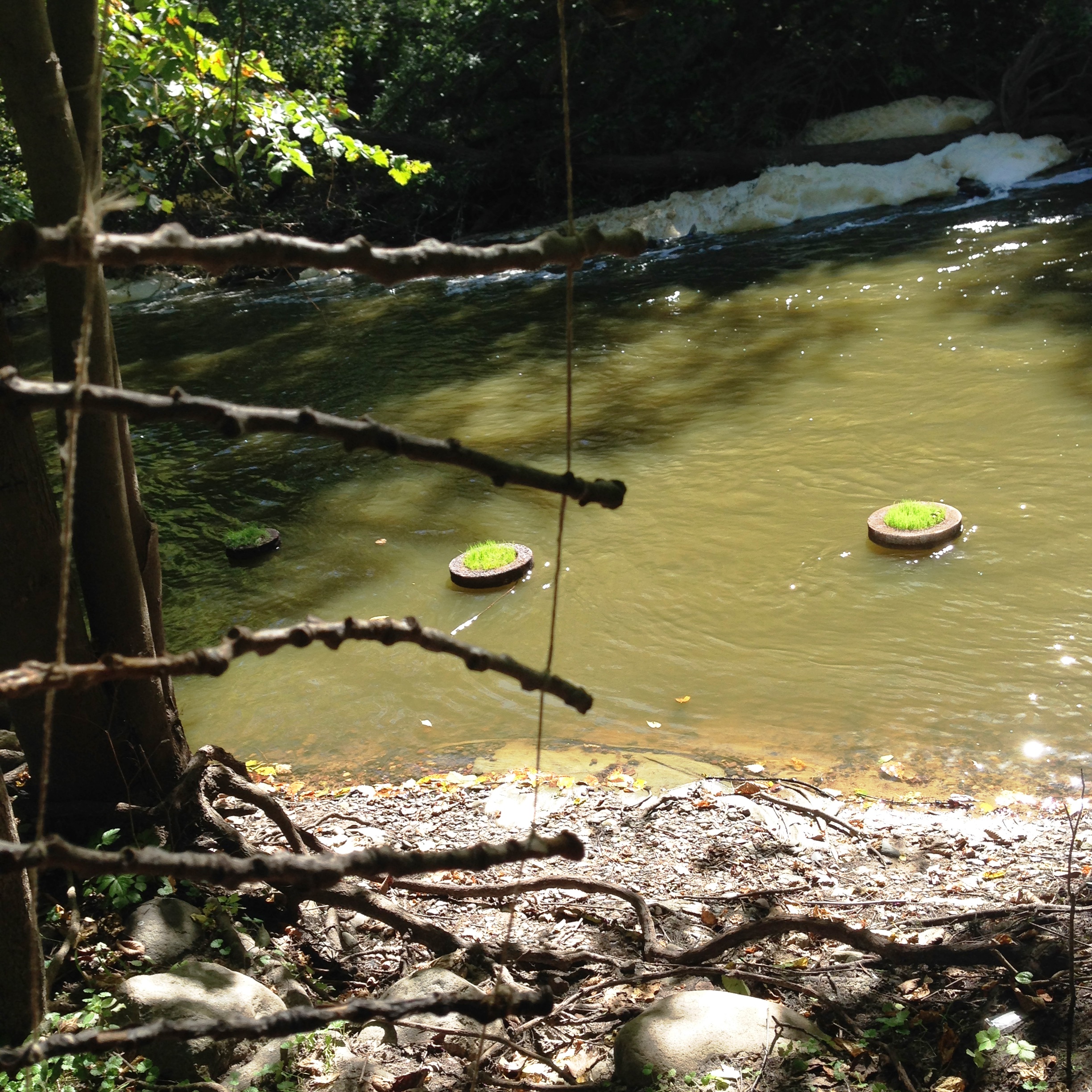 The wonder of these hidden works, however, is of a different variety of that experience in experiencing Presley Martin's sculptures. Like Proctor's, Martin's work combines seemingly quotidian materials to make sculptures of transformative significance. Inside Banfill-Locke is Martin's Piece of Space, which on first glance appears to be a piece of onyx festooned with pearls. But look again. The work is actually comprised of an irregular piece of charred wood, which Martin has punctured with insect pins speared with tiny bits of found white polystyrene.
The gorgeous frisson the work creates between luxe and detritus finds a different expression in Martin's Above the Clouds, which skews perception and reality. In this work, a found piece of wood rises like a tiny craggy mountain through a necklace of "clouds"—again, pieces of white polystyrene on pins—in a high-altitude miniaturization of a natural wonder. In Martin's outdoor piece in adjacent Manomin Park, however, Martin casts his creative net across a shadowy area of fallen trees. Here, the trees sprout pieces of white polystyrene on sticks, as if they'd become a commercial medium for colony of mushrooms—or ironic reminders of how the waste of our capitalist, consumerist, industrial society will never go away.
Materiality also has plenty of pretty to accompanying the provocative, including Kit Eastman's lovely textiles utilizing katazome (paste-resist stencil dyeing). Teri Power finds beauty in abstraction with works made of cattail fibers, black walnut, and natural dyes, which bring a textural perspective to her wall hangings and, in the work Changes, reveal the patterns inherent to stems she's sliced and displayed like exotic specimens.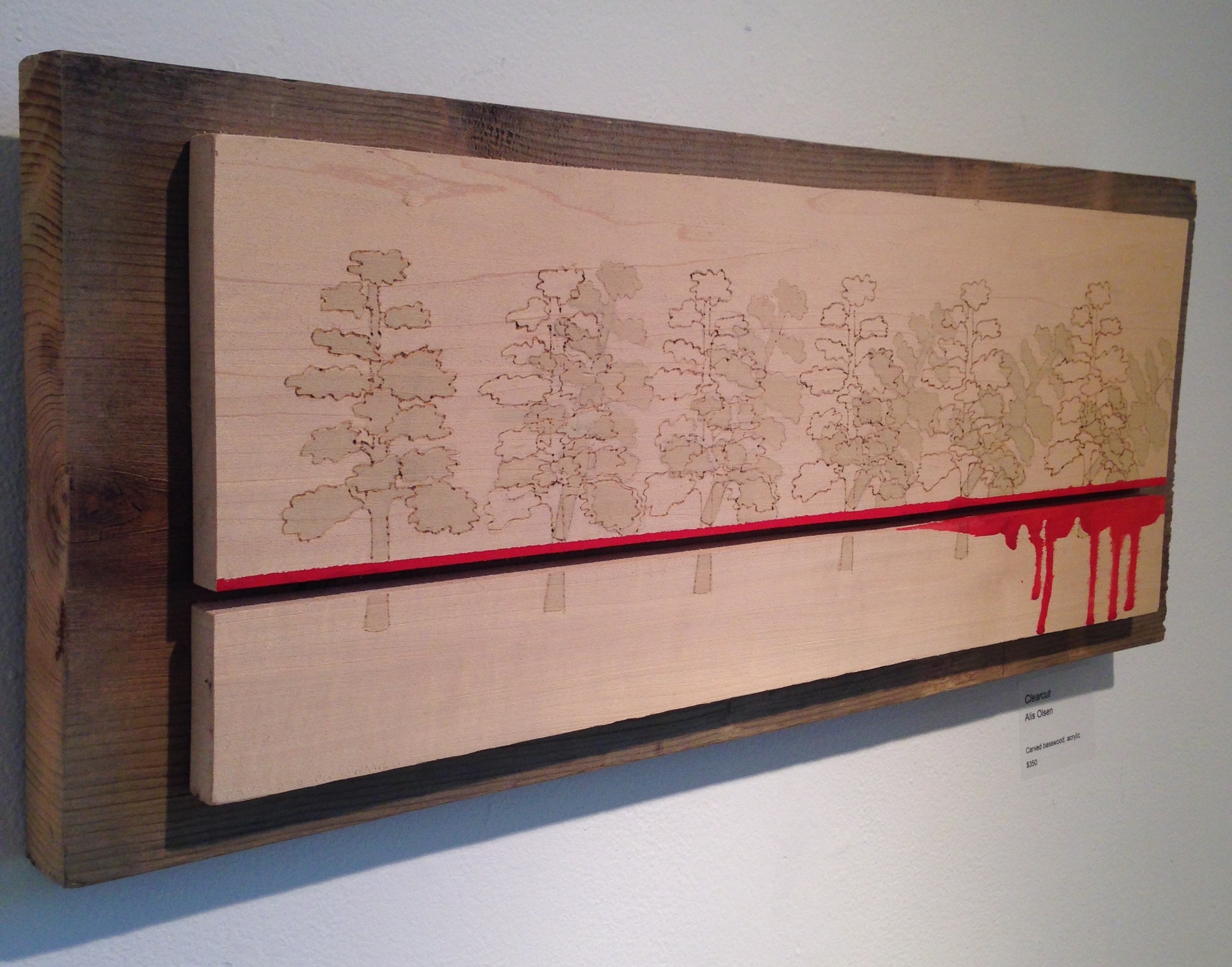 Alis Olsen's Clearcut is a gut-wrenching work of carved basswood and acrylic paint, which shocks with its literalness. And in the stunningly simple Column (Dream), an image emerges from a piece of wood with a startling prescience that makes us question our presumptions about what nature, really, is good for.
In Materiality, essentially, nature is inspiration and (of course) material. It's a dimension, in the minds and hands of artists like Proctor and Martin, where the whimsical and the weird, the surreal and the hyperreal meet as assumptions, perceptions, and materials that undergo transmutation in order to make us see nature anew. It's a dimension where hubris is questioned via form, structure, and material. And where the most delicate assemblages, juxtapositions of matter, and recombinations of expectation find expression in ways that sit lightly on the land, heavy only in our consciousness.
---
Related information and links: Materiality: Inside/Out is on view at Banfill Locke Center for the Arts in Fridley, MN through October 1, 2016.