Black Joy
Poet and essayist Michael Kleber-Diggs offers an episodic meditation on black joy, conjuring memories of family, food, drink, the barbershop, the city, the museum, and the future.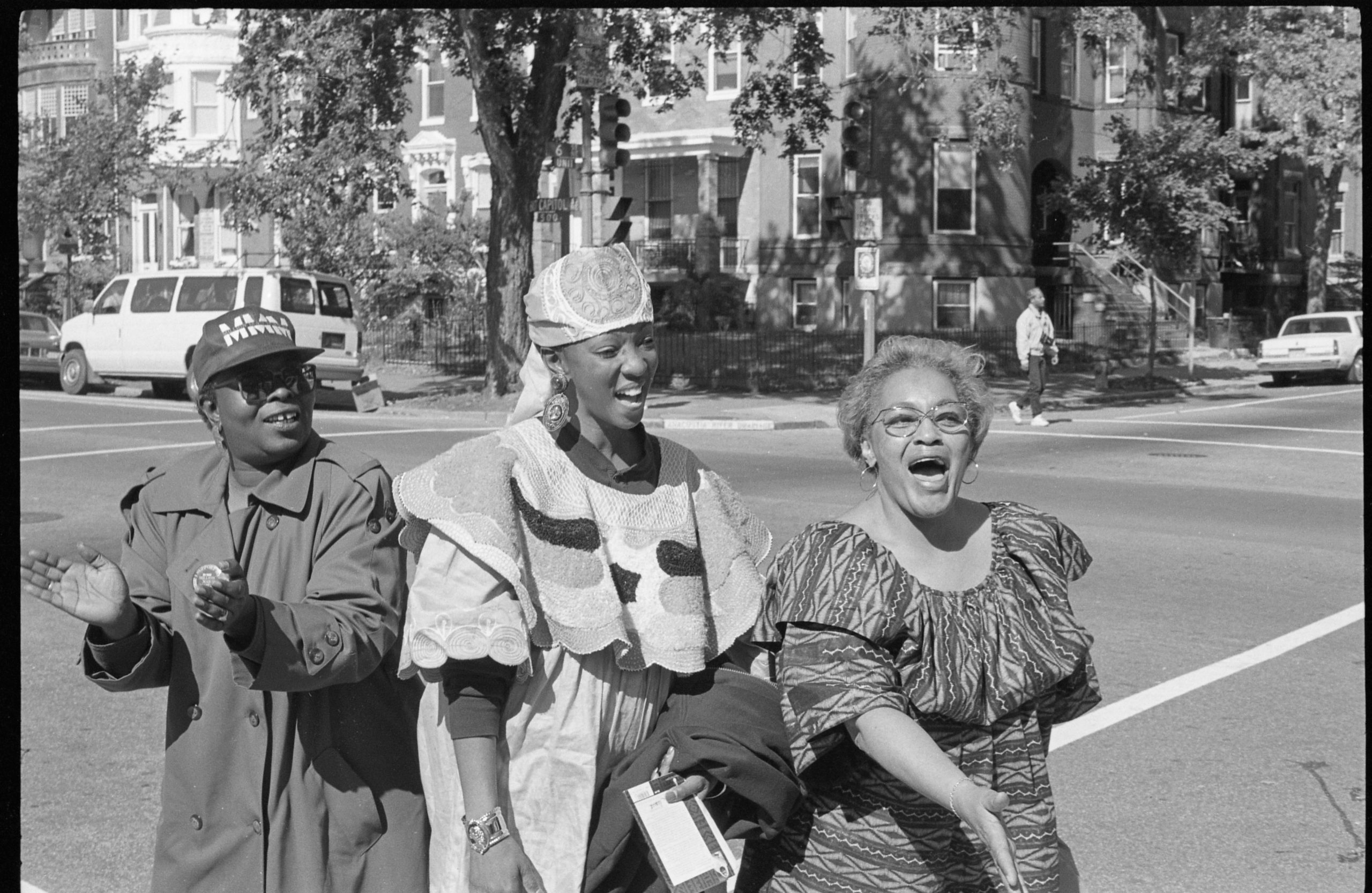 We are walking around D.C. not too far from Dupont Circle. Lisa and Sharkey. Coya and Ellen. Me. It's late, or, rather, it's early. Louis been done went to bed. 40 percent of the remaining crew just smoked up on these decriminalized streets. God bless America. Hold up now. The CVS doesn't have Reese's sticks. And we messed up too. We left that one bar with the jacked-up nachos in search of something better, only to find ourselves set upon on all sides by douchey bros overdoing everything at the loudest possible volume. That other place that looked pretty cool in afternoon light? A horrorshow. And if we walk back the other way three or four blocks then turn left, soon enough we'll be at 16th and Penn. Horrorshow, horrorshow—the country on fire again or still. When, at last, we find another establishment, when we settle in, I hesitate before plugging in my cell phone—we're writing new rules all the time—don't ask for this at a coffee shop, don't ask for this at a bar. I could take a beating over nothing. I could catch a rough ride downtown. My death might be dumb. In our chairs, with beer and wine and whiskey on the way, I make a joke about the Lay-Z-Boy store across the street. Then I ask "where's the boutique stand-alone personal-trainer fitness place?" Lisa says "it's over by the Whole Foods." She's serious. It is. The people used to live here now they're out in PG county. We laugh anyway; our laughter is earned, authentic, expensive, expansive.
---
Where I go to get my haircut my barber doesn't hand me the mirror at the end. He knows I don't care about my hair. I could get a haircut anywhere. I could cut it myself. A few years ago, when I lost weight, the men Here called me Wheat Thins. Now I'm extra large Wheat Thins. Sometimes a brother will actually perform—literally standing up. Loving deprecation and self-deprecation are the prevailing modes. No cussing allowed. I once saw a pair of $1300 Louis Vuitton sneakers Here and tried to hide my shoes under the c/hair cloth. One of the guys Here lives in a mansion on Summit Avenue. One of the guys has 11 kids—seven are Here for haircuts. I look at the chart for the cost of a kid's cut; I do the math on the money. I was Here three days after that cop murdered Philando. Matter of fact, Philando worked at the elementary school across the street. I was Here not long after Solange got fed up with Jay-Z—we shouldn't have laughed like we did—and several times during OJ—"Boy, no he didn't!" "I just told you he did!"—everybody has opposing opinions about everything. Last week a man we knew and knew of was hit by a car driven by a white dude who was fleeing the police. If I'm lucky, I'll be Here years from now. If I live in another city, I'll be in that city's version of Here.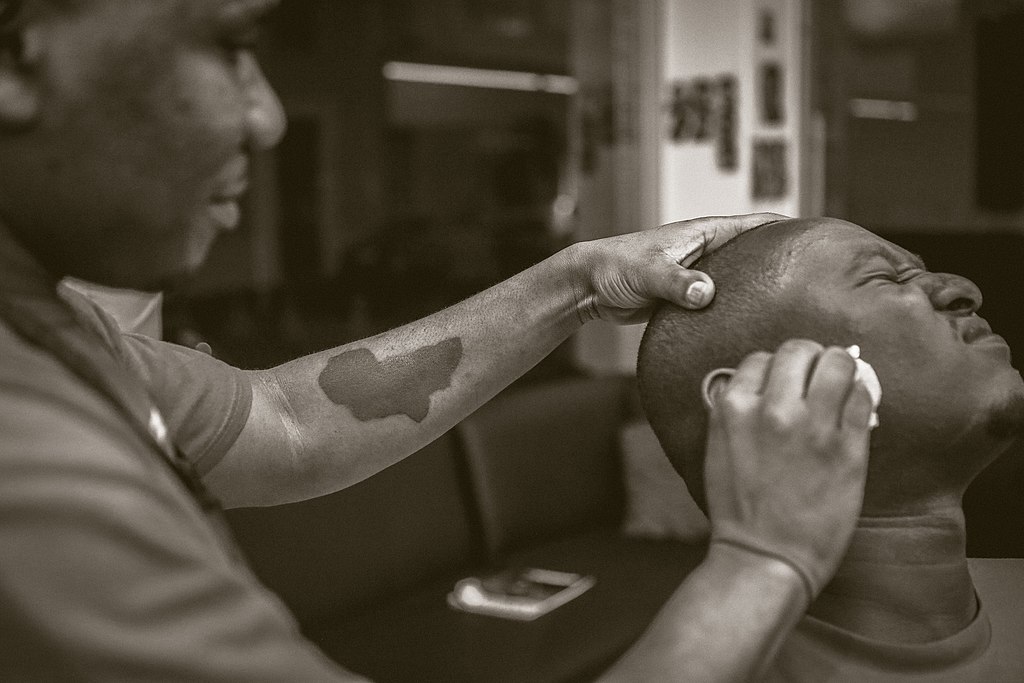 ---
Once, during a time of extended difficulty, I managed to pick the perfect plum. I chanced to eat it at exactly the right minute. I was in my car, working a job between careers. I wasn't unhappy exactly. The skin was a little tart; the meat was not too sweet. The two existed in sublime balance. The juice of the fruit leaked down my hand and arm, but I didn't mind. I sucked the pit for several minutes after most would have called it done.
---
Grandaddy carves the turkey. You should see his hands: layers of sun for brown, burgundy, brown, mahogany, brown, fingers crooked like tired fence posts, multi-colored nails, mostly rust, jagged and shorn, knuckles like golf balls, hardly any bend to 'em, hardly any need to bend past what they can do, which is a lot. Directly across from him, grandmommy is fluid grace, brow glistened up, hair just so, eyes hard at work making sure nothing is missing, face soft with fatigue, face soft with gratitude, arms soft, hands, all this bounty of Creation her creation. The tiny house huge. The dining room expands into their living room. Everyone still here is here, gathered around one table. Grandmommy, grandaddy, mommy (but not father), all three of her siblings, two spouses, all nine of their kids, everyone seated together, packed in tight. If I lower my hands, I'll have to wait until dinner is done to raise them again. Heads bow, the good Lord makes some assurance, plates pass in a rehearsed dance, our family choreography. This day so familiar. This day so different—everyone gets as much as they want of whatever they want. We have food enough for days, it wasn't always so, but that was before me and even before mommy. I take an extra roll and too much butter. I claim a fat drumstick. Everything is delicious, everything salted just right.
---
Do not show up around sisters or brothers one time with: (1) ashy skin; (2) bbs on your head; (3) fangs of hair growing down your neck; (4) any kind of b.o. or (5) pants that don't quite make it to your shoe tops. There might be other rules, these five I know for sure.
---
In D.C. I go to our new museum. I'm in town for a conference, and I also want to go to the National Portrait Gallery to see the Obamas through Sheridan and Wiley, so I have 75 minutes at the National Museum of African-American History & Culture. I spend 15 of them eating pie in the basement. I go to the Contemplative Court, watch water fall therein, then spend 55 minutes on the highest floor—Culture—awed again by the things we've made. I miss the Middle Passage and many of the years around it. I skip the other floors that day. I promise to see them on a future visit, when my daughter is with me, when I have more time.
---
I have a child. A, singular. And actually, she's a young adult with her own schedule and interests. I can tell you everything about the night she arrived. Soon, I'll document the excruciating and exciting details of her departure. She has the capacity to unearth so much I seek to keep contained—exasperation, awe, confusion, certainty, anger and its opposite, even sadness. That she exists and persists, that I have been granted access to her life and its adventures, that I am privileged to teach and learn, that every day I am made smaller by this role and in it, that I grow so much as a result, that she has a chosen family too, that her chosen family is lovely, and this perhaps most of all, that there are things which give her life meaning and I get to watch her do them—our tête-à-tête—a kind of dance, a kind of spin, a kind of flight, grand flourishes and falters, setbacks, advances, all imbued with meaning.
And I know I shouldn't do it, I know I shouldn't do it, but through her I abandon afterlife theories and imagine my perpetuity. Through her I see the future—the part with me in it, the part beyond. What I see is bittersweet but better. Yes, that's it, this is the source of what joy I can claim, this is the root of my daily contentment—I am still here. We are still here, and in the future I see, things are quite a bit better.
---
This article was commissioned and developed as part of a series by guest editors Free Black Dirt.