A Twist of Intellect
Writer and artist Jennifer Nevitt profiles David Lefkowitz, a prolific, award-winning artist who conjures whole worlds with the simplest materials, behind whose work the driving idea, the novel view is primary.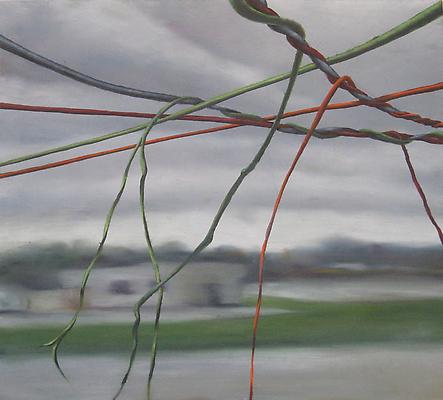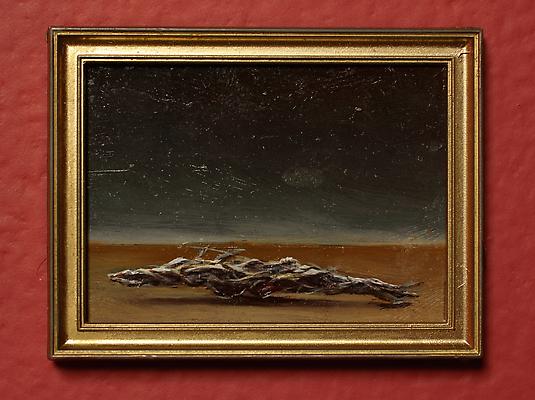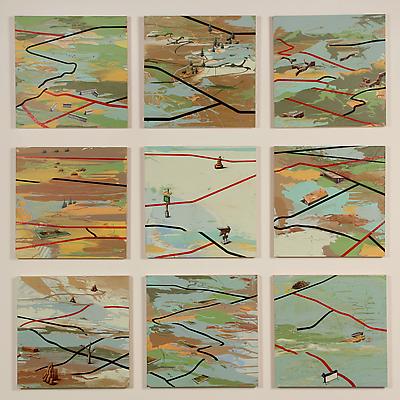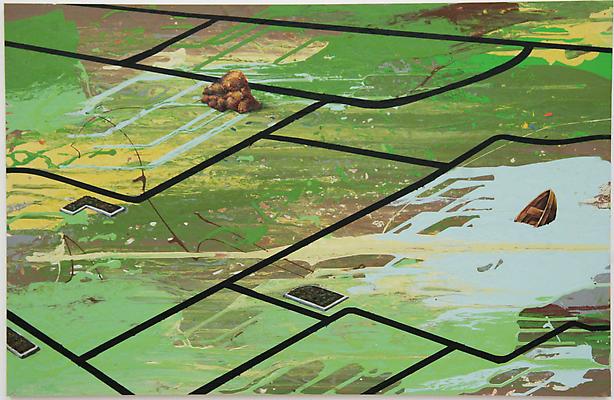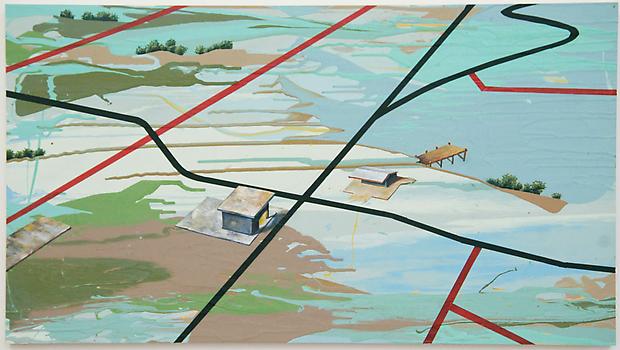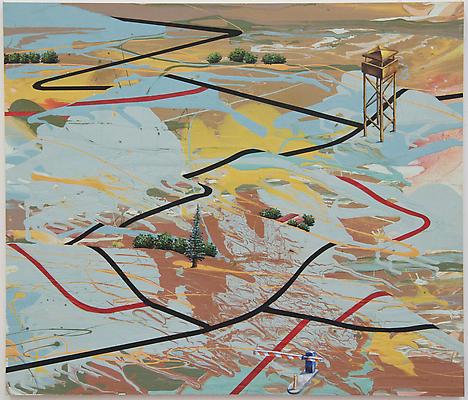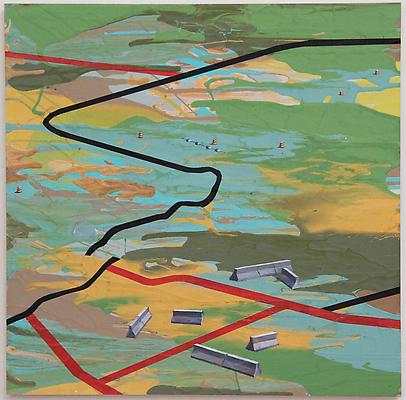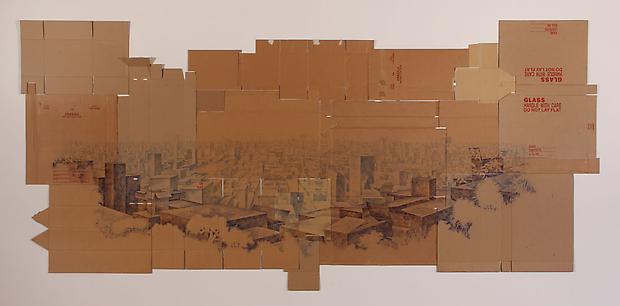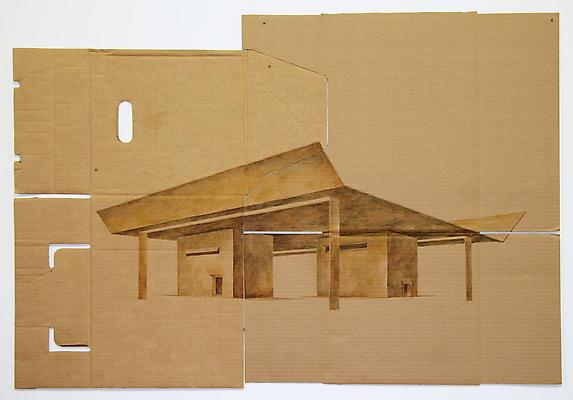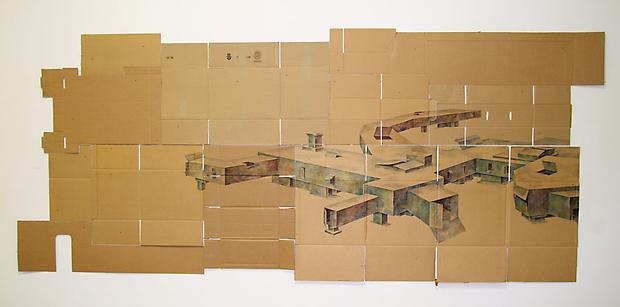 I'M PRETTY SURE I AM NOT THE ONLY ARTIST in Minnesota who has entertained the Artist Academy Award fantasy, the Minnesota Artist Hall of Fame fantasy. When the bubbles in my imagination have gone particularly flat and all I'm getting is straight-up corn syrup, a Chinese Theatre handprints-in-the-sidewalk daydream even sometimes floats by. One mental flash on the starry names and starry nights of First Avenue puts an end to the fantasies, but not the impulse behind them. Minnesota has a reputation for supporting the arts, and we know that reputation attracts artists – and, even when they become successful, some of those artists don't just take the swag and leave the party, but stay and make Minnesota their home.
And so, I would like to raise my glass and introduce three-time Minnesota State Arts Board grantee, two-time Mcknight Artist Fellowship winner, 2002 Bush Foundation Artist Fellowship recipient, an artist whose work is currently in the Walker Art Center's international group exhibition, Lifelike — ladies and gentlemen, David Lefkowitz.
Visiting artists in their studios is a risky business. Maybe they've won several awards or their work photographs especially well, resulting in beautiful online images, but when seen in person, the work fails. It happens. My recent experience on a studio visit to see work by David Lefkowitz, however, was not that.
I venture out to his studio in Northfield, at Carleton College where he teaches, making the drive on that first sunny day when the season turned, a day with so much warmth you can't help but roll down the window. And as I drive, my mind moves through all I've gleaned. I've been all over Lefkowitz's website looking at images, following his gallery shows, and reading how he writes about his work. Speaking of which, he makes a lot of work, with plenty of variety: watercolor, oils, latex paint, wooden panels, Styrofoam creations, cardboard, twigs, drawings, paintings, and sundry other objects. As I make my way to his studio, thinking, I find myself trying to follow a thread, anxious to begin some narrative even though I've not yet laid eyes on any of his pieces in person.
Happily, when it is in front of you, Lefkowitz's work doesn't disappoint. In fact, seeing the sampling he has set out, I have to bite my tongue to keep from bugging him to show me all of it, everything he has. Instead, I start by asking him: "Where are the people?" His work has a lot of land and architecture — architecture that is made up — and maps, maps of land also made up. Actually, for an artist whose aesthetic sensibility tends toward realism, there is much that is made up in his work. He answers my question as I suspect he will: "The viewer, the viewer is the person." Seeing them, I experience Lefkowitz's pieces as an invitation complicit with the many meanings of the word "draw."
He tells me he likes Duchamp's Readymades, that he has an admiration for Vermeer. It's helpful to know, and goes a long way toward explaining the play with ideas you see all over his work, and the sensitivity inherent in his realization of them there. He also has an affinity for grids, the dissemination of information, intellect and the seduction of the image. He is an artist working with the view — that view can be turned to a place, a thing, or an idea.
______________________________________________________
The line, the paint, the use of space, the surface, the touch — his paintings, placed in a grid on the studio wall, exhibit an enviable ease with thought and image, brought together seamlessly with craft.
______________________________________________________
When I ask him what he thinks has shifted in his work over time, he answers: "Material." Duchamp is an artist famous for taking an ordinary article of life and placing it so that its significance disappears under a new title and point of view; he effectively created new identities for such objects. In Lefkowitz's work I see an effort to give us new conceptions, too — not just by offering a new way to look at the material with which he makes the work, but also for the matter of what we consider worth seeing at all.
Lefkowitz's choice of scale amplifies the evident, well-honed humor in his work. He makes paintings that fit in a dollhouse; or, the size of his painting is the size of what he is painting. Anyone who has taken a drawing class will tell you, it is hard to draw something you are looking at. Anyone who has taken a drawing class will also tell you, time takes on a new dimension when you do. Recording what you are looking at, while you are looking at it, is consuming; the act of drawing and looking at the same time places you in a singular moment. And seeing the results of Lefkowitz's effort makes one want to be an artist, too, to have something like his experience of that moment. The line, the paint, the use of space, the surface, the touch — his paintings, placed in a grid on the studio wall, exhibit an enviable ease with thought and image, brought together seamlessly with craft.
Lefkowitz can draw, and he can paint, plus he likes messing around with materials. But let us be honest: Many artists can draw and paint, and like messing with material, too. So, I'd point out that part of the Duchamp magic in Lefkowitz's craft is that he renders objects in such a way that we feel his idea at work in them, the novel twist of his intellect. Looking at his pieces, we feel that twist inside, a shift in perception that hits the body and takes it on a ride along with the mind. He wholly moves us to a new place. But that feeling is not always affective, it is physical, too, and appealing for its deftness with the combination of body, mind, and emotions.
Lefkowitz's pieces in cardboard are poignant; they make me sad. People live in cardboard boxes sometimes; the watercolor he uses reminds me of stains, that life is hard. And it is here, in this body of work in particular, that my appreciation peaks for what Lefkowitz can do as an artist. Illusory spaces populated with buildings made from cardboard boxes unfold into a new world. By virtue of creativity alone, he's able to conjure a whole new world, and he does so with the simplest materials. There is a lesson there, somewhere.
Imagination, vision, and skill are the wand at an artist's fingertips. One of the powers of art is that it parallels life. Our bodies get older, but our thoughts get younger; The circumstances of our lives grow more complex with age, but our desires become simpler. In my daydreams, I have a fantasy neighborhood occupied by fantasy neighbors, all around the age of ten. It is twilight and we are busy with our play. And after this visit to his studio, David Lefkowitz lives in that 'hood, too.
______________________________________________________
Related links:
David Lefkowitz is one of the artists whose work is featured in the Walker Art Center group exhibition, Lifelike, on view through May 27.
______________________________________________________
About the author: Jennifer Nevitt received her BFA from the Minneapolis College of Art and Design and her MFA from the University of Minnesota. She has lived in Minneapolis for twenty years raising her daughters and making art. Read more by Nevitt on her blog about local art and artists, thepennydrop.