A Talent for Seeing
Camille LeFevre reviews the intriguing photography exhibition on view now at the Mpls Photo Center, "Perceptual Opponents, Father and Son: Balthazar and Christian Korab."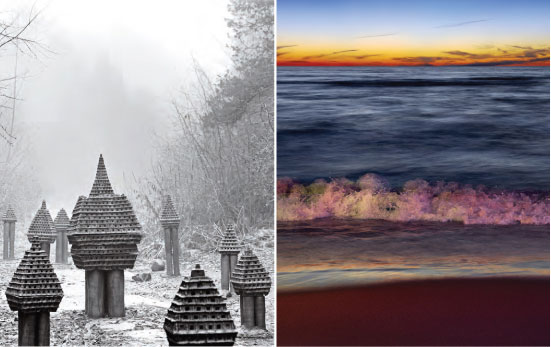 "YOU DON'T SEE THIS KIND OF THING, THE FILM SEES IT," is how photographer Christian Korab describes his new work in the exhibition Perceptual Opponents: Father and Son, currently on view at the Mpls Photo Center. And isn't that, in part, what photography is about? The capturing of a moment, in a single frame, using the speed and technology of the photographic lens to crack the world open, revealing an image, full of resonance of some sort, but which might otherwise be only glimpsed by the human eye in passing?
Christian Korab's sand, water, and sky images are rather like that. Shot at Lake Michigan, using strobes and gels, these photographs generate the sort of surprise that occurs when you crack open a geode — grey and unassuming on the outside, but instantly dazzling once the array of sparkling gem-like colors inside are revealed. The foam of his long-spent waves froths up onto the sand in crystalline, neon shades of aqua, chartreuse, and amethyst. Both the water behind and the sand in front are flat, almost matte. The sky is streaked with shape and color.
Adjectives like "psychedelic" come to mind. "Photoshop magic," chirped someone next to me. "These are … eidetic images culled, somehow transposed, from a hypnagogic place" reads Korab's artist statement — between wakefulness and sleep, in other words. Impressionistic, highly chromatic, fantastically unreal, Korab's large unframed prints are rather curiously tacked to the gallery wall, so they curl in at the edges, as if yearning to fold back into themselves, like a wave cresting back into water.
That's one interpretation, anyway. Here's another, about a set of three images with bands of sky (purples and deep blues), water (shades of aquamarine), and sand (slate, beige, white): They're rather like Rothko paintings. And they couldn't be more different — in subject and execution — from the work of the other photographer in the show: Christian's father, architect Balthazar Korab.
______________________________________________________
In one sense, a greater contrast between the two Korabs' work could hardly be imagined. But they share a talent for seeing — that ability to take note of what the rest of us pass by or never even imagine.
______________________________________________________
Father and son are actually both architectural photographers with international acclaim. Christian has published photography in his books on Frank Lloyd Wright, and Purcell and Elmslie. Balthazar has also produced numerous books of architectural photography, including one on the work of Frank Lloyd Wright, and his photography has been exhibited at The Museum of Modern Art in New York, The Detroit Institute of Arts, Centre Canadian d'Architecture in Montreal, and the Venice Biennale. The father's work is also included in The Chase Manhattan Collection, The Menil Collection and The United States Library of Congress.
Balthazar Korab's framed, black-and-white images shown in Perceptual Opponents were all shot between 1970 and 1990, at Eero Saarinen's famous Cranbrook Academy of Art. Patently realistic, the images capture scenes and sculpture, vegetation and weather, buildings and designs, with a keen attention to detail and are infused with serenity. These are quiet, peaceful images. Rain and fog envelope bridges and courtyards; vines creep along a wall; snow melts on pavers, highlighting a walkway's pattern.
Rooftops, columns, grillwork, and window corners are the focus of Korab's attention, enticing our eyes to dwell on the geometry of such often-overlooked aspects of the built world around us. And there's humor attached to some images, as well. Korab's series of photographs taken of Carl Milles' Orpheus Fountain come with whimsical titles: Shots of the statues rising out of the water are captioned, "More Steam Please" and "Hey, Turn Off the Water."
In one sense, a greater contrast between the two Korabs' work could hardly be imagined. But if there is a common impulse at all uniting them, it might lay in their shared talent for seeing — their ability to take note of what the rest of us pass by — patterns of line and space accentuated by light and shadow — or which we never even imagine, like a fleeting shimmer of coloration, more Miami than Michigan, on an otherwise grey lake. In the eyes of these beholders, beauty is something altogether personal, made public through the rendering of artistic imagination in the blink of a camera shutter's eye.
______________________________________________________
Related exhibition details:
Perceptual Opponents, Father and Son: Balthazar and Christian Korab is on view at the Mpls Photo Center through September 5.
______________________________________________________
About the author: Camille LeFevre is an arts journalist and college professor.