A Strangeness Burning Under Her Skin
Lightsey Darst offers a fascinating profile of Emily Johnson (Catalyst), a young choreographer whose caffeinated career has garnered national acclaim but who has remained, locally anyway, somewhat elusive.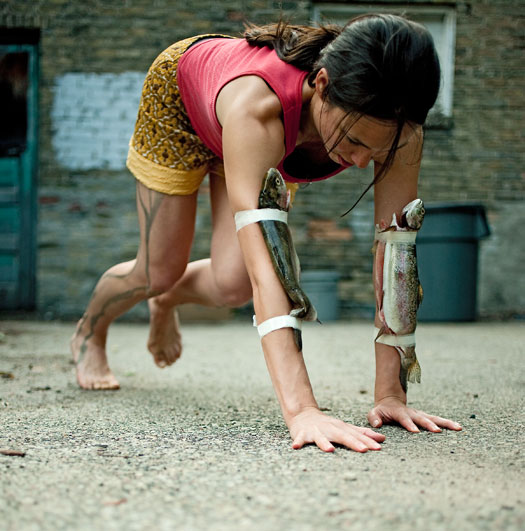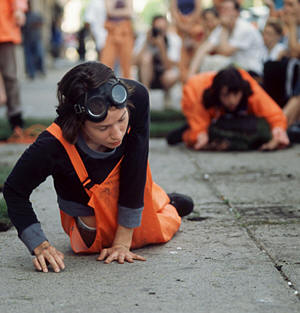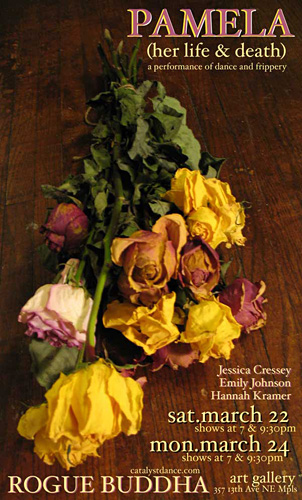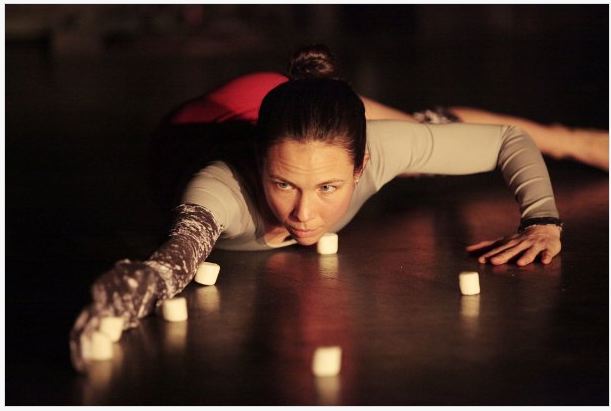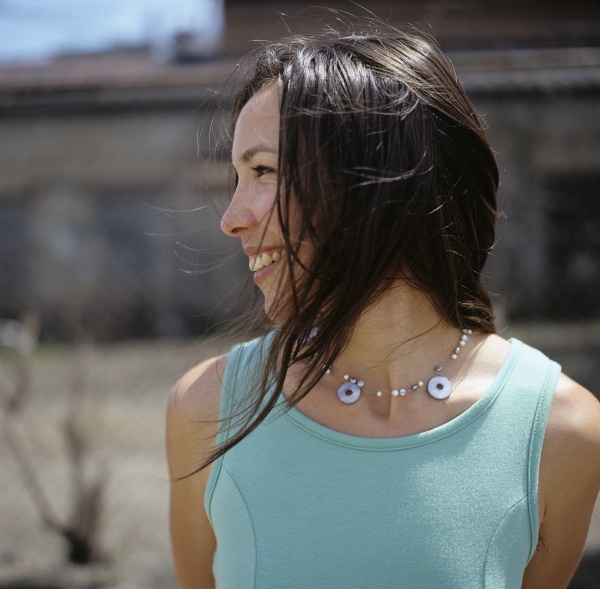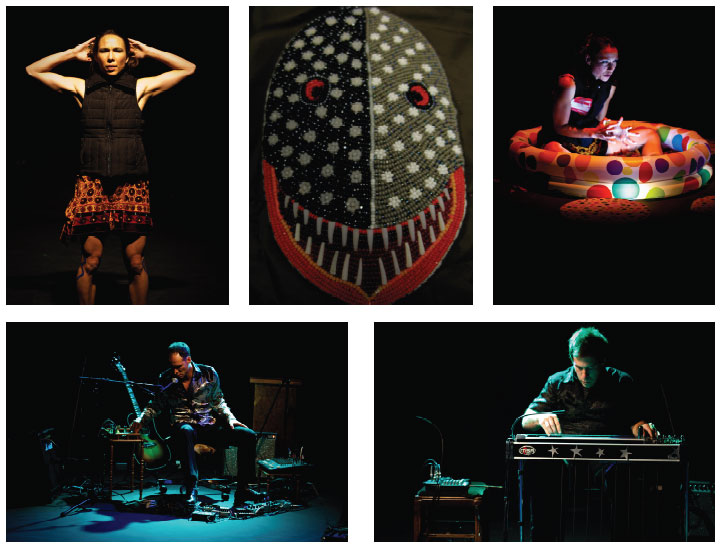 IN 2002, YOU COULD HAVE SEEN EMILY JOHNSON's Plain Old Andrea, with a Gun at the Southern Theater as part of the Momentum series. In 2004, you could have seen her Heat and Life at the Soap Factory, presented by the Walker. But since then, you'd have to be either lucky or savvy to catch Johnson — she's performed primarily at various small venues (the BLB, the Rogue Buddha Gallery) or in site-specific explorations (Landmark at the Stone Arch Bridge). Recently, she's been even more elusive: the last chances Twin Cities audiences have had at Johnson's work have been work-in-progress or excerpt showings of her new work, The Thank-You Bar — one at Franconia Sculpture Park in September 2009, one in Sally Rousse's backyard in October 2008. The casual local dance viewer would be justified in saying, "Oh yeah, Emily Johnson — whatever happened to her?"
What happened is she shot through the stratosphere. Where can you find Johnson now? Oh, completing a residency at the Maggie Allesee National Center for Choreography, enjoying funding from the National Dance Project, premiering choreography at PS 122 last month. Johnson's not the only Minneapolis choreographer garnering national recognition, but at thirty-three she's the youngest, and her caffeinated career is one to watch.
Let's examine that career a little more closely. Johnson rose rapidly to local prominence following her graduation from the University of Minnesota in 1998. The 2004 premiere of Heat and Life, her evening-length global warming drama, capped that rise. Johnson's success wasn't undeserved, but how did she soar so rapidly while other talented choreographers of her generation (think of Vanessa Voskuil or Suzanne Wiltgen) struggled to gain recognition? Can I, without casting aspersions on Johnson herself, say that her rise was assisted by the echo chamber of the reviewing-funding-presenting system? Reviewers are more inclined to look at and credit what other reviewers praise; funding follows positive reviews; a presenter picks up on the praise of reviewers and funders; other presenters look in the same direction; everyone, once invested, has an interest in being right, in passing the work along to a higher level.
But then some delight in puncturing careers they see as prematurely puffed — The New York Times critics, for example. Jennifer Dunning slashed and burned her way through Johnson's 2006 New York premiere of Heat and Life, going so far as to call its conclusion "merciful".
Was she hurt by the NYT review? Personally, she says yes; professionally, she says she doesn't know. Certainly it hasn't prevented Johnson from performing around the country or receiving funding. But then an NYT rave might have opened the door to another level.
In 2007, after touring Heat and Life to fifteen states, Johnson dissolved her company, Catalyst. Not formally — she still uses the Catalyst name — but she's no longer working in a company form. Why? According to Johnson, she knew from the start the company was temporary, even though she loved it: "A company is not a viable lifelong structure. A dance company changes." Why did she cut the company loose after Heat and Life? "After that, I needed to find something that I was in again," she says. There was "no decision — just a different impulse."
Post Heat and Life, 2007 to mid-2008, Johnson returned to her busy life of performances here and there and continued her dance service projects, most of which she initiated in 2005: producing others' work (along with her own) in her Windfarm (live performance) and Capture! (dance film) series; curating Choreographers' Eve; writing for the now-defunct online magazine Mental Contagion.
And now? Johnson has spent the last year and a half on two projects: an evening-length work, The Thank-You Bar, which premiered in October in Alaska, and a collaboration with Katie Pearl and Lisa D'Amour (Pearl D'Amour), Terrible Things, which opened late last month at PS 122 in New York. Will one of these take Johnson to the next level of her career?
LET ME SAY AT THE OUTSET that, though I'm curious about the path of this determined artist, I've got no desire to affect her career one way or another. Frankly, Johnson's out of my league (and out of the league of any provincial critic) — I couldn't boost or bother her if I wanted to. But, more than that, gate-keeping doesn't interest me. So I'd like to position this article on the sidelines of her career — off the record, if you will.
Johnson calls Terrible Things "two shows happening at once," and it feels that way. Katie Pearl and Lisa D'Amour's endearing apologia about why one does terrible things (because one can't help it? because one is scarred from childhood? because everything possible is happening all the time, and we just happen to be in the world in which Pearl loves 'em and leaves 'em?) flirts in front of Johnson's intense, confrontational dance show, in which Johnson's basilisk smile seems to dare the audience to judge her. "So what if I am terrible?" Johnson might be asking. "Who are you to judge?"
It's not the first time Johnson's played the black hole in a collaboration. In 2008, she worked with Hannah Kramer and Jessica Cressey on the melodramatically moody, kitsch-laden Pamela. Pamela vamped and moped through hilarious and creepy interludes until the final dance — a tantrum of a solo for Johnson. For my money, Pamela's Weimar boredom was a better match for Johnson's infinite density than the bubblicious wit and sweetness of Pearl D'Amour's Terrible Things. Seeing the show, you might giggle at Katie Pearl's wide-eyed atrocities all night, then have nightmares about Johnson's fire-cold involutions.
When I got back to Minneapolis, everyone asked me about Terrible Things. Was it good? Well, yes. You can trust Johnson (to say nothing of her dancers here, Karen Sherman and Morgan Thorson) to put on a good show.
______________________________________________________
Her dance has a missionary zeal, a pioneering spirit. Johnson doesn't approve of "missionary" or "pioneering" — she calls them "hateful, domineering, colonizing words" — but I've ransacked the thesaurus and can't find anything else that expresses the conviction and the desire to reach others that I see in her dance.
______________________________________________________
Moving people on and off-stage, duos, trios, a brilliant blue-lit duo in a back corner, like an internal transaction, liver vs. lungs — you can't argue over whether any dance of Johnson's is well-done. Instead, for better or worse, watching Johnson's dance is like reading Jorie Graham's poetry: it's all personal.
Personally, then, I often get uncomfortable watching Johnson's work. I can't tell whether it's because Johnson is profoundly like me or the opposite, but I suspect it's the underlying similarity, spun perhaps the opposite direction, that makes me want to get a mile further from her work. Not to be out of sight of it, let me be clear — more watching through a telescope.
In person, off stage, Johnson presents a smooth surface — even a smoothed surface. Studied languor permeates her gestures, the hang of her hair, the even and gradual turning of her neck. She doesn't speak quickly, doesn't get excited.
But on stage, what I get from Johnson is purpose and anger. Her dance has a missionary zeal, a pioneering spirit. For the record, Johnson doesn't approve of "missionary" or "pioneering" — she calls them "hateful, domineering, colonizing words" — but I've ransacked the thesaurus and can't find anything else that expresses the conviction and the desire to reach others that I see in her dance. She works the raw, edgy charisma of a Joan of Arc. I'd compare her to a whirling dervish, reaching ecstasy through the flesh, except that a dervish takes a smooth path to a transparent release.
A berserker, an oracle might be better comparisons. Johnson takes a tortuous, almost torturous, path to — well, I don't know where. I've never seen her arrive. Instead, she almost seems to refuse arrival — choosing instead to hang on the edge of breaking through and not do it.
Let me say more about those underlying similarities. To begin with, Johnson has a need to do something. Talking about artistic process, Johnson mentions that not knowing what you're doing is "hard to justify to some people, in the larger realm of society. [Art-making] seems like a luxurious act."
"I always hope it connects," she adds, gesturing outward. But "sometimes it doesn't feel like that's enough. Sometimes I want to do something tangible, physical" — but she adds, "I think I'll stay dancing."
Does her dance make the world better? Of course, Johnson's been asked this question before. She's ready with an answer: "I don't really think it does that — really. But," she adds, "It exists — and I think there is a power to it and a connection — and I think that's important."
______________________________________________________
Johnson's dance is forceful, purposeful, propulsive — limbs lashing a white space that becomes charged, through the violence of the dance, with opponents.
______________________________________________________
So… it does make the world better, then? Sincerity is always embarrassing. How much better to be cool and unconcerned, making little amusements for yourself, indifferent to their value in the world. I feel for her: for Johnson, things have to matter, to connect — it's not enough for anything just to be. Paradoxically, her desire to connect only makes her work more unmistakably hers, just as her pioneer spirit remains an unshakable bedrock.
Come with me out onto a ledge. I'm reminded of a line from T. S. Eliot: "Only those who have personality and emotions know what it means to want to escape from these things." Eliot's thought is characteristic of a certain set of people, people who are always in search of change but who remain fundamentally unable to imagine it. The problem is we can't change because we believe we are right. You see, although I'd rather not be, I'm in this group. And sympathy tells me Johnson is, too.
But let's get to the point, the reason for all the hubbub: Johnson's dance. It's that forceful, purposeful, propulsive dance I recognize from Heat and Life and everything else she does, limbs lashing a white space that becomes charged, through the violence of the dance, with opponents. Johnson's movement has evolved a bit, though — I see more bodily rootedness, every move charged from the crotch, more of the curvilinear geometry of an adult female body — but still aggressive, still punishing the air.
Though she can do duos, male bodies (in Terrible Things, jujitsu wrestlers) — even a tumbling threesome that reminds me of nothing so much as the flag of the Isle of Man — the female solo is Johnson's base. A woman alone, in space, struggling but defiant.
Or, take the pose I think of as Johnson's first position: facing the audience, legs apart and parallel, which with Johnson's slightly bow-legged stance means that the knees wing out, heightening the wide stability of the female pelvis. The arms hang loosely at the sides, the shoulder blades down in back and the shoulders taut. Her head might loll a bit to one side, her lips curl in an un-smile. She looks ready to shoot from the hip, to mow you down if you stand in her way.
Should we chalk this fundamental aloneness up to the displacement she often references — her distance from her native Alaska? Or, to the internal dislocation of being part indigenous (she's part Yup'ik)? Or, to the permanent edge of being a modern woman in America?
Sure, maybe — but with Johnson the politics often feel like labels for something that runs much deeper. The personal is the political; indeed, but for Johnson that split seems beside the point: the political is the personal, everything is personal.
I HAVE TO ADMIT, I'm having a hard time writing this piece. I keep running aground. I think Johnson's ambitious, but she won't cop to plans for world domination; all she'll say is "I don't have a grand plan, except to continue doing work and engaging with communities and collaborating with other artists and working hard to make the connections needed, so I can continue to do this work and present it in as many and as varied places as I can." I think reviews are crucial to Johnson's story, but Johnson says, "Other people's words should not really have a direct effect on what I as an artist make or feel about my work." I see anger, but the most Johnson will agree to is "intensity". More and more, I get the sense I'm just writing about myself.
Who knows? Maybe Johnson's doing it intentionally — performance as Rorschach blot. No, not blot, nothing that passive — Johnson's performance confronts, provokes, demands reaction. In fact, reaction is very important to her. She likes to have talkback sessions after shows (which some artists abhor); she encourages feedback — heck, she loves to tour because "I like connecting with communities." Your response is part of her art — not just, not even primarily, your experience or your dream wandering, but your kickback, your recoil, your realization, your whatever.
Perhaps that's why she refuses to arrive: that's your job. Catharsis is for sissies. Real people work for their break-throughs.
Johnson promises The Thank-You Bar will come to Minneapolis sometime in 2010 — where, she doesn't know; but if I were you, I'd keep an eye on small venues and untraditional spaces.
Then what? "I want to learn fish-skin sewing," she murmurs, and work on "movement as contradiction and possibility at the same time" — a typical Johnson tension. What she'll do with it, and how it'll make you feel, we can only wait to find out.
Last thought: despite all her skill, I'm not sure it's Johnson's choreography that has everyone looking in her direction. It's still less her content, which (to my eye) is mostly a door into her work — a label, a handle. Instead, it's something in her flesh: a rapturous undoing that never undoes, like the flicker of a flame — as if she were an animal in a human body, the strangeness burning under her skin.
______________________________________________________
About the author: Lightsey Darst writes on dance for Mpls/St Paul magazine. She is also a poet who served as the founding coordinator of mnartists.org's What Light: This Week's Poem publication project, and the founder and host of a monthly writers' salon, The Works, at the Bryant Lake Bowl.