A Spark in the Rain
Like an outdoor wedding bad weather has forced into a church basement, the 2014 Northern Spark fulfilled its purpose, but between the torrential storms and project sprawl, the night-long festival wasn't all it might have been.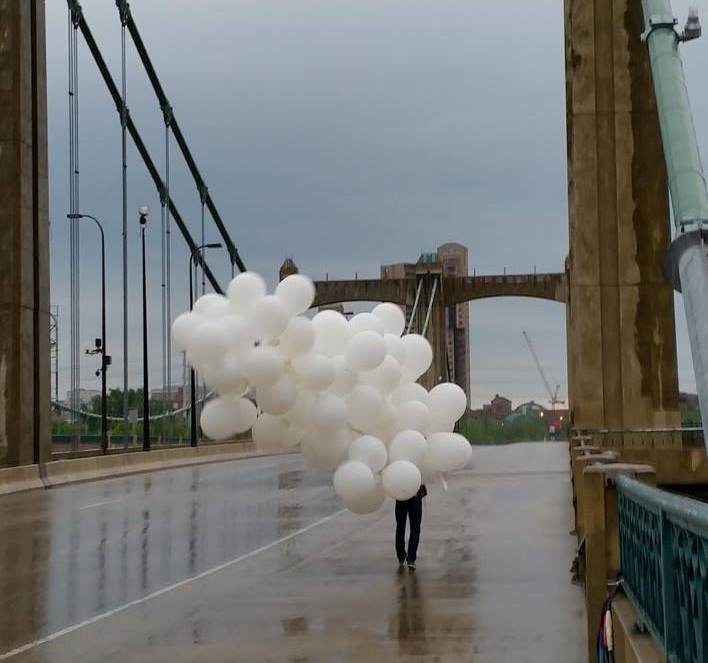 With 125 art projects and 505 minutes to see them, Northern Spark 2014 was destined to infect even the most jaded festival-goer with that disease of modern times, Fear Of Missing Out (known to sufferers as FOMO). I wish I could have maintained the laid-back attitude of one young man overhead at the Walker Art Center telling a friend, "Yeah, I've never done this before. I've always been out of town. Or, I just forgot about it." Unfortunately, those of us with completist tendencies had to make brutal choices even before walking out the door. Flit from Zone to Zone, or commit to scouring a few square blocks? MCAD or U of M? Weisman or Walker?
Our first stop was the Minneapolis Convention Center, where Mayor Betsy Hodges and Mark Wheat, beloved host of The Current's "Chart Show," were to kick off the celebration. Threatening skies opened up as we scurried into the Skyway. A soggy pile of programs told us we were in the right place as we walked through a nearly empty Convention Center.
Walking into the gloom of Hall A felt a bit like walking into a nuclear reactor. Light filtered from a vast dome onto a crowd that might have looked large in a more intimate venue — here, not so much. As we approached the stage, a Northern Spark organizer warned the audience about severe thunderstorms overhead, and then switched gears to introduce the mayor who would "lead us in a 'spark the night' moment." Mayor Hodges exhorted audience members to brandish toys that a Google search informs me are called "sparking wheels." We hung back, waiting for our eyes to adjust to the dark. 9:01 arrived, and Northern Spark officially began — although you could have been forgiven for not knowing it.
The first art we encountered was Asia Ward's Electric Hopscotch: circular pads ringed with colored light and lashed together in a giant version of the classic sidewalk game. The circles lit up in a sequence that participants were meant to replicate by stepping on the pads. The effect was quite lovely, but a small crowd gathered, and I crumbled under pressure. After a few failed attempts by members of my cohort, I got out my notebook to jot down my thoughts. The legible part (it was dark) reads: "Public humiliation."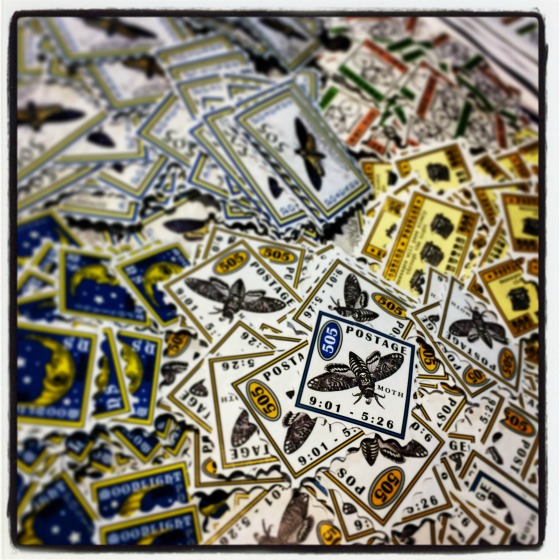 A large crowd had massed outside Hall A by the time we emerged, about a third of which seemed to consist of young women in sequined gowns holding roses. Fascinating performance art!
No, a high school classical music recital. Hipsters threaded their way through the crowd like salmon swimming upstream, drawn to the drumbeat emanating from Hall A. We on the other hand ventured the other direction, into the night, where a tent glowed on a grassy knoll. Outside it, a young woman in long braids, a navy Communist cap, a corduroy waistcoat, and a red-white-and-blue bow tie played the accordion. She warmed us up with a word game while the setup for Nighttime Post, by Erin Lavelle and Anthony Chapin, was completed in the tent.
Inside, two dapper Nighttime Postal workers were seated behind antique typewriters. One of them accosted me: "Greetings, citizen!" He explained that my task was to compose a message to a stranger, which he would type up on a specially designed postcard. Drawing a blank, I asked for some suggestions: Could he help me think of a message?
"Certainly," he replied. "Many people–"
He was cut off by a dramatic thunderclap directly overhead, and one of the artists (also in costume) entered.
"We need to evacuate the tent," he said matter-of-factly.
"It's basically a big lightning rod," the Nighttime Postman explained, packing up his typewriter.
We scattered as the deluge recommenced, but later discovered Nighttime Post resurrected temporarily inside the Convention Center in a Hardware Hank booth left over from an earlier expo. Having had more time for contemplation, I then composed my message without assistance. "Every time," the Nighttime Postman sighed, unsticking a recalcitrant "W" key twice over as he finished typing it up. He addressed my postcard evocatively to "Someone Who's Looking Around" and applied specially crafted stamps with a satisfying bang of his fist, explaining that the postcards would be delivered to other citizens of the night that very evening via bicycle courier.
Maybe it's that I love postcards, accordions, the sound of old-fashioned typewriters and, it turns out, the salutation "Greetings, citizen," but this project was exactly what the doctor ordered: simple but whimsical, charmingly retro in a way that plugs into the authenticity-centric zeitgeist. And (importantly, given the weather) it was relatively portable to boot.
______________________________________________________
Paralyzed by the sheer scale of the festival and battered into submission by the unforgiving weather, I'm sure I was not the only one who turned in for the night still plagued by the fear that I'd missed out before I even got started.
______________________________________________________
Next stop: Orchestra Hall, where small clusters of event-goers milled about before a performance of Pulitzer-winner Kevin Puts' Symphony No. 4: From Mission San Juan by the Minnesota Orchestra. The program suggested that art works were present in the hall, but the crowd was sparse enough that I could not discern from its movements where the interesting stuff might be. My instinct to look for such clues was itself a moment of epiphany, insight into a lemming mentality I didn't realize I had. Without a flow of traffic to join, turns out I'm prone to I wander directionlessly.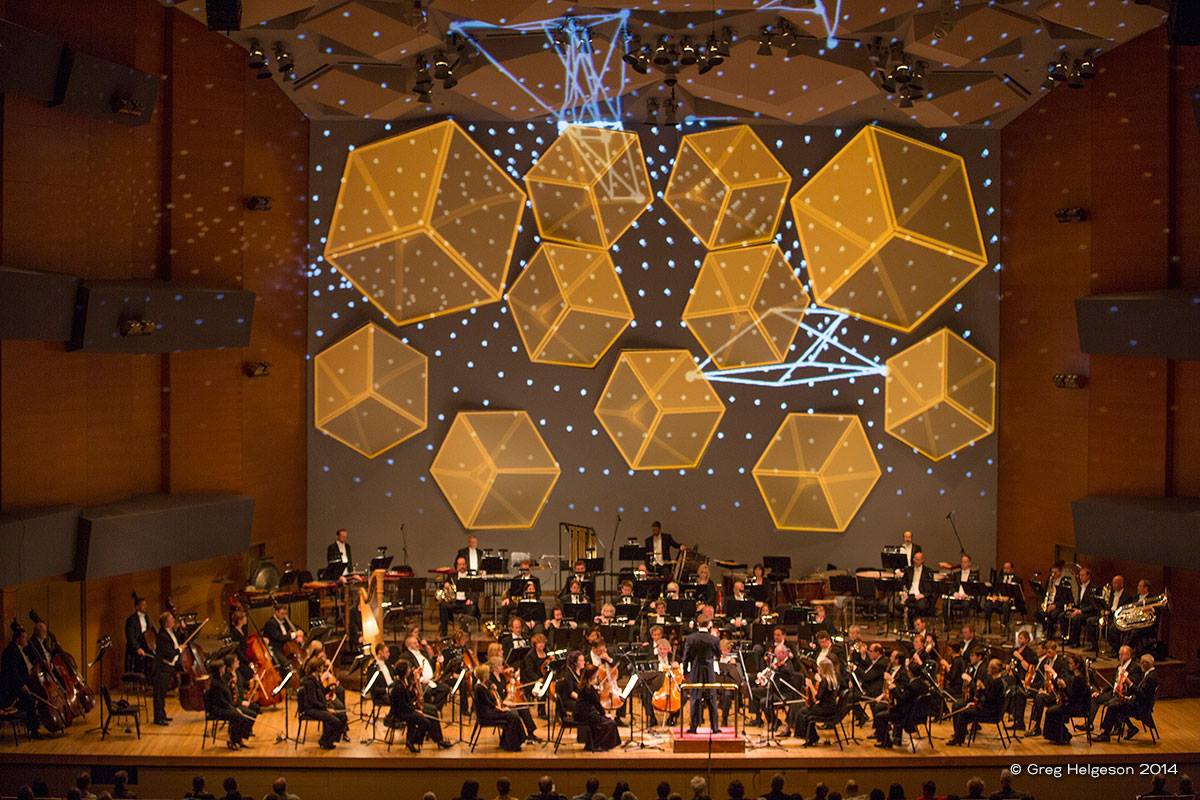 Finally, I stumbled on Amplify Us by Seth Hunter, Victoria Fang, and Dimitri Diakopoulos: black panels striped with back lighting, affixed to pillars. Touching the panels caused chimes to sound and lights to appear throughout the atrium, like the atmospheric pyrotechnics happening outside writ small. Two panels with glowing handprints on them faced one another across the gap between two pillars. Not for the last time at Northern Spark, I failed to divine the modus operandi and watched as a handful of more intuitive event-goers held hands to form a line between the pillars. The people on the ends pressed their free hands against the panels, and when the circuit was complete, "Friday," by Rebecca Black (the so-bad-it's-good vanity project that brought Black the wrong kind of YouTube fame a few years ago) started playing.
youtube://v/kfVsfOSbJY0
No bells or dimming of the lights signaled it was time to enter the hall. "You just have to be in the know," a friend mused. "It's like a much tamer version of Eyes Wide Shut." A few minutes into the concert, a pattern of white lines began moving on the wall behind the orchestra, resembling nothing so much as a Windows screensaver. As the piece progressed, however,explosions of color coincided with brass blasts and swelling strings. Then unearthly plants grew, and a mysterious seagull-like shape twisted mesmerizingly above the musicians. Orange light traced the sculptural acoustic paneling that protruded from the wall behind the musicians, like so many suns rising over cube-shaped planets. Meanwhile, behind the cubes, soft lights like water lanterns floated and then sparkled like sunshine on a wall of water.
According to the Northern Spark website, the artists, Yael Braha and Bryant Place, assigned visual elements to different sections of the orchestra so that the digital animation was "generated and articulated by the timbre, amplitude, frequencies, patterns and narrative of the orchestra's score in real time." The spectacle was certainly enough to make anyone forget her FOMO for half a mo'. The audience's disappointment was palpable when the animation froze for a few moments and the wall went dark. Then the conductor paused between movements to exchange thumbs-ups with the artist at the back of the room, and the show went on, lights and all. When it was over, the audience whooped and gave a standing ovation. Maybe I'm a Philistine, but I found myself wishing Braha and Place would provide visuals for all the orchestra's concerts. It was good enough for Pink Floyd, after all.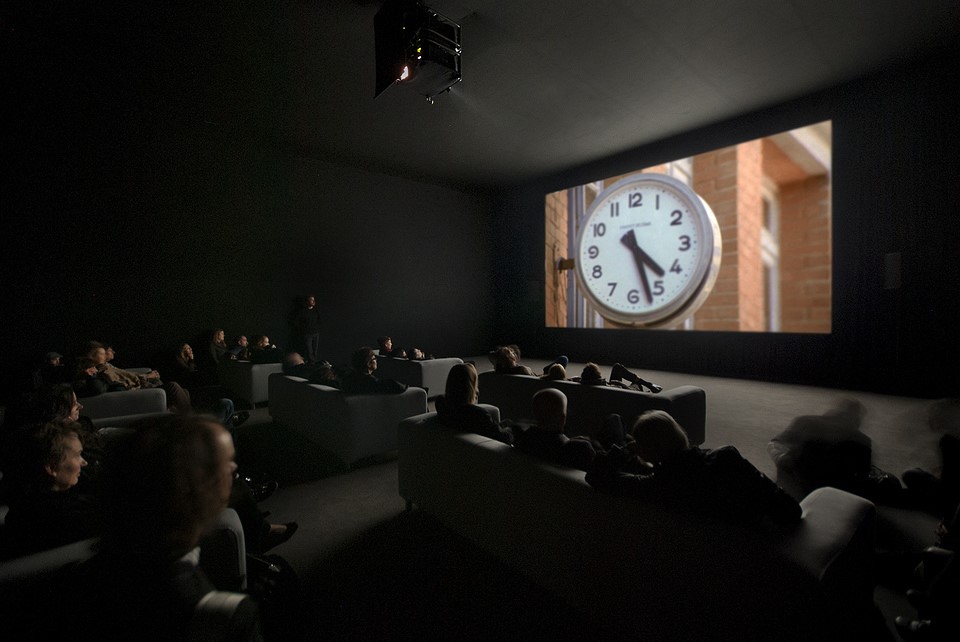 The lashing rain outside meant we skywalked back to the Convention Center to check out some of the other installations, then stopped to change soaked sneakers before heading over to the Walker Art Center, where my expectations of squeezing into exhibitions with a million hipsters were finally fulfilled. The cities' youth had turned out for a late-night drawing cafe, for a live Edward Hopper tableau presented as Old-School Art School, and to see Christian Marclay's film The Clock.
The lines for Rain Taxi's "Poetry Tarot" readings were daunting. But were they even lines? One member of my party stood in what he was assured was the proper queue for half an hour, but it never moved. Yet somewhere in the room — atmospherically illuminated by eclectic lamps, piled with antique books and draped with rich fabrics — Tarot readings were occurring. I asked a friendly attendant to point out someone who'd had a reading and spoke with Kevin Ciesielczyk — pronounced "Sha-shel-shick," if you were wondering. (I was.) "My great-grandmother actually shortened it," he told me. Ciesielczyk and friends had arrived, soggy, at the Walker earlier; after perusing the downstairs exhibitions, he said he met with a Tarot reader named Sarah who also wrote him a poem on the spot, called "Do You Believe in Lifetimes?"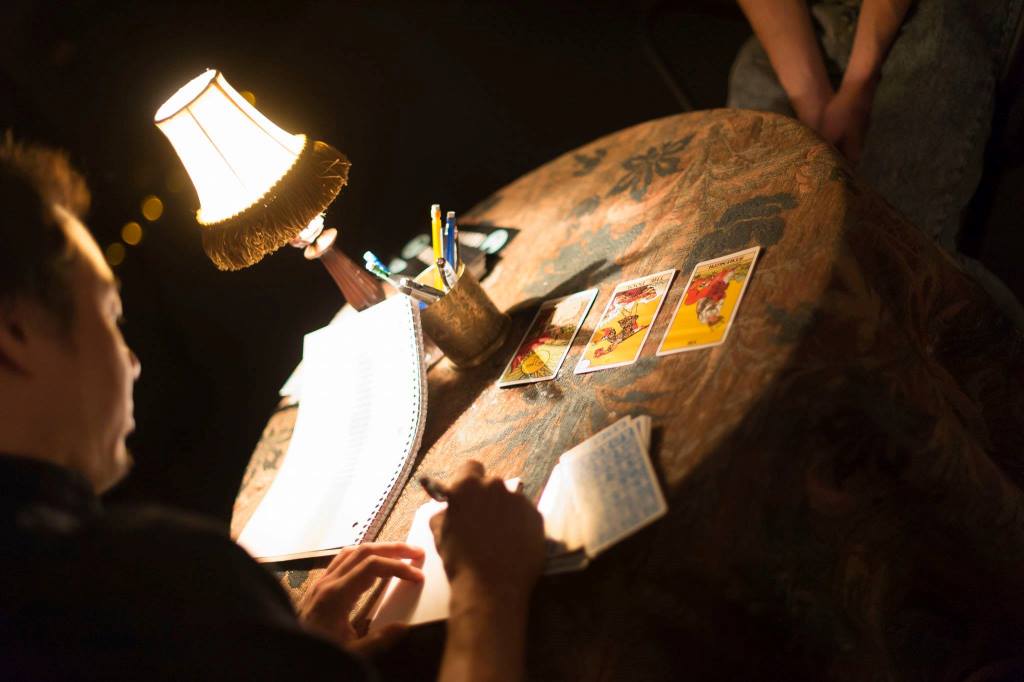 Although Ciesielczyk doesn't necessarily credit the notion that a spirit was guiding Sarah's hand as she turned over his cards, he did have a question he hoped the reading might help him think through. "What Tarot does is it challenges you to make a new perspective on the question that you're asking," Ciesielczyk said. He explained that office politics at the nonprofit where he works have left some of his coworkers bruised. He has tried to be supportive, but speaking up on his colleagues' behalf has meant confronting his bosses. His reading turned up two Knight cards in a row, a detail that resonated with Ciesielczyk. "I think that Knights exemplify honor and bravery," he said. "Two Knights are going to challenge me to continue to speak up for [my coworkers]."
I was struck by how cordial and well-mannered the scene was at the Walker, from the thoughtful Kevin Ciesielczyk to an enthusiastic young person I overheard in the elevator, remarking to a friend, "I could go for an absurd amount of German food right now." There was no artier-than-thou attitude, no icy cliquishness. And there were also no drunken louts. A jolly security guard worked hard to convince one scrupulous young woman that she was, in fact, allowed to bring her beer into a multimedia installation.
Afterward, we consumed food truck cupcakes in the light drizzle to cap off our evening. While Saturday night's torrential storms did not put out the Spark, so to speak, it's also not true to say the festival raged on unaffected. Much like an outdoor wedding rain forced into a church basement, this year's nuit blanche fulfilled its purpose, but it wasn't what it might have been.
Northern Spark 2014 suffered from what I think of as Virginia Avenue Block Party Syndrome. On my old street the annual block party had, it was understood, grown over the years from the typical Saturday afternoon cookout to a marathon, starting with a Friday night kegger that picked up again early in the morning with a pet parade and continued to Sunday's wee hours, packed with water balloon fights, silk-screening of t-shirts, cake baking contests, and so on. All worthy activities, sure, but so plentiful that attendance at any one of them was low. Greater selectivity in the curation of projects for Northern Spark 2015 would pool attendees and foster the kind of bustling conviviality we found in the confines of the Walker, as opposed to the sepulchral atmosphere that reigned in the expansive halls of the Convention Center despite artists' and organizers' best efforts.
This was the kind of event where I should have been snapping selfies and tagging them #YOLO instead of #FOMO. But truth be told, this year's offerings were a mixed bag. Doubtless, Zone A started jumping as soon as I left for Zone D. But my time and energy drained away navigating the rainy streets between, leaving me balky at the idea of taking my chances on faraway Zones E and F. Paralyzed by the sheer scale of the festival and battered into submission by the unforgiving weather, I'm sure I was not the only one who turned in for the night still plagued by the fear that I'd missed out before I even got started.
Hannah Dentinger is rediscovering the Minnesotan cultural scene after a period of exile elsewhere in the Midwest. She writes about art and literature.