There Are No Strangers Here
Lightsey Darst begins a new column on dance for us this week with a lovely piece on seeing Ananya Dance Theatre's recent premiere at the Southern and the differences - in the dance, but also in the viewer - which alter the seeing of work over time.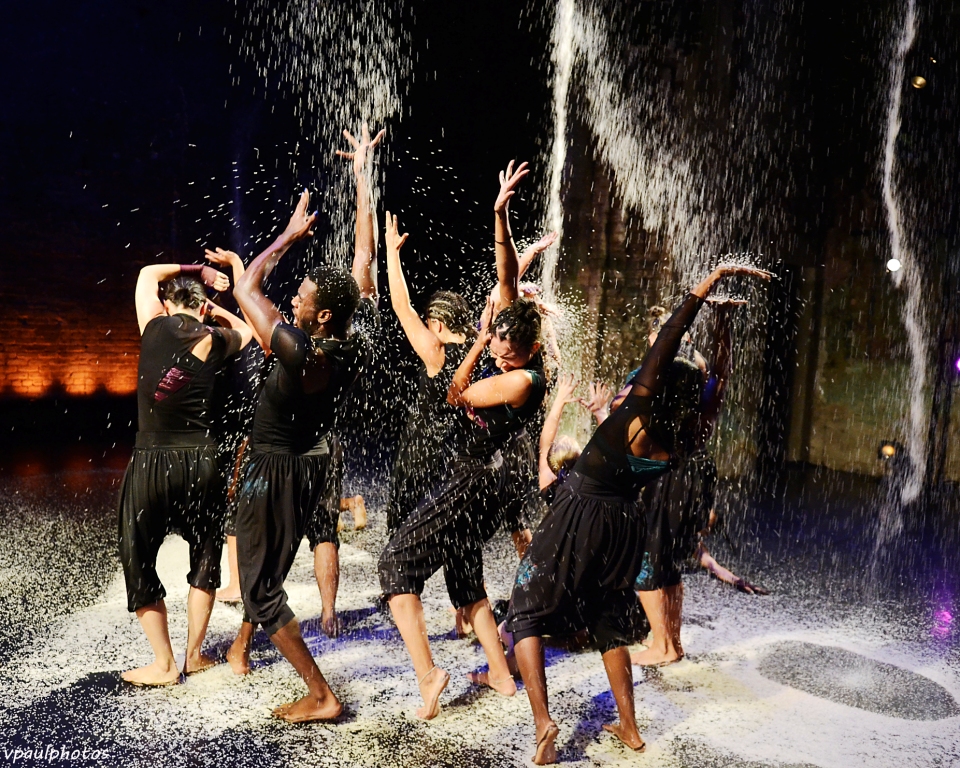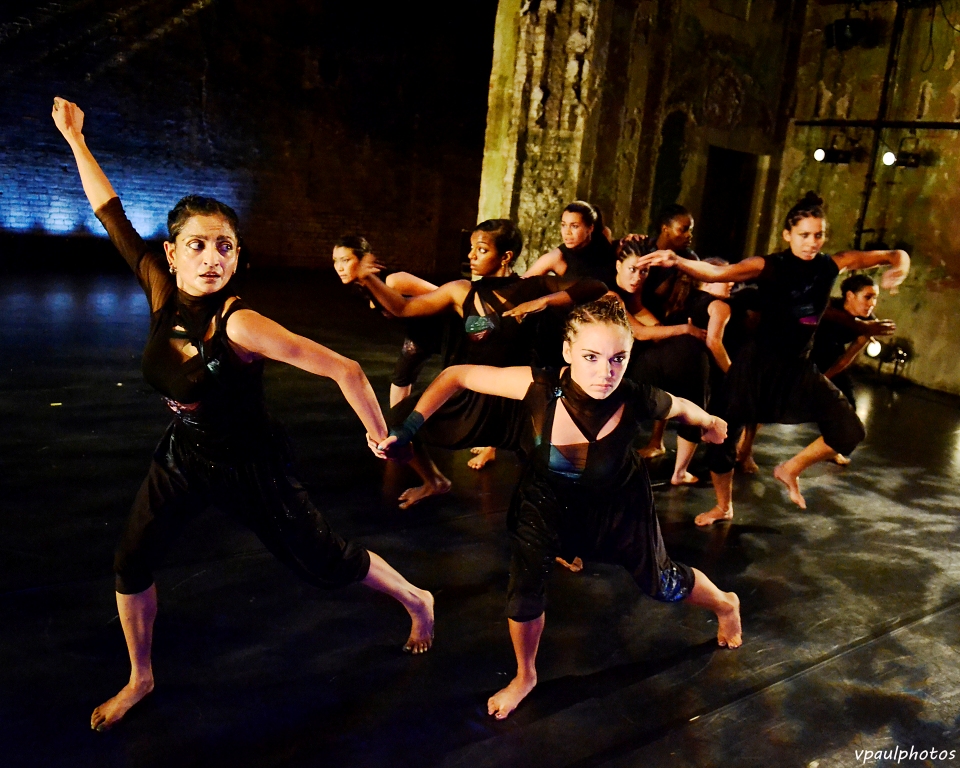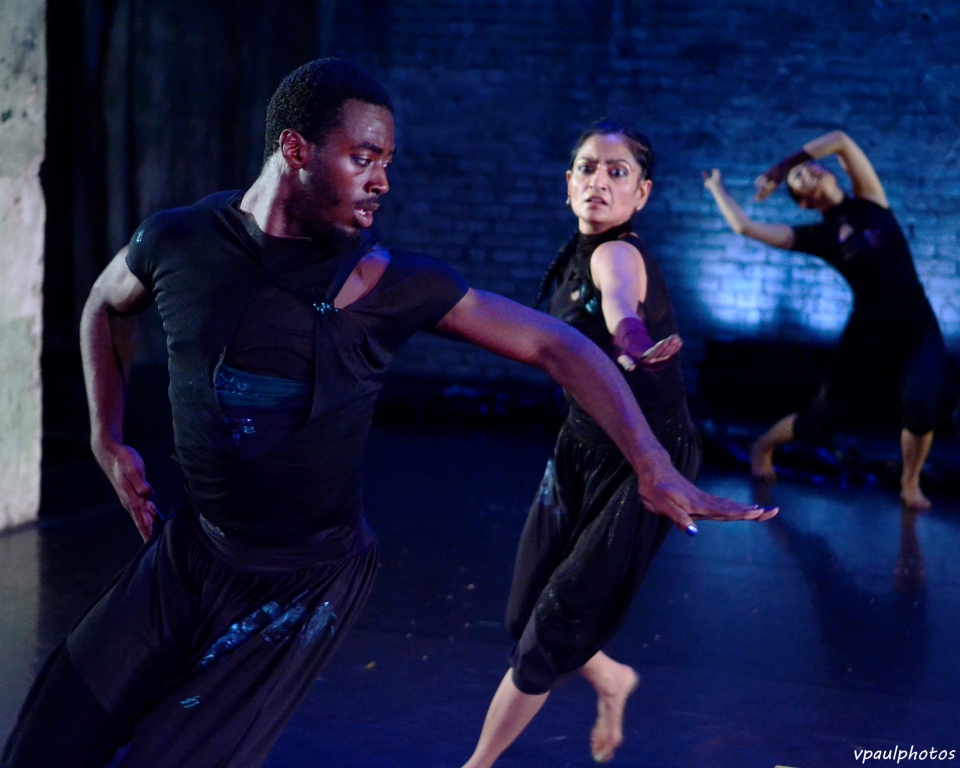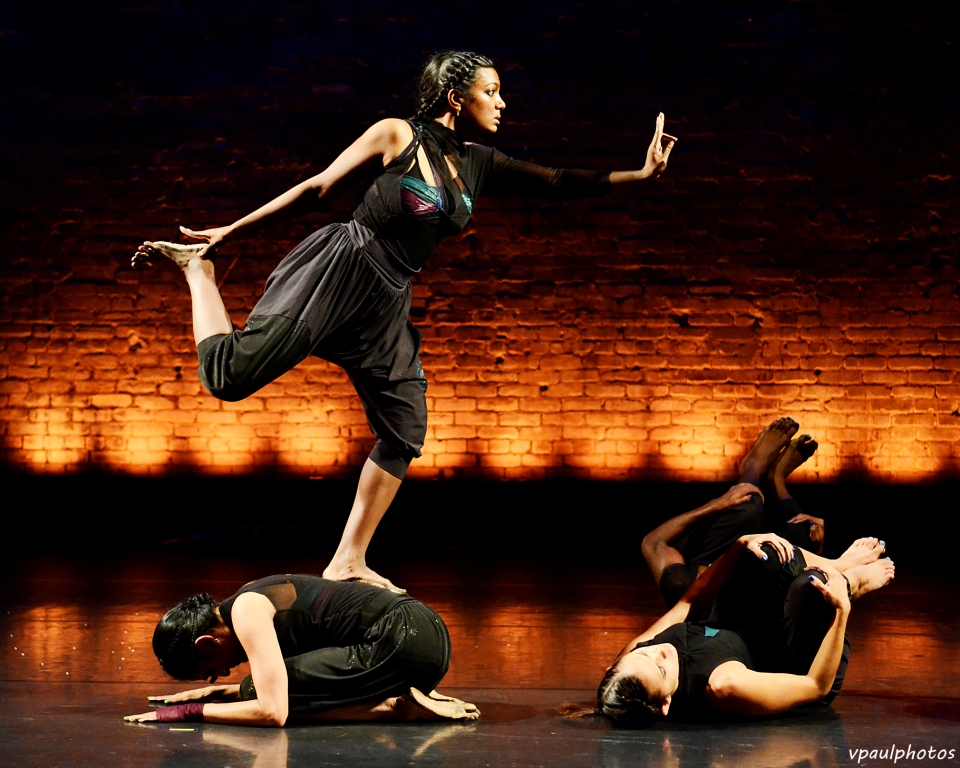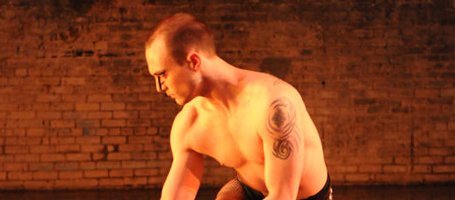 A COUPLE OF WEEKS AGO, I WENT TO SEE ANANYA DANCE THEATRE (ADT) at the Southern. Moreechika: Season of Mirage is not unlike the last ADT production I saw, Ashesh Barsha: Unending Monsoon (2009)—a social-justice inspired evening-length dance, layered with complex theatrical elements, based in Indian classical dance and executed with precision and conviction—yet this new work moved me far more. I tried to sort out why.
I was struck by the dance before: how Ananya Chatterjea has shaped her native Odissi into a flexible instrument, equally expressive of fear (those shifting eyes) and grace (those swaying hips), anger (those stamping feet) and solidarity (that shoulder-to-shoulder rhythm), modern in its attack yet deeply rooted, tangled in the web that trails us all. Shaking, deeply flexed hands, raised up slowly like silent calls; a show of strength collapsing into a gasping, shuddering circle from which one form uncoils; one woman walking away, letting her shoulders drop down and back like a luxurious cloak, her hands angled from her wrists like trumpet flowers.
I noticed before how the production backs up the dance—whispers, breath, a jangle of strings (music composed by Greg Schutte), jerky puppets in projection, gleams of jade and strips of dark net on the dancers' costumes, frost-green nails and lines painted on their feet (scenic and costume design by Annie Katsura Rollins)—all setting off and heightening the human, the flicker in the lamp. And I noticed how the dancers moved in this world, using its resources to explore and express as the cat uses his beautiful head.
Now, the dancers are younger than before—more college students and recent graduates—which makes Chatterjea's ability to stir them more impressive. Dancer Orlando Hunter seems born to be noticed, yet with all his motive talent he's not slick or shallow; he's doing the work. My eye also hung on Lela Pierce–not the quickest or flashiest of the group, she still shone, spinning every gesture and step out from some inner gin. She seemed to be having a moment.
Maybe I looked into the audience more this time around. ADT has its own audience, diverse in ethnicity and age, more mixed than the usual, and warm. They sprang to their feet at the end; Moreechika clearly spoke to them. And later, on Facebook, they talked back: "That was incredible. I'm going to be thinking about it for the next year. Or more" (Andi Cheney); "Aside from the intimacy of the work (I was lost in the performance and had no sense of being in an audience until the very end) I was struck by how meticulously the music, poetry, movement, and shadow puppetry meshed together, it was seamless" (Ismahan Sadiq); "No words. Brilliant. Thank you" (AsaleSol Young).
Or maybe, the difference this time was me. Dangerous for a critic to say; you'd like to present yourself as unchanging, your judgments always equally valid—but what a stultifying life that would be. This summer, I went to the "developing world" for the first time, and I came back with experience that inflected my viewing. The storm of rice that drops on the rioting dancers at the end, an ironic answer to their demands, made me think of Sri Lanka's tea plantations, of the work of your hands dried for export, mingled pride and deprivation. The dancers hurl the rice up into the air with wild faces, fling fistfuls; but in the end it's what they have, and they fall to shaking it over themselves and tracing the patterns of eternity and change in it. And they invite the audience onstage to join them. I watched the motley crowd touching the rice, the evidence. What happens in Moreechika does not happen in some elsewhere, to some other people about whom we ought to care (because they are linked to us through the global economy, etc); it happens here, to us. There are no others, no strangers.
In the crowd onstage, I picked out Kenna Cottman and Pramila Vasudevan, former ADT dancers who've gone their own way as independent choreographers. Different as the two are, they're both born troublemakers, bent on changing how you engage with dance. I spied Vasudevan far upstage, making her own little pile of rice, a pool of concentration spilling from her like light. Cottman embraced dancers and clasped hands on her way offstage, ruffling the performance surface with reality. I keep my eye on these two.
Like students and teachers, dance-folk start their year in September. The year that's ahead for us looks especially rich, and I want to render it more fully than I can in isolated reviews. Thus I'm going to write here weekly, a column of sorts in which I'll look at events onstage and off in hopes of giving you a fuller picture of this year in dance.
The last few weeks also brought all the ballet dancers back to the barre. I see some new people in class now, in particular some new men who seem determined to make a mark. And Nic Lincoln came in one day in a sky-blue unitard. Lincoln gets his season going faster than most with this weekend's McKnight Solo concert, in which he's premiering a new solo by Larry Keigwin, and which also features Jeanine Durning's quicksilver work for Leslie O'Neill. I'll be there—maybe I'll see you?
______________________________________________________
Noted events:
SOLO, featuring premiere performances by recipients of the 2010 and 2011 McKnight Artist Fellowships for Dancers, takes place September 21 and 22, Friday & Saturday at 8pm (post-show discussion Sat. Sept. 22), at Ted Mann Concert Hall at the University of Minnesota, Minneapolis. For details, links and ticket information: http://northrop.umn.edu/mcknight/solo
Moreechika: Season of Mirage by Ananya Dance Theatre made its U.S. premiere at the Southern Theater in Minneapolis September 6 – 9. Moreechika is the third work in a four-part investigation into violence, trauma, resistance and empowerment experienced by communities of color, using the elements of mud (Kshoy!/Decay!, 2010), gold (Tushaanal: Fires of Dry Grass, 2011), oil (Moreechika: Season of Mirage, 2012) and water (Mohona: Estuaries of Desire, 2013) as themes.
______________________________________________________
About the author: Originally from Tallahassee, Lightsey Darst is a poet, dance writer, and adjunct instructor at various Twin Cities colleges. Her manuscript Find the Girl was recently published by Coffee House; she has also been awarded a 2007 NEA Fellowship.