The Most Necessary Band in Minnesota
Ira Brooker profiles the newly formed local supergroup Ambassadors of Culture, which includes former Aviette frontwoman Holly Muñoz and Dalmar Yare, a favorite in the Somali music scene, along with solo artists Martin Dosh and Al Church.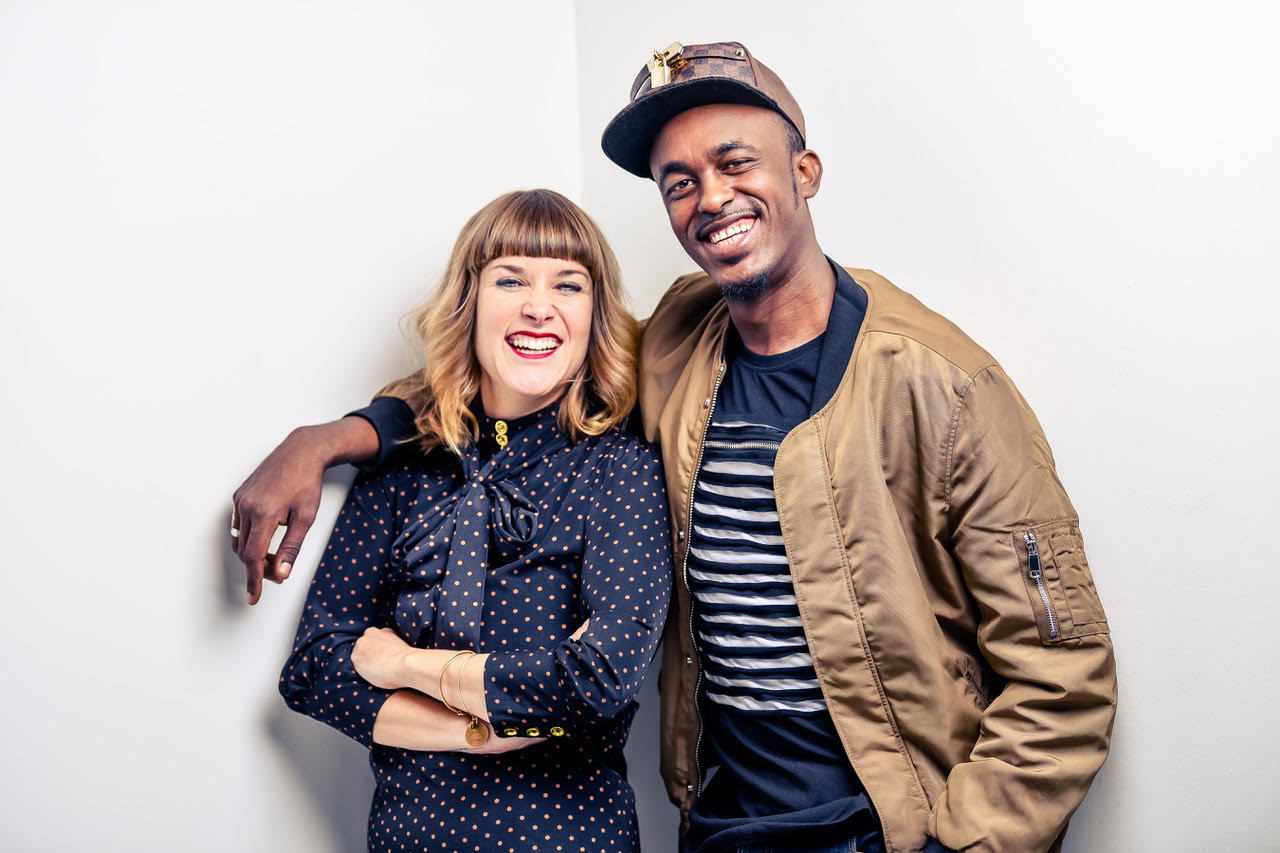 First Avenue is abuzz with an uncertain energy. It's the annual Low Christmas show, traditionally a loose, celebratory showcase for the venerable Duluth indie legends and a selection of their talented friends from the Minnesota scene. Hippo Campus has just gotten the crowd amped up with a sneak-preview of material from their forthcoming album, and the headliners are right around the corner. Next up, however, is something called Ambassadors, an apparent local supergroup that few people in the audience know anything about. Most of the names cited on the poster are well-known, certainly — Martin Dosh and Al Church are successful solo artists who have collaborated with just about everyone in town, and former Aviette front woman Holly Muñoz has gone on to an ambitious and acclaimed solo career out west. The name Dalmar Yare, though, doesn't ring a bell for most of the folks in the room. That's about to change.
Almost from the first note, it's obvious that Ambassadors is something different. It's one of those rare moments when a room full of people snaps to attention in the realization that they're witnessing something they'll be talking about for a long while. The sound rolling off the stage is familiar, but also not quite like anything else, a pastiche of Afrobeat rhythms and American indie pop, with Dalmar and Holly leading the way and swapping lead vocals every other song. They're a stellar combination, feeding off of each other's energy and radiating an infectious positivity that quickly sweeps over the near-capacity Mainroom. By the time their short set is finished, the First Avenue crowd is fully won over.
So, how does a band this distinctive and distinguished spring up out of seemingly nowhere for a plum slot at Minnesota's most storied music venue? The origin story of Ambassadors (or Ambassadors of Culture, to use their official full name) begins, like that of so much Minnesota music, in Minneapolis's West Bank neighborhood. "Adrienne Dorn at the Cedar [Cultural Center] has for the past six years been trying to develop programming that's sort of a bridge between Somali and non-Somali communities," explains Muñoz. Dorn wrote a grant funding the production of an album that would bring together two local musical communities whose paths have, until now, seldom intersected.
"They gave me a grant to make an album talking about life when you come here, and back in the day back home. I'm supposed to collaborate with somebody who's not a Somali singer," says Yare. "We did an album that's four Somali songs and four English songs. Every song translates to another song, from Somali to English."
"He had four songs, so I wrote four songs as kind of a companion to each," says Muñoz. "In Dalmar's words, there's 'a Holly version and a Somali version.' We recorded the whole album in six days — which is just totally nuts when I look back on it, considering we'd never played Somali music before and he'd never sung Western music before. And the band had never played together. Martin and Al and I had done some shows, but but the three of us had not worked together in a recording context. And that was the first time that I, on my own, had ever fully produced an album."
The record, due out this spring, is titled Toughs and Happys, after some advice Yare gave Dorn and Muñoz during a stressful time: "You have to take the tough with the happy." The band's name was likewise pulled from a snippet of Yare's conversation, this one with a supporter at a Cedar event. "She was so emotional, and she said, 'I love what you do. I can call you guys ambassadors of culture.' I was looking for a band name, so Ambassadors of Culture: showing Somali people American culture and American people Somali culture."
The grant also stipulated that the group play several dates around the state, including shows at The Cedar and historic venues in Saint Cloud and Mankato. Those gigs, performed for largely Somali audiences, made Muñoz very aware of her ambassador status. "Everyone would get up and dance and sing for Dalmar's songs, and then when I would sing my songs they'd sit back down again. They were still watching and interested, but I imagined it might have been different because it's a woman, a white woman, on stage singing."
The band's fourth gig, the First Avenue show, came together through Muñoz's friendship with Low's Alan Sparhawk, who heard about her new project and asked her to be part of the Christmas lineup. "I've been the biggest Low fan forever," says Muñoz. My goal in life was to play with Low." That fandom goes both ways; After the Ambassadors set, Sparhawk told the crowd in all sincerity that Muñoz reminds him of Jesus Christ.
Playing for a downtown audience, it was Dalmar's turn to step into the ambassador role. "I perform most of the time for a Somali audience. And now, from that to a large audience of non-Somalis, it was a test for me to show people what this music is," says Yare. "The music, the culture, how we connect to each other. It was really emotional for me." That message plainly hit home with the First Ave crowd. "After the show a lot of people contacted me to do performances and collaborate. It was an amazing feeling. When you see politicians, no matter how much they try to bring people together, it's always very hard. But it's very easy to bring people together in a music way."
Muñoz concurs that it was a joy watching Yare make a connection with people who came into the show unfamiliar with his music. "He got everyone to do the [waving] arm thing! That never happens. I've been playing music for a decade and you can't get people to clap, even if they love you. They just stand there. I was watching people's reactions, their expressions. I mean, Dalmar is incredibly charismatic. He's like a Somali James Brown. I can feel it, performing with him. He's just very full of joy. He was born to do this." (On his website, session guitarist Zach Brose calls playing with Dalmar "the closest I'll probably ever feel to playing with Fela Kuti," making Ambassadors likely the only band who can claim the pedigree of being compared to James Brown, Fela Kuti, and Jesus Christ.)
The fact that the mostly white First Avenue crowd even needed an introduction to Dalmar Yare only underlines how vital a collaboration like Ambassadors really is. Yare is a highly sought-after singer at Somali weddings and other celebrations, and his fan base on social media platforms like Snapchat and Facebook Live numbers in the hundreds of thousands. By the numbers, he's one of the most popular performers in the Twin Cities, but thus far, his reach has been limited by the insular nature of the Somali music community.
Muñoz believes that's due to change, as former refugee families who were forced to abandon instruments and other trappings of the performing arts when they fled Somalia continue to establish themselves in Minnesota, and live musicians begin to supplant the pre-recorded backing tracks that most local Somali singers currently employ. As groups like Ambassadors and Somali hip-hop collective Waayaha Cusub gain popularity, there's also potential for some fairly revolutionary cultural shifts. "Even the act of Dalmar playing music is political. Radical Islam says that music is haram, it's forbidden. He's been threatened as a result of his fire and passion to be a singer," says Muñoz. "I think, now that it's taking on another layer, moving into this mainstream space, this Western space, with women as leaders — that says something too."
Muñoz sees the prominence of women in the project as another level of ambassadorship, not only for Somali audiences but for the music industry in general. She's been very aware of the paucity of female figures as she's worked on her latest solo album. "I've been traveling around the country recording with different producers and different bands in different studios, and I worked with two women…two women in an entire year. It's just, all dudes. So, I think part of this story has to be that a woman wrote the grant. Adrienne has been incredible in terms of creating that bridge between the two communities. And I want it to be heard by women in the Somali community; I want them to think about it: what does it mean, being a woman playing music?"
The time has never been riper for a project like Ambassadors. As wonderful as it is for Yare and Muñoz to have a podium, it's tragic that the political climate makes their message so necessary. The band was fresh off its first couple of shows and heading into a recording session when Donald Trump made his infamous pre-election speech at the Minneapolis-Saint Paul airport. "Trump was just so hateful and so incendiary and so political, but in a low, sinister way, trying to incite the worst in people," says Muñoz. "He was talking all this shit about 'the refugee problem in Minnesota,' and I had just gone through this incredible four-month experience with Dalmar, meeting all of his friends, his family, and I was so mad. I realized that of all the things I could be spending my time on, of course this has potential to really make a difference."
For his part, Yare is excited and energized by the opportunity to serve as an ambassador during difficult times. "This is our first journey together and we want to tour each other's cultures. Somali culture has a lot of ways to proceed and American culture is the same," he says. "You'd think it's difficult to make people understand what you're saying, but music is an international language. It helps you make people come together and feel what you're saying. Although they don't understand the words you're saying, they understand the feeling of the music."