Of Pastries and Paintings: Phillips and Powderhorn Park, Minneapolis
Maggie Ryan Sandford continues her ongoing artists' guide to coffee house galleries in Minnesota with this tour of alternative exhibition spaces in the community-oriented Phillips and Powderhorn Park neighborhoods in Minneapolis.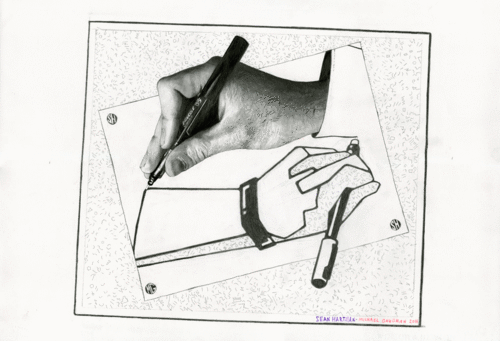 WHEN ARTISTS DREAM OF SUCCESS, they probably dream of showing at the Walker, the Met, the Tate, Musée National d'Art Moderne — not the java joint down the street. But on the road to the big-time, those little coffeehouse shows can be important stops along the way, providing a safe platform for artists to practice the tricks of their trade: how to produce enough work for a show, create a cohesive collection, price pieces, place them in the space, promote, and (most importantly) find an audience.
To help local artists navigate this process, we've been creating a directory of sorts: a guide to the best of the many Minnesota coffee shops, cafes, bars, even salons that double as gallery spaces. We're exploring the state's coffee house art scene on an ongoing basis, one neighborhood at a time.
In this installment: the Phillips and Powderhorn neighborhoods in Minneapolis
________________________________________________________
ANGRY CATFISH BICYCLE + COFFEE BAR 4208 28th Ave S, 612-722-1538
The ambiance: This half cafe/half bike shop has an appropriately dual vibe: half outdoorsy/half tastefully modern, where non-gallery walls are hung with antique bike advertisements and shiny new bike frames.
The art: Though the curator isn't picky, he says the work needs to "fit" the vibe of the shop itself. That probably rules out really edgy stuff, or work which feels unpolished, a bit amateur or unprofessional. Currently showing the compound-canvas nature paintings of J. M. Rose–Foreman.
The stats:
Consistency of quality: ***1/2
Funky Factor: ****
Classy Factor: ****
Contact: Baristo and curator Adam: adam@angrycatfishbicycle.com
Hours: Mon -Fri 7am-7pm, Sat & Sun 8am-5pm
Do they take a commission? No
Who hangs the work? The artists
Can you put nails in the walls? No, they prefer artists use the hanging rails provided.
________________________________________________________
BLUE OX COFFEE COMPANY 3740 Chicago Ave, 612-825-6650
The ambiance: Sunny, simply decorated and comfortable, with big windows, tranquil blue walls and a slightly retro vibe.
The art: The Blue Ox just opened, so there isn't much precedent to work from to determine the vibe of work they'll go for. Melanie, the owner, says she simply reserves the right to see and approve work ahead of time — pretty standard. It is a family-friendly establishment, however, so material that's too dark isn't ideal. Recently on view: Latin American-inspired paintings by Stephanie Guidera.
The stats:
Consistency of quality: *** and counting!
Funky Factor: ***1/2
Classy Factor: ***1/2
Contact: Email owner, Melanie: melanie@blueoxcoffeecompany.com.
Hours: Mon-Thu 7am – 7pm, Fri 7am – 8pm, Sat 8am – 8pm, Sun 8am – 5 pm
Do they take a commission? Nope
Who hangs the work? The artists, with minimal direction from coffee shop staff
Can you put nails in the walls? No. They have a hanging rail, and encourage artists to bring extra hanging cord.
________________________________________________________
MAY DAY CAFE 3440 Bloomington Ave, 612-729-5627
The ambiance: A Powderhorn neighborhood institution, this cozy, down-to-earth joint is all about community togetherness and grassroots activism.
The art: The powers-that-be say that they "basically take anyone," though it certainly helps if the work reflects the values of the cafe itself. Recently on view: handmade bowls for the Empty Bowls Project, a cool community art project from which all proceeds aid the fight against hunger.
The stats:
Consistency of quality: **
Funky Factor: *****
Classy Factor: ***
Contact: Call and ask for Denise or Andy; mornings are best.
Hours: Mon -Fri 6:30am-6pm, Sat 7am-6pm, Sun 7:30am-6pm
Do they take a commission? No
Who hangs the work? The artists
Can you put nails in the walls? Use of the hanging rail is preferable.
________________________________________________________
MIDTOWN GLOBAL MARKET – 920 E Lake St., 612-872-4041
The ambiance: Midtown Global Market is just that, dozens of multicultural restaurants, shops, and wholesalers under one roof. Like the May Day Café but in a much larger, more mainstream setting, the overall vibe is community-oriented and positive.
The art: They show a wide variety of work, and usually select based on what the space can accommodate. Work must be family-friendly (no nudes or foul language). Recently on view: work by public school students on the subject of First Amendment rights.
The stats:
Consistency of quality: ***
Funky Factor: *
Classy Factor: ***
Contact: Kimberly Hanna: khanna@ndc-mn.org
Hours: Mon-Sun, 7am-8pm
Do they take a commission? No. Artists can sell their work, but they're required to staff the space and any sales on their own.
Who hangs the work? The artists, but navigating the various wall spaces may require some initial guidance from market staff.
Can you put nails in the walls? Yes, as well as screws, 3M hooks — whatever the artist deems necessary to install the work
________________________________________________________
MODERN TIMES – 3200 Chicago Ave S, 612-886-3882
The ambiance: An "actual restaurant" as well as an "actual gallery," Modern Times is hip-with-a-mission, serving a menu inspired by food from every continent in an equally cosmopolitan artistic environment.
The art: "I love the idea that artists might create work specifically for our space," says the cafe's passionate curator, Eddie, who encourages people to check out the Modern Times art Tumblr, and see if they have work or can create work that fits with the cafe's vibe: modern, colorful, perhaps avant-garde, professional-looking work created by artists who are serious about honing their craft. Recently on view: Christopher Allen, Caroline Paquita, Michael Gaughn.
The stats:
Consistency of quality: *****
Funky Factor: *****
Classy Factor: ****
Contact: Email curator Eddie with work samples ekijowski@gmail.com. The space may be booked far ahead of time, and he asks your patience.
Hours: Mon-Fri 7am-5pm, Sat & Sun 9am-5pm
Do they take a commission? No, and you don't have to sell if you don't want to.
Who hangs the work? The curator enjoys doing it, but also enjoys having the artists there.
Can you put nails in the walls? Yes, but they'll be installing hangers at some point.
###
But what about…?
South Side Cafe – reopening soon!
Bright Moon Coffee House – doesn't show local art
A Cup of Joe – closed
Isabel's Coffee Cafe – closed
Karamel Coffee – closed
Midtown Coffee – closed
________________________________________________________
Know a gallery/coffee shop/restaurant/bar/salon/laundromat in this neighborhood that we missed? Email tips to editor@mnartists.org .
________________________________________________________
About the author: Maggie Ryan Sandford is a writer who lived in St. Paul until very recently, but who has roots in Seattle and New York. She writes in various genres for such institutions as ComedyCentral.com, the Onion A.V. Club, and mental_floss magazine, and her creative writing has garnered attention from the Seattle's Richard Hugo House, National Public Radio, NYtimes.com, and mnartists.org's mnLIT series. Some time, she would like to talk to you about the intersection of art and science.