Of Pastries and Paintings: Northeast Minneapolis
Maggie Ryan Sandford continues her ongoing artists' guide to coffee house galleries and alternative art exhibition venues in Minnesota with this tour of notable hotspots in the arts-rich neighborhood of Northeast Minneapolis.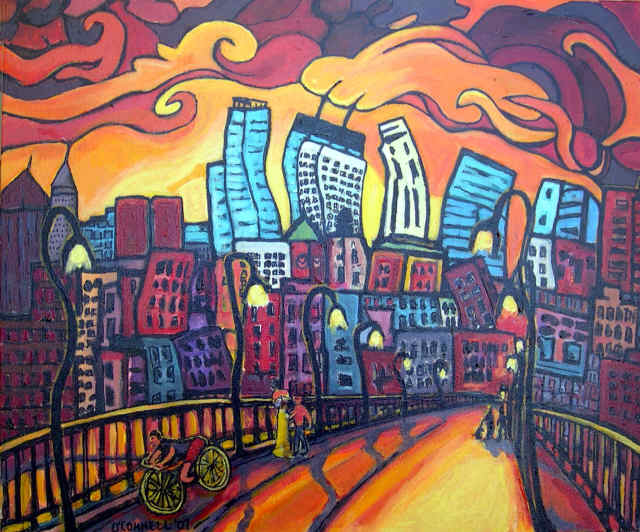 When artists dream of success, they probably dream of showing at the Walker, the Met, the Tate, Musée National d'Art Moderne — not the java joint down the street. But on the road to the big-time, those little coffeehouse shows can be important stops along the way, providing a safe platform for artists to practice the tricks of their trade: how to produce enough work for a show, create a cohesive collection, price pieces, place them in the space, promote, and (most importantly) find an audience.
To help local artists navigate this process, mnartists.org decided to create a directory of sorts: a guide to the best of the many coffee shops, cafes, bars, and even salons in the area that double as gallery spaces. We will explore the Minnesota "Coffee House Art Scene" on an ongoing basis, one neighborhood at a time.
---
For this installment: Northeast Minneapolis
2852A Johnson St NE, 612-259-8478
The ambience: A warm neighborhood spot, the Coffee Shop NE derives its personality more from the customers and baristas than from the decor. So the sky's the limit!
The art: The chief curator here, Rich Horton, also happens to be chief editor of the local music rag, Rift, and his aesthetic leans towards "Minneapophile." Now showing: the bold, colorful cityscapes and abstracts of James O'Connell. Formerly on view: the bright screen prints of gig poster artist Adam Turman.
The stats:
Consistency of quality: **** (of 5)
Funky Factor: ***
Classy Factor: ***
Contact: Contact Rich, Jenny, Jodi, or April – especially in the morning.
Hours: Mon-Sun: 6:30am-9pm
Do they take a commission? No.
Who hangs the work? The curator has been hanging work, but the artists are welcome to handle installation themselves if they prefer.
Can you put nails in the walls? Hanging system provided.
1618 Central Ave NE, #100, 612-789-5282
The ambience: Laidback, kitschy '50s decor, complete with plastic alien toys and framed photos of motorcycles.
The art: Who knows? Exhibiting artwork is a new endeavor for this venue; so, starting in December, for the first time ever. "Your Art Here!"
The stats:
Consistency of quality: TBD
Funky Factor: *****
Classy Factor: **1/2
Contact: email@diamondscoffeeshop.com, call, or stop in. Any employees can give/take info, especially "Leah."
Hours: Mon-Thurs: 6am – 10pm, Fri: 6am – 8pm, Sat: 7am – 8pm, Sun: 8am – 7pm
Do they take a commission? Who hangs the work? Can you put nails in the walls? Since they're just starting out on the whole "art thing," all of this remains to be seen.
3301 Central Ave NE, 612-789-2158
The ambience: Quaint-chic – think French street-side cafe.
The art: Mostly photography at the moment, especially of typically "pretty" subjects like gardens and antique doors. Lily's annually participates in Art-A-Whirl.
The stats:
Consistency of quality: ***1/2 (of 5)
Funky Factor: **1/2
Classy Factor: ****
Contact: Call owner Brigitte (French pronunciation: Brishe-EET), early afternoons.
Hours: Winter – Tues and Thurs-Sun 7am-3pm, Wed 7am-8pm
Summer – Starting April, Tues-Sun 7am-8pm
Do they take a commission? No
Who hangs the work? The artists
Can you put nails in the walls? If you need to — Brigitte is very accommodating.
MATCHBOX COFFEE SHOP
1306 2nd St. NE, 612-259-0069
The ambience: Aptly named, this wee neighborhood spot is indeed hardly bigger than a matchbox. With its long, classic diner bar, neon sign, and steamy front window, it's the kind of place where a person could post up for months and write a novel…especially since there's not a lot of room for a crowd.
The art: Staffers say there isn't really a jury process per se; they're open to all kinds of work, from pen drawings to conceptual art. Now showing: lovely (if yet untrained) travel photographs by Ben Sommers Bachman.
The stats:
Consistency of quality: *** (of 5)
Funky Factor: ***
Classy Factor: **
Contact: Call or come in and ask whoever is working. Shows are curated collectively by the staff, and artists are booked through next year.
Hours: Mon-Thu: 7 am-6 pm, Fri: 7 am-7 pm, Sat: 8 am-7 pm, Sun: 8 am-6 pm
Do they take a commission? Nope. Artists can put their art up for sale, or not.
Who hangs the work? Both the owners and the artists, whatever works.
Can you put nails in the walls? They prefer artists use the provided hooks, which hang from thin chains.
2205 California Street NE, 612-788-6188
The ambience: Okay, so maybe Mill City is more of a restaurant than a coffee shop, but it never hurt anyone to have their art gazed upon by people drinking wine. With exposed brick walls, high ceilings, occasional live music, and "cool" clientele, this place might as well be an art gallery.
The art: And speaking of galleries, management informs us that they are in the process of changing their art selection so that they can achieve a more "salon style" feel in their presentation of work. They're hoping for big, bold pieces in all media, including sculpture and mobiles. The only criteria: they favor artists from the Nordeast area. Other than that, bigger is better.
The stats:
Consistency of quality: TBD
Funky Factor: *** (of 5)
Classy Factor: ****
Contact: Call for owner Mandy
Hours: Mon: closed, Tues-Friday: 8am-3pm, Sat/Sun: 9am – 2pm
Do they take a commission? They're still working it out. They do intend to provide "art menus" on each table.
Who hangs the work? They plan to enlist an impartial curator who will handle layout and hanging.
Can you put nails in the walls? It depends on the requirements of the piece.
But what about…?
Nordeast Coffee Company? They're a wholesale coffee distributor, not a coffee shop.
SHE Royal Coffee Co.? The owner chooses not to show art because his insurance doesn't cover other people's property (which we think is awfully considerate).
Sip Coffeebar? They decorate with live bamboo, not art.
---
Know a gallery/coffee shop/restaurant/bar/salon/laundromat that we missed in this neighborhood? Email your tips to editor@mnartists.org.