NEMAA Artist Series: Worn on the Body
A profile of jewelry artist Sarah Chapman, whose mix of industrial and organic design elements lends itself to striking, sculptural pieces of wearable art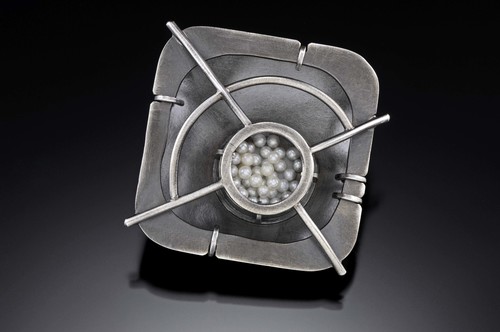 introductionThis is the fourth in a sponsored series of articles featuring member artists of Northeast Minneapolis Arts Association, a non-profit arts organization that works to build a more vibrant, diverse and economically healthy community through the arts.
---
NEMAA member artist Sarah Chapman grew up in Chicago as part of a creative family. She says, "My folks were artists, but it was always something they needed to do on the side, while they supported themselves doing other things." She goes on, "I've always loved making things, but from the beginning, I felt a tension between making things and making a living."
With that in mind, when she began her college studies at Northeastern Illinois University, she pursued a path in both art and education, with an eye toward incorporating an artistic practice into day-to-day work in secondary education. As part of her required coursework, she says she took a metalsmithing class "and was immediately hooked." Her focus then shifted from arts education to finding practical ways to make her creative practice more sustainable on its own. "I knew this was the work I really wanted to do, so the question for me became, 'how can I make metalsmithing my livelihood?'" she says. Making jewelry and teaching others to do so afford her both a steady living – through direct sales and fine craft shows, some commissions and gallery exhibitions—and an opportunity to pursue her artistic practice full-time.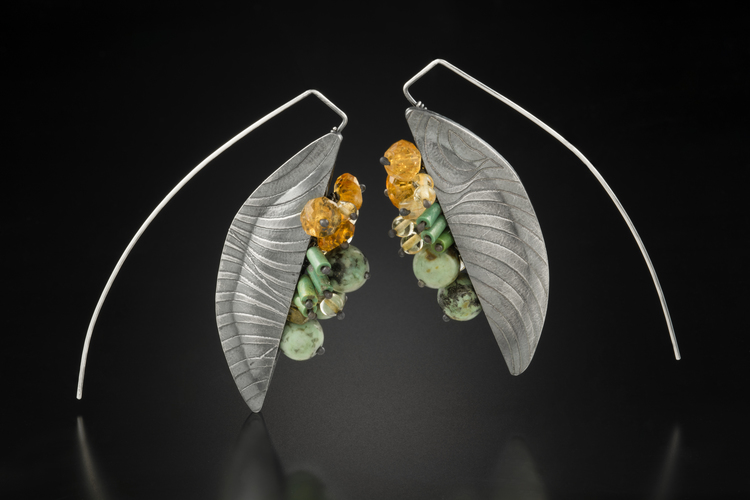 Early on, her work with metal was sculptural rather than functional—part of her visual art studies in college and geared toward gallery shows and fine art. She quickly turned her efforts toward the more artisanal side of things, teaching herself the basics of crafting jewelry, but she says the "3D thinking, the mindfulness involved in making sculpture" is something that's stuck with her. "I like the thoughtfulness of working with metal," she goes on, "and the various ways the materials can fit and join together. I wouldn't call myself an intuitive worker; I usually need to fully work everything out in my mind before I even begin a piece."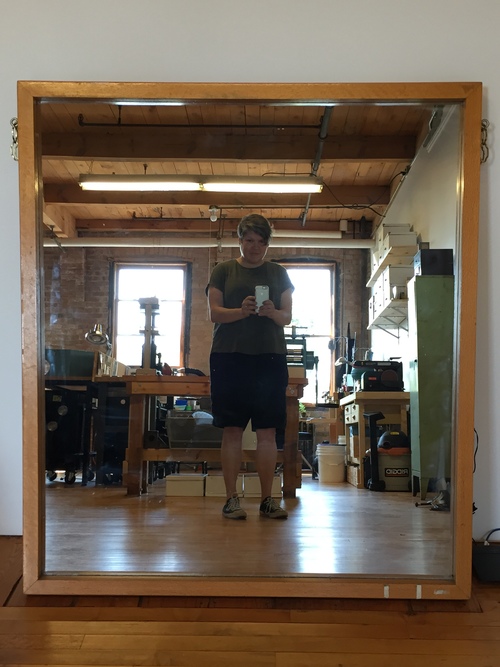 She's always been particularly attracted to making things small enough to hold in one's hand, she says, and to the intimacy of art worn on the body. "I love the scale involved in making jewelry," she says, "and the idea that the engagement with the work is so personal, like an ongoing, everyday dialogue that becomes part of how you move through your day," rather than an objet d'art held at greater remove. "Touch is how we figure out the world, and this is art you're supposed to handle, work that is made with touch specifically in mind." Chapman explains, "I oxidize the metal I use for these pieces so that, over time, as they're touched, the colors deepen and become richer from the handling. I'm working with what the metal wants to do anyway, on its own." Her designs mix hard, industrial lines and burnished metal with the soft palette and smooth curves of polished precious and semiprecious stones. Natural forms – seedlings and stylized leaves, squat cicadas, tightly coiled nests of gemstones, the curve of an insect wing – are wrought in silver, copper, gold, and stones, and then offset by thick chain links and rivets, and by scattered pebbles of precious stones. Her chunky, box puzzle pendants alternately conceal and reveal smoothly polished, freely moving pearls.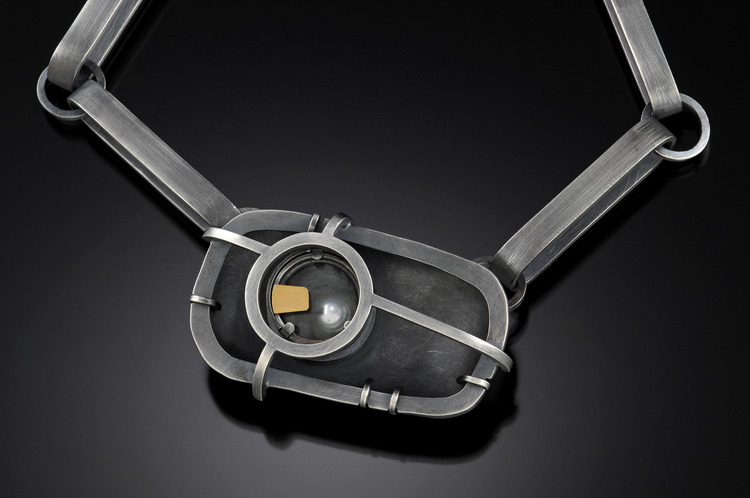 "I'm interested in the industry behind organic structures and forms," she says, "in the animals who made them and whose instincts shaped their designs." She laughs, "I often think, if a mechanical bird were to build a nest, it might look something like mine."
She pays keen attention to the detailed craftsmanship that will make her work wearable for a lifetime: there are no rough edges, no front or back sides. "I give just as much care to the clasps as I do to the more prominent elements of a given piece," she says. "I think about these pieces in their entirety—with just as much attention paid to prep, sanding, and clean-up as to the finer points of design." Look at the work closely—the delicately knotted coils of her birds' nest designs, the fine details in the imprinted patterning and etching on the metalwork—and it's clear all aspects of each piece are considered carefully for both function and aesthetic pleasure.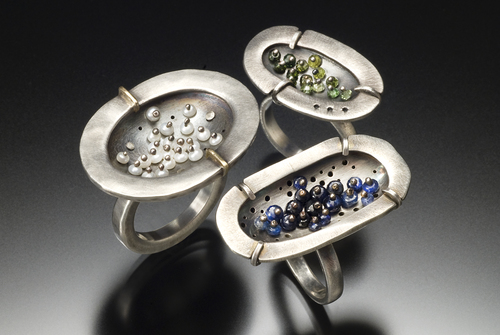 "You put something on your body and go out in the world and invite a conversation about it," Chapman says. "I'm always surprised and humbled when a client comes by, wearing a piece I made several years ago. It's like seeing an old friend again. And it's so rewarding to know that my work is part of someone's daily life."
---
Related links and information: Sarah Chapman will have a selection of jewelry pieces on view from November 5 – 27 at Stillwater Art Guild Gallery as part of a month-long art show and sale by Minnesota Jewelry Artists Guild (MNJAG).  Find additional work samples and more information about the artist on her website: www.chapmanmetals.com.
This article is commissioned by the Northeast Minneapolis Arts Association and funded by a grant from the Minnesota State Arts Board. Find Sarah Chapman's profile on NEMAA's website.