NEMAA Artist Series: Art in the Making
A profile of painter Stephen Filla-Kim, whose work memorializes the everyday labor and routines of making art, the mark of the hand, and human ingenuity behind good design.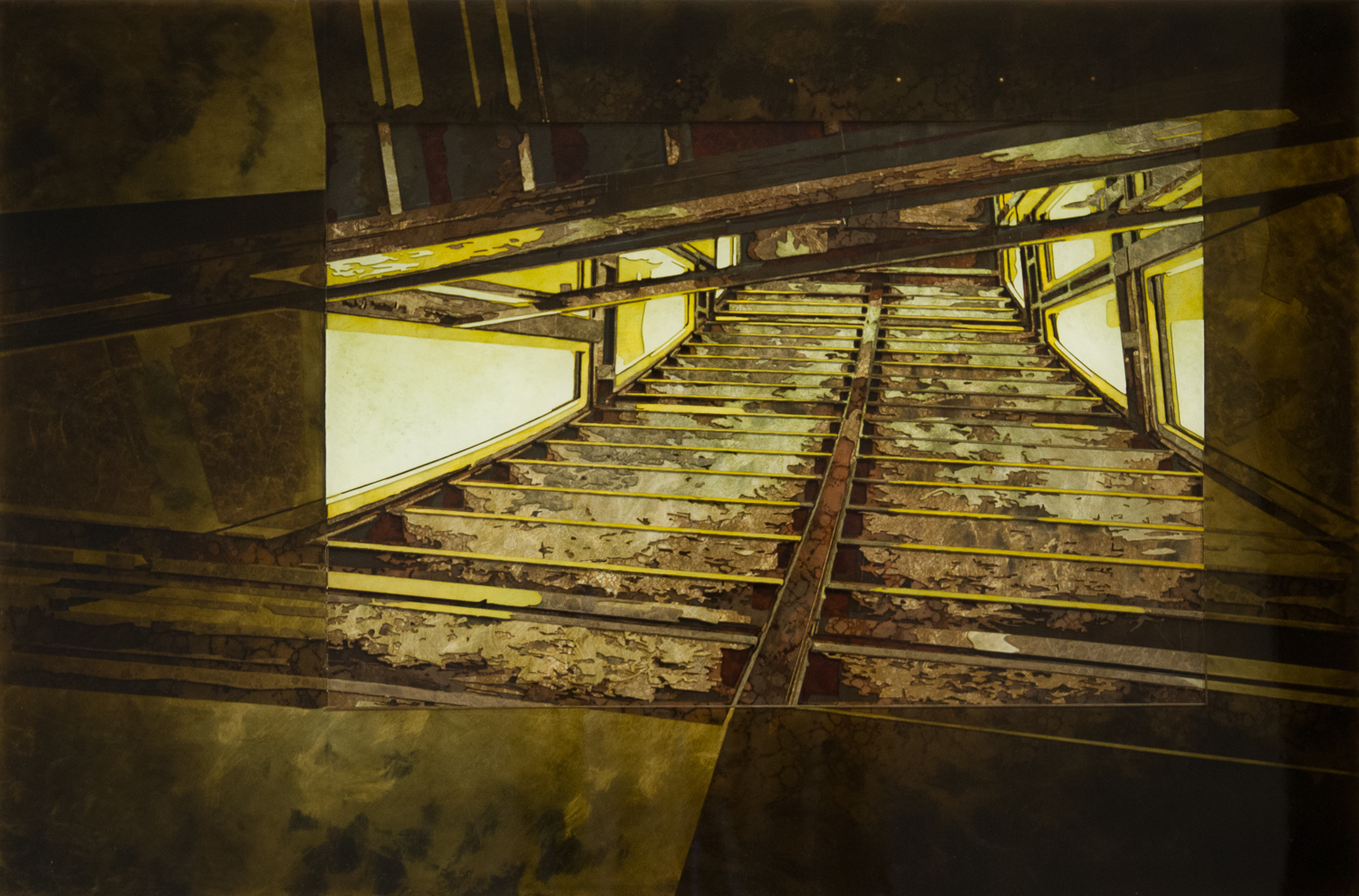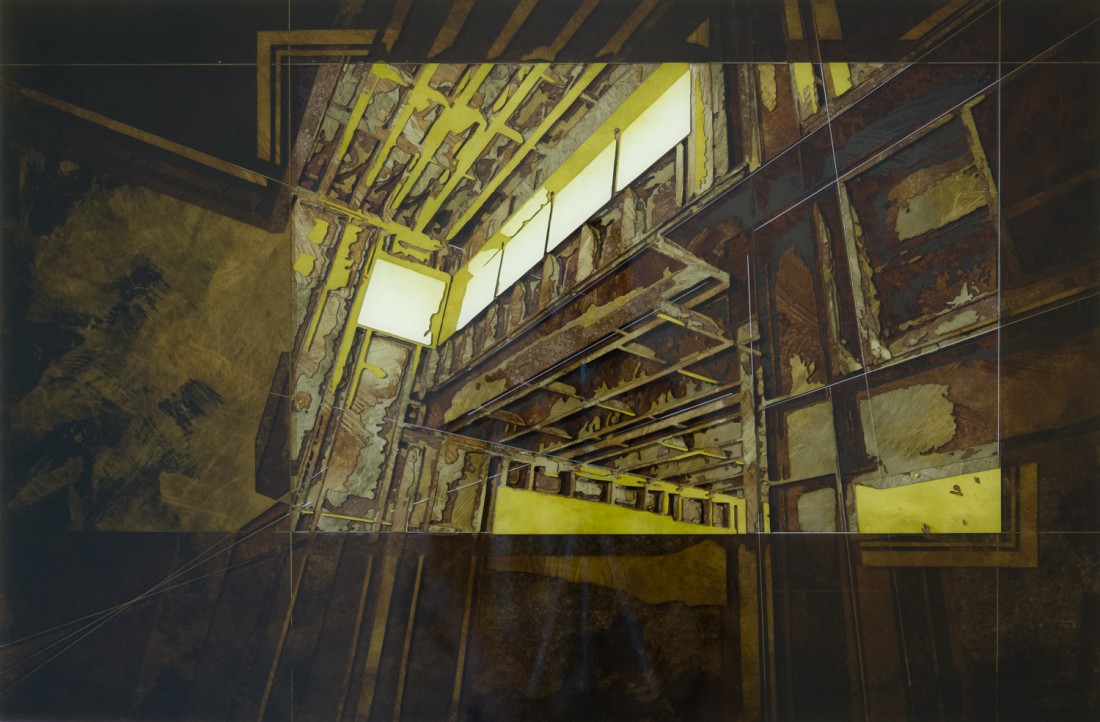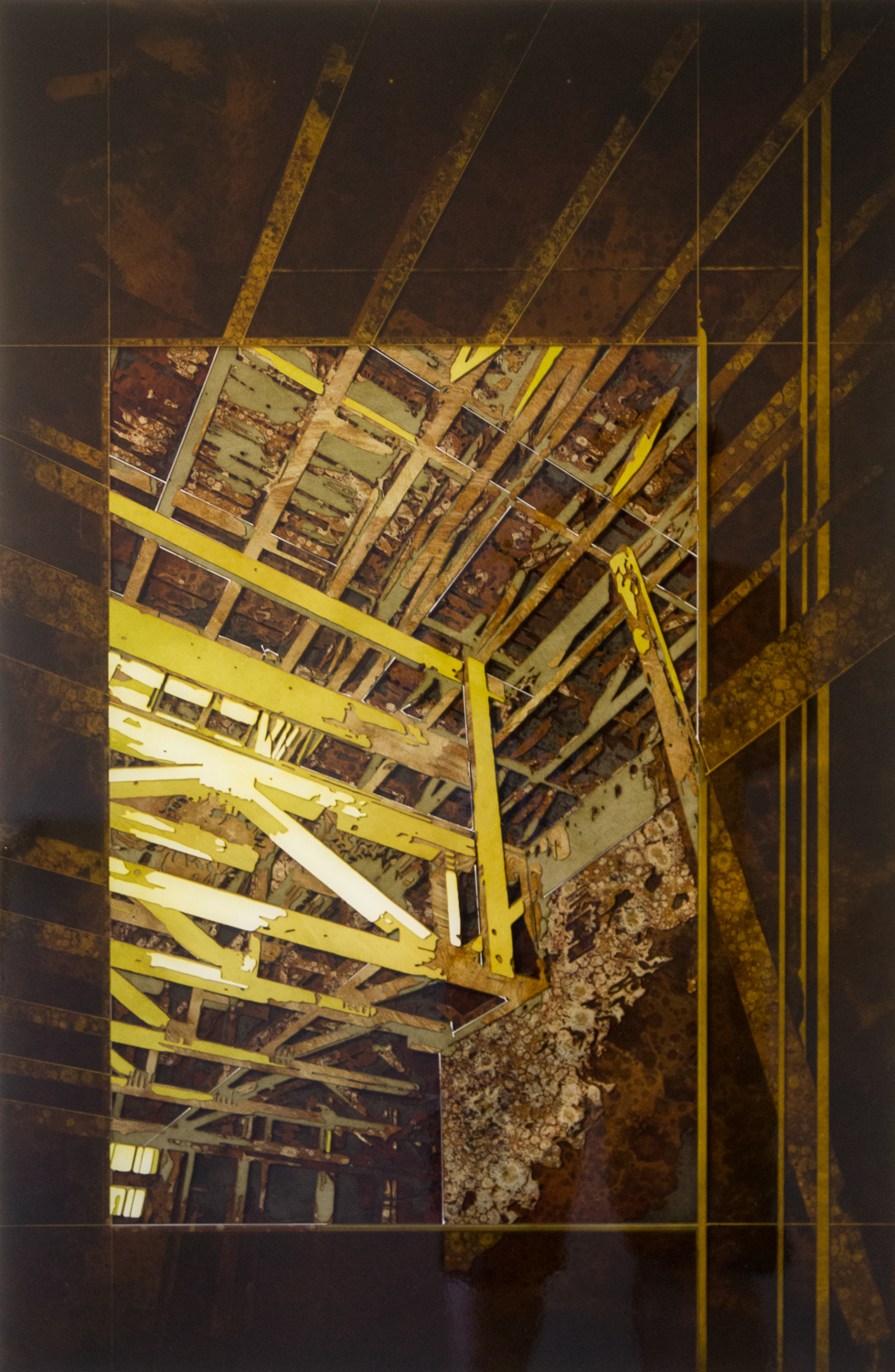 introductionThis is the third in a sponsored series of articles featuring member artists of Northeast Minneapolis Arts Association, a non-profit arts organization that works to build a more vibrant, diverse and economically healthy community through the arts.
---
Artist Stephen Filla-Kim spends his business hours in an airy, comfortable office studio upstairs in Northeast Minneapolis' Q.arma Building. From there, he works for a green design and construction business with his father; for his dayjob, he does CAD drawings and a bit of freelance graphic design. His art studio in the basement of the building is rougher, but no less inviting for its unfinished edges, filled with neatly arranged tools, works-in-progress, and the broad platforms on which he makes large-scale, cast resin paintings.
He graduated with a BFA from the University of Minnesota and, later, a master's degree in visual studies from MCAD; he says he began painting when he was just a teenager. In college, he originally pursued a major in astrophysics rather than art. He switched fields of study at age 20 to pursue his painting in earnest, but the influence of physics, the big-picture ethos and methodical observations of change-in-action, is evident in his aesthetic sensibility and manner of approach to making art. He says he looks at his paintings as systems in process, in which the interplay of a work's constituent details operate much like variables in a physics problem, where each small change drives and colors the evolution of the whole. His facility with architectural and structural design and framing is similarly evident in even his most abstract paintings.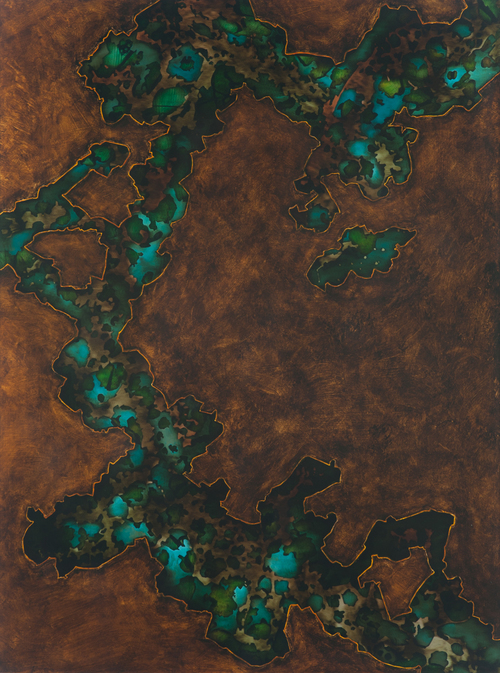 "The content of my artwork has always been the making: the day-to-day process and practice, the work itself," he says. "I'm interested in memorializing the everyday." (In fact, for his thesis show, he cast his rags directly into the finished works.) We chat about the process and rhythms of his studio practice, the particular materials and tools involved in making his painstakingly layered pieces. He describes his artwork in terms of day-to-day routines, the life he builds around making the work, rather than the objects themselves.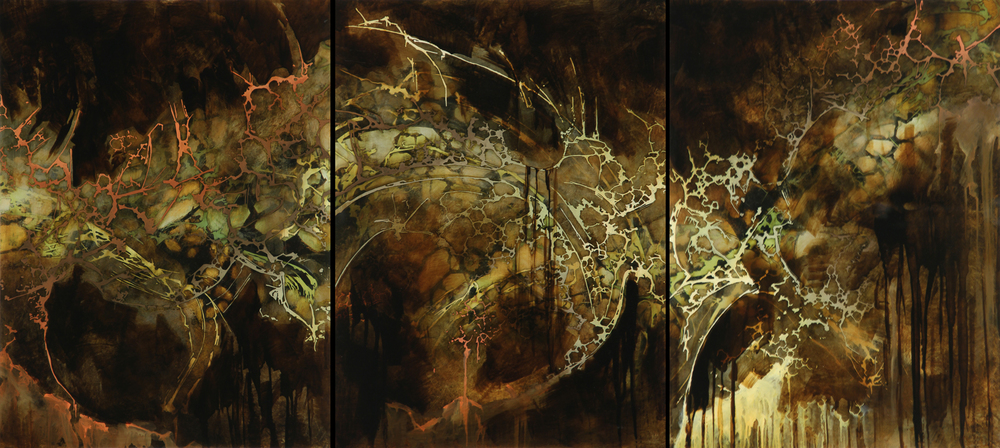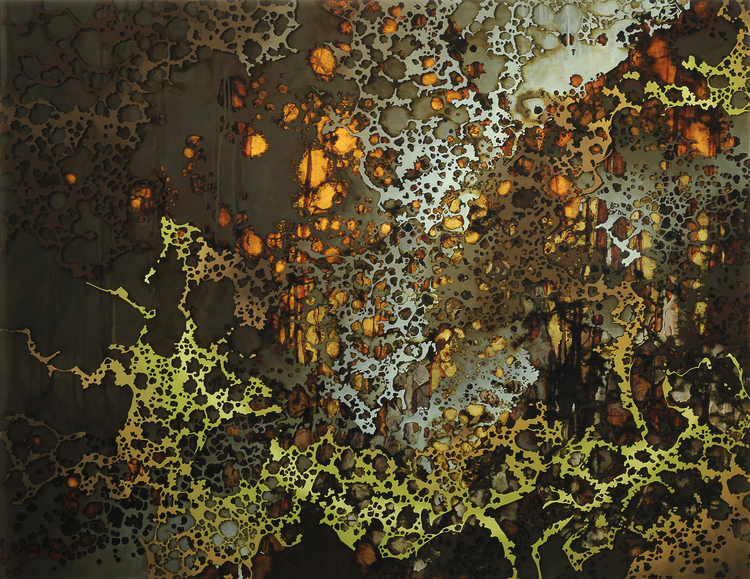 Filla-Kim describes himself as a "printer's painter more than a painter's painter." He makes his resin-based works over months of studio time, first plotting the design of the piece digitally and then deconstructing those design elements so they might be reassembled using stencils, layer by layer, in resin and paint. It's a process reminiscent of screen printing. The finished works have a sense of depth and intricacy, like shadow boxes or cabinets of interwoven and overlaid curiosities.
The gradations of color and tone that dominate his more abstract paint-and-resin works are subtle, organic – layered swaths of umber and copper; glossy resin, smeared with thick streaks of black and washes of gray, punctuated by vivid, vascular lines cutting through in shades of canary yellow, orange, and teal. In his artist statement, he likens his abstract paintings to the irrational storytelling of the dreaming mind, "making rhizomatic networks of ideas, colors, impressions, emotions, theories, etc. in which there is freedom to move about without logical structure."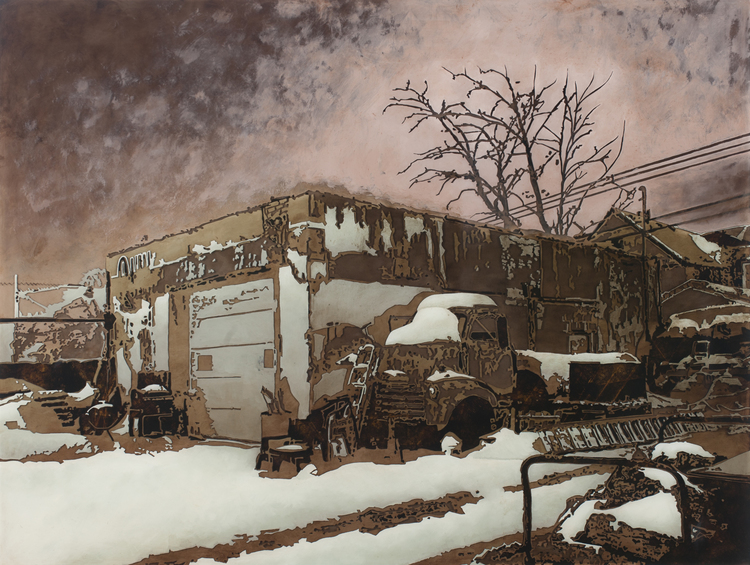 More generally, he's interested in the interplay of "making and unmaking" in the things we create, he says – the ways our made things live and interact with the natural world in which they're situated. One of his recent paintings, a representational work, features the slowly dilapidating garage just across the way from his studio. It's a study of the structure's ruin-in-progress, the unmaking of a building as the work of years and extremes of weather have stripped away its polished veneer.
Another series of recent paintings, commissioned for a project by III AD Design+Build, looks closely at the elegant but often invisible work of architectural design. The paintings strip back the clean lines of the edifice to recreate its bones, with stenciled, layered renderings of the scaffolding and support structures that lie beneath the sleek sheetrock and plaster of the finished construction. The paintings are an abstract homage of sorts, to the human ingenuity, labor, and experience that make possible thoughtfully designed spaces.
Filla-Kim was, early on, attracted to work by the action painters of Abstract Expressionism: Franz Kline, Jackson Pollock, Willem de Kooning. It wasn't just the bold kinetics of their paintings that drew him, he says, but the labor of the works' making that was made visible in those sweeping gestures and drips left on the canvas.
The human effort of creation, the meditative and practical rhythms of hours spent in the studio, the imperfections and marks left by his hand and movements, all the attendant tools and hard-won lessons of his practice and study – this is what gives Filla-Kim's pieces their vibrancy. "The destination matters less to me than the road," he says. "And the destination should capture something of the road, too – both the road to and away."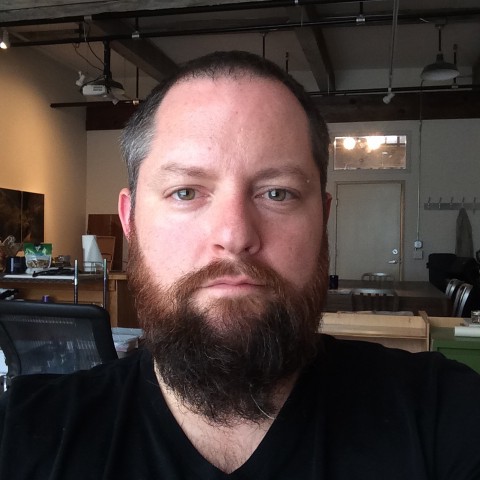 ---
Related links: Find more about Stephen Filla-Kim's work on his website: www.stephenfillakim.com.
This profile is part of a series commissioned by the Northeast Minneapolis Arts Association and funded by a grant from the Minnesota State Arts Board. Find Stephen Filla-Kim's listing on NEMAA's website, and see more work in his portfolio on Mn Artists.