NEMAA Artist Series: A Little Something Beautiful For All
A profile of jewelry designer Karin Jacobson, whose handmade pieces offer a cheerful pop of color and clean-lined style with a mind to affordability and ethical sourcing of materials

introductionThis is the seventh in a sponsored series of articles featuring member artists of Northeast Minneapolis Arts Association, a non-profit arts organization that works to build a more vibrant, diverse and economically healthy community through the arts.
---
Jewelry designer Karin Jacobson's studio in the Northrup King Building is jumbled but tidy, sun-filled space. The front is filled with glassed-in cases displaying sleek, candy-colored gemstone-and-polished silver cocktail rings alongside cases of the delicate, sculptural work of her fine jewelry line. The back area contains her work space – slab tables topped here and there with equipment for pressing and bending metal, flanked by orderly drawers of smaller tools and raw materials off to each side.
A student at the state-funded Perpich Center for the Arts when it first opened its doors, Jacobson studied visual arts – an unusual course of study in a school better known for its performing arts offerings. In her senior year of high school, she had a visiting instructor, Cheryl Rydmark, a jewelry artist with whom she subsequently asked to apprentice. She worked with Rydmark over the course of a gap year between high school and college, and continued to work with her thereafter for several years, helping out in the artist's studio and learning the basics of the craft, even as she began her studies at the University of Minnesota.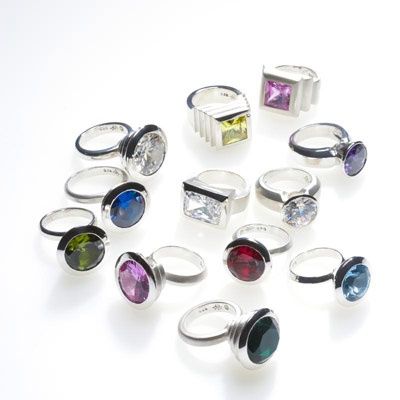 In college, unsure about pursuing the arts professionally, Jacobson shifted her academic focus to history but continued, all the while, to make jewelry and other small, 3D pieces. "I love the fastidious work of making small things, things I can hold in my hand," she says. "I've always liked working with my hands; it's meditative for me, getting into the flow state" of patiently working the metal into the designs she has in mind. She made a full-time business of her creative practice 16 years ago, when her work was picked up for sale in a few prominent venues, notably the Walker Shop at the Walker Art Center, and she began to see an uptick in commissions. "It was an organic process, spurred by a lucky break, really," she says.
Much of Jacobson's work is crafted from affordable materials: silver, recycled precious metals, lab-grown gemstones. It's a conscious choice. "Sourcing is such an opaque process," she says. "It's really hard to determine what's actually 'ethical.' But with a manmade stone, you always know where it came from. One quality, one price – it's easy to grasp. It's easier to start with something affordable but beautiful, and then scale up as needed."
She got into the business of designing wedding rings some years ago, thanks to the popularity of her stylish "Superkarin" cocktail rings: clean-lined pieces in smooth silver with brightly colored, simply cut gemstones. Put one on your finger, and you get the happy flush of a playing dress-up with something fancy. It's beautifully made bling without the burden of status labels or self-conscious flash – a bit of cheerful pop on your hand and at your throat that's eminently wearable day-to-day. These pieces are intended to be fun – finely crafted but not too precious. She says, "I want my Superkarin stuff to be within the reach of anyone, a splurge about the same cost as a great pair of boots."

"I started to get commissions from clients who loved my Superkarin line and wanted something similar for their wedding rings," she explains. "It's intimidating for a lot of us, when it comes time to buy something like that. But I think people come to love the process – talking about what they want and what's important to them – if they can enter into it without a high-pressure sales pitch or some prescribed idea that you have to spend a certain percentage of your annual income just to have a handmade ring that feels special." She goes on, "I wanted to fill the gap between Zales and the gorgeous, but really expensive one-of-a-kind, handmade stuff that just isn't in reach for most people. I wanted to make something beautiful with materials that would also bring my designs into budget for someone like me."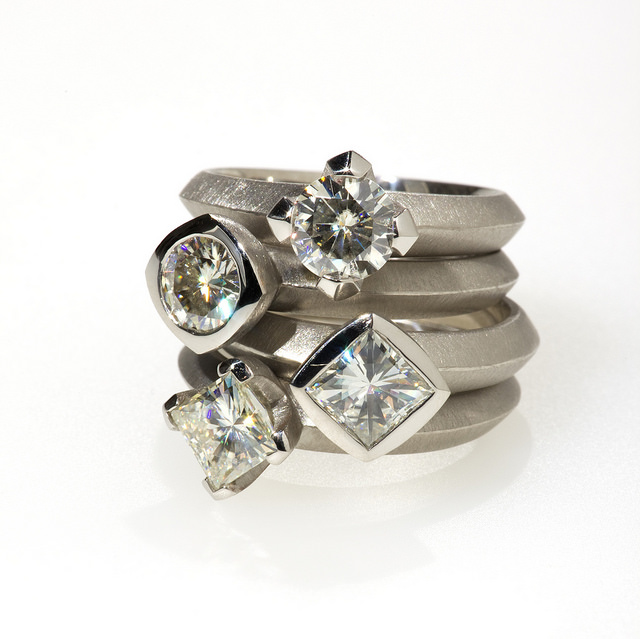 In the last year and half, Jacobson has begun a higher-end jewelry line as well: sculptural pieces in precious metals and oxidized silver, folded into delicate, organic origami-like forms. "These pieces are more clearly and visibly handmade, more involved in the making," she says. And they do particularly well for her in the fine craft scene, in shows like those held by the American Craft Council. Making those higher-end pieces is gratifying, she says – it's a new aesthetic and creative direction for her, and one for which there's a growing market. But continuing to make available a variety of jewelry designs that are within reach of a broad range of budgets is as important to Jacobson as the ethical sourcing of her materials. "People shouldn't have to settle for something ugly, just because they have this idea that they can't afford something beautiful and made just for them."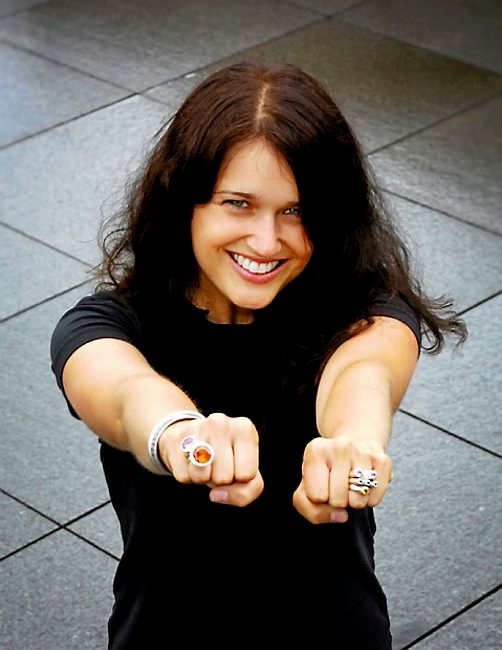 ---
Related links and information: Karin Jacobson's jewelry is available in a variety of galleries and shops, including the Walker Shop, Grand Hand Gallery, and Lowell Lundeen Jewelry. She also welcomes visits to her Northrup King studio for those interested in commissioning pieces or chatting with her directly about her work. Find more work or shop online via www.superkarin.com.