Jack Becker and The Many Lives of Forecast Public Artworks
Americans for the Arts has presented its Public Art Award to "Public Art Review" magazine for outstanding service to the field—a fine start to Forecast's 30th anniversary celebration. Read on for Forecast's "origin story."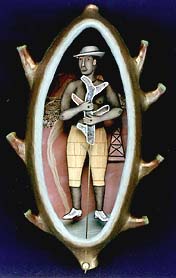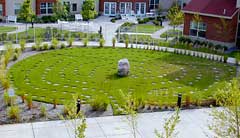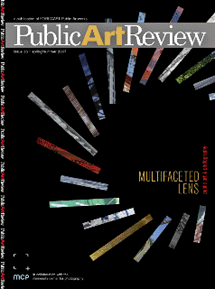 So here's the story of how a few federal dollars and one guy with a telephone and an outrageous sense of possibility enabled hundreds of artists to make art and money:
Ann Klefstad: What's the "origin story" of Forecast Public Artworks?
Jack Becker: Forecast grew out of the CETA program of the late seventies–you know, the Comprehensive Employment and Training Act, a jobs program. It began as City Art Productions, with sixty artists.
AK: How did that happen?
JB: Well, because I was interested in postcards. I did a postcard exhibition at MCAD [the Minneapolis College of Art and Design], and Melisande Charles, who had a collection of 6,000 postcards, was at that time in charge of the Minneapolis Arts Commission. She got CETA money for an artists jobs program, and she hired me to be the "gallery director"–but I didn't have a gallery, I had a desk and a phone at City Hall.
AK: A gallery director with no gallery?
JB: Right, they told me, "The city is your gallery." The telephone was my primary tool . (I always tell artists [trying to set up projects] to say they're calling from City Hall. It's amazing, people are suddenly cooperative, and they'll never check up on you.) We paid artists–they spent half-time in the studio, and half-time in the community. There were poets on the bus, artists in day-care centers, art in storefronts. This was 1977, '78. People were responsive–it was a watershed year for getting artists out into the community. Artists discovered that the community could benefit from their work; people in the community discovered that they could benefit from the expansiveness of the possibilities; and I discovered I was a good connector.
AK: You're a sculptor. How did this kind of job relate to your own work?
JB: I was a sculptor making found-object sculpture, and I found myself making found-object sculpture out of the city. What are the materials? People, places, businesses with materials artists could use, media with a need for subjects, funders who needed greater visibility . . . Connecting artists with public spaces became an art form. I have a theater background as well as visual art, as a director–it helped me to assemble artists and venues . . .
AK: How did Forecast come out of the city program?
JB: The CETA program ended in 1978. That year, there was a conference, organized by Melisande Charles, and our part included a laser show off the roofs of three downtown buildings. Carlyle Osterberg did the lasers–he'd been doing laser shows at the Planetarium with
Steve Tibbets on guitar and Yanni on synthesizer, before Yanni got famous . . . but this was just the lasers. I had to haul sandbags to the roof of the IDS Center, I remember that well! It was fantastic, being on the roof of the IDS . . .
But just before the conference, I stumbled onto a raw warehouse space that someone had fixed up as a gallery, [that person was] Judith Stern. Then she decided she didn't want to run a gallery, and so was trying to sublet the space. (It was just across the alley from the WARM [Women's Art Registry of Minnesota] gallery, so for a while we thought of calling the gallery "Luke"–) I knew the CETA program was coming to an end; I knew all these artists now whose jobs were ending. She sublet the space to me for two months. I called the artists and they all got together, over 50 artists at the very first meeting, and we decided to set up a nonprofit, with an artist panel to select projects. I was gallery director. We needed a name, we needed to find out about the legal stuff. . . .
AK: How did you come up with the name?
JB: Well, halfway through a restless sleep I saw, like a Magritte figure, a man with an umbrella, and the word "Forecast" occurred to me . . . We had slogans based on it, like "for the changing arts climate" . . . it had to do with artists being the ones who are looking ahead, telling what's ahead. Also, "forecast" is a word that, in Minnesota, is used constantly. Free publicity, every night on TV!
AK: What happened to the gallery?
JB: We had gotten a Metro Regional Arts Council grant, and we lasted about 10 months. We had some great shows in that gallery . . . But we discovered that all our money was going to overhead and not to projects, so we decided to go back to being a no-overhead organization.
Fire in the Lakes Association, a woodworking co-op, gave us a desk and a phone, and they said, when you guys get projects we want to be hired to help build them . . .
Then I looked for empty storefronts and empty spaces. Our first project was in the Loring Corners building [where the Loring Cafe eventually moved in–and recently left]. MCAD classmates Norman Andersen,
Brad Jirka, Dave Linell, Katy Jones, and Scott Coran did the show "Midwest Electric Art" to celebrate the 100th birthday of the light bulb. (Later some of these people went on to form St. Elmo's Fire, a neon-art company.)
Ben Whitney owned the space, and we went to him about it. After some negotiation, they donated the space. We found the money and time to do the build-in, and then when I went in to start–no electricity! It took a lot of work to run electricity into the space. We were able to get money from NSP for the show, though.
AK: Was the show successful? What results did it produce?
JB: We got that space, it was so visible, it was a huge success, a lot of media interest. Artists started to sell, and Forecast become known as a public arts organization.
AK: What was the next big thing?
JB: In 1980 we did the show "Environmental Art and Sculpture", in the Seward neighborhood and all along the Mississippi River. This was the event that grounded us as a public arts organization.
AK: Yes, I remember that show. there were sculptures sited along the river . . . You had a lot of publicity for it.
JB: We've always done events along with the sculpture, performance, parties, music, multimedia . . . What we lacked in visibility as an ongoing organization with a space, we made up for in high visibility of the projects. Giving artists high visibility in media to develop their careers . . . We also learned how to publish, print, design materials that would last . . .documenting the projects was always important.
AK: Things proliferated after that?
JB: Yes, we went on a project-to-project basis and produced a lot of work. Eventually we realized we could set up ongoing programs, and we started two, a grants program and Public Art Review. Public Art Affairs is a regranting program funded by Jerome–it became a way of supporting emerging public artists from around the state, almost like a little fellowship program. The unique aspect is the R and D. [Public Art Affairs gives $4,000 grants to do artist-initiated projects, and $1,000 grants to research and develop projects, with no requirement that they be done.] This enables artists to discover how to create a project. It stimulates artists to get out of their studios and do art in the public realm.
We started Public Art Review in 1989, publishing two issues a year. We thought we were going to be regional, but from the first issue, we realized it was just as easy to go national. We're still the only publication on public art in the nation.
AK: What's the current direction of Forecast?
JB: Well, about ten years ago we realized we could facilitate other organizations with a need for public art. We have lots of experience, and a database of over 1,500 artists. So we decided to put ourselves out there as consultants, to raise money for Forecast programs. It started about 1994 with Joel Sisson and the Green Chair project . . . .
AK: That's worth an interview in itself! [The Green Chair project originated in the theft of a green Adirondack chair from the lawn of Joel Sisson, and grew out of his response to the theft: he started building, with the help of neighborhood youth, a chair for every lawn on his block, and he and the kids delivered them by night–a kind of reverse theft. It all took off from there, in a surreally spiraling giddy course that encompassed giant Green Chairs, masses of Green Chairs converging on Washington, a kit in a box for building Green Chairs, and other unlikely events.]
JB: The list of clients now is longer than my arm–demand for services is constant. Now the Public Art Services Program accounts for one-third of our annual budget. I'm still connecting, like a broker of sorts, and I'm still exercising my found-objects instincts, combining artists, community spaces, and a supportive public. I guess you could say I'm a social sculptor.
Help Forecast celebrate the award, the release of the new Public Art Review, and honor Jack Becker's generation of service to the field: Come to a reception at the Minnesota Center for Photography (165 13th Ave NE, Minneapolis). It's 6 – 8 p.m., Monday, June 18.