In Heavy Rotation
Art historian Sheila Dickinson grapples with art, transformation and ethics-in-action, inside the studio and out, by way of Chris Larson's mind-bending work.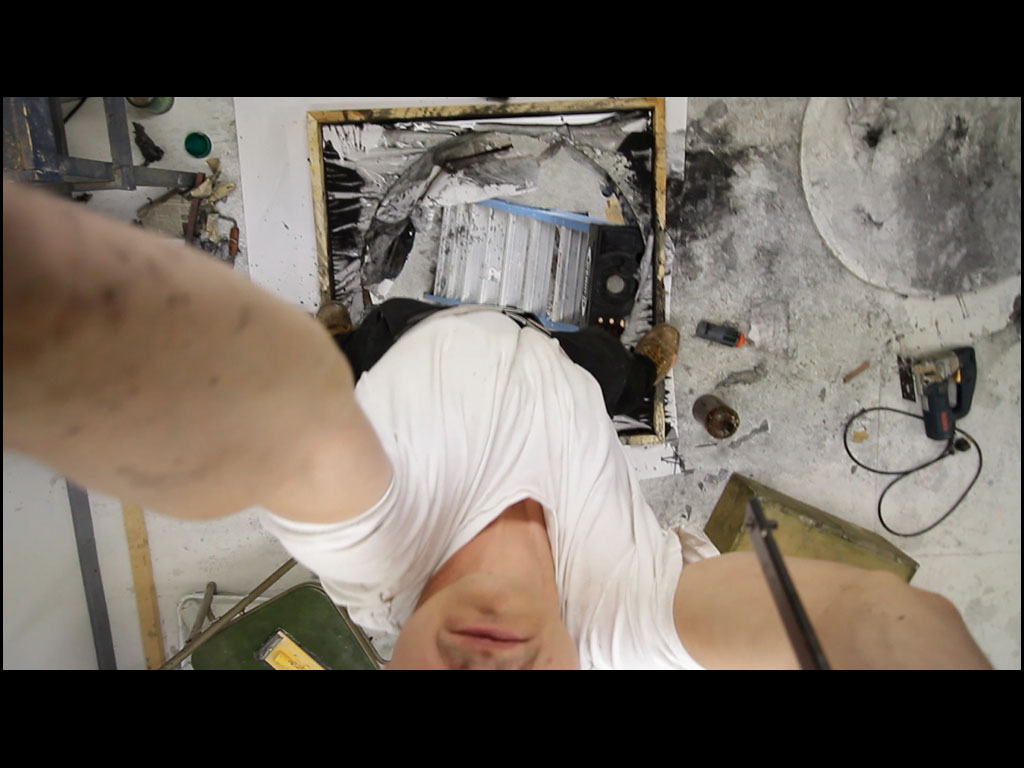 I recently heard a story on the radio about a man who realized he was stuck in his life, crippled by a fear of failure. Determined to make a change, he set out to fail, every day at least once. One day he might approach a stranger in a store and ask that person to drive him somewhere — a request that would surely, most of the time, leave him rejected. His theory, I suppose, is that the more he acclimates himself to small-stakes rejection and failure, the less scary it will feel when he takes a chance in pursuit of something he really wants.
His story makes me think of this: The barriers between the now and some hypothetical future are merely mental fabrications. Our sense of being, right now, is always in flux; each moment is moving into something, someplace different — transforming again and again, always becoming. We might establish routines and rituals in attempts to stabilize the constant ebb and flow of time, but the novelty of each moment provides humans endless opportunities for change — and for failure.
I feel like I should offer a spoiler alert of some kind at this point. I really don't want to tell you much of what happens in Chris Larson's Heavy Rotation video work; I'm reluctant to ruin the freshness of your confusion when you first see it. So, proceed at your own risk.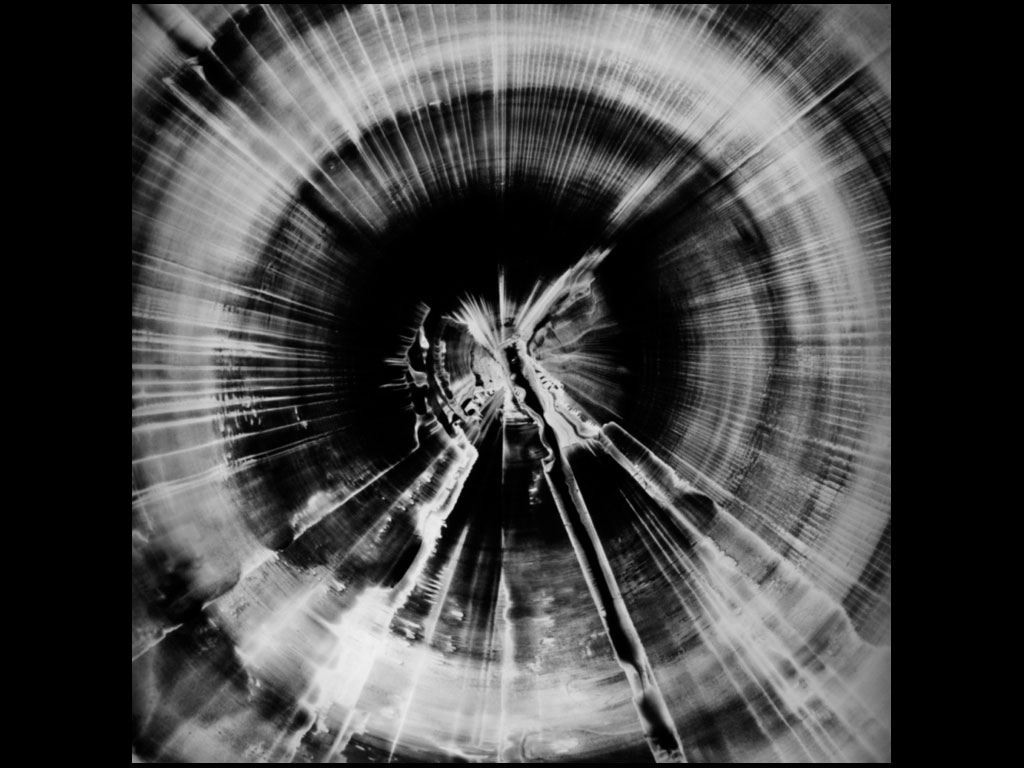 Sitting in a small viewing room at the Walker, I keep second-guessing the content of what I see on screen. Larson's video begins with a view from above as the artist nails four wooden plinths into the floor in the shape of a square, and then one more directly in its center. He pours black paint on one side of the central plinth. Then Larson begins to turn the central piece quickly, creating a black circle within the frame. The reference in the work's title, Heavy Rotation, is suddenly clear: records, music, repeated playing. He's turning it, turning quickly, until the bottom of the frame literally falls out! Larson grabs a ladder and proceeds to climb down the hole he has made into — what, the exact same room? He grabs the camera with which he's filming all this and carries it with him down the ladder into a space that looks just like the studio from which he just came. The same tools are there, a very similar set-up as in the first scene. He puts down the camera and begins the process all over again: hammering the plinths into a square, making the black circle, turning the central plinth. And afterward, there he goes, down the rabbit hole again, following after the black circle as it clanks down into yet another room just below. But a couple of things in this third studio look different. It's not quite as messy as the first two. This time, the artist just leaves, walks out the door of the studio. And when he's gone, instead of the black paint swirling around in a circle, the entire structure of the studio begins to rotate, tilting upward. The tools, shelves, ladder, phone, everything slides to one end of the room and then, slowly, comes to rest back down again. The end.
I walk out of the viewing room and happen to run into a former art student of mine who is now a guard at the Walker. I ask what she thought of Larson's video. She tells me Larson came to talk to her class one day, but that she still found the work confusing. I concur. I ask, "But the whole studio is moving in the video, right?" "Right," she says.
I try to look at other art, but my head is elsewhere, still trying to figure out what just happened. I've got to go back.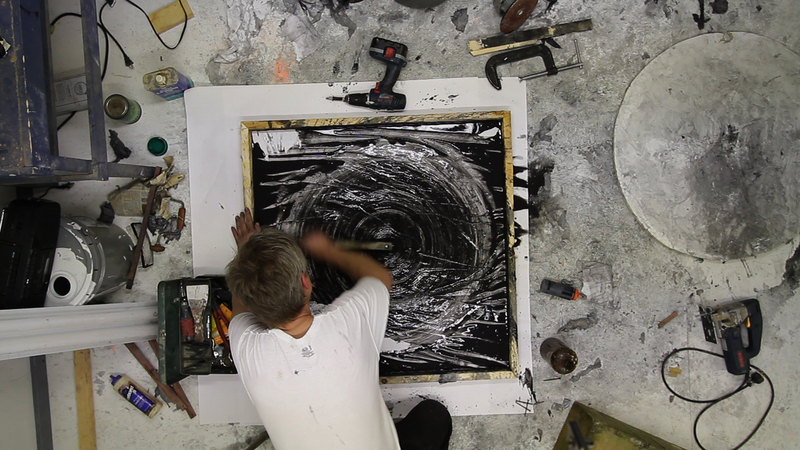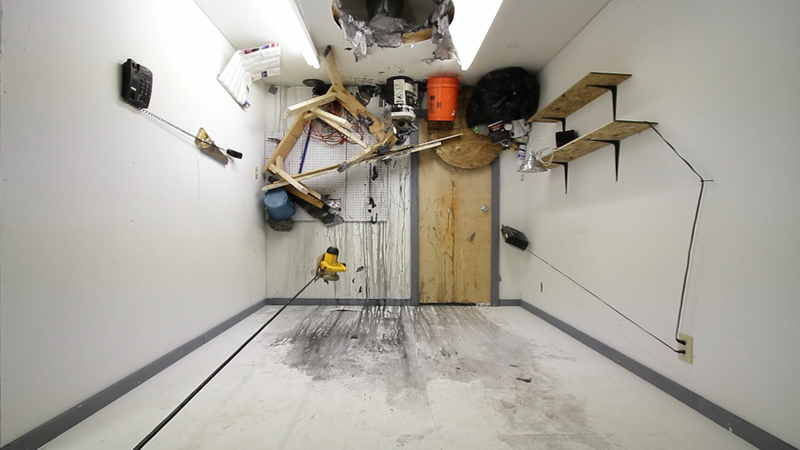 So, I return. And I sit through another loop of the video, with the idea that if I can make sense of the logistics, Larson's piece won't puzzle me so much. The clichéd comparison that springs to mind is MC Escher. And the experience of watching Heavy Rotation is somewhat like looking at an Escher drawing where people walk on double-sided staircases, begging the viewer to turn the image and watch dimensions disappear. This coalescence of dimensions is the trippy part of the artwork that gets you hooked and returning for more. But the tease, the playful tension in prompting the viewer to always question, "Hey, what's going on here?," is just clever bait. This fun, if somewhat superficial, drama is most likely the main source of Heavy Rotation's popularity; the work was chosen for inclusion in both the Whitney Biennial and Crystal Bridges State of the Art exhibition, then purchased for the Walker collection. But the real hook in Larson's piece, the thing that keeps the viewer thinking about the video long after the trippy visuals have lost their punch, is the preponderance of bigger, heavier conceptual content behind the tease — about cycles, transformation, instability, and possibilities of progress.
His entry into the canvas, stepping through the wooden square frame he creates on the floor of his studio, is emblematic of art as transformation. But this transformative experience is stunted when, at the climactic moment of his passage into a new space, he finds himself in essentially the same room, performing the same actions, repeating himself as an artist. Aesthetically stuck in the studio, he has no choice but to leave, to walk out into something else — to enter lived experience and change it up, take drastic measures, and make the studio itself move and change.
We are witnessing an artist's traumatic aesthetic upheaval from static formalism — constructing objects that hold together and sit obediently in the white cube space — to the deconstruction of all those conventional modes of making and showing work. Larson follows in the steps of a litany of other artists' ruminations about what to do in and with the artist studio experience. I'm reminded of Bruce Nauman's early video work, where the camera watches him walk awkwardly around a square taped to the floor (Nauman's video Walking in an Exaggerated Manner Around the Perimeter of a Square, 1967 is also in the Walker collection). And can hear Nauman's manifesto-like quote: "If I am an artist and I am in my studio, then whatever I do in my studio is art" ringing in my ear. Larson takes Nauman's notion of even further, as Heavy Rotation follows the artist as he walks out of the door and into the world beyond. The implication is what the artist does outside the studio is also art.
Chris Larson has put the concept of transformation via destruction front and center in his work before. Earlier pieces have, like Heavy Rotation, pushed against the boundaries of the studio experience. Celebration/Love/Loss was Larson's contribution to the 2013 Northern Spark, a nuit blanche all-night art festival geared to make the most of the short nights and long days of the Minnesota summer. With non-durable materials, cardboard and wood, Larson built a life-size, exact replica of the only Marcel Breuer designed residence in Minnesota; the original sits in the Mississippi River bluffs of St. Paul's East Side. Resituated in a field beside the train track-lined river in downtown St. Paul, the reimagined, cardboard duplicate of Breuer house was set aflame during the festival. At 2 a.m., the made-for-destruction building was ignited as a crowd gathered to watch the fiery performance — a bonfire of sorts. Bonfires, for centuries, have marked the passing of the seasons: marking time, celebrating the transformations of death into life that cycle over and over again in nature. Like Heavy Rotation, Celebration/Love/Loss was large and dramatic, intent on confusing the viewer into wondering about the true state of things. The insanity of it all draws us in.
Before Larson's project for Northern Spark, few knew of Breuer's architectural gem in St. Paul. Larson himself learned about it only a few years beforehand, despite a childhood spent in its proximity. Breuer is best known for his extraordinary modernist spiritual statement, St. John's Abbey at St. John's University in northern Minnesota. While there, Breuer befriended a monk, Frank Kacmarcik, and created the modest St. Paul residence for him as gift. Designed with a simple L-shaped floor plan, the house was built using only three materials: cinder block, cypress wood ceilings, and tile flooring. Two wall-size windows offer views of the Mississippi and downtown St. Paul — high culture in a Midwestern, second-tier city. It's true international Modernist architecture, but it's not in the art history books and largely irrelevant in Breuer's oeuvre.
What does it mean that Larson painstakingly, to the inch, reconstructed Breuer's house, only to burn it down? Is it an homage? A testament, perhaps, to a failure of contemporary building habits to embrace modernist change? Or, is it, as the artist attests, really about rebirth, transformative change? Is it intended to lay the ground for change, for progress?
The art historian in me wants to push this notion into the realm of aesthetics, to see Larson's gesture as a tearing down of the sort of capital-M-Modernism that ostracized the provinces and obliterated the relevance of local, folk, or historical visual expressions in favor of formal abstraction. Celebration/Love/Loss could be seen as a symbolic obliteration and rebirth of Modernism itself — burning it in effigy and then reaching into history to resituate its symbol in a beyond-modernism present, reconstituting its relevance for the future visual art, here, reborn from the ash.
And out of that ash social relevance is born! An unlikely and unconventional artistic journey has taken the St. Paul Breuer house to Kenya to be reconstructed yet again, this time out of the original, durable materials at which point it will be put to use housing a health clinic for a remote African village. This iteration of the project is the work of Michael Kimpur, cofounder of the Daylight Center and School in Kapenguri, Kenya, who teamed up with a fellow Bethel University graduate Nathan Roberts, who in turn connected with Chris Larson, another Bethel grad. Together they envision a clean, open and inviting space from which to offer children life-altering medical attention close to home. (Now, it's an hour-long journey to the nearest town for those in need of physicians' care.)
This collaboration brings to Larson's Northern Spark experiment an incredible, tangible beauty that goes beyond aesthetics and into an ethics that breathes life into art extending far beyond the studio cube.
Related exhibition information:
Chris Larson's Heavy Rotation is on view as part of the exhibition, Art at the Center, at Walker Art Center through December 31, 2016.
Sheila Dickinson is an art critic and art historian based in St. Paul. She wrote regularly for Circa Art Magazine in Ireland and for Quodlitbetica, and she currently writes for Mn Artists and Temporary Art Review. She teaches in the Art History Department at the University of St. Thomas.