FRINGE SHORTS: "The Unknown Matters" by Broken Boot Theatre
Isn't the promise of space exploration exciting enough, and the implications of the existence of dark matter thrilling enough, without needing to be twisted into a facile metaphor for loneliness?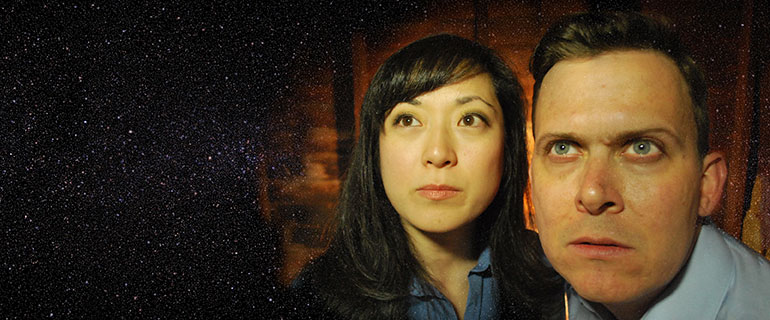 I'M JUST THE RIGHT KIND OF GEEK to have an almost Pavlovian response to the physics and astronomy terms that get kicked around in Broken Boot Theatre's The Unknown Matters. The Kepler mission alone (which features prominently as one character's primary obsession) I regard as a key argument for why this is an exciting time to be alive: So much of our universe has unfolded for us in the past few decades, why would you want to live anywhen else?
Playwright Mark Sweeney is evidently that kind of geek, too, so I settled in early on for an entertaining hour. But after the first few minutes, I found myself struggling to get my head around this play — exactly what it was, what it was trying to express and who it was trying to express that to. Ultimately, it takes the shape of a workplace drama, telling us the story of two career-obsessed professionals who are struggling to relate to each other; the fact that they're physicists is almost incidental, which I can't help regarding as a bit of a disappointment.
(I also found myself chafing at what I first regarded to be bad acting, but quickly realized was very competent acting in a style that I cordially dislike. It's that cheerful, self-consciously whimsical, bizarrely ritualized style associated with musical theatre, and I recognize it both as something that is valid and enjoyed by many, and as something that I find irritatingly cute.)
The Unknown Matters isn't an idea piece but a character study, one expressed through dialogue and song, both of which, I'm pained to note, I found somewhat maudlin. Pained, I say, because this is so clearly a labor of love: there's so something so commendably earnest about the whole thing that I'm sorry to not be a part of their admiring audience this go-round.
Rather, I felt teased. Perhaps it's churlish to complain about a show for being something that it isn't, rather than for what it is: but to raise a series of thrilling, exciting concepts, and then to use them as little more than reflections of interpersonal relationships … Well, I felt like I did watching the latest slew of Star Trek movies: wondering when the exploration of space became so tedious to us that we needed to drown it out with screenplay-formula bombastics. Surely the implications of the existence of dark matter are thrilling enough, without needing to be twisted into a facile metaphor for loneliness.
_____________________________________________________
Event links and information:
The Unknown Matters, presented by Broken Boot Theatre and written by Mark Sweeney, is on stage at HUGE Theater Thursday (8/1), Saturday (8/3), Monday (8/5), Thursday (8/8), and Saturday (8/10) of the Fringe Festival. For additional details and specific show times: https://www.fringefestival.org/2013/show/?id=2553
Check back on the homepage regularly throughout the Fringe Festival, August 1 – 11, for more short reviews on mnartists.org, sent in from our intrepid performance critics on the scene.
_____________________________________________________
About the author: phillip andrew bennett low is a Chinese-American playwright and poet, storyteller and mime, theatre critic and libertarian activist. His performances have won acclaim at such varied venues as the Minnesota Renaissance Festival, Spirit in the House, FoolFest, CONvergence, and the Chicago, DC, Indianapolis, Iowa, and Kansas City Fringe Festivals — even as far as Melbourne, Australia. At the 2007 Minnesota Fringe, his hit one-man showDescendant of Dragons was the bestselling show in its venue and awarded a coveted Fringe Encore slot, while his storytelling performances have been nominated for awards by local website FringeFamous for three years running. He is the co-founder of theRockstar Storytellers (for which he served as Chair for the two years that position existed) and was founder and producer of the touring theatre troupe Maximum Verbosity.
He can be seen at this year's Minnesota Fringe Festival in his own show The Concept of Anxiety. Also at the Festival, he has writtenLauncelot and Guenever for Six Elements Theatre, written and directed a sketch for Fringe Orphans 2: Orphan Harder by Navel Gaze Productions, and will be performing in The Diamond Lens by Hardcover Theater.