A Future Past
"Relics" is a play taking stock of the present day through the lens of a post-apocalyptic future, a natural history exhibit exploring the strange artifacts of long since forgotten 21st-century culture.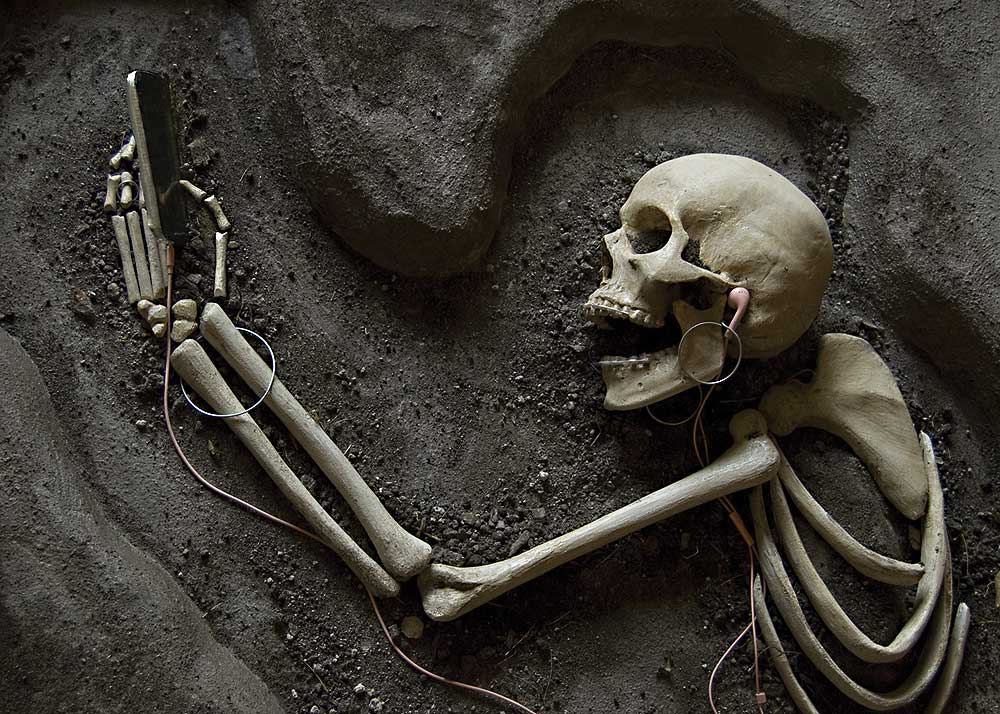 Cast yourself 300 years hence, in the wake of some cataclysmic event that's wiped the world nearly clear of people, after a clean-up crew has erased (almost) all vestiges of life in the 21st century. What might a sojourner make of a device for straightening women's hair? It's an "ambrosia cake heater," of course (for those chemical-laden snack cakes, a.k.a. Twinkies, which would survive as well). What of a tanning bed? That's surely a torture device. Cans of frosting and bottles of candy sprinkles? A spackle-like opportunity for personal adornment. A room hung with Calphalon pans is likewise a parlor in which to create percussive musical sounds with various tools (spatulas, wooden spoons, beaters) also left behind.
Welcome to the clever, delightful and often downright silly world of Relics, now showing in the Dowling Studio at the Guthrie Theater. Part natural-history museum exhibition, part performance art, Relics is a post-apocalyptic dystopia imagined by visual artist Nick Golfis (who works the Guthrie's prop shop), Twin Cities actor Sarah Agnew, and New York-based director and performance artist Chantal Pavageaux.
Tapping into current fears about possible plagues (everyone is questioned about possible contagion and "sprayed down" upon entering) and global cataclysms (earthquakes or eruptions of some sort are also hinted at), Relics takes a topical, pointed and yet benign approach to examining life in the 21st century. And it all begins with Eleanor Buntcliff.
Throughout the hour-long immersive experience, visitors are guided—and protected by—the Anarchyologists, a group that's assembled the wondrous findings of Eleanor Buntcliff. While on a cross-continental field trip through the wasteland, Buntcliff fell into a hole and accidentally discovered a house still containing wonders of the 21st century. It's quite a find – all the more so, given the nefarious Truemen (played with not-quite-enough menace by the performers of Supergroup) have made it their mission to "prove" their supremacy by destroying all vestiges of former humanity.
______________________________________________________
In this dystopic future, what do archeologists make of a tanning bed?
That's surely a torture device. Cans of frosting and bottles of candy sprinkles?
A spackle-like opportunity for personal adornment.
______________________________________________________
Indeed, Buntcliff, too, disappeared following her discovery. But here, on stage, a rogue group of Anarchyologists have bravely—and secretively—mounted Buntcliff's trove of wondrous objects revealing clues to that long-forgotten culture. And how the lost Buntcliff and her followers interpret these "found" objects is hilarious. But the Anarchyologists' analysis of her findings also reflects how, in Western anthropology and archaeology, the desire to understand and attribute meaning to a radically different culture's objects, rituals, activities and people can go so unbelievably wrong.
Among her discoveries is the "Buntcliff Mechanism" — the devices we know as smartphones and tablets, here interpreted to be the life-extending Right Hand of the Ancients. (Poignant that, as we now contend with how to manage our digital lives in the present, as well as the digital lives of loved ones who have passed away). There is "deathless greenery" (a fake plant), the "umbilical cord of the Ancients" (an industrial electrical cord) and a "fertility figure" (a computer mouse).
The coup de grace? A room with the sign "Knock," in which Buntcliff found the skeleton of an adolescent figure wearing bracelets, a retainer, and ear buds connected to a smartphone. The analysis? It is the sacred chamber of The Holy One. The walls of The Holy One's room are adorned with cat posters — Grumpy Cat, the I Can Haz Cheezburger kitty, Lil Bub, and so many more — all feline deities, of course.
Enough with the spoilers. Suffice it to say that audience interaction is encouraged, whether you are tempted to open those large "containers," enticed into playing the pots and pans, or have a question for the Anarchyologists. There's even a museum gift shop leading into a performance area. Here, the actors, whose imaginative use of objects is at once goofy and revelatory, further elucidate Buntcliff's story and delve more deeply into the history of the Ancients.
Or, "Anccccients," as Luverne Seifert, the narrator, pronounces the word with reverence and exuberance. Wearing two pairs of glasses and the white shirt, tie and black pants uniform of the Anarchyologists, he's the perfect historical guide for this enjoyable experience. Unlike the fictional dystopias du jour popular now in books and on screen, Relics never takes itself too seriously. Still, embedded in the amusement is a purposeful look at ourselves, and our hallowing of the objects we seemingly can't live without.
Related performance information:
Relics is on stage November 13 through 23 in the Dowling Studio at the Guthrie Theater in Minnepolis. For ticket information and specific performance times, visit the Guthrie's website.
Camille LeFevre is a long-time dance writer in the Twin Cities and the editor of The Line, an online publication about the creative economy of the Twin Cities.