FRINGE SHORT: "You/Provoke/Me" by Same Planet Different World Dance Company
Lightsey Darst weighs in on the crowd-pleasing dance concert by this Chicago company -- she found it agreeable if not groundbreaking, on the whole.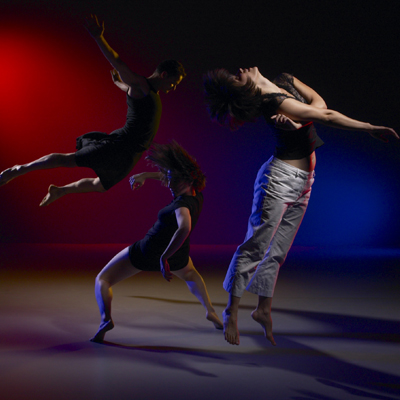 I CAN SEE WHY THE AUDIENCE WAS HAPPY at Same Planet Different World's show: this Chicago company delivered professional choreography, polished performance, some laughs, and some moods — all in the bite-size package of an hour-long Fringe show. At the Fringe, where one frequently finds shows created by people who apparently have never seen any other performances, this level of professionalism is striking. It's as if Zenon condescended to do the Fringe — nearly.
The show begins breathlessly, with the stage in a moody half-light and black-clad dancers swaying and catching themselves in whiplash moves. From there, though, it gets less interesting. It's not as if any of the five pieces in the concert fall flat, they just don't rise above their ingredients — usually liquid, propulsive, ballet-modern movement wrapped around relationship drama, and dependent on music. If they don't get far, though, they're still starting a cut above the Fringe average. One duet is derivative emo slush, but, you know, oh well. It's sincere, it's well performed, and even if the moves are secondhand, that doesn't rob them of their effect as pictures. A quartet launches into some rock music with modern dance's answer to hip-hop locking. The resulting awesomeness is a little labored, but just a little, and then John Lennon's "Oh Yoko" takes over for a sweet finale.
The last piece in the concert, Joanna Rosenthal's "Sextet," is an exception. At first, guys in '50s square outfits and girls in sundresses cavort to barbershop-esque music, all of them wearing sunny smiles. But something goes awry: their smiles get a little fixed, a little maniacal, and the games they're playing turn just slightly nasty — two guys against one girl, etc. Is it rape? Is it the Cold War? Then the soundtrack switches to Juke Baritone's off-color cabaret and things get really unhinged. When the lights suddenly go out, "Sextet" is teetering on the edge of raunch — leapfrog in one corner, a girl lying full-length in the other. I don't know what Rosenthal's trying to do, but at least she breaks the flat polish of the rest of this show. This is Fringe, after all — we want to see a little crazy.
*****
Fringe performance details for this show:
You/Provoke/Me by Same Planet Different World Dance Theatre was on stage at the University of Minnesota Rarig Center Proscenium – their last Fringe performance was on August 4.
Check back regularly throughout the Fringe Festival for more short reviews on mnartists.org, sent in from our intrepid performance critics.
About the writer: Lightsey Darst writes on dance for Mpls/St Paul magazine. She is also a poet who served as the founding coordinator of mnartists.org's What Light: This Week's Poem publication project, and the founder and host of a monthly writers' salon, The Works, at the Bryant Lake Bowl.