Everything Was Beautiful and Nothing Hurt
Camille LeFevre on the ways ballet is going mainstream, from Starz network's new show, "Flesh and Bone," to "Bunheads" and CW's "Breaking Pointe," whose starring company, Ballet West, was recently on stage at Northrop.
On November 8, the Starz television network (known for such vivid dramas as Pillars of the Earth, sex- and violence-drenched series' as Black Sails and Spartacus, and the fantasy Outlander) debuts a new show: Flesh and Bone. No, it's not another zombie serial, but rather a fiction about a mentally disturbed young ballerina who joins a major New York company.
Wait: Didn't Black Swan already cover that territory? Apparently not like this. Flesh and Bone is reportedly based on the experiences of Moira Walley-Beckett, a former dancer best known for writing the award-winning "Ozymandias" episode of Breaking Bad, of which she was also executive producer. Flesh and Bone is being billed as Center Stage meets Breaking Bad, and stars a professional ballerina (Sarah Hay, who also appeared in Black Swan) as well as former James Sewell Ballet dancer Emily Tyra.
In other words, all of the behind-the-scenes military-style discipline, sweat-drenched physical work, bleeding feet, broken bones, mind-numbing repetition, and cutthroat competition of the ballet world will be on display—escalated, even, to new dramatic heights. Will it succeed where the critically acclaimed Bunheads, or even the much-panned CW reality show Breaking Pointe, in which dancers from the Salt Lake City-based company Ballet West tediously sniped and whined at each other, did not?
Ballet is, after all, predicated on illusion, on the beauty of seemingly effortless physical and technical perfection. Perhaps the television-watching public and concert dance's live audiences simply aren't interested in the psychodramas and physical pain—real and imagined—behind ballet. "Everything was beautiful at the ballet," according to the song from A Chorus Line. And it certainly was on a recent Saturday night when the 2015/16 Northrop dance series opened with two mid-century works of classic Americana performed by Ballet West.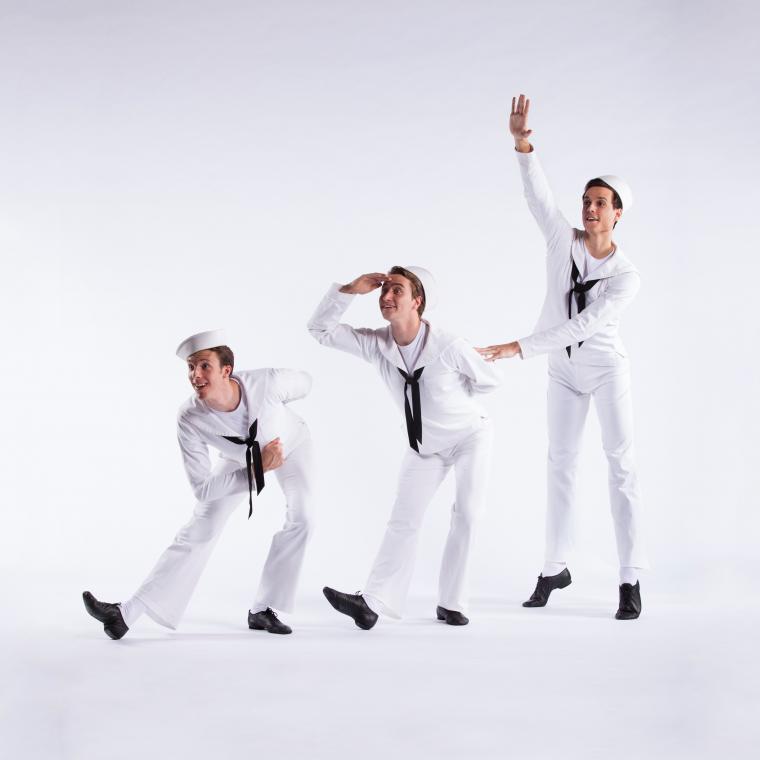 The titles said it all: "Fancy Free," with choreography by Jerome Robbins and music by Leonard Bernstein; and "Who Cares?" with choreography by George Balanchine and music by George Gershwin. It was a decidedly anti-drama program that blithely celebrated the social mores and gender roles of men and women in 1940s-50s America. At the same time, who could fault such a carefree, soft season opening?
The dancers, in the company premiere of "Fancy Free," fully embraced Robbins' gestural narrative. The piece centers on three sailors on shore leave and their attempts to charm and pick up three women. The suave and lanky Chase O'Connell, sturdy and athletic Adrian Fry, and exuberant and charismatic Joshua Whitehead zip around the stage and around the mid-century-modern-style bar (staffed by Trevor Naumann) with laser-like precision, crystal clear gestures and energetic enthusiasm.
Meanwhile, Allison Debona (whose romances and life decisions were an ongoing theme in Breaking Pointe) partners and observes the men appreciatively. Gabrielle Salvatto—encumbered by a purse—challenges and outdoes them. And Anisa Scott adds a dash of silky insouciance. Delightful and overflowing with effervescence, the piece bubbled with lightness and joy.

Similarly, Balanchine's delightful musicality was on full display in "Who Cares?" Sixteen Gershwin songs get the classical ballet treatment, but stretched into tantalizing choreography that illuminates the composer's fascinating rhythms as the dancers charm through various duets, solos and stage-filling ensembles. Christopher Sellars is a triple threat, partnering three ballerinas through their candy-colored divertissement. Beckanne Sisk (also featured in Breaking Pointe an up and coming soloist), Katherine Lawrence and Arolyn Williams all invest Balanchine's steps and phrasing with the required speed, precision, and virtuosity. Smiles, joy, and passion fleetingly caress their faces, as Sellars embraces, lifts, supports, and leads them through moments of balletic luminosity, adding bountiful leaps and bounds during his solos as well.
As if these bon-bons were not enough, the dancers were accompanied by live orchestra: 50 performers from the Twin Cities led by conductor Jared Oaks. Toward the end of "Who Cares?" Thomas Linker's piano playing seemed about to careen right out of the orchestra pit, bringing to mind the dancers' worrying, on Breaking Pointe, about tempos when performing to live orchestra. But the center held.
And that's probably what the traditional ballet-watching public mostly wants to see. Even what, after Breaking Pointe, Ballet West wants its audience to experience. Ballet that uplifts, delights, and entertains—on stage, in live performance. Whether Flesh and Bone can accomplish what Breaking Pointe and Bunheads couldn't—a television audience—remains to be seen. Just add zombies.
Noted performance details:
Ballet West performed at Northrop Auditorium in Minneapolis on Saturday, October 3.
Flesh and Bone premieres on Starz on November 8, 2015. (You can watch the trailer here.)
Camille LeFevre is a long-time dance writer in the Twin Cities and the editor of The Line, an online publication about the creative economy of the Twin Cities.