Dyani White Hawk: Speaking to Relatives
The influence of Indigenous aesthetics on abstract painting, material hierarchies, and retelling histories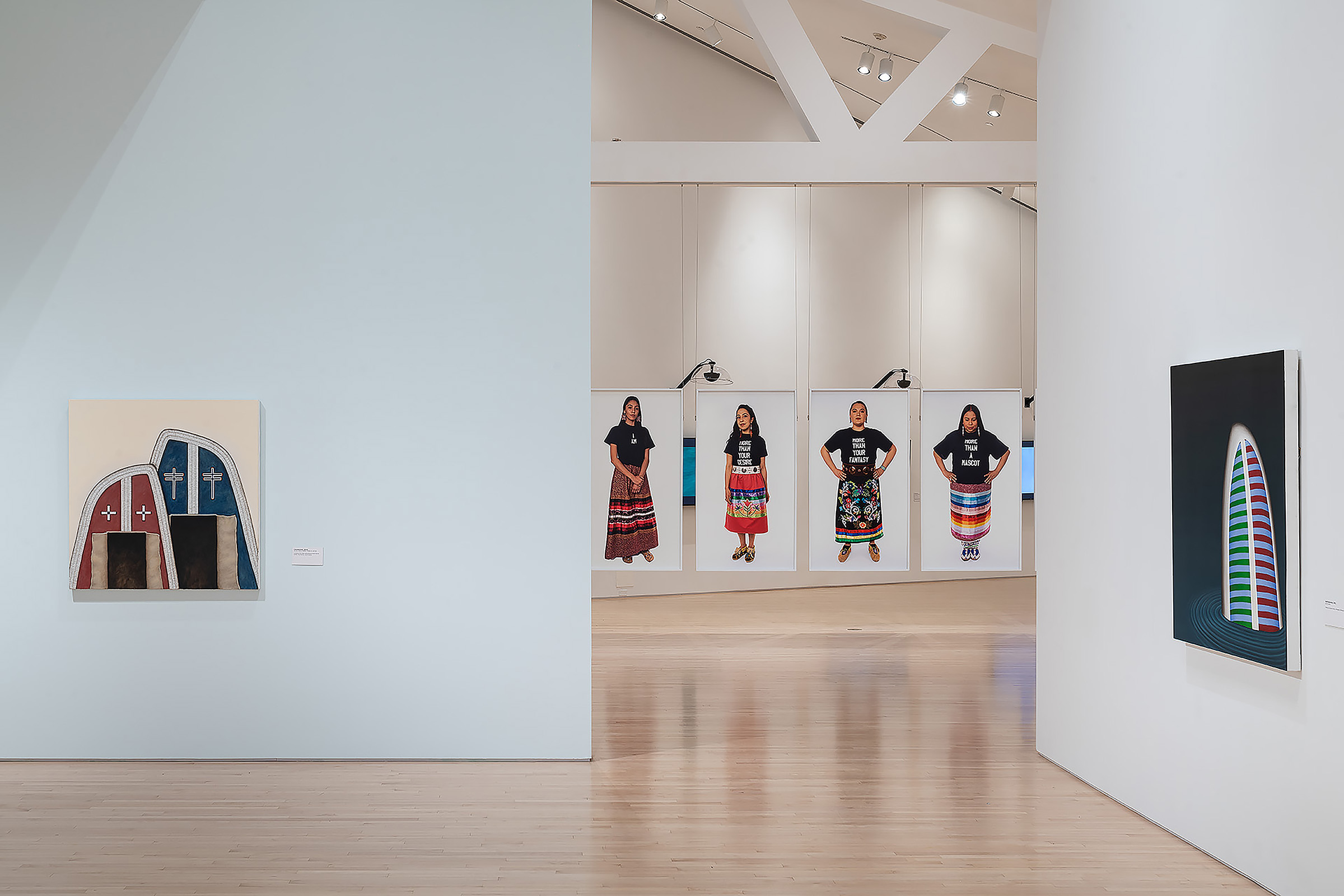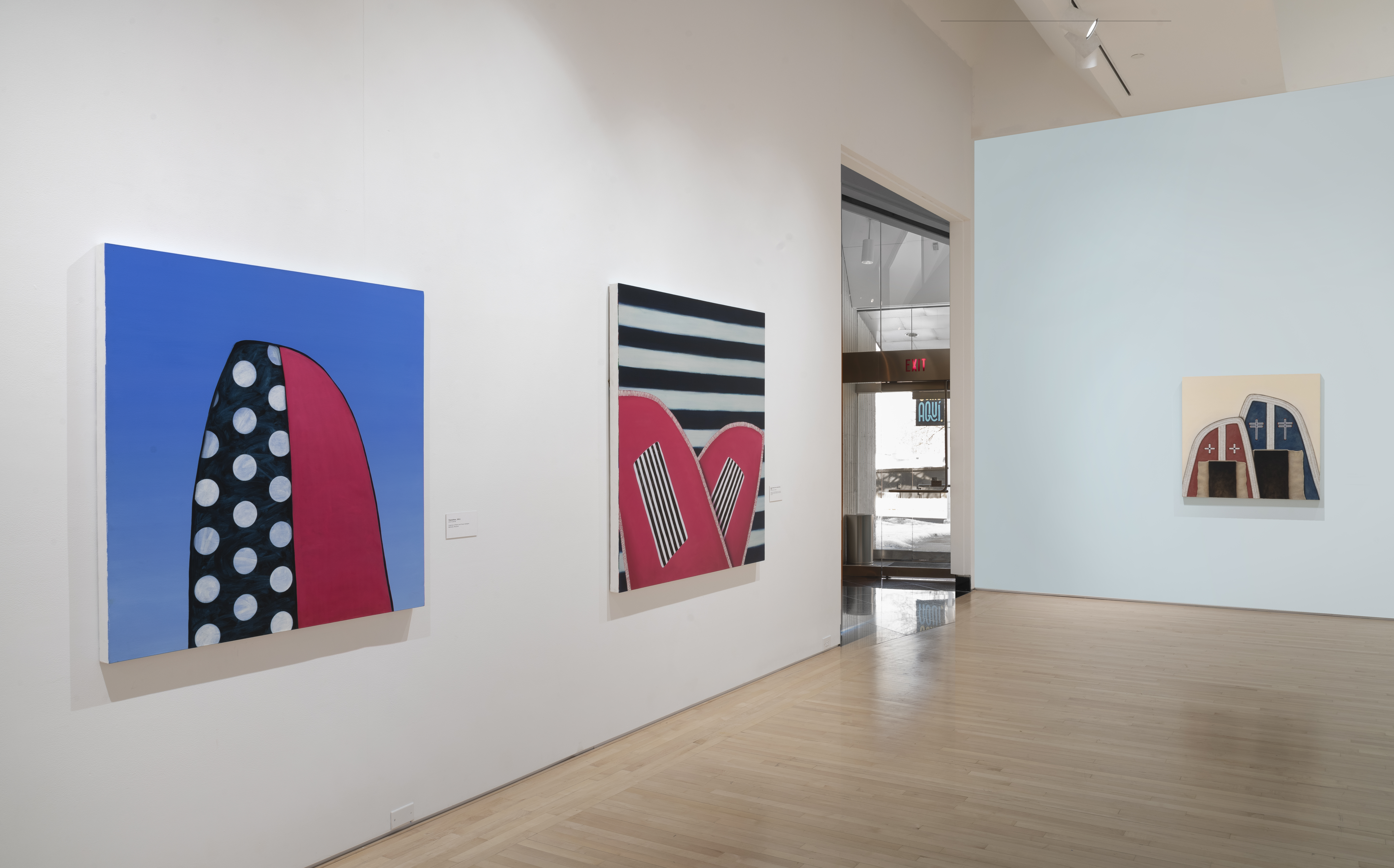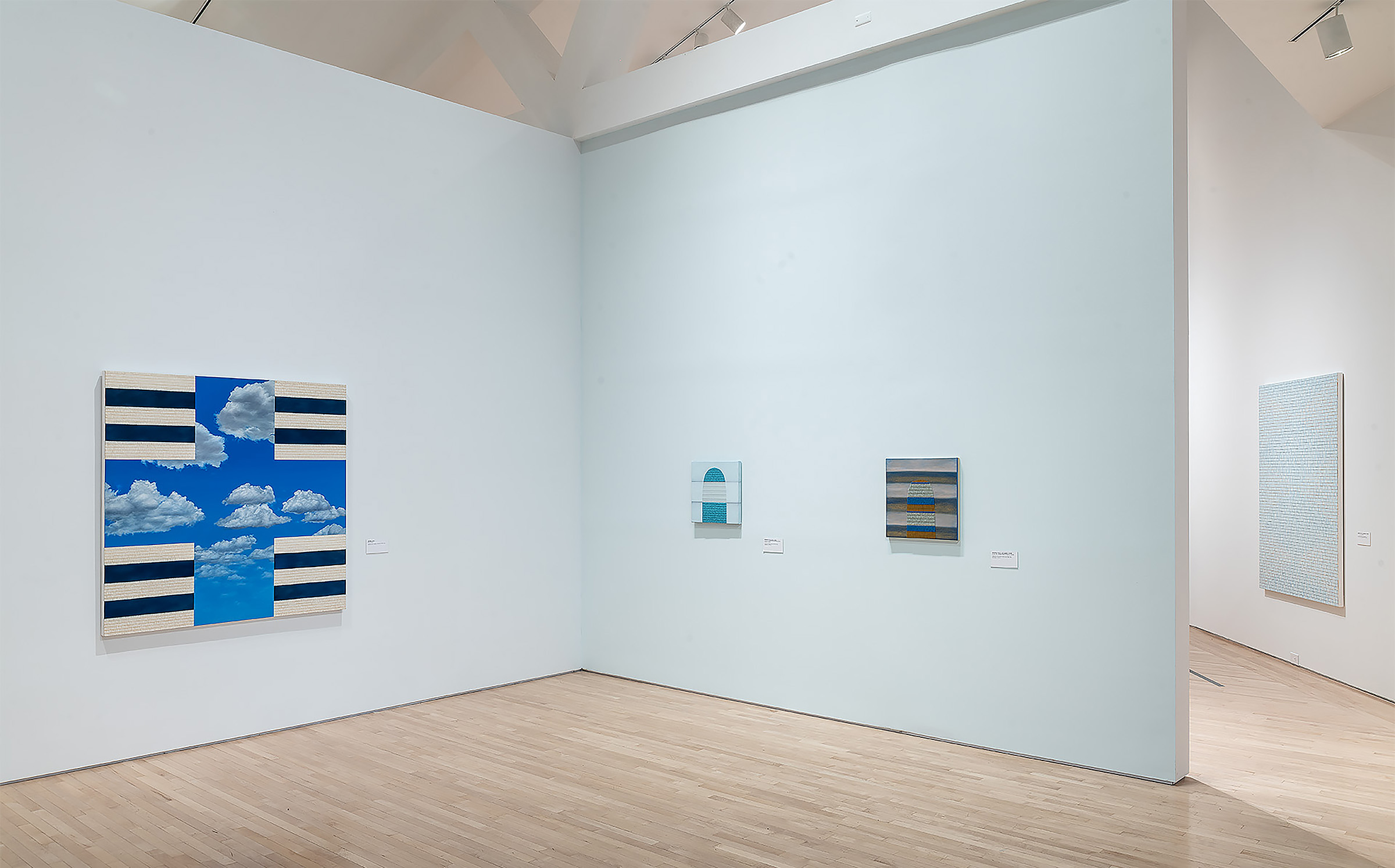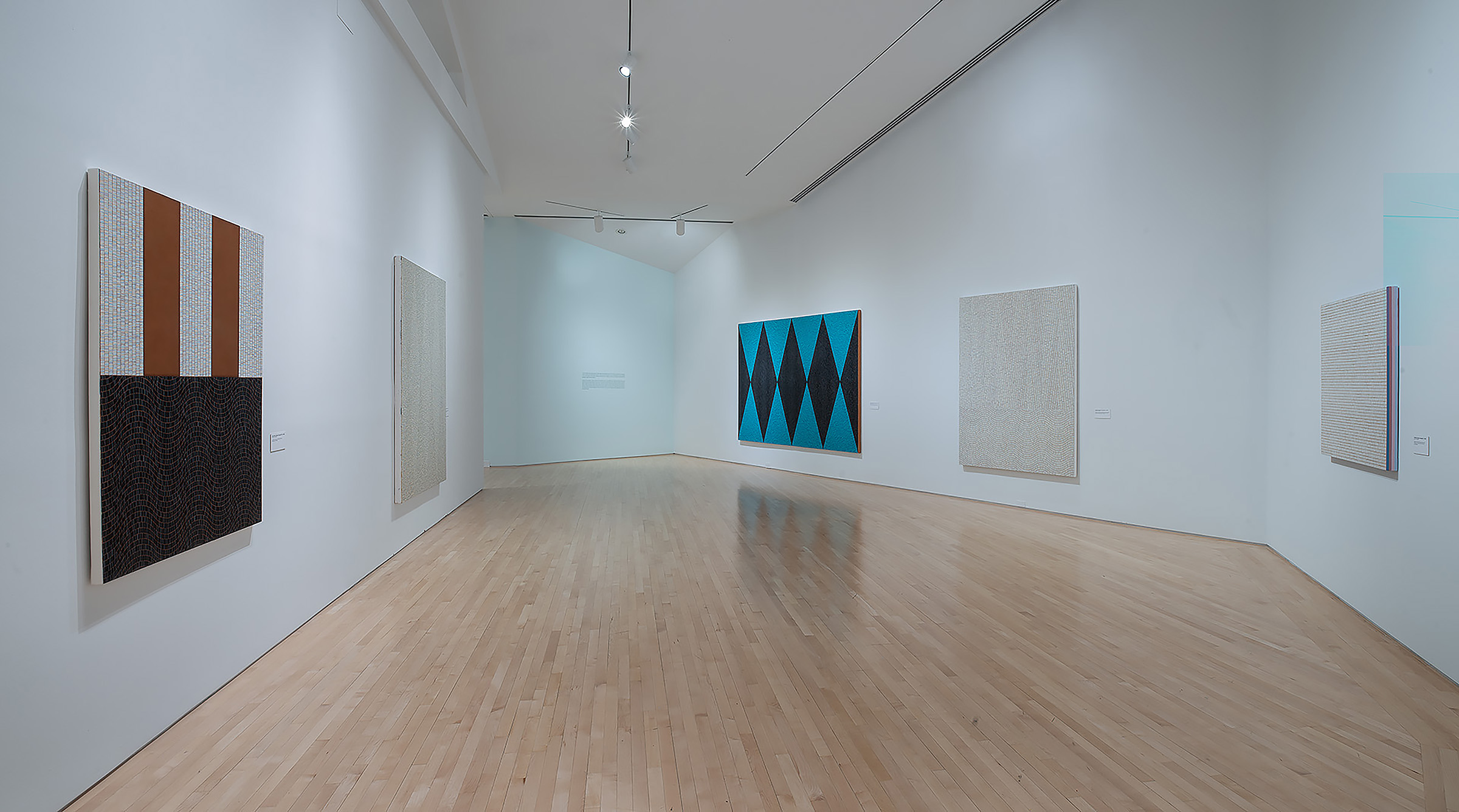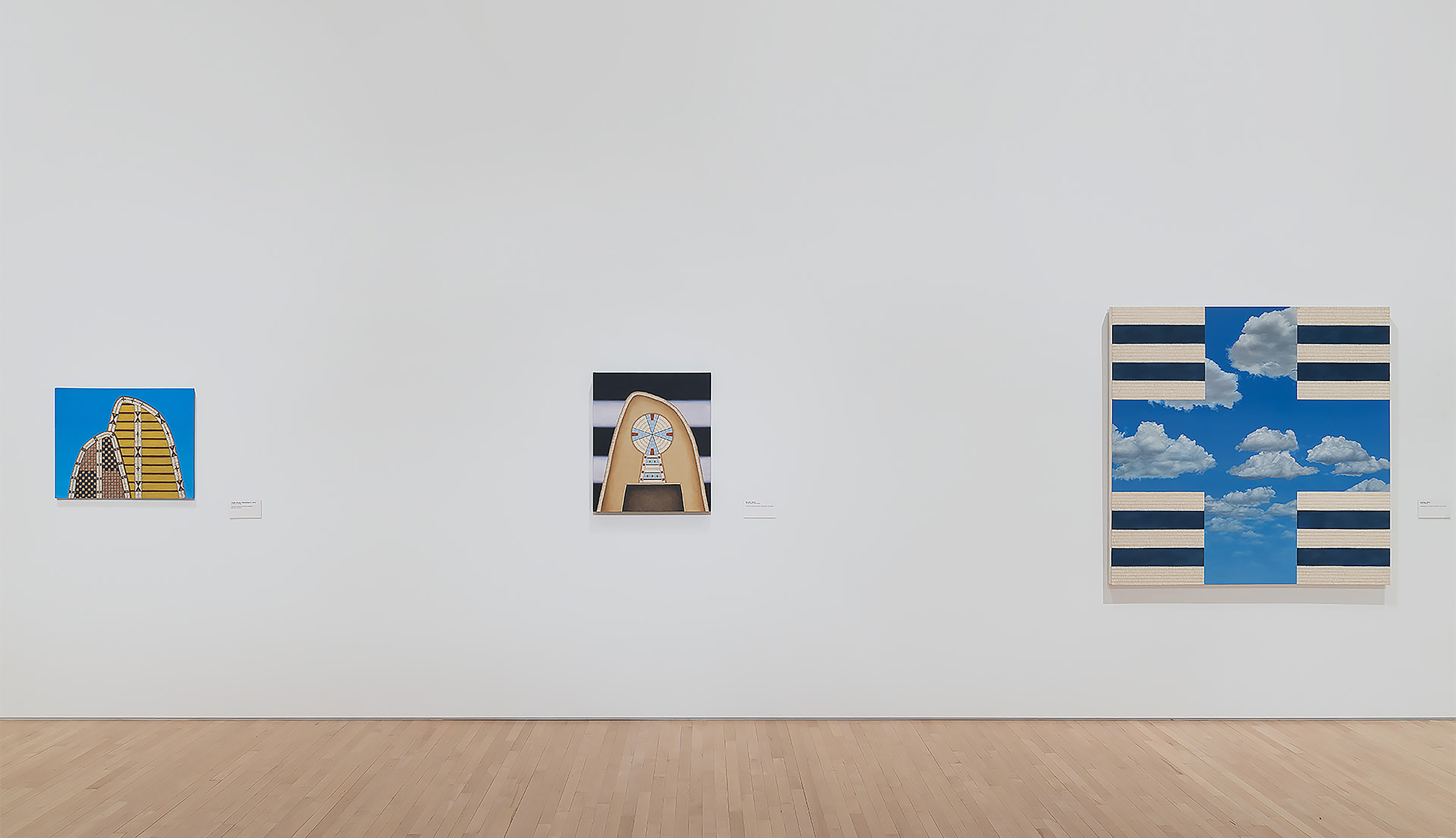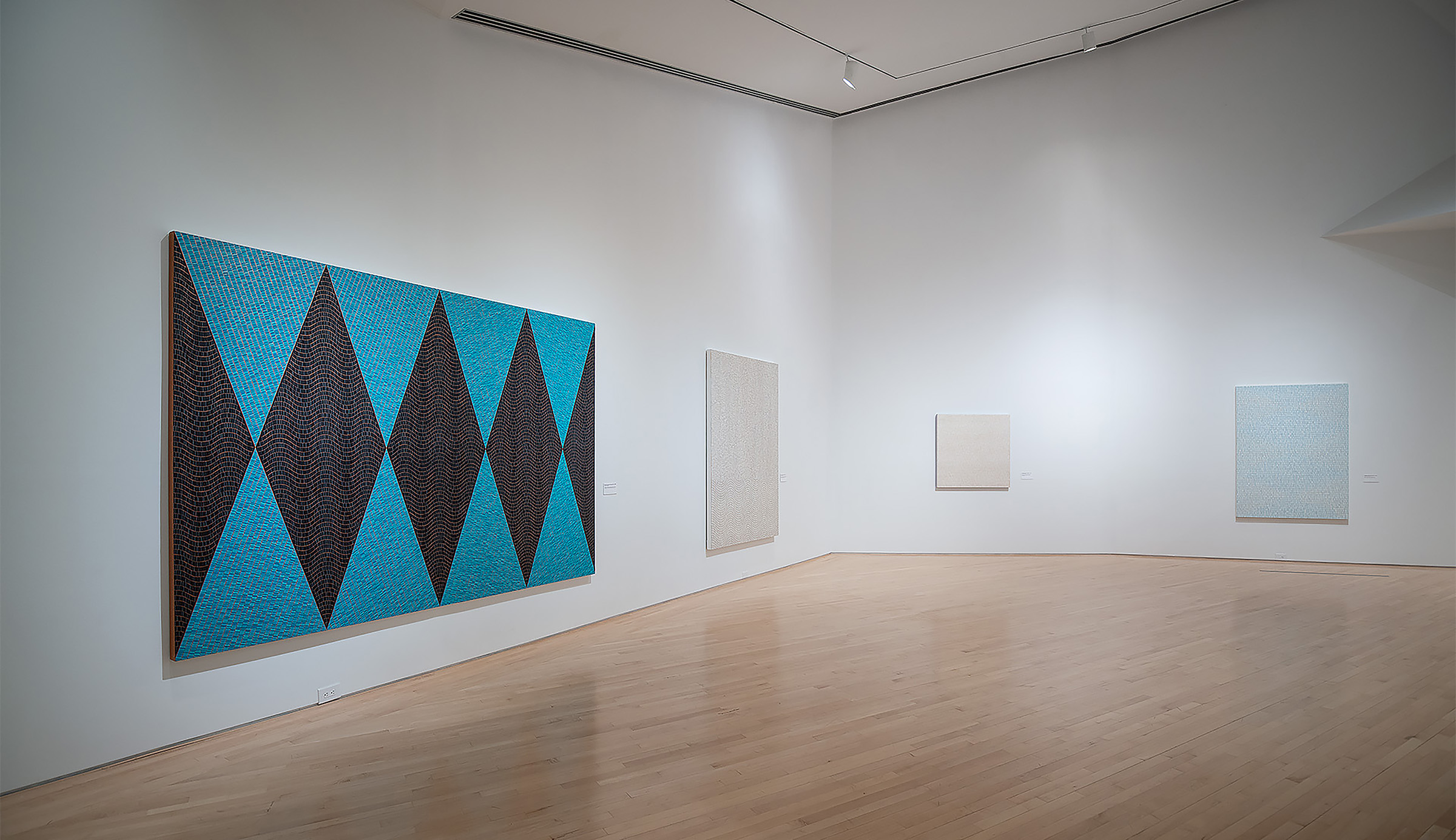 introductionThrough her practice, Minnesota artist Dyani White Hawk brings Lakota artistic practices like bead and quill work into conversation with European and American abstract art lineages, tearing down hierarchies and offering new ways to understand the intersection of Western and Indigenous aesthetics.
As a curator, White Hawk served as the Gallery Director and Curator for the All My Relations Gallery in Minneapolis from 2011-2015. In her career as an artist, meanwhile, White Hawk has participated in international residencies, won national fellowships and grants, and showed her work in museums and galleries across the U.S.
Currently, White Hawk is highlighted in a 10-year retrospective at the Kemper Museum of Contemporary Art in Kansas City. Dyani White Hawk: Speaking to Relatives runs through May 16, 2021.
White Hawk takes us on a "virtual" tour through the exhibition, discussing a number of her works. Taken from an interview, her words have been lightly edited for clarity and length.
Sheila Regan
---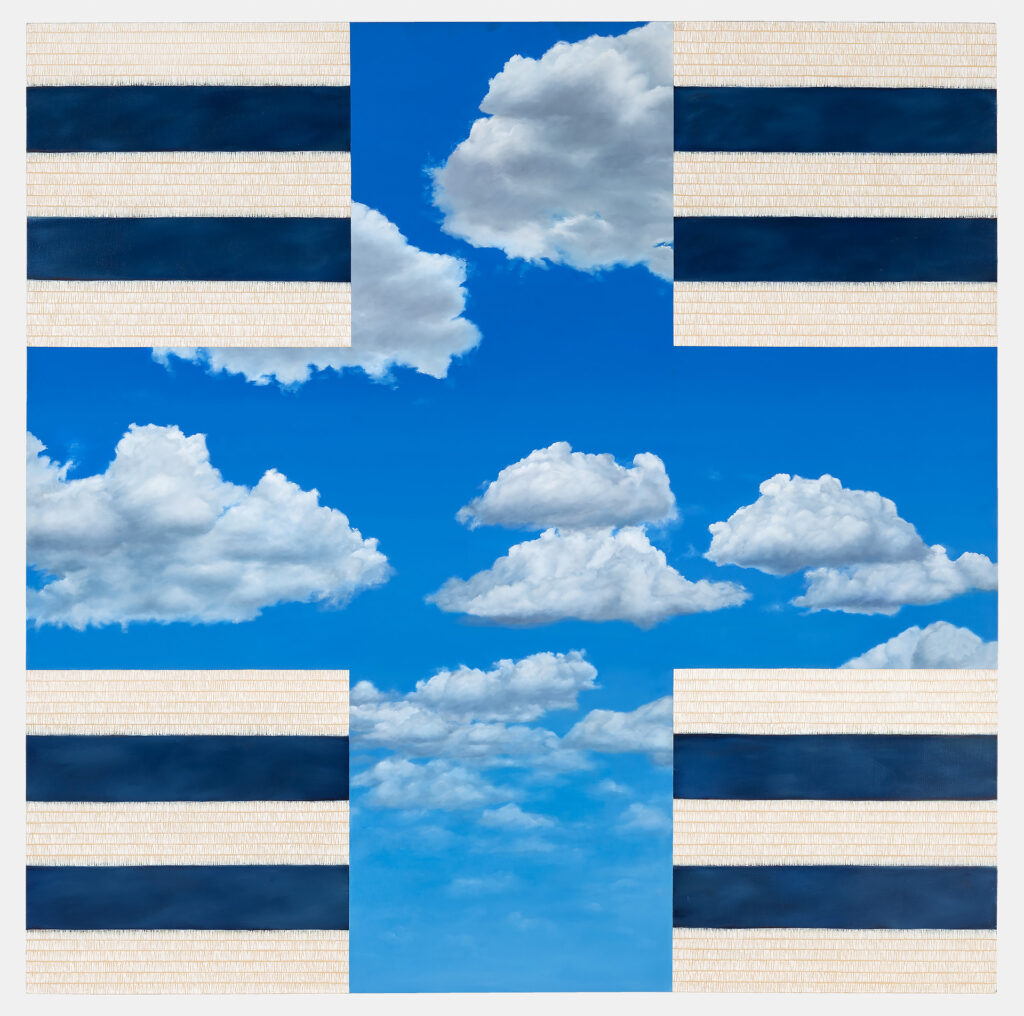 Seeing
The first gallery holds most of the older works. There are four paintings from my MFA exhibition, this being one of them.
I don't usually paint representationally. This was a very pivotal piece in my practice. It was kind of the centerpiece of my MFA show. I got a very high honor at the Santa Fe Indian Art Market because of this painting. And then Amy Lonetree used it on the cover of her Decolonizing Museums book. It's been kind of a signature piece for people, but it was also a really important piece in my own development, the development of my voice.
The skyscape is painted from a photo that I took. It's a South Dakota sky. When we were driving back to the Twin Cities from South Dakota, right before you get to Chamberlain, and you drive over the river, that moment in the geography always feels like such a strong moment of transition.
The symbol that's created in this composition is a central symbol for Lakota worldview and perspectives, but it's also a symbol that's used in a lot of cultures. It has the creation of this window through which you can see the sky, and essentially the cosmos through that sky—this kind of infinite space grounded by the symbolism and the abstraction. When you stand in front of it, it has movement as well. It breathes.
It's about the way that we see the world according to our belief systems, and our various forms of education, and our teaching and our experiences within the world. How I see and experience the South Dakota sky is unique to my lived experiences, and that's the same for every human being. That's why the title is Seeing.
---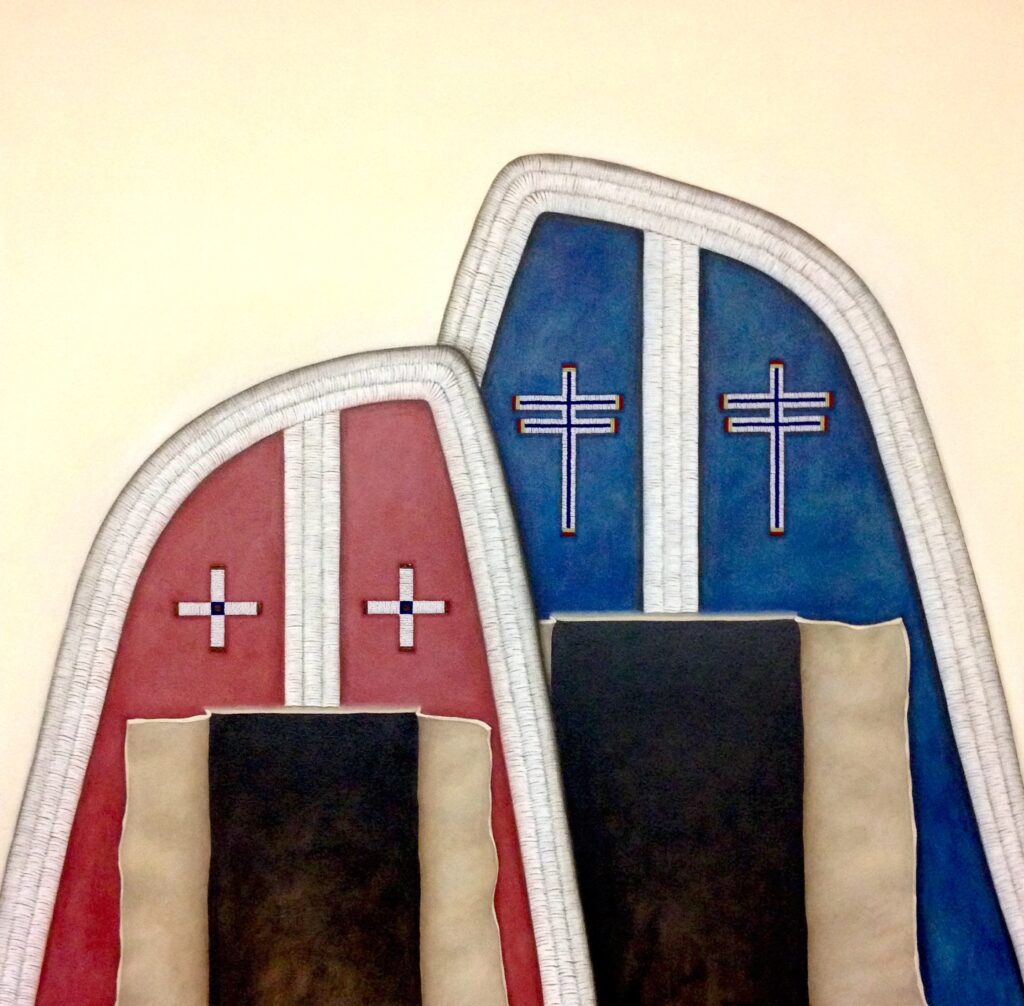 Connections
The use of the moccasin top was a way for me to create stand-in figures that didn't have to be married to ideas and concepts, that are brought forth automatically through the human form. They're not necessarily male or female, and depending on how I paint them, they can be super ambiguous.
I wanted an entry point for Native audiences to be able to access the work, who aren't art historians or art students, but they have this immediate point of recognition. And then for folks that are students of easel painting and abstraction, there's an entry that way. I was trying to create works that have multiple access points, for multiple people and cultures.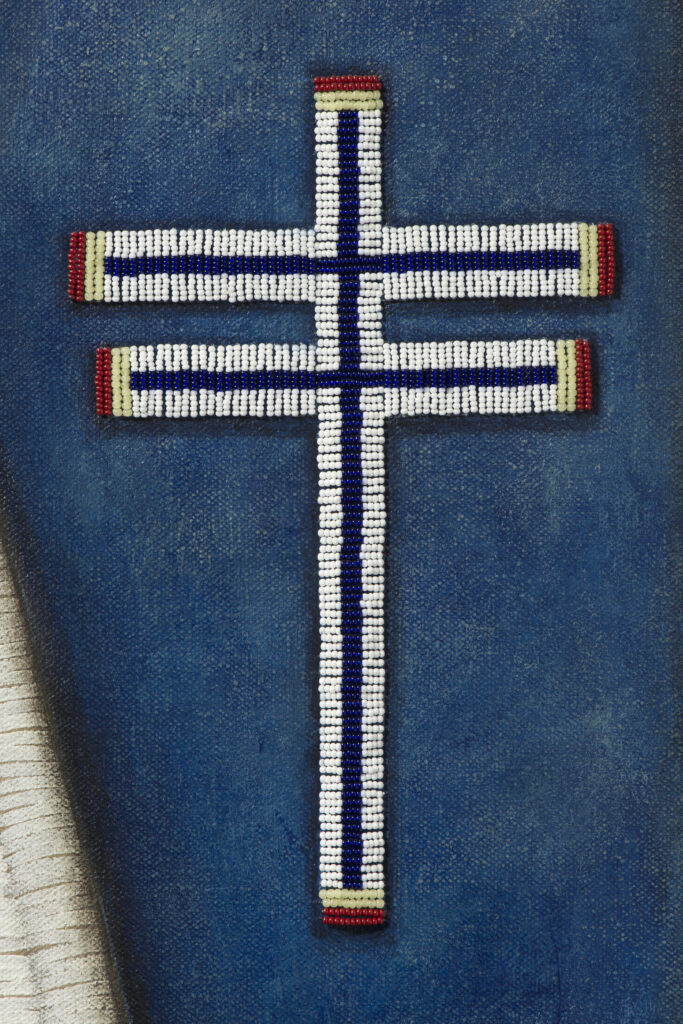 ---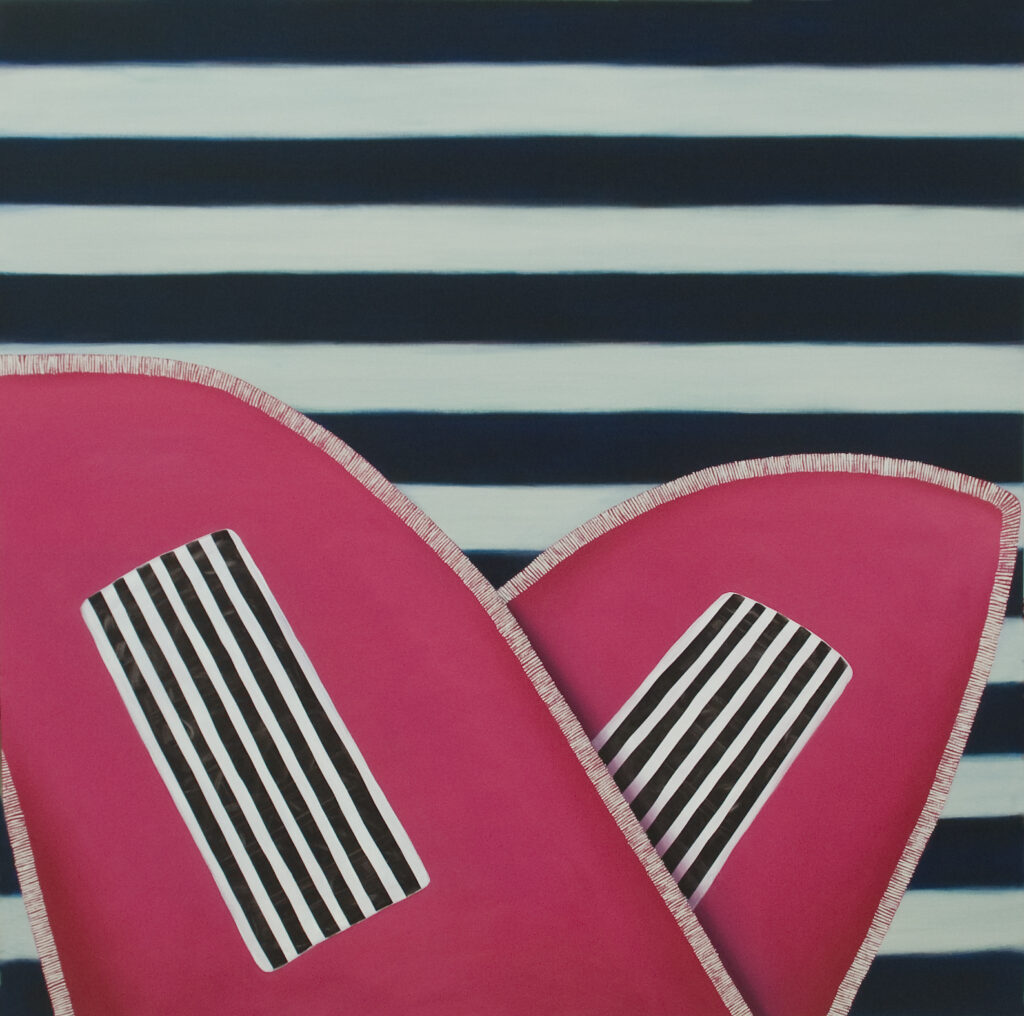 Been Seeing You For Awhile Now
A lot of these pieces, there's a stripe painting background, essentially. That is coming from influences of the lineage of stripe painting and the era of color field abstraction.
When I was in grad school, I had just finished these eight years of tribal college, and the experience of being in spaces that are taught from an Indigenous perspective, that focus on Native art history. I got into grad school, and I've got to start playing catch-up with Western art history, from an American and European American art history perspective. I'm honing in on the painters, the easel painters that I most identify with, and I started figuring out that they were often influenced by Native artists, or collecting Indigenous art, or they lived in proximity to Native communities.
It's a gap in the way that we teach our art history. This piece, Been Seeing You for Awhile Now, is speaking to the reason I identify with those people's painting so much: because it speaks to the affinity that I already have for the aesthetics of Lakota and other Indigenous art.
This piece is supposed to be these moccasins that are kicked back, and you're looking at this stripe painting, like, "I recognize you."
Native art wouldn't look the way it does today had we not had relationships with non-Native people. Trade relationships for beads is a huge part of that. Abstraction wouldn't look the way that it does today had they not been looking at other art forms, including Indigenous art forms.
---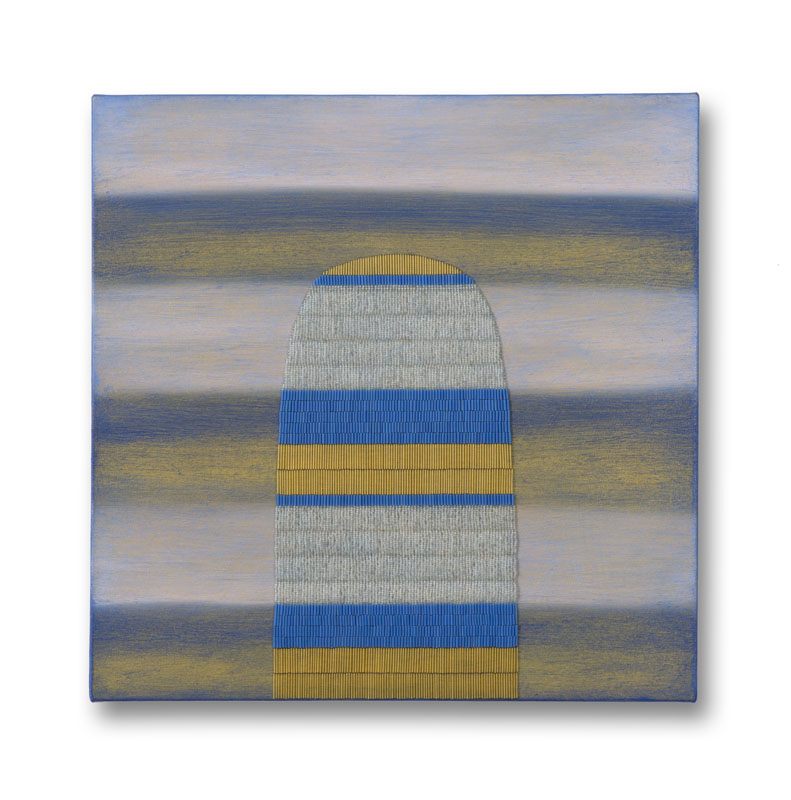 Untitled (blue and gold)
These figures are present, and they're also slightly ghosted. It's speaking to this kind of forced invisibility of our communities—they're there, and they're present, and they're real, but they've also been purposefully shoved aside, or purposely ignored, or purposely attacked. In the way that we tell our art histories, they're rarely addressed.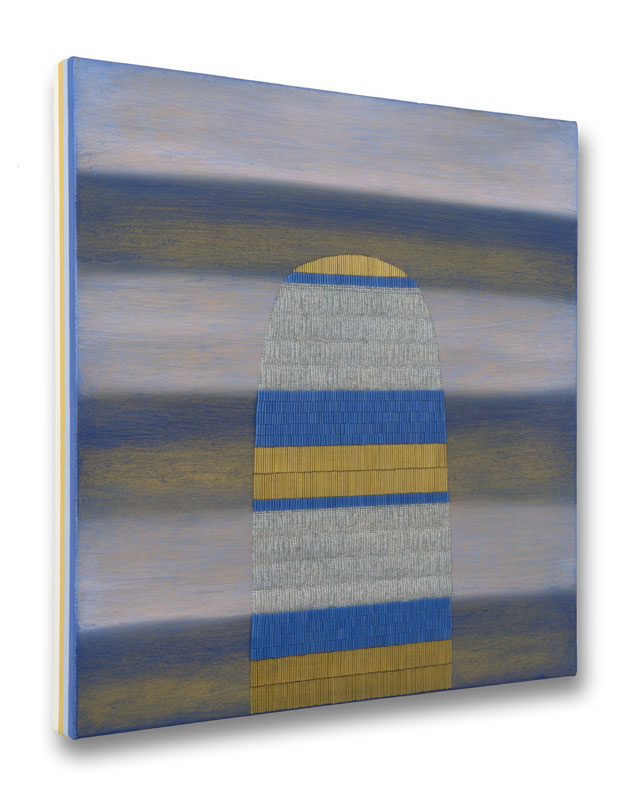 ---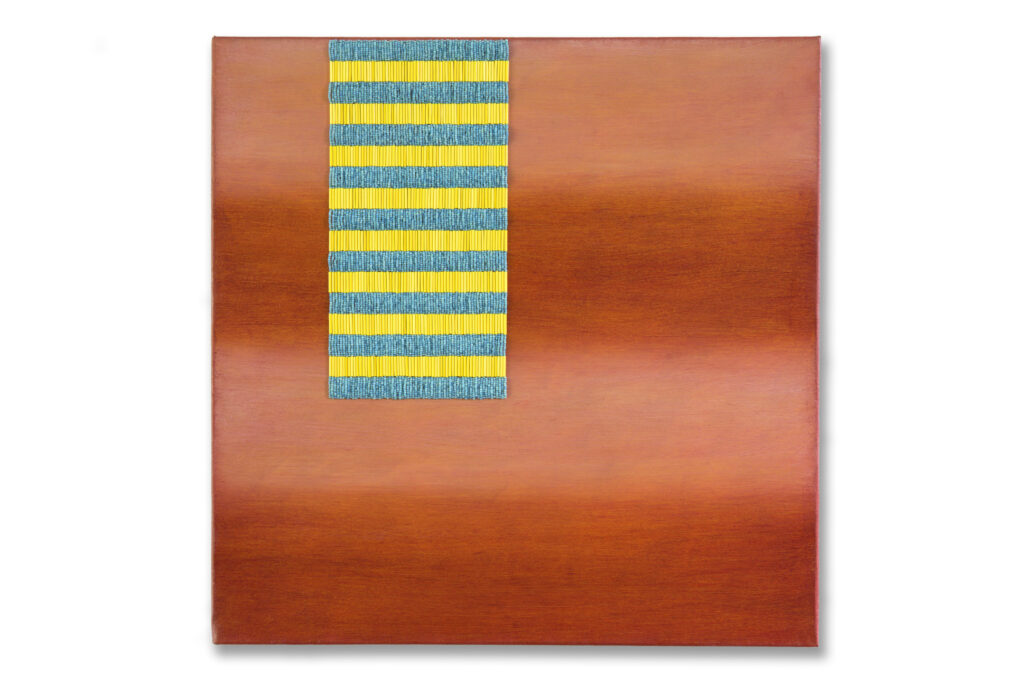 Untitled (coral, turquoise, yellow)
This piece is on the outside of the galleries. It's the first piece in which I really allowed myself to start playing within already-established conversations. I was in my studio, and these turquoise beads were sitting out, and they were by each other. I saw them and I was like, "God, those are gorgeous together."
I really kind of allowed myself to understand and take hold of the fact that I've already built these larger conversations and narratives, and it's okay for me to continue to play within those. I don't have to start over from scratch with something new every time.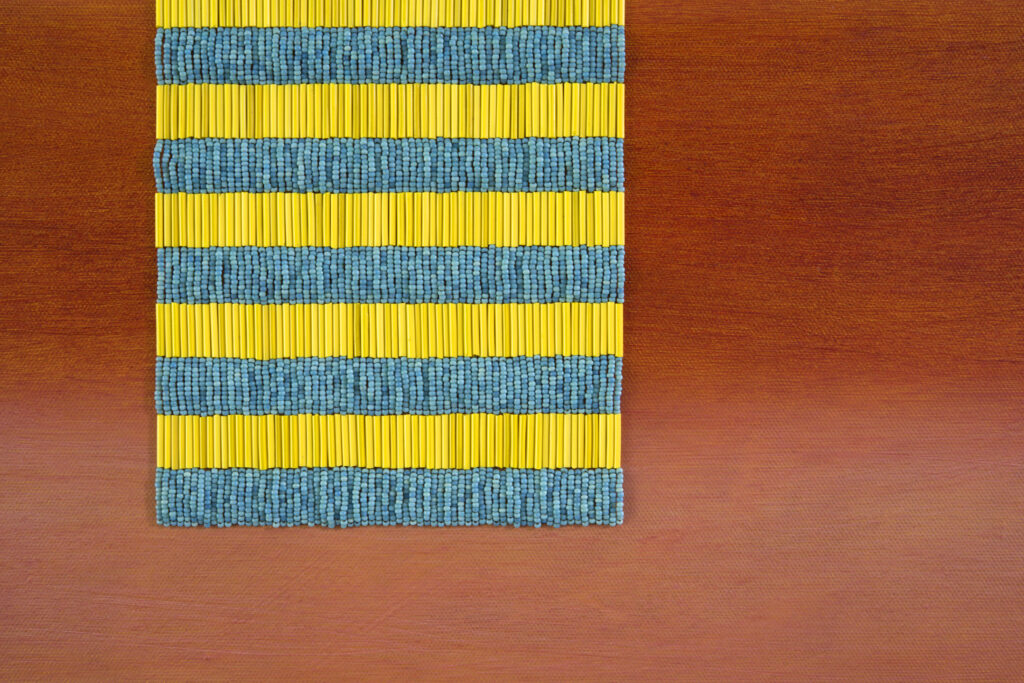 ---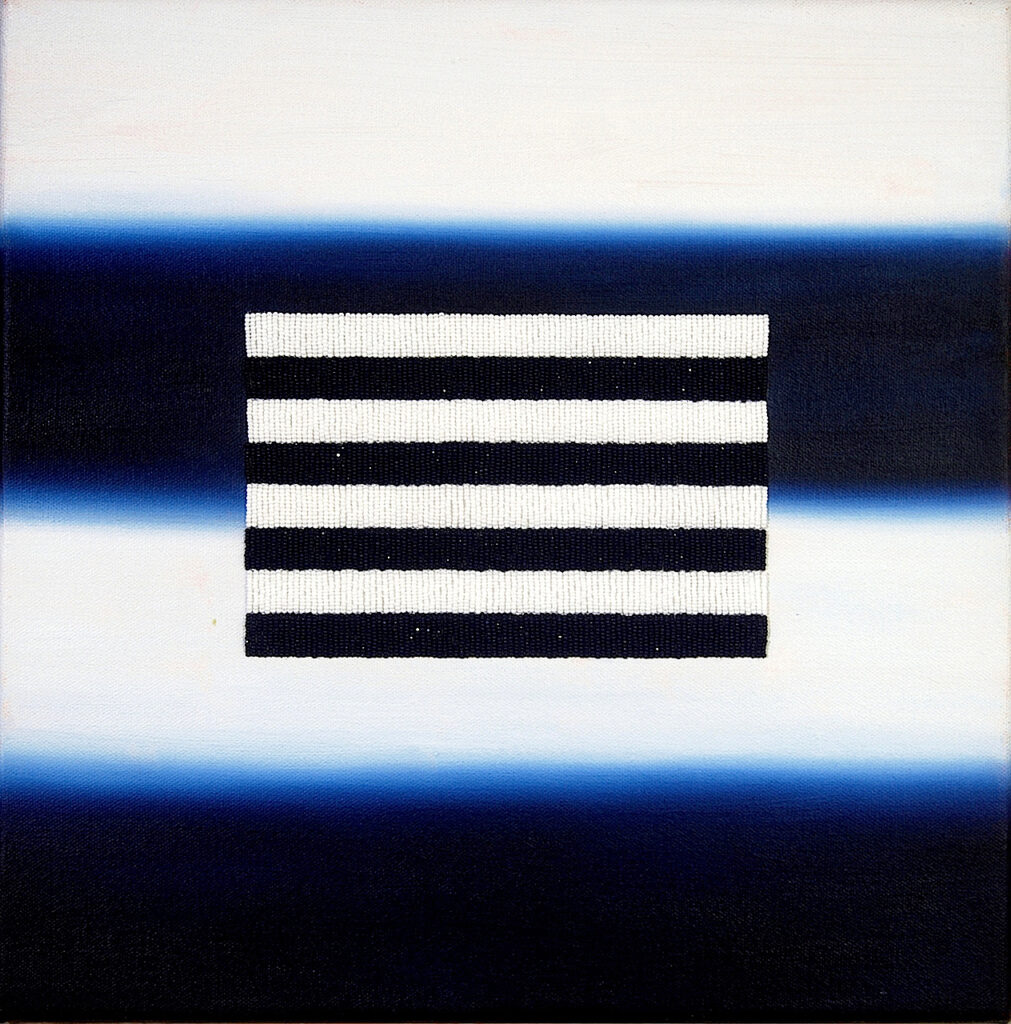 Untitled, blue and white stripes (The History of Abstraction)
The third gallery is really a lovely installation for only being five works in a really big gallery space. The sight lines and the ability to move around the larger sculptural works is really nice.
They put a great big Sean Scully painting outside the galleries adjacent to mine, and I love it so much. I'm thinking about Rothko, and I'm thinking about weaving practices, especially Navajo weaving practices, when I'm thinking about the transitions of color. Scully's color transitions are thick, painterly, chunky, and heavy, and Rothko is lighter. As I was studying it, it was making me think about those soft color transitions in a weaving, like in a Navajo chief's blanket. That made its way into the way I create stripes. I like that ethereal feel in between the color fields.
This was the one of the earliest of my pieces that's a conversation about the history of abstraction. Abstraction is a global language practiced across cultures, and it's not owned or invented by a singular culture. It's a human practice.
---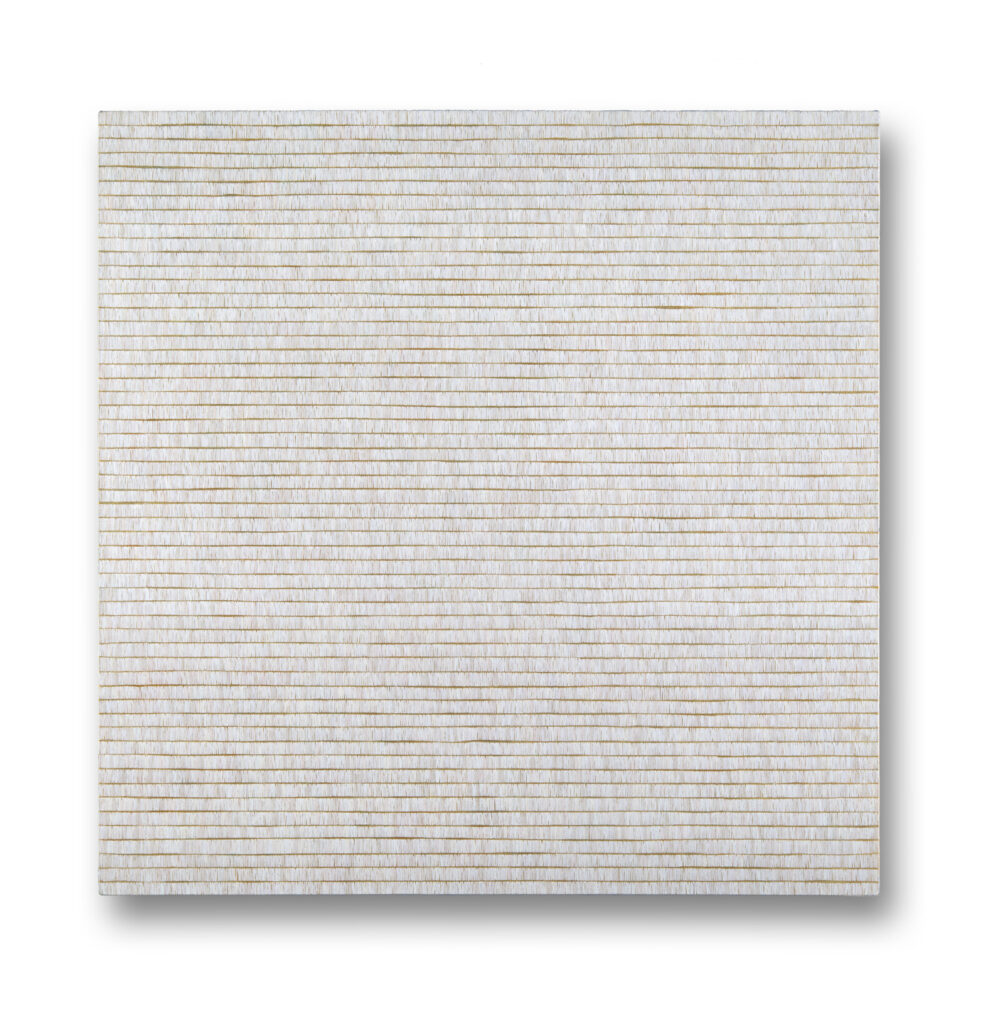 Untitled (Quiet Strength I)
And then you move into the next gallery, where all the Quiet Strength paintings are.
I work really hard to make sure that when you stand in front of them, there's a dance and a movement that happens. They read as monochromatic when you stand back, but when you get up close to them, they're very colorful, and they all have their own unique personalities.
This one that the Minneapolis Institute of Art has is a gold underpainting. This motif mimics the legacies of porcupine quill work and beadwork. It was meant to push back against hierarchies that have been created, that lift up certain art forms, certain materials, and in consequence, push down other materials.
When you look in their collection of Native art, the vast majority of that work is created by women. They are long, slow, hard processes. The Quiet Strength series is meant to recognize that there's a different kind of strength that is unique to women, that is unwavering, unyielding, fierce, amazing. At the same time, they also are meant to pay tribute to the contributions that women have made to the history of abstraction.
---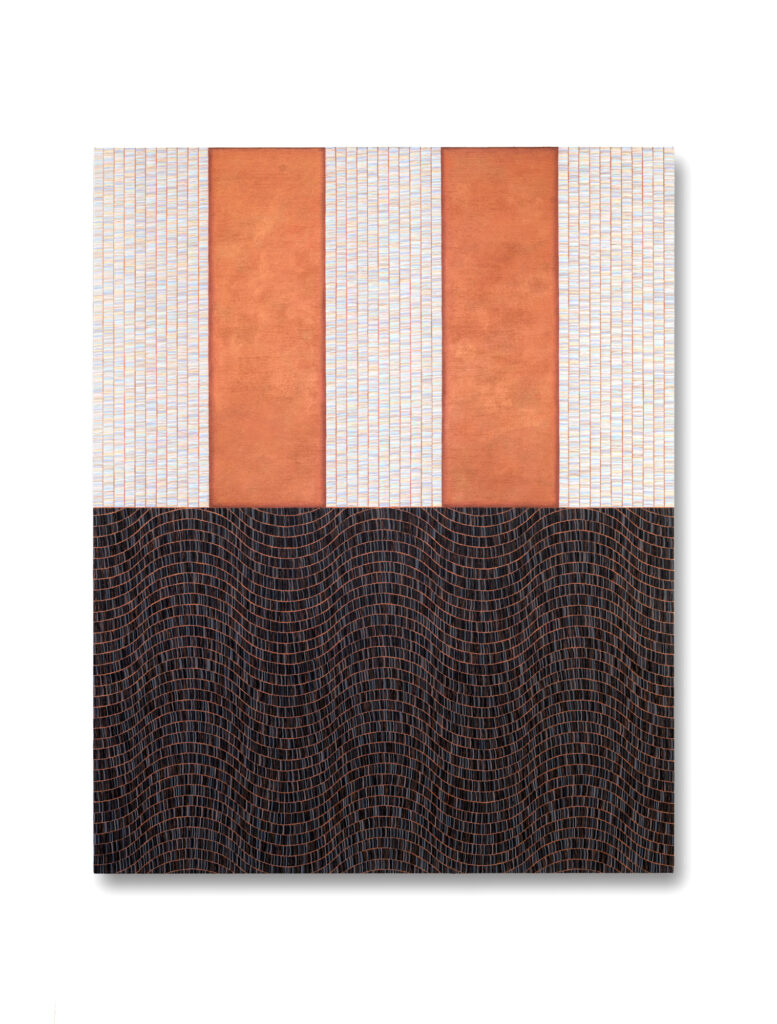 She Gives (Quiet Strength IV)
These use a copper underpainting. When you look at copper versus gold, copper is placed at the bottom of the monetary value scale, yet copper has qualities that gold doesn't hold. It has medicinal properties. It can purify water, and it has other medicinal qualities and properties that gold doesn't have.
So all of these are meant to create opportunities to start talking about, and really having critical conversations around, applied value systems and how we're adhering to them. So the copper ones extend that recognition and that honoring from beyond just our human, feminine relatives, but also acknowledging the land and all that she gives, and all that she does to nurture and sustain us.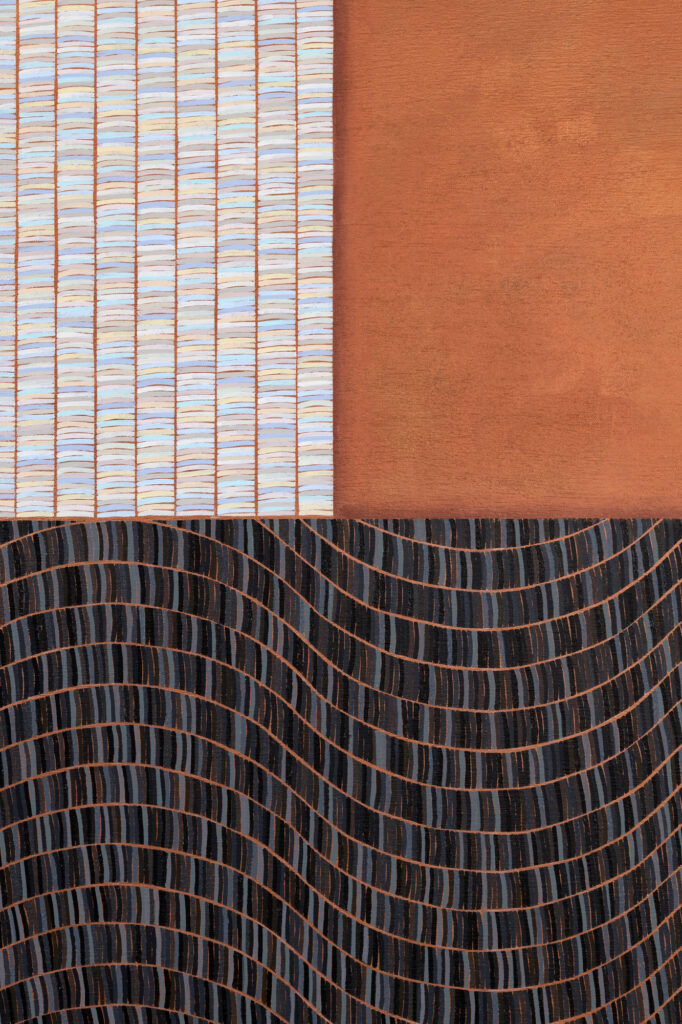 ---
Dyani White Hawk: Speaking to Relatives runs through May 16, 2021 at the Kemper Museum of Contemporary Art, 4420 Warwick Blvd, Kansas City, Missouri, kemperart.org.