Currents in Minnesota Graphic Design
Camille LeFevre reports back from AIGA's recent roundtable, "evolvedesign: The Evolution and Future of Graphic Design in Minnesota," on the trends shaping local design -- from "design living" to the longstanding tensions between advertising and design.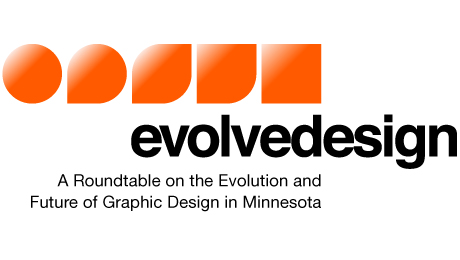 About a decade ago, the redesign and cultural renaissance of the downtown Minneapolis riverfront surged with the renovation of the Washburn A Mill into the Mill City Museum, followed by construction of the new Guthrie Theater and MacPhail Center for Music, and buoyed by ongoing waves of loft, retail, and hotel construction. Accompanying this re-visioning of the Mill District came renewed public attention to its role in fostering the design culture of the city. As it turns out, opportunity and innovation have always been key to the incubation of what we now call "design thinking."
After the mill barons arrived from New England and transformed the saw-milling village on the Mississippi River's roaring St. Anthony Falls into the flour-milling capital of the world, other industries bloomed and flourished in its wake. General Mills and Pillsbury developed advertising departments to sell convenience products like Wheaties and cake mix. That specialization broadened to serve other industries, resulting in the development of advertising agencies. According to local historians, the milling era also gave birth to such Minnesota-based internationals as medical-device pioneer Medtronic, Twin Cities' banks, and the corporate and individual philanthropy that underpins Minneapolis' cultural institutions.
Well documented are the Walker Art Center's role in the cultivation of design thinking, architect Ralph Rapson's impact on the education of generations of architects, the international influence of prominent advertising agencies, and Target's instigation of America's design democracy. However, when AIGA recently announced a program titled "evolvedesign: A Roundtable on the Evolution and Future of Graphic Design in Minnesota," a lacunae appeared in my design knowledge.
What was and continues to be the role of graphic design in the Twin Cities? I had no idea. Wasn't graphic design just a part of advertising and — later — public relations (or rather, in today's parlance, communications)? As I quickly realized during the January 13 program, my knowledge gap was not only greater than it seemed, but also my assumptions were profoundly askew. If the evening's discussions over three sessions (The Early Years, The Evolution Years, The Future of Design) could be distilled to one theme, it would be this: Ad agencies and graphic designers are "oil and water," as Joe Duffy said (and he started Duffy Design in 1984, in association with the advertising agency Fallon Worldwide).
Or, as Tim Larsen stated, emanating a faintly discernible whiff of superiority, ad agencies are about "persuasion," whereas graphic designers produce "information." Some of this animosity stems from the fact that, "many advertising agencies belong to large holding companies that are publicly traded, while most design firms are small and privately owned," according to Shel Perkins in Talent is Not Enough: Business Secrets for Designers.
A post on DesignTaxi nails the heart of the matter with even more directness: "The word 'advertising', like 'commercial art', makes some graphic designers cringe. To certain people in the creative industry, it signifies all that sophisticated contemporary graphic design, or rather visual communications, is not supposed to be. Advertising is the tool of capitalism   that often works as a form of communication that entices and persuades public to consume. Graphic design, by contrast, is an aesthetic and philosophical pursuit that communicates ideas. Graphic design is a cultural force that incorporates parallel worldviews. Where advertising is quite hypnotically invasive, graphic design makes no such claim."
For the young designers in the audience (many of them still students), and for those of us outside of but curious about the profession, the antagonism between the two disciplines — a seemingly oft-traveled and well-worn rut — seemed incongruous, and even irrelevant today. As Duffy himself, along with up-and-comers Travis Olson (Mono) and Jason Rysavy (Catalyst) — whose interdisciplinary firms focus on interactive and digital products, solutions, and experiences for clients — argued later in the evening, the era of profession- or discipline-specific silos is over.
Like every other creative profession in America, design is the midst of tremendous transition, as well as a generational shift. Successful firms today not only straddle both advertising and design, but also intermix a variety of new technologies, resources, and creative acumen to produce their work. Hybridization is a current watchword, as designers focus less on producing physical objects and more on developing experiences.
To this end, "collaboration is the currency of the 21st century," said Monica Little (notably, she and Phyllis Aragaki were the only women among the 13 panelists), framing the discussion with a phrase that became a mantra of sorts during the evening's discussions. As Bill Thorburn added, the ability to "transcend disciplines" has become essential.
"Clients are operating in a tanked economy," he explained. "They want to go green. They're inundated with information. Consumers have a seven-second attention span. Media is shifting. There are huge changes in the marketplace. I see design without borders…. We have to adapt… It's an incredible business, full of opportunity."
Design thinking, which Thorburn described as the "distilling" of a comprehensive and integrated research and creative process into "the size of a quarter, an identity," has become more about problem solving than product development. In fact, when asked how Minneapolis could be a better design town, Duffy said the profession should reorient itself away from design thinking and toward a new perspective: "design living."
Since 9/11, he explained, "life is more of a one-off…. design is about life, being more of an individual." He added: "When you understand what the public desires, you can help them help themselves. This area of the country is perfect to project that higher plateau of design. [If we could do that] then we'd be ten times better."
The take-away from the roundtable was this: As consumers become more hip to design, advertising, and its messages — who can look at the grass-green and yellow sunburst BP logo anymore without seeing an oil slick and the decimation of native ecologies and cultures? — designers must work with more transparency and authenticity, the panel agreed. Perhaps the real design challenge of the evening, however, was posed by an audience member: Can design help stop the current vitriolic discourse in politics and culture? To that, Steven McCarthy offered, without irony, that design can "lubricate positive messages and dialogue." If so, design thinking has quite a task ahead.
________________________________________________________
Noted event: The AIGA event "evolvedesign: A Roundtable Discussion on the Evolution and Future of Graphic Design in the Twin Cities" occurred January 13, 2011 at the University of Minnesota.