Building Bridges to Make "One Nation"
Writer Eva Apelqvist previews the upcoming performance of selections from Kevin McMullin's "One Nation" - a symphonic marriage of orchestral music, by Minnesota Youth Symphonies, and the Native American drum songs of the Pipestone group.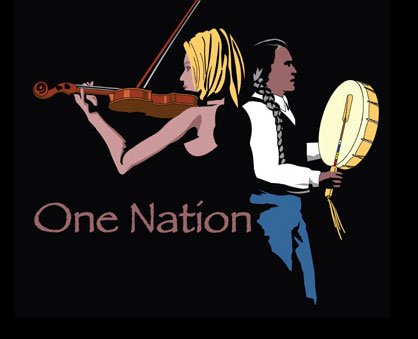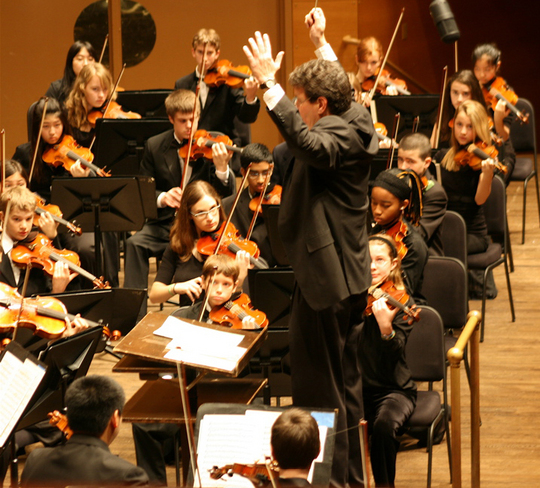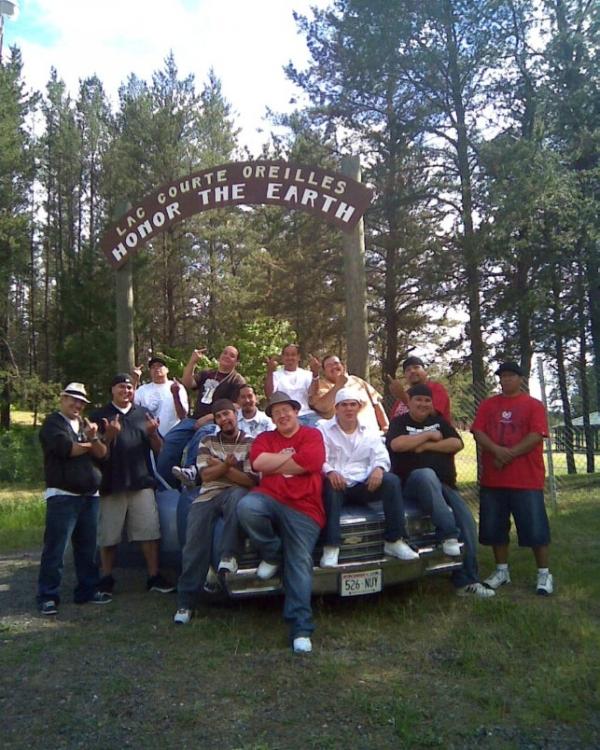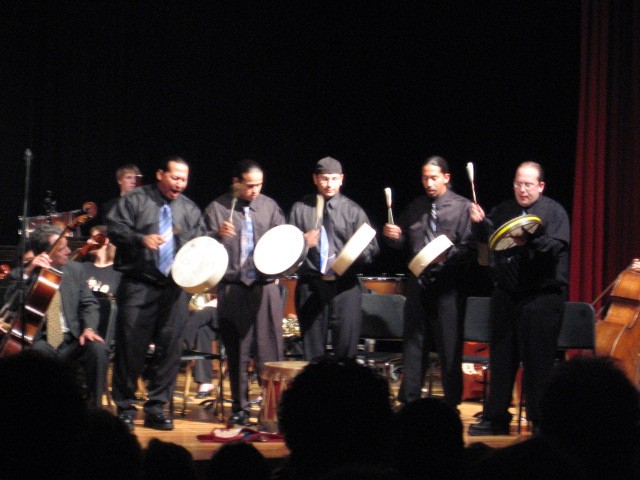 NORTHERN WISCONSIN MUSICIAN AND COMPOSER, KEVIN MCMULLIN, wants his compositions to do more than just entertain: "I want to use music to bridge cultures and to connect people." McMullin's symphony, One Nation – three movements of which will be performed by Wisconsin drum group, Pipestone, and The Minnesota Youth Symphonies' philharmonic orchestra as a part of the upcoming Minnesota Youth Symphonies' Winter Concert at Orchestra Hall — aims to do just that.
One Nation, created with the aid of a grant from the Wisconsin Arts Board, was written for a community orchestra and traditional Native American drum groups — two vastly different musical traditions. To McMullin's knowledge, the two have never been blended in quite this way before, joining forces to perform music together. Each of the three movements which will be played at the Winter Concert was created around a drum song. McMullin says he tried to strike a balance throughout, between honoring traditional drum song and offering a showcase of the thriving, ever changing contemporary drum song genre.
For the first movement, McMullin wanted to depict a panorama of life in America: our land, our cultures, and how they fit together. For this, Mike Demain, a member of Pipestone, composed the drum song "Taatz," an Ojibwe word that McMullin says translates to "awesome" or "cool."
For the second movement, "Love," Mike Sullivan, another member of Pipestone, composed "Giish," a drum song he wrote for his then girlfriend, now wife. McMullin says it was just the piece he was looking for to reflect love's natural progression: in the beginning, it's evocative of lovesick sighing, then the drumming rises to another level of passion, only to slow back down again at the end.
The third movement, the "Closing," is the one piece in One Nation that is based on traditional Native American drum song. Every tribe in the Great Lakes region is familiar with this music. "I was quoting the musical depth of the Western tradition in my music and wanted to do the same thing with the Ojibwe tradition," McMullin says. "This is the drum song that often ends a powwow. It seemed like a very good way to end One Nation." But actually incorporating drum song into his symphony proved more difficult than McMullin expected. "The Ojibwe tradition is entirely oral," he says, "and for good reason – the notation of drum song is very complicated."
He eventually found a way to record the Ojibwe music, and then he was fortunate to connect with the nationally celebrated Lac Courte Oreilles-based drum group, Pipestone. "They are a nationally known drum group with extremely talented, professional musicians," McMullin says. "They were flexible enough to reach out and meet Western musicians, acting as a cultural bridge, uniting the two musical traditions. They got what I was after and they knew how to make it happen."
________________________________________________________
"The first time we all played together, light bulbs were going off all over the place."
________________________________________________________
For McMullin, the rewards of performing, in this context, have surprised even him. "The first time we all played together," he says, "it was precious to watch the faces of the musicians. Light bulbs were going off all over the place." He goes on to say that the reactions to One Nation by tribal elders, who have expressed gratitude at having their music honored in such a way, have been particularly gratifying.
When asked about his overall vision for the symphony, McMullin says, "This is a good time to explore the way that these different musical traditions can connect with each other and then be used to create new, fresh material. McMullin would love for the work to reach across the U.S. borders. "It could be a catalyst for other countries to connect with their own indigenous cultures," he says. Composer Jim Bartsch, the conductor of the orchestra, says, "It's been a unique experience, not only to perform a new piece by an active, local composer, but also to work with students to experience this unique pairing of Native American drum/vocal ensemble with traditional symphonic orchestra.".
Pipestone drum group and the philharmonic orchestra will be the second group to perform in the February 7 Winter Concert; Minnesota Youth Symphonies' four orchestras will also be performing. In addition, the concert will feature its annual Symphony Solo Competition winner, tenth grade violinist Natalie Alper-Leroux, performing the first movement of Hindesmith's Der Schwanendreher.
As it happens, McMullin is also an alumnus of the Minnesota Youth Symphonies; he played the tuba. He says, "My experience with the MYS was intensely positive. They were a big factor in getting me to pursue a career in music." The performance of One Nation is partly funded by American Masterpieces, a grant funded by the National Endowment for the Arts, administered through the Minnesota State Arts Board.
Pipestone Singers

________________________________________________________
Noted performance details and more information:
The Minnesota Youth Symphonies Winter Concert will be February 7 at 2 pm at Orchestra Hall in Minneapolis. Tickets ($8 – $22.25) can be ordered online, by phone (612-371-5656), or purchased at the Orchestra Hall box office.
For more information about Kevin McMullin and One Nation, visit McMullin's website. For more information about the Lac Courte Orielles Reservation-based drum group, Pipestone, visit their MySpace page or email them at pipestoneguy (at) yahoo.com. Keep up with Minnesota Youth Symphonies by visiting their website.
________________________________________________________
About the author: Eva Apelqvist writes for children and adults from her home in northern Wisconsin. For more information visit her website at www.evaapelqvist.com