Blue Sky Project's Truly Public Art
Jennifer Kohnhorst talks with Claire Witt (Blue Sky Project) about the community-driven public art installations she's overseen in Central Minnesota since Blue Sky's founding in 2001, including its latest work-in-progress, Harmony Park in Long Prairie.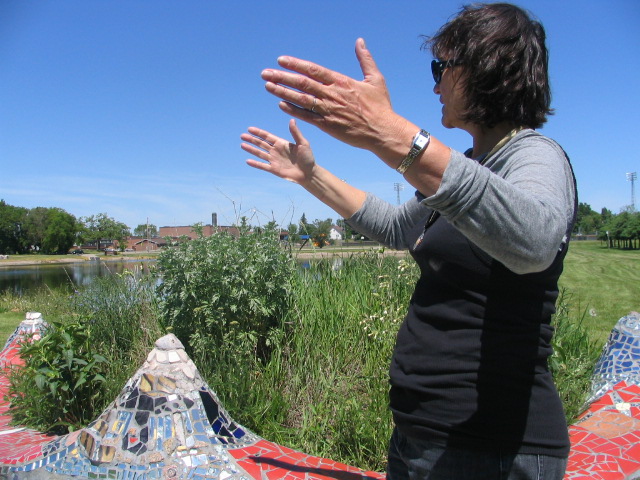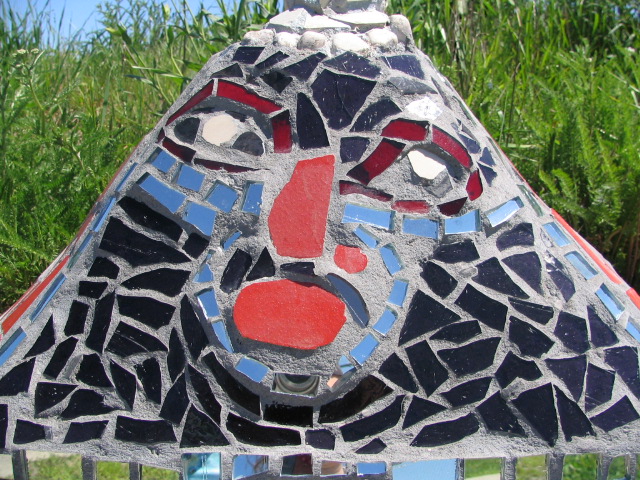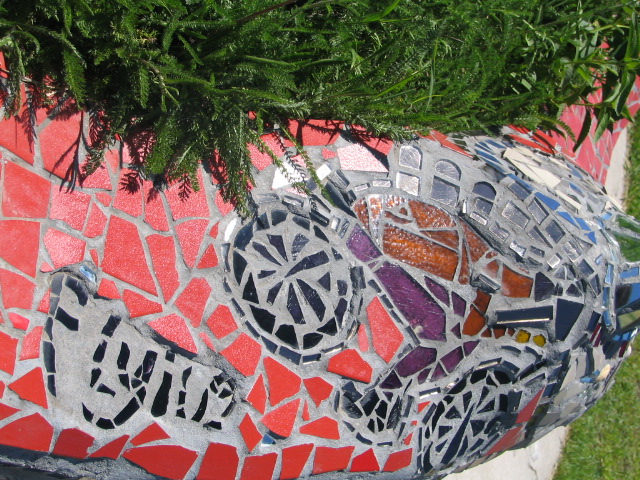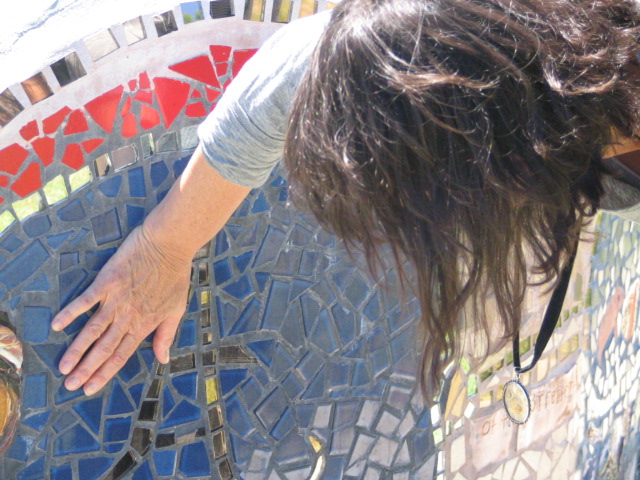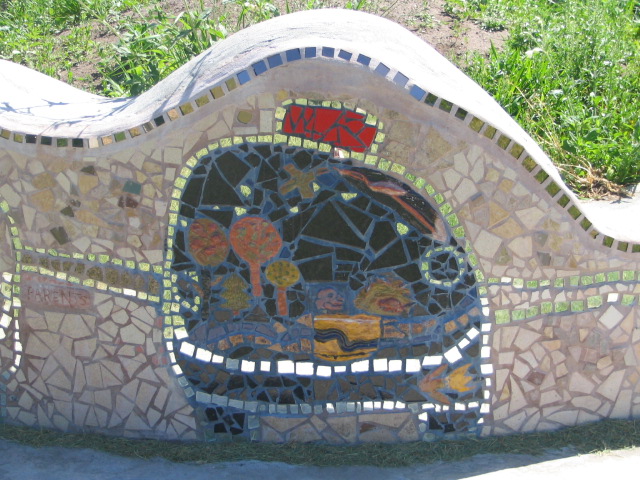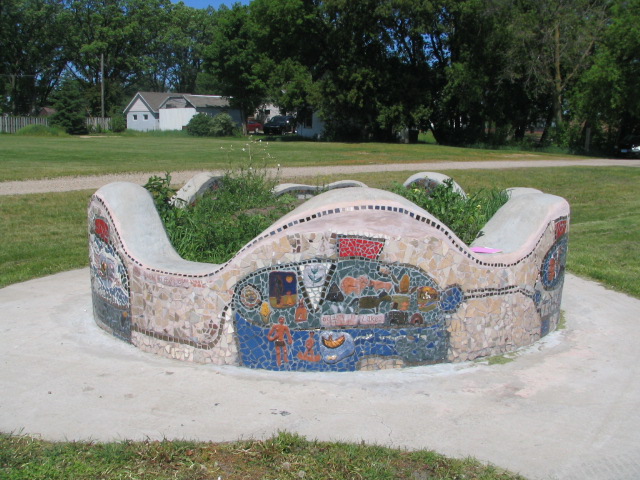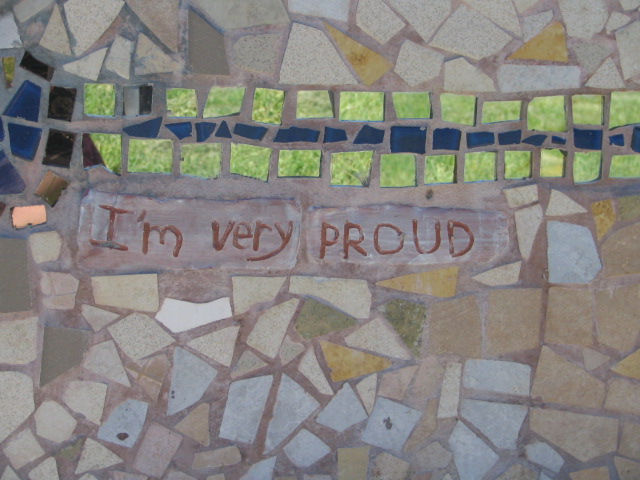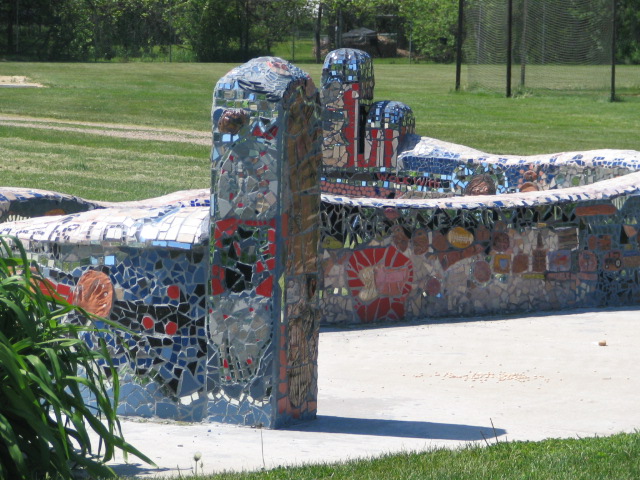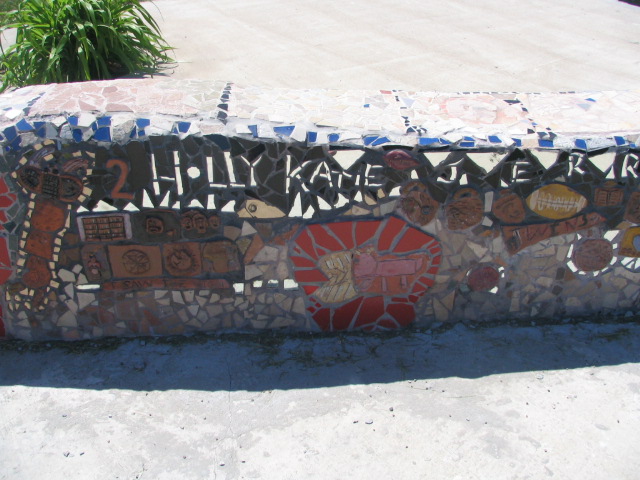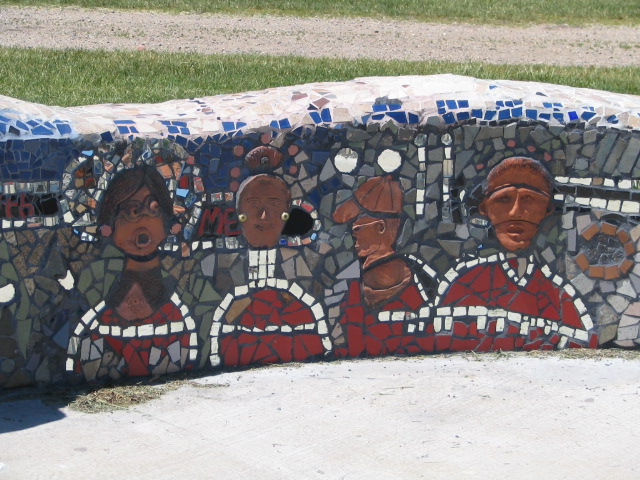 "IT BEGINS WITH AN 'A'." Claire Witt traces the thin, mosaic tiles forming a loopy capital A with her finger, and then she moves slowly around the base of a large mosaic planter, reading aloud, "'A long, long time ago.' This one is about the past." It is the first of a trio of mosaic pieces along a walking path in Harmony Park, Long Prairie. She shades her eyes and squints at the serpentine mosaic bench fifty yards beyond; she says it represents the present. Kitty-corner, across a small, fetid pond is a third planter, crown shaped, that represents the future, "because the future is a regal possibility, "smiles Claire.
This sense of optimism and hope characterizes each of the five public artworks undertaken thus far by Blue Sky Project, a community art program based in central Minnesota that Claire founded in 2001.
Around the outer edge of the planter, hand-sculpted tiles, glass, stone and occasional ephemera tell a history of Long Prairie, beginning with 'A' for 'abyss.' Pictorial symbols — of the development of plant life, mammals, and eventually civilization — dance along the sturdy, undulating walls. This project is a history of Long Prairie written by the citizens of the region, facilitated by Claire.
In response to an extremely violent, drug-related triple homicide in 2003, a committee was formed, with the assistance of the Minnesota Center Against Rural Violence, to address the recent spate of crime and other growing community concerns. Long Prairie is home to only about 3,000 people, but it is a community of distinct cultural groups all the same, most notably a Mexican immigrant population that has been growing and thriving in the area over the last decade. Kevin Langer, a Long Prairie policeman who was a part of the original committee, recalls that they were "looking for a project that would bring these different groups together to build something positive"; others spoke frankly of healing and recovery. They knew about Claire's Blue Sky Project work with other rural communities, and so they contacted her.
As Claire and I amble from the past to the present along the parched cement path, she talks about the genesis of the Blue Sky Project. She had just returned from Mexico, where she was studying folk art, when in September 2001, everything changed. "Here, I had one son in the military and one who was eight, and I'm trying to explain things to him. It struck me then that the audience I needed to reach was children." So, she wrote a proposal for a community art project and presented it to the Foley School Board; she wanted to design and install El Porto de los Milagros, a glass and tile mosaic portal. After the project was green-lit, the students created an assortment of traditional Mexican folk charms used in healing, milagros, from clay. The idea, she explains, was to "use symbols to communicate hope and transition around the catastrophe of 9/11. [In the end,] a thousand kids form Foley each created a symbol of hope and used the tiles they made to create a big mosaic in the portal of their school."
In Harmony Park, looking at the s-shaped bench representing the present, the influences of folk art in the work are clear. Narrative scenes are interspersed with symbols and words along the sides of the bench. Watching Claire walk along the bench and stop at various portrait tiles is like looking at a yearbook with a friend. "Oh, this guy," she says, "this guy came down with his girlfriend and kept telling us about this three-foot walleye he caught, trying to impress her," she laughs, running her hand along a red, three-foot mosaic fish. She recalls the day each piece was made, as well as the cast of characters who created them. I realize that this actually is folk art; made by mostly untrained artists. Claire has always maintained that the art isn't hers, but instead belongs to the community itself: "Blue Sky Projects are 'public made public art'." She adds, "The idea that art is only for the brave and the talented, that makes me rabid."
______________________________________________________
"Blue Sky Projects are 'public made public art'. The idea that art is only for the brave and the talented, that makes me rabid."
______________________________________________________
But public-made art doesn't create itself. The construction of a large, community-created art piece requires research, planning, and resources — arguably the most critical of which is the commitment and dedication of key community members to organize and facilitate the making of the art. Seeing a project through from inception to completion is often a lengthy process. The Harmony Park project, for example, spanned two years: Claire drew up a plan, the park board gave its approval, and then various community members stepped up to bring various small groups together to complete the project.
School students, seniors, folks from the Camphill Village, confirmation classes, members of the Latino community, and, at times, casual passers-by — they all gathered together over time to share ideas and prepare the tiles. Elizabeth Quillo, who was instrumental in reaching out to several groups to participate in the project, recalls Claire's "respect for everyone and her ability to get people involved." Kevin Langer commended Claire's ability to listen and then incorporate everyone's ideas. And indeed, the sprawling narrative along the sides of the bench provides ample evidence of her skill at integrating these disparate pieces into a coherent whole, an intelligible but authentically community-told story. And that story is at once extremely personal and collective, as are the images. There are specific portraits alongside sideways, flying figures representing the unseen; a Twins baseball hat floats next to a mirrored exhortation for "More Parades, More Picnics."
The project may be inspirational, but that's not to say it's without pain. On the bench of 'the present,' the names "Holly," "Katie," and "Jerrod" — the Long Prairie family murdered in 2003 — sparkle in mirrored mosaic along one side; next to their names are the words "courage" and "compassion." The work serves as a memorial, but it doesn't dwell for a moment in the ugliness of the violence. Claire's work, instead, evokes Gaudi and Hundertwasser; and for this piece, in particular, she also studied the work of Maya Lin for cues about "the way the sculpture fits into the landscape; it's low, it's a part of it."
She didn't want this to be chest-puffing memorial; "A bronze statue of a hero, that's an easy solution." For a moment, we're silent, looking at the names of the family and the sideways spirits floating above them. She says, "This is not an easy solution.
As we round the bend of the small, run-off fed pond in Harmony Park, we head toward the optimistic "future." Playing fields sprawl to the right, and ranch-style houses squat behind us, in the distance. Walking around the "future" planter, with its red-capped points and animated faces, Claire falls into a reverie about the day the "sentenced to serve" crew came to install the concrete forms. "It was hot, 80 or 90-degrees in the shade. The prairie wind was blowing, and we had no water. We had a crew, a lot of concrete — but no water. So Kevin Langer, a real mensch, shows up with a fire truck ten minutes later. It was great!" Claire remembers the transformative effect on the "sentence to serve" (PDF) crew: "When they first arrived they were slinking, but while they worked they grew about a foot-and-a-half." Handling the trowels and shovels, they talked about their past experiences, about high school art class, and in Claire's words, "they became more than their crime. They were able to see, 'I have a past, but I also have a future.' "
And if the planter at Harmony Park is any indication, the future will have flying bikes.
Claire turns from the planter and points to the pond, "That's Phase III. I want to aerate that pond with wind-powered fountains and work with the Amish community." She's done the research already, but the project needs funding. As we wind back along the small paved path, we head back through time. It's been an afternoon of remembering all of the people who came together to create the art, each of whom left their mark. Claire sighs. "It was incredible. It was hard, physically and spiritually," she adds, "but working on this was a privilege."
______________________________________________________
About the author: Jennifer Kohnhorst is a freelance writer living in St Cloud.
______________________________________________________
A link and a postscript:
To learn more about Claire Witt and The Blue Sky Project, and to browse through images and articles on each of the five community art projects undertaken thus far, visit her website: www.blueskyproject.com.
A CALL FOR BALLS: Claire is currently soliciting balls of all types and sizes for an upcoming project. You may contact her to arrange for a transference of balls at (320) 259-9240.